The smaller the deck joists, the lower the deck can be to the ground. Also, the smaller the joists, the less the deck will cost. Which raises the question, can 2×6 be used for deck joists? Or are 2x6s to small for deck joists?
You can use 2×6 as deck joists if the deck is low enough to the ground as not to require guard railing. When using S-P-F 2×6 deck joists, the span must not be greater than 9'0″ (2.73m) with joists at 16″ o.c. (400mm), and 9'10" (3.01m)with spacing at 12″ (300mm).
Which provides a good size deck for setting up a few chairs to soak up the sun with. Its also large enough to set up a barbeque
, creating an excellent level place to grill some burgers and enjoy your backyard with your family.
Nine feet is a nice size deck, making 2×6 joists a good option for a backyard deck. But as noted, there are a few limits with 2×6 joists. Limits in span, the size of the deck and handrails. Let's dive a little into those to see if 2×6 joists are best for your deck.
S-P-F 2×6 Deck Joist Can Only Span 9'0 ″ (2.73m) Between Supports.
Yes, 2×6 are limiting in span, size of the deck. But nine feet is still a good size deck.
As with all deck joists, a few good practices help the joist perform better, creating a strong and durable deck.
Joist Spanning Over Seven Feet (2.1m) Need Mid-Span Blocking
Mid-span blocking
helps to minimize joist deflection and hold the joists at the correct spacing. 2×6 joists are tall enough that twisting can be a problem. Adding blocking midway will hold the joist
true, preventing twisting. Not only improving the appearance of the joist but also increasing strength.
The longer spans of 2×6 joists also increase the potential of bowing. Joists correctly spaced at the rim joist but the centre a mishmash of spacing. This not only creates an ugly screw pattern but also reduces the strength of the joists. The mid-span blocking this is quickly corrected before installing decking.
Beam Deck Options For 2×6 Joists
Another thing to consider is the deck beams. A typical deck design reducing material cost and deck height is using flush beams, incorporating the beam into the joists.
A two-ply 2×6 flush beam can support the deck joists up to 9'0′ (2.7m) if the footings are every 6′ (1.8m). Working well for a 12′ (3.7m) wide deck, using the full 9′ (2.73m) of the 2×6 joist's span.
But if you want a wider deck using 2×6 joists, you will need to upgrade the beam to a two-ply 2×8, allowing 8′ (2.4m) spacing of deck footings. Or increase the number of footings.
Using 2x8s for the flush beam and the trimmer joist does give the deck a beefer look will reducing the joist cost by using 2×6 for the field joists. This also helps to raise the joist off the ground reducing joist rot under the deck.
A third option which I often favour for its ease of construction for a low floating deck
is supporting the joist with buried 6×6 post-treated for ground contact. The 6×6 acting as dropped beams under the 2×6 joists, providing the necessary strength without the added work and costs of hangers.
Only Use Incised 2×6 Deck Joists Treated for Ground Contact
If the 2×6 joists are within 6″ (150mm) of the ground, they will need to be treated for ground contact. Requiring the use of incised 2×6 for the joists. Incision is required to get enough treatment in the 2x6s to prevent rot with increased moisture and fungi with ground contact.
Ground Cover Under a 2×6 Deck
Being so low to the ground, weed seeds will easily sprout and grow up between the decking. Making your beautiful deck look more like a weed patch than a platform for sunning. Pulling the weeds off as they sprout through the decking will be an endless task, with weeds sprouting up as fast as you pick them.
A better solution is landscape fabric
 with a couple of inches of gravel on top. The landscape fabric will prevent weeds from growing through the decking. The gravel keeping the landscape fabric in place while providing a base for the 2×6's. Both supporting the joist while draining away water. Which will minimize joist rot and frost heave.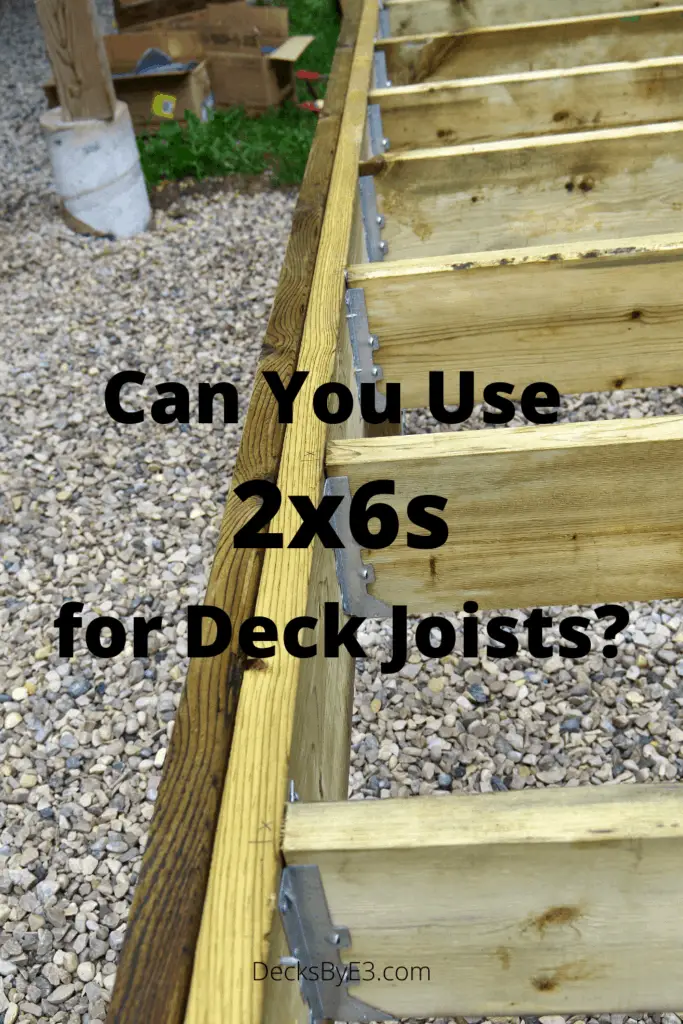 2×6 Joists Provide Sufficient Ground Clearance for Decking
Compared to 2x4s 2×6, the extra 2″ (50mm) of height help to raise the decking off the ground. Which is often a forgotten element of deck design. Most decking requires a minimum of 6″ (150mm) of clearance between the ground and the underside of the decking.
 "Minimum ground clearance required 50mm over concrete, 150mm over dirt. Drainage and airflow beneath the deck is also very important to ensure a good looking long term deck."

Trex
Moisture Shield
composite decking is one of the exceptions. Its unique encapsuling wood fibre design allows for ground contact and even full water submersion with dock application. But with most other decking, 2×6 joist will need to be raised a minimum of ½" (12mm) off the ground for the bare minimum ground clearance.
Laying a couple of inches of gravel under the deck will increase ground clearance, increasing drainage and minimizing fungi contact with the joists. Which is a good idea for low ground level decks
.  
2×6 Deck Joists Need Additional Ventilation
Ventilation
for a low deck can be achieved in one of two ways.
Either with vent holes drilled in the rim on each side of the deck. With two holes for each joist cavity, one on each end. To allow for a cross breeze to dry out the 2×6 and the underside of the decking.
Decking can also be vented by increasing gapping between deck boards. A good decking gap is 3/8″ (10 mm) between decking boards. This is sufficient both for composite and wood decking. To allow moisture to evaporate through the deck boards preventing water from being trapped under the deck.
Deck's with 2×6 Joists Cannot Support Railing
For a ground-level deck, this should not be a problem but something to be aware of. The Canadian Wood Council
 wood deck chart requires a deck with guard railing to have a minimum of 2×8 joists. A ground-level deck does not require a railing. Therefore, they are mainly decorative, but lack of strength to attach to will limit the railing rigidity.
A 12'x12′ Ground Level Deck with 2×6 Joist Material List
Material List
2×6-12 Ground contact (12)
6×6-12 post ground contact (3)
5.5″ by 12′ Decking boards (25) gapped 3/8″ (10mm)
Decking screws (500)
Galvanized 3″ Ardox framing nails or 3″ treated screws for joists (100)
Gravel 1.5 cubic yards
Landscape fabric 200 sqft
Approximate cost for 2×6 deck substructure $700 for the substructure plus $400 for 5/4″ x5.5″ wood decking. Giving you a low ground level deck for around $1 100 in material plus a weekend to put it together.
Upgrading the 2×6's to 2×8 to increase strength and raise the deck a little more out of the dirt will increase the cost by about $200 for the substructure. Which often is money well spent, increasing the strength and life of the deck. Unless a low yard level deck is desired.
In Conclusion of A 2×6 Ground Level Deck
2×6 deck joists are strong enough to provide a decent size deck for a few chairs and a barbeque. Rigidity can be achieved with sufficient joist blocking but still are limited for handrail application. As 2×6 joists do not have sufficient depth to support handrails.
If the 2×6 joists are ground level, increased care must be taken under the joists to support the deck and provide drainage. But this is the same for all ground level decks regardless of joists' depth.
But with sufficient ventilation and good construction, using 2×6 joists can provide a nice low deck at an economical price. I hope that helps.
Regardless of what joist you pick for your deck, I hope you enjoy your deck.