When it comes to decking, you might be what kind of material you should use. Wood is very durable, but it can rot with consecutive rain.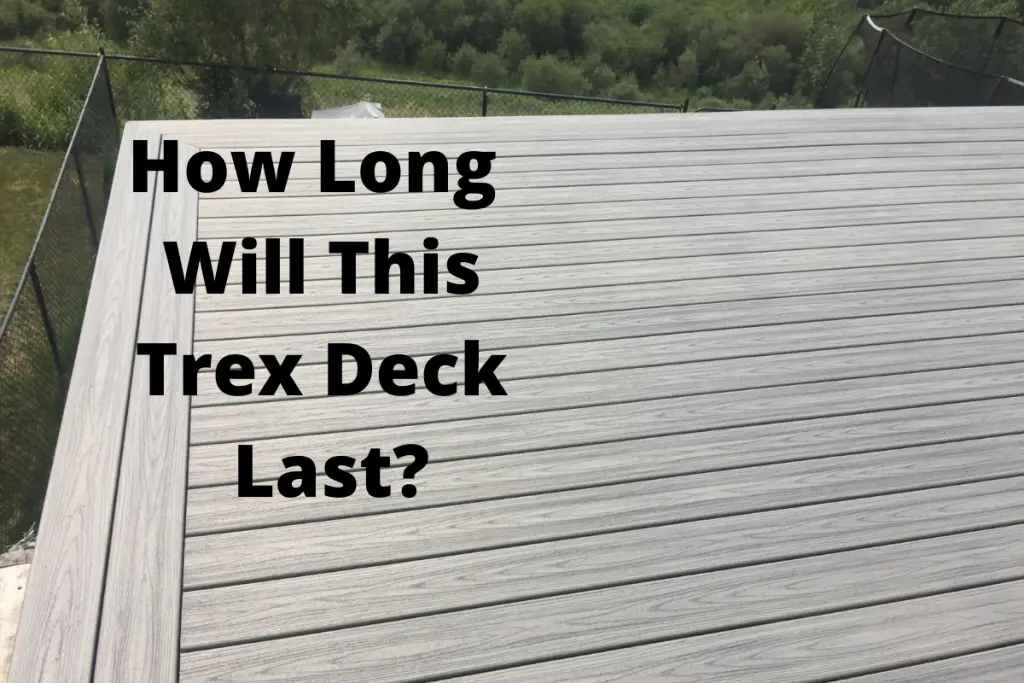 You have heard about Trex decking but how long will it last?
You can expect Trex composite decking to last a minimum of 25 or more years. Trex's warranty promises that it will not fail structurally, fade or be stained for 25 years.
Meaning it will last longer than many wood decks and requires less work to help it last. If you are looking for an affordable way to improve your outdoor space, that will last. Then you should consider building a Trex deck in your backyard.
What Is Trex Decking?
Trex is a brand name for a type of composite decking material that was invented by the company Trex Company Incorporated.
The company was founded back in 1983, and it started manufacturing this product in 1994. Since its inception, Trex has become one of the leading manufacturers of composite decking products in the United States.
Trex is manufactured using recycled plastic bottles which makes it completely eco-friendly. There are currently 3 lines of Trex decking:
1) Transcend is Trex's best decking
solid profile
1″ thick
8 colours, including streaking and variegation.
If you are looking for Trex's best-looking decking this is it.
2) Select is considered their better line.
It is a thinner board than their other two lines measuring 7/8″
Solid profile like Transcend.
5 different earth tones colours to choose from.
Good board colouring but not the colour depths and variety are not as good as Transcend.
Of all the Trex decking I have installed this one the least. Being less popular with homeowners.
3) Enhance is labelled their "good" line.
1″ thick like Transcend
Scalloped profile
7 colours, 4 include variation and streaking the other 3 are solid colours.
Probably the one I install the most because of its price. In particular, the Enhance Basic which Trex designed to compete with pressure-treated decking. Not as cheap yet but competitive.
The earlier versions of Trex were uncapped composite which impacted how long it lasted and its overall appearance. But now all Trex decking is capped for beauty and durability.
You can find Trex decking at major retailers such as Home Depot, Lowes, Ace Hardware, etc. Plus many local building retailers.
How Long Does Trex Decking Last?
Trex deck lasts much longer than wooden decks and it will not rot or decay. In fact, Trex is resistant to UV rays, moisture, insects, and mould. So, you don't need to worry about the durability of your new deck.
Trex decking can only stay outdoors for 25-30 years before needing replacement. However, it will need to be regularly cleaned to maintain its appearance
.
Trex actually warranties all their decking lines to last 25 years and maintains their appearance for all those years. This is not the longest or best composite warranty
but is the standard that all companies seek to match or beat.
Can You Recycle Trex Decking After It's Worn Out?
No, Trex decking cannot currently be recycled.
Trex decking is made from 95% recyclable materials. This saves 500 million+ pounds of plastic film and wood
from going to landfills each year.
Does Trex Decking Last Longer Than Wood Decking?
Trex decking will last longer than pressure-treated decking. Exotic woods like Ipe will last longer than Trex but will fade in the sun. And are harder to install.
Trex deck also requires little maintenance compared to wood decking. It never needs to be sanded, stained or oiled. It also looks great when you install it and will continue to its wide range of colours will continue to look good for many years to come.
If you're looking for a cost-effective solution for your outdoor living space, Trex decking might be what you've been searching for.
Wood decking can perish a lot easier than Trex and it is a lot more susceptible to crumbling when exposed to months and months of rain. Trex is a much better choice if you live in a region that gets lots of rainfall.
If you want to know more about how Trex compares with Pressure-Treated Decking
, click the link.
Will Trex Last Longer Than Cedar Decking?
Cedar is often hailed as the best natural decking resistant to rot. This is partially true with its natural resin, reducing rot. But the more we harvest younger cedar trees the less resin is in the decking preventing rot.
Making that Trex will last longer than cedar decking but will not require the same level of sealing and staining that cedar does to keep its beautiful colour.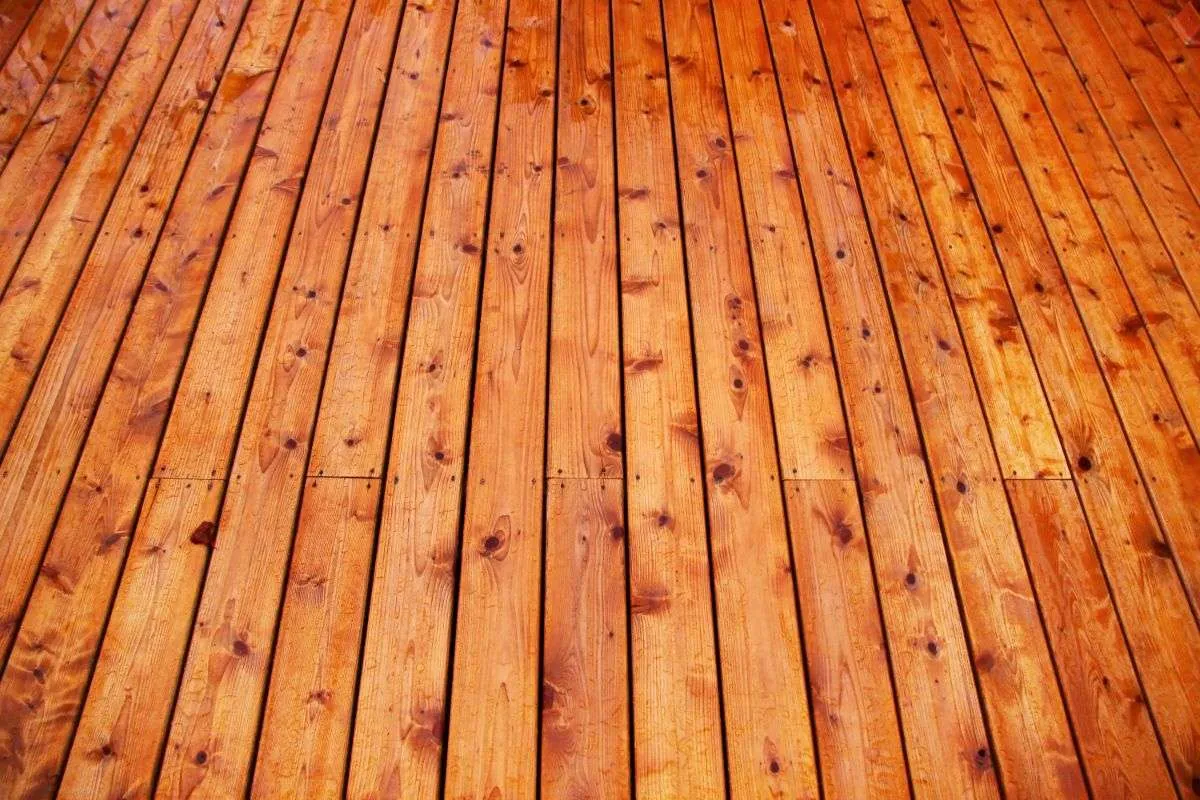 You'll need to treat it regularly with oil and it needs to be stained periodically.
Second, cedar is more likely to crack than composite decking.
Third, it can crack easily.
If you're planning to build a deck that will last, Trex is definitely a better option. It's easy to maintain, and will most likely last longer.
Are There Any Other Types Of Decking That Will Last Longer Than Trex?
There are other types of decking available on the market today. Some of them include composite decking, vinyl decking, and even bamboo decking.
Each one of these options offers its own benefits and drawbacks.
Vinyl or PVC decking is usually found in residential homes and it's a bit more expensive than Trex. But often is warrantied to last 50 years.
Bamboo decking is becoming increasingly popular because it's environmentally friendly. A little more resilient than wood decking. But bamboo requires a similar level of maintenance as wood decking. But the warranty for Bamboo is same length as Trex decking. Making it safe to assume it will last about the same amount of time as Trex.
For the best of both worlds, you could use bamboo-based composite decking. Two brands that offer bamboo-based composite decking are Fortress and Cali. Similar to Trex except with the strength of bamboo fibres instead of wood fibres like Trex. Which may help it to last a little bit longer than Trex.
Trex decking is still one of the best composite decking
available. Click the link to read which one is best and the strengths of different composite decking brands.
The bottom line is Trex is not the longest-lasting composite decking but with a 25-year warranty promises years of enjoyment. It is one of the easiest deckings for DIYers to work with and one of the best-priced composites.
Is Trex Deck Safe For Kids?
Yes, Trex is safe for kids and pets. It's non-porous and it won't attract dirt or grime. Plus, it's stain-resistant and it's highly resistant to water damage.
Composite decking is a good choice for young families for its durability and is safe for young kids to play on.
Can I Install My Own Trex Deck?
Yes, you can do this yourself.
Of all the composite decking I have installed I would say Trex is the easiest. Making it the most DIY-friendly.
Just follow these simple steps:
Step 1: Check that you have framed the deck substructure and checked to make sure all the blocking is installed. Everything is fastened correctly.
I would also recommend installing joist tape on the joist before installing the decking to decrease rotting. Not essential but it will help the substructure to last as long as the decking.
Trex has its own joist tape but you can also check out my top picks for joist tape
.
Step 2: Snap a chalk line where you want to install the second board at the front of the deck furthest from the house. That way you can hide your cut under the deck flashing
by the house.
The line often will be 4 3/4″ from the edge of the deck. Allowing the decking to overhang the edge of the fascia board.
Step 3: Install the first board along the chalk line on the joists. The edges should overhang to allow you to trim the boards after installing.
Step 4: Install all the field decking except the last 2 boards by the house. Regularly checking that the boards are being installed straight and with consistent gapping.
Step 5: Place the second last board in place with the correct gapping, but do not fasten.
Step 6: Measure the width of the last board being installed by the house. Remember to subtract for the gap and 1/4″ for expansion by the house.
Step 7: Rip the last board to the correct width and cut it to the correct length.
I love finishing the edge of the decking
by picture framing. So subtract the edge board widths and precisely cut them to allow the edge board to be installed.
Or you can cut the boards to correct length to allow for your desired overhang.
Step 8: Slide the ripped board under the flashing.
Step 9: Cut the full board beside it to the same length for it will not need to be trimmed later.
Step 10: Fasten the last two boards in place. Ensure the ends line up perfectly, or as close as you can.
Step 11: Snap a chalk line to cut the ends of the decking. Use blue or white chalk for it can be cleaned off later.
Step 12: Cut the decking ends with a circular saw set to the depth of decking. If you installed joist tape cut it slightly less and finish the cut with a utility knife being careful not to cut the tape.
*For a straighter cut use a guide or track saw
.*
Step 13: Install picture frame boards. If you are not finishing by picture framing install the first board on the deck over the rim.
Conclusion
Trex decking is a great way to add value to your home while making your backyard look beautiful. It's a low-maintenance alternative to traditional wood decks and it will provide years of sustainable underfoot support.