Are you looking to purchase plastic furniture and want to know how long it will last? Maybe you have some plastic furniture already and want to know when to expect to replace it?
No matter what the question is that brought you here today, we have the answer for you! 
Plastic furniture is a staple for many of our outdoor areas. Not only is it usually affordable to purchase, but you can get it in virtually any style to suit your tastes.
But figuring out how long plastic furniture lasts
can be tricky. You are often met with conflicting information online, leaving you frustrated and unsure where to turn. 
Well, no more! Today we are here with the answers that you need. Just keep reading to find out how long plastic furniture lasts and everything else you need to know about it!
How Long Does Plastic Furniture Last?
Let's dive straight into it! How long your plastic furniture will last varies depending on the quality of the furniture and how well you care for it.
Different types of plastic furniture will last different amounts of time too. 
Typically, plastic furniture can last anywhere from five to fifty years! We know that is quite a range.
It could be well worth your money at 50 years. Or money thrown into the garbage in 2 years.
The wide timeframe does make it difficult to give an accurate answer to how long your plastic furniture will last, but there are some factors you can consider to help you determine how long your plastic furniture will last. 
Let's take a look at these factors now! 
The Quality Of The Furniture 
First, you want to consider the quality of the plastic furniture you have bought. If the plastic feels thin and flimsy, then chances are it isn't going to last for fifty years.
Just like with any other furniture you purchase, you want to ensure that your plastic furniture is high quality to ensure longevity. 
Look for sturdy-feeling plastic furniture that is made with thick plastic, as opposed to thin plastic that could snap or break easily.
Another good feature to look out for when determining the quality of plastic furniture is the warranty period.
A longer warranty period indicates that the manufacturer is confident their product will last (some plastic HDPE furniture comes with a limited lifetime warranty). A good example is Breezesta, which has a lifetime warranty
on its patio furniture
Whereas a shorter warranty period usually suggests you will need to replace it after a few years. 
Many injected plastic patio furniture you can pick up on your way out of the big box store will have not warranty at all.
If your plastic furniture feels thick and secure and comes with a long warranty period, there is a good chance it will last for more than five years! 
How You Care For Your Furniture 
Just like with other furniture, how you care for plastic furniture reflects how long it will last. Are you leaving your plastic furniture outside in a storm unprotected to battle the winds?
Cold makes plastic brittle. Left out on the deck in winter can quickly lead to damage. Especially if used in the cold.
Moving it indoors when not in use, covering it, or applying protectant sprays to your plastic furniture, chances are you can enjoy the furniture for longer, and in better condition! 
Tying them down to the deck can also help to prevent damage from wind.
And to protect your plastic furniture from sun damage, you can apply a protectant to them. Generally, this helps prevent the colour from fading but can also stop the plastic from cracking in extremely hot or dry weather too. 
The better you care for your plastic furniture, the more likely it is to last beyond five years. 
The Price Of The Furniture 
If you only paid a few dollars for your plastic furniture, then there is a good chance it won't see more than one or two summers.
But if you have invested in durable and high-quality plastic furniture, you should have it for many years! The saying is true when it comes to plastic furniture.
" you get what you pay for.' 
So if you are purchasing cheap plastic furniture, it might seem like a bargain, but the chances are you will need to replace it regularly, which means you end up spending more money over a few years than if you purchased the expensive option at the start!
Expensive plastic furniture
is often made with recycled plastic which is not only good for the planet, but for you too!
The recycled plastic furniture is often made to be incredibly durable (helping to cut down on plastic waste long-term), so you can expect it to last for many summers to come.
Although this isn't suitable for everyone's budget, if you can afford to invest in expensive plastic furniture at the start, you shouldn't need to repurchase your furniture any time soon! 
How Can I Make My Plastic Furniture Last Longer? 
To make your plastic furniture last longer, you need to protect it.
You can use outdoor furniture protectors or sealants to prevent the colour from fading when exposed to the sun, but this usually only improves its appearance.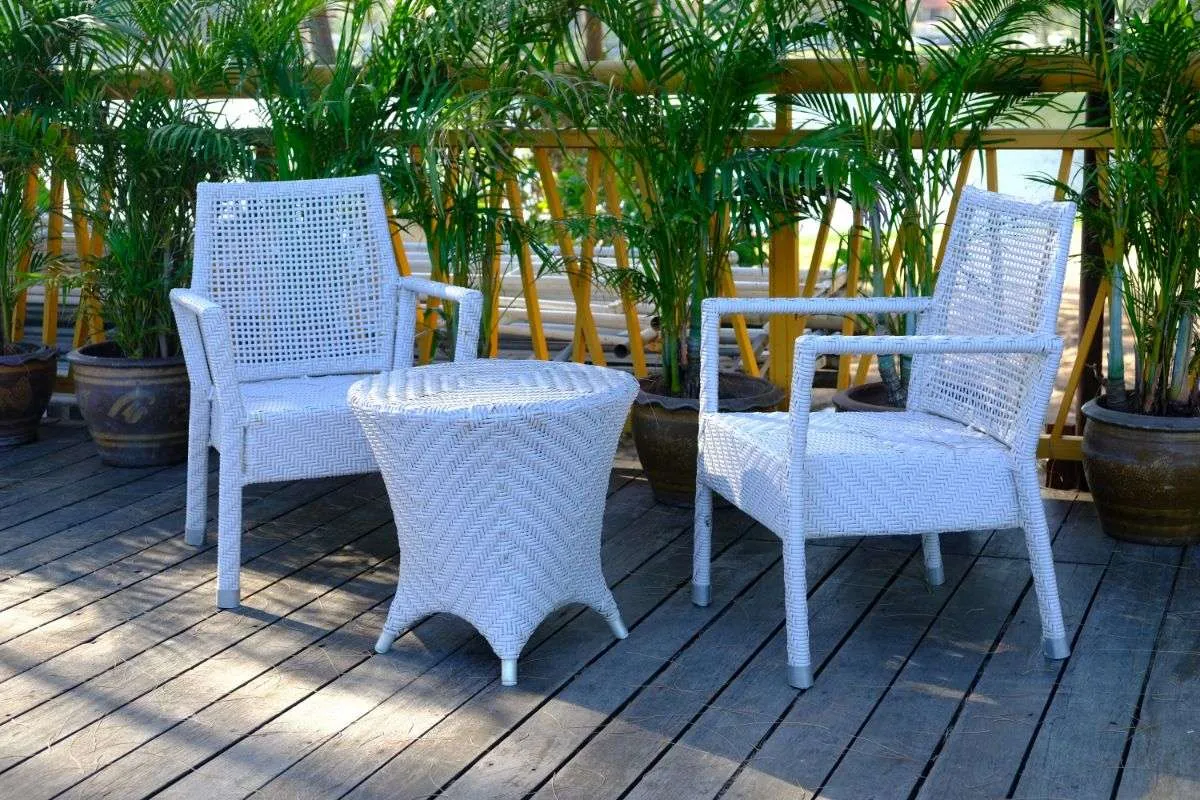 The best way to make your plastic furniture last longer is to shield it from any harsh weather conditions. This involves moving it indoors or placing covers over the furniture to protect it.
Not everyone can move their furniture indoors during bad weather, so make sure you have some covers or stakes that will allow you to quickly cover it and secure it to the ground. 
You will also want to clean your plastic furniture regularly.
Removing any water from the chairs will prevent them from warping over time and ensuring that dirt and debris are wiped off regularly will help to prevent any mould or mildew from setting in.
You can clean your plastic furniture with some soapy water, or consult the manufacturer to see their cleaning recommendations!
Final Thoughts 
And there you have it! Your plastic furniture can last anywhere from five to fifty years depending on the quality of the furniture and how well you care for it.
Make sure to follow any care and cleaning instructions provided so that your plastic furniture can stand the test of time!