If you're reading this, you're undoubtedly wondering whether Breezesta
is a good brand when you're looking for poly lumber furniture.
To help you make your decision, we'll tell you all you need to know about Breezesta and give you an idea of the quality of their furniture.
Who Is Breezesta?
Breezesta was founded in 1999 to create its own sustainable outdoor furniture. They have since become a leading name for furniture made of poly lumber.
"a focus on product innovation, quality control, and environmentally-conscious production. "

Breezesta
Since then, they've focused on improving their products to help you transform your property.
Breezesta is committed to its high quality by promising a lifetime residential warranty on all outdoor furniture. More on this later.
What Is The Furniture Made Of?
Breezesta's furniture is made from High Density Poly Ethylene (HDPE
) poly lumber which is heavier than their competitors' material. They even have Sure-Lok joints which help to keep their products sturdy.
You'll notice that Breezesta's poly lumber looks like authentic wood, and the graining can help conceal minor scratches instead of a smooth plastic appearance. Works similar to embossing on composite decking. Campflouging damage.
They also have a variety of colours available that are highly saturated and help to protect the furniture from any scratches.
They can use Sun Guard technology to prevent their colours from fading and are backed by a three-year guarantee. 
Using poly lumber, Breezesta promises that their furniture is durable and requires little maintenance. You just need to wash it down with a hose or use a soft brush with a mild cleanser.
If you want a specific cleaner, they even have their own cleaning spray for their furniture. 
Furniture Collections
Breezesta
has eight different furniture collections available on its website. These include:
Adirondack
Avanti
Chill
Coastal
Elementz
Palm Beach
Piedmont
Skyline
I'll take this moment to briefly discuss what these collections are made up of. Let's start with Adirondack.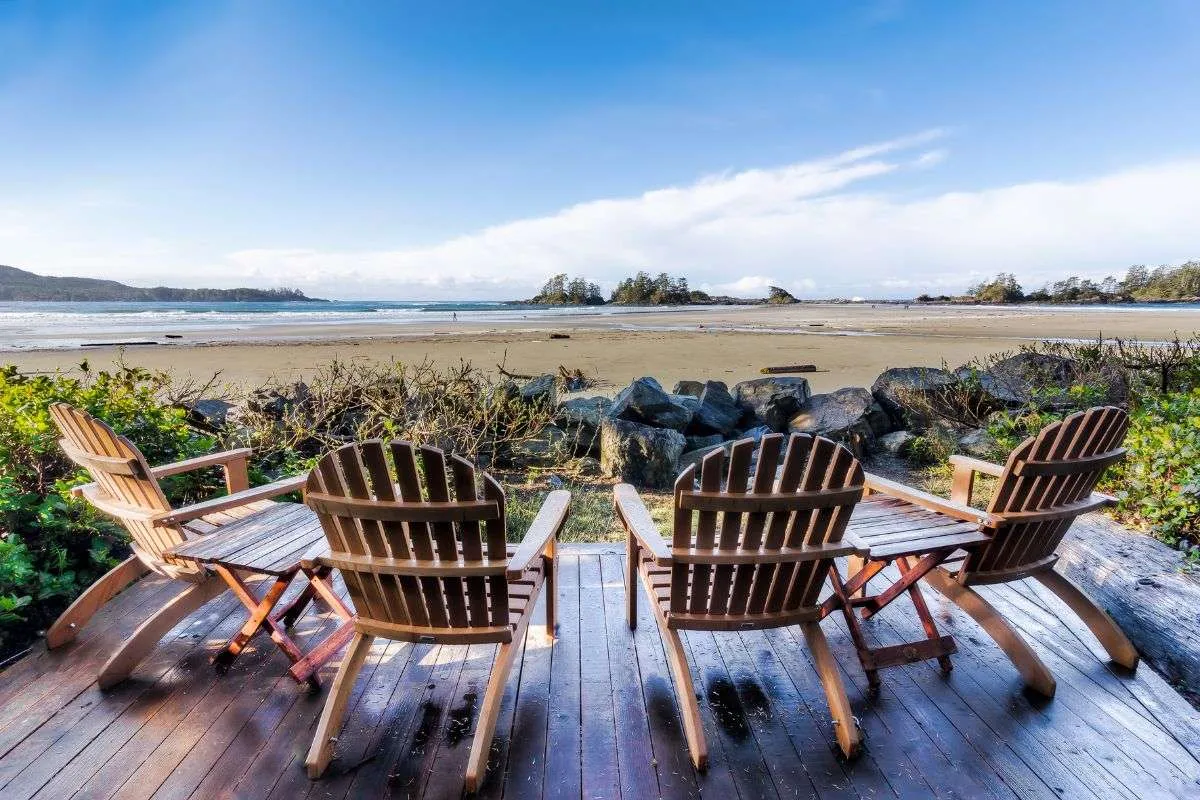 Adirondack
Adirondack is a collection that focuses on chairs and accessories. Adirondack has both chairs and rockers and two different types of accent tables to put your drinks. 
Avanti
The Avanti collection is all about class and sophistication, and they've been designed to complement any table you may already have at home.
They work great in terraces and courtyards, with this selection of chairs focusing on relaxing comfortably.
Chill
The Chill collection is perfect for lounging by the pool. They have chairs, a coffee table, and a side table.
If you look at Breezesta's Chill collection, you'll find that they even come with a custom cushion for the chairs in this collection.
Coastal
The Coastal collection is perfect for those lazy days where you're not sure if you want to relax your elbows or not.
There are a variety of chairs available with tabletops and accent tables included. These chairs are perfect for you to take a moment to nap.
Elementz
Elementz is all about dining, including a Fire & Ice table. You can turn the middle into a fire or an ice bowl, and they even include all the equipment needed for these pieces of furniture.
Undoubtedly one of the most interesting collections, it even works with Adirondack chairs.
Palm Beach
If you're looking for outdoor entertainment, then Palm Beach is a perfect collection.
There are dining tables, but a variety of lounge chairs are available for some outdoor sofas. Cushions can be bought either separately or together. 
Piedmont
Piedmont is an all-rounder that can work anywhere. From benches to coffee tables to lounge chairs, Piedmont can go anywhere you want, and they have a good variety in this selection.
Skyline
Skyline is a more classic collection with inclusions such as a swinging bench and a rocking chair to sit back and catch back with friends and family. 
Colour Options
Twenty colours are available for you to choose from with Breezesta, but you can also mix them up with a multi-colour look.
They're designed to resist fading and low maintenance, so you don't have to worry too much about how to look after them.
Breezesta's Warranty
Breezesta has promised a lifetime residential warranty, but I feel I should go into more detail about what this warranty entails.
After purchasing your furniture, you have fifteen years from the purchase date with a 100% credit that can be applied to replacement parts or furniture units. 
After fifteen years, you have 50% credit of your original purchase price of the furniture for any replacement parts or furniture units you may need.
After twenty-five years, you only get 25% credit of your original purchase price to use for any replacements. 
If there is any sort of manufacturing defect that occurs during the original owner's lifetime, Breezesta will either repair or replace the defective product.
However, they won't be liable or responsible for any labour charges related to the replacement. They will also reserve the right to refund the original owner for the product. 
However, you'll find that in the case of commercial owners of Breezesta furniture, their warranty won't last as long and will only last for five years. 
Fading of colour is limited to 3 years. So if you are going to enjoy your furniture for a lifetime expect some fading. The colour warranty is also very subjective. They will only replace it if they deem it has faded more than to be expected.
Overall, the warranty does last a considerably long time. So, if you're looking for some permanent furniture, then Breezesta may be a good brand for you to go with.
Pricing
When you're looking at the pricing of Breezesta, you'll find that they're a bit cheaper than other poly lumber. However, it's still pretty expensive. Otherwise, it does stick out as one of the leading brands.
Final Thoughts
Overall, Breezesta is a pretty good brand to choose from. They have cheap options available and a good warranty.
While they don't have a wide range of furniture, their collections are pretty diverse, and the colour customization offers to give them a step up compared to their competitors.
If you're looking for poly lumber furniture, I would suggest looking at Breezesta and seeing if the furniture is right for you.
Find a place that sells the furniture, and look in person to find out if this brand is right for you.