When searching for the perfect decking, it's important to keep in mind all the positives and negatives of each brand and material. 
One big area to consider is how slippery the decking is. Slipping can be a serious problem, and no one wants to walk so hesitantly over their new decking. So, slipping on a lot of people's minds when shopping for composite decking.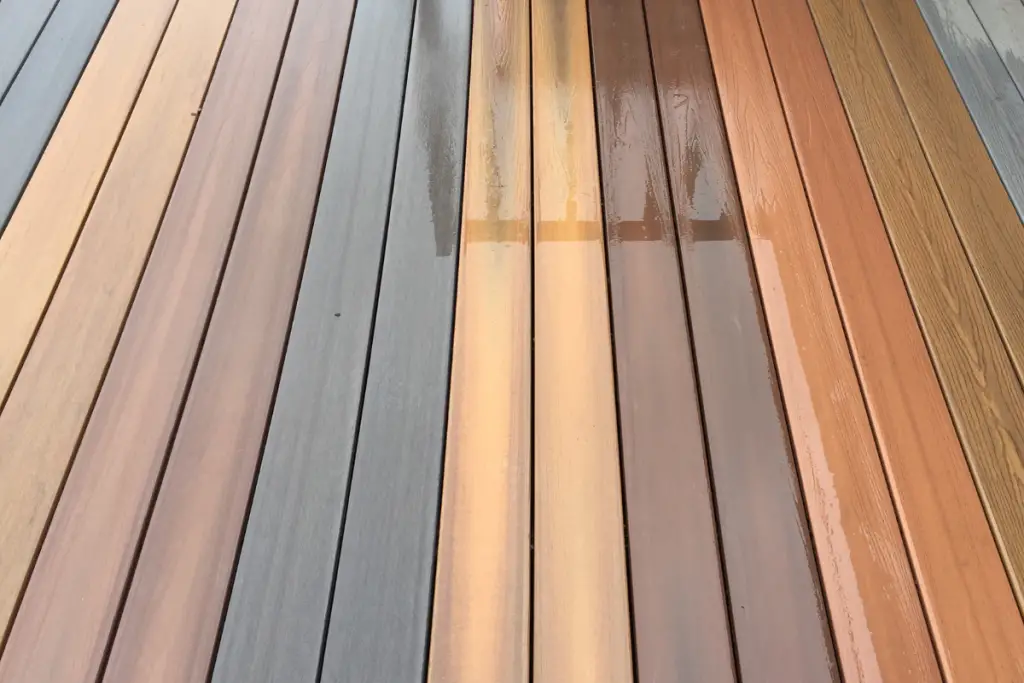 If you have been thinking about getting a Fiberon composite decking but you have heard that composite decking is slippery
, then this is the guide for you. We are going to be checking all 6 lines of Fiberon decking to see which one is the least slippery
.
Types Of Fiberon Decking
First, let's take a look at Fiberon and what kind of decking they offer.
Composite decking is made from polyethylene (PE) plastic and wood fibres. The benefit of composite decking is enjoying being outdoors on your deck without the countless hours of maintaining a wood deck.
Fiberon sells 4 lines of wood composite decking.
Concordia
Sanctuary
Good Life
ArmorGuard (Only available at Home Depot)
But Fiberon also makes 2 lines of PVC (polyvinyl chloride) decking.
PVC has some advantages over composite decking
, often considered better.
PVC and composite decking are definitely different from one another when it comes to their features – including how anti-slip they are. So, which one is generally less slippery? 
Composite Vs PVC Decking – Which Is More Slippery?
Composite and PVC decking have a lot of differences worth considering when choosing the right decking for you. 
Slip resistance is top of that list.
When wet, it's generally agreed that PVC is less slippery than composite decking. 
However, it's worth noting that older composite decking is more slippery than its newer models. This is because newer composite decking often has a polymer cap
, which improves the texture of the decking.
Because of this, the grain pattern on composite decking provides feet, shoe soles, and pet's paws more grip – even when the surface is wet. 
Water is notorious for causing less friction between feet and a flooring surface. Water pooling on your decking can become a serious slipping hazard.
This is why a deck should have a slight grade to help water to run off the decking. Preventing pooling.
But when you compare PVC decking with composite regardless of the brand. PVC will have better grip.
There are a few exceptions, but not with Fiberon. All Fiberon's PVC decking is more slip resistant than their composite.
Water Makes Fiberon Decking More Slippery
When wet, Fiberon's decking is more slippery (as most decking is when wet), but it's still much less slippery than older models of composite decking due to the texture of its cap. 
Not only does it make it more weather resistant and much more durable, but it also provides feet with a greater amount of friction to help prevent slipping.
Fiberon's PVC decking is far more advanced in its design and this helps it provide more traction even during a rain storm.
Which Of Fiberon's Decking Lines Are The Most Slippery When Wet?
Here is our ranking of Fiberon's different decking lines after researching and comparing each line of decking.
Most Slippery Fiberon Decking: All Composite Lines
All four lines of Fiberon wood composite decking score poorly for traction.
It doesn't matter which line.
All 4 lines score lower than CCMC's recommend flooring slip resistance of 0.5.
Ironically their budget line (GoodLife) provides better traction when wet than their more expensive Concordia line.
Sanctuary is the most consistent. With water impacting slip-resistance very little. Which, in some ways, is better. You get used to the level of sliding on your deck in the sun, but when it starts to rain, and you run for shelter, it grips your feet the same. No surprises underfoot.
The best traction among the composite decking when dry was ArmourGuard and Concordia with a 0.40 rating.
Add a little water, and they quickly become the worse. With a diezmos 0.31 when wet.
Seriously Fiberon?
Of all the composite and PVC decking I have researched for traction, there are the worse. I can only hope that the poorer performers just haven't been tested. Hence why they are not on the list.
Basically, don't try running around on wet Fiberon composite decking. When dry, they are okay but just not when wet.
Better Slip Resistance Fiberon Decking: Promenade Decking
Wow, the difference of PVC.
With Fiberon's Promenade, we almost double the slip resistance. Still not performing as well when wet but still pretty good.
0.70 dry

0.51 wet

Promenade
Even when wet, is meets CCMC slip resistance for residential flooring.
When dry, it does even better. Not the best traction of synthetic decking but a really good performance.
With Promenade, feel free to sleep on the dance shoes and enjoy dancing on your deck. If it starts to rain you may need to slow it down a bit but still, enjoy your deck.
Sure, it isn't completely slip-proof and icy conditions. This decking definitely would be slippery with the morning frost. But, on most days you should feel comfortable strolling across your Promenade deck.
And it looks pretty amazing.
If you are looking for even more traction, let me introduce you to Paramount.
The Least Slippery Fibeorn Decking: Paramount Decking
Paramount is the clear winner of all of Fibiron's decking for slip resistance. There are better but Paramount is Fiberon's best.
0.80 dry

0.75 wet

Paramount
The clear winner when it comes to the least slippery Fiberon decking is easily its Paramount decking line – and for good reason!
Fiberon designed Promenade decking to be perfect for 'docks and other waterside applications.'
Being free of organic material, there is nothing in Paramount that can grow mould. Which is essential for decking by pools or hot tubs
.
As a plus, it will not warp, swell, or discolour. Along with being extremely slip-resistant thanks to its cap. 
So, if you were hoping to install your Fiberon decking around your pool or any water features, the Promenade decking is definitely the best choice you have from this company.
How Do You Make Fiberon Decking Less Slippery?
Even with Paramount Fiberon's least slippery decking, or even their other lines, there are other factors that can cause a slippery deck. Things like mould, snow, and debris can also cause slips and slides on decking. 
Water is not the only factor causing slips on your deck.
Mould and mildew can make any decking surface slippery.
Making cleaning your composite deck
so important to prevent falls. Click the link for how-to and tips on cleaning composite decking. But to minimize slipping, focus on cleaning off slimy film and build up which mould can grow on.
The composite cap, if clean, will generally provide sufficient grip. Even Fiberon's Concordia composite.
Already having better traction, but this is an advantage of Fiberon's PVC deck boards. Without wood fibres, it is hard for mould to grow on.  
But do clean your deck, and you will slip less.
Final Thoughts
If slip resistance is the key characteristic for your decking, with Fiberon, you will need to stick with Paramount or Promenade. These PVC boards perform much better.
If you don't want to pay for PVC decking, check out, Composite Decking with the Best Slip-Resistance & Traction
. There are composite decking brands that are less slippery. But be warned, just like Fiberon, most of the best for traction are PVC.