When you start looking around for outdoor furniture, one of the first things you'll notice is the dizzying amount of different wood types that you can choose for your furniture.
You want your outdoor chairs, tables and seats to be extremely durable but also look beautifully natural.
If you don't want to go with natural timber that you need to maintain, then both Polywood or Highwood are a great wood alternatives.
They resemble wood in appearance and even texture. But, they are much more durable and need very little care and maintenance.
But which is Polywood or Highwood? Let's take a closer look at these two HDPE outdoor furniture brands
and find out which one is better.
Begining with a short Introduction
Who is Polywood?
Not to be confused with the material. Which is a high-density polyethylene (HDPE). Often made from recycled laundry detergent containers, milk jugs, bottle caps and similar products.
Polywood, sometimes called Poly lumber is the bases of many low-maintenance outdoor furniture brands. Including Polywood, the outdoor furniture company
.
Polywood was started in Syracuse, Indiana by two high school friends who wanted to do something positive for the earth. By making something beautiful and useful out of waste. The birth of durable outdoor furniture made from recycled plastic.
The first piece of furniture produced was the classic Adirondack chair. Made from HDPE with less maintenance than the traditional wood chair.
Since their humble beginning in 1990 they now recycle millions of plastic containers every year.
Garbage containers are now enjoyed as Adirondack chairs, rocking chairs, benches, gliders, deep seating, dining, and many more outdoor furniture designs.
Striving to keep up with the demand for high-quality material made from recycled material they will be opening a second facility in North Carolina.
This growth and dominance of outdoor furniture has now made them a market leader. To the point where often any HDPE furniture is referred to as Polywood. But only Polywood is Genuine Polywood.
Advantages of PolyWood Outdoor Furniture
Not exclusive to Polywood but reasons to consider when buying outdoor furniture.
1000s of tons of waste is diverted away from landfills and oceans to make Polywood furniture every year.
Durable plastic which is super easy to clean with just warm water and soap
UV-inhibited pigments to their furniture to keep their colours strong for years outside
Material colour runs continuously throughout the material, and not only on the surface. So if you accidentally scratch it. It blends in.
Weather-resistant, from strong coastal winds and snowy winters to hot and dry sun
Does not need to be painted like natural wood
Won't rot, splinter, peel, crack or chip
Plus Polywood furniture is available in a huge range of colours and 2 textures.
One of the most popular texture finishes is the Classic Finish. A smooth texture with a satin-painted wood appearance.
Polywood also offers an alternative finish, the Vintage Finish. A subtle, wire-brushed texture finish looks like matte painted wood. A less glossy, shiny look. With more of a line pattern compared to the Classic Finish.
While the wire-brushed texture of the Vintage finish is different from the Classic finish, both types of furniture are equally easy to clean and they can withstand almost any kind of weather conditions.
It's worthwhile noting here that not all Polywood finishes are available in all colours, so make sure that you take a close look at the furniture you are interested in and find out what colour options they offer.
Who Is Highwood?
Highwood
was started back in 2003 in Pennsylvania with a vision of "Carefree Backyard Living".
Which summarizes their focus. Furniture for your backyard that does not add to your to-do list.
Doing this by striving to exceed expectations by innovating new products while delivering exceptional service.
One of these innovations is unique, high-grade poly that is incredibly durable and the most realistic alternative to real wood. With a natureTex surface. Going one step more they smooth over the edges of the material to increase comfort and look.
Highwood® poly lumber looks like real wood, yet it won't crack, peel, or rot. 
Even in extremely harsh weather, from salty coastal regions to freezing ice in Alaska and the drying Texas heat.
Highwood doesn't require any staining, painting or waterproofing, and you only need to clean it now and then with some water and soap.
Thanks to its deep colour pigmentation, Highwood material is resistant to colour bleaching so it doesn't fade over time.
Enough about the individual companies. How do they compare to each other?
Comparison Highwood Vs Polywood
Polywood and Highwood have a lot in common with similar materials used in the manufacturing of patio outdoor furniture.
But their furniture is not the same.
Number of Furniture Collections and Options
POLYWOOD provides a broader selection of furniture options than Highwood does, both in terms of the style of the products and the range of those products. 
Polywood has 27 different collections

Polywood
Highwood has only 4 cbrands and one (Everwood) is more building material than furniture. Leaving 3 furniture brands.
Highwood®, their most established brand
Elk Outdoors, investment-grade furniture
Sequoia Professional, commercial product line up and features (like park benches, etc)
The biggest difference between Polywood and Highwood collections is their purpose.
Polywood's wide range of collections differs by design and appearance.
Whereas Highwood is more by use. Highwood is their standard residential collection, Elkwood outdoors builds on Highwood's success. With Sequoia Professional the furniture is often manufactured with a higher weight capacity along with longer warranties than their other lines.
Durability and Strength
Over time, outdoor furniture often weathers and loses its colour from the sunshine, hail, snow, ice and other weather conditions.
In addition, furniture for outdoor spaces made from natural wood also often cracks and loses its structural stability.
Polywood and Highwood don't have any of these disadvantages. Both Highwood and Polywood don't fade in the sun or harsh climates. 
Polywood lumber has a UV-inhibited segment system which means the colour of your furniture stays the same as long as the furniture lasts.
Both furniture materials are resistant to cracks, rot and peeling. 
So both are similar in durability, one difference is weight capacity.
Both Polywood and Highwood design and test their outdoor furniture for 400 lbs. Good strong furniture.
But with Sequoia Highwood goes one step further in making its furniture stronger. Testing their chairs at 500 lbs. Ensuring that it is 25% stronger than most other HDPE furniture. If strength is key, Sequoia may be the answer.
Colour Density
Polywood clearly states that their furniture made with Genuine Polywood plastic contains light-stable pigments. This means that the colour of the furniture runs throughout the piece.
This means you don't need to waterproof or paint Polywood furniture. But its colour will still hold up to being outdoors.
Highwood doesn't mention specifically how they achieve a strong and vibrant colour in their furniture but they also say that Highwood outdoor furniture keeps its colour in all weather conditions.
Authent

ic Wood Look

When it comes to good-quality furniture, you don't want it to look cheap. That's why, Polywood and Highwood furniture mimic the look of real wood furniture.

They have the same thickness, slightly heavier and feel of real wood outdoor furniture, so only when you look closely, you can spot that both Polywood furniture and Highwood furniture are made from composite materials.

But when you are looking closer at the two furniture brands, you will see the extra craftsmanship and detail that has gone into Highwood furniture. Highwood has gone the extra mile to make their furniture look more like wood than Polywood. Not a huge difference but with an eye for detail you will see the difference.

If authentic wood appearance is important to you. Do take a closer look at Highwood.
Repairs
Polywood recommends that you don't try to repair their furniture by sanding it down as this can scratch the surface and void the warranty.
On the other hand, Highwood suggests a few simple steps to repair their synthetic wood furniture
.
Highwood recommends using a very fine grade of steel wool to gently sand any scratched area on your furniture. 
Make sure that you rub the steel wool in the same direction as the artificial wood pattern to ensure that the repair results look good later on. Sanding as you would with wood, "with the grain".
Try not to apply too much pressure. It should be just enough until the scratched area looks lighter in colour and a little dull.
Then, apply some carnauba wax or furniture polish, and buff it off for a good finish.
If you can still see the scratch, then it's worthwhile repeating the process, although this depends on how deep the scratch is.
After the Highwood furniture repair, you may notice that the area looks a little artificial but Highwood says that this will blend in and weather over time.
Sustainability
We all are becoming more and more focused on sustainability and how environmentally friendly the products we buy are.
Natural wood is a finite resource on our planet and it doesn't regrow quickly enough to cover all our consumer goods.
Traditionally, outdoor furniture was always made from wood as it was durable and sturdy material.
But both Polywood and Highwood went a different route, creating outdoor furniture lines that use recycled plastic.
Polywood uses polyethylene plastic sourced from thrown-away milk jugs and bottle caps. Diverting waste away from landfills
They also mix in stabilizers, pigments and UV inhibitors into their furniture to ensure that the colour looks vibrant and the material is durable. Without requiring regular painting or staining.
This means that they do not just recycle landfill plastic waste but their products also last much longer than real wood furniture meaning there is a lot less waste in future.
Plus in the end, HDPE furniture can be recycled again into useful products. In fact, Polywood does exactly that, recycling 99% of its manufacturing waste.
While Highwood doesn't give specific details about its manufacturing process, they also use post-industrial materials.
As a bonus, Highwood runs their furniture factory with solar energy which only increases their sustainability in manufacturing.
Price
Outdoor furniture has always been a big investment, especially when you are looking to buy a set of chairs, tables and other furniture, such as a bench or a swing.
HDPE furniture has the advantage of lasting longer than many alternative furniture meaning you have more years to recoup your costs. Not having to buy new furniture every few years.
I say that to set the premise that both Polywood and Highwood patio furniture will cost more than similar wood furniture.
Between the two brands generally, Polywood will cost less. It will vary by a piece of furniture but can be as much as 30%.
Now that is not hard and fast, that if a Polywood chair is priced at $200. That the same Highwood chair will cost $260. But do expect to pay a little more for that "authentic wood" look.
Cleaning
Cleaning outdoor furniture shouldn't be difficult and time consuming, especially when you need to clean an entire furniture set.
Highwood and Polywood furniture only needs a gentle wash with some soapy water and a soft brush. 
Highwood recommends that you use a soft bristle brush to remove any stuboorn dirt that sticks in the wood-grain surface.
Then rinse the furniture thoroughly with water and allow it to air dry.
If you need to get more surface grease and grime off your furniture, then you can also give it a deep clean with a power washer. This gets the cleaning job done very quickly.
It's important that you only use water-based cleaners on your Highwood and Polywood furniture. Make sure that you avoid any cleaning solutions that contain aromatic solvents.
If you are not sure that your cleaner is suitable, you can test it on a small, hidden area on your furniture.
But overall between the two, cleaning is almost the same. Both will save you time and money in maintenance.
Warranty
Polywood have a 20 years warranty on many of its products for residential use. In comparison, Highwood only offers a limited 12-year warranty on residential use products. Highwood's Sequoia Professional brand offers a 20-years warranty for high use.
At first glance, Polywood has a better warranty. Sequoia Professional is close but this is only for a limited amount of Highwood's furniture.
Is Polywood Better Than Highwood Furniture?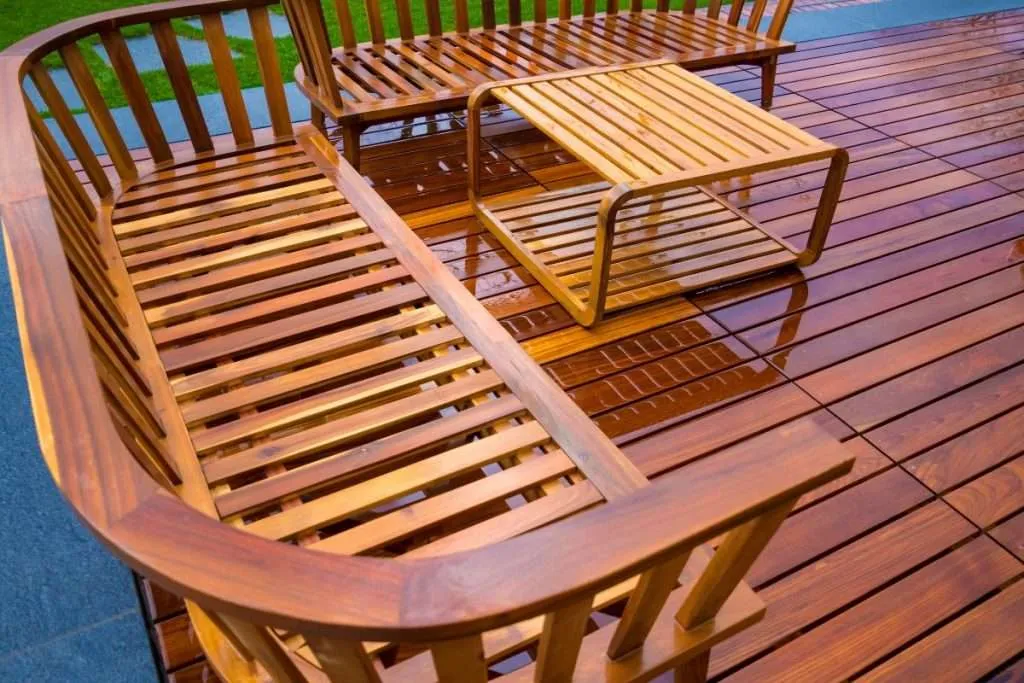 Both Highwood furniture, as well as Polywood furniture, have similar advantages over real wood outdoor furniture. But Highwood mimics the look of wood closer than Polywood.
They are both durable, weather-resistant and super easy to clean. One of the main differences between the two brands is the furniture warranty they offer and the price.
Polywood has a longer warranty on most of its furniture.
Polywood will generally cost you less.
So it comes down to Looks, Warranty and Price.
If length of warranty and saving some money is important. Consider Polywood.
If the look or feel is important. You will be happier with Highwood.