When you're outside, you want to feel relaxed. But you also want your furniture to last. It's no surprise that Polywood furniture has become such a popular choice.
Polywood is durable and tough against the sun
, making it a great choice for anyone thinking of decorating their garden.
But you might still be on the edge if you're trying to decide whether Polywood furniture
is the right type for you. After all, it's pretty expensive when compared to other furniture.
If you're still trying to decide, we've compiled a list of pros and cons to help you decide whether you want some Polywood furniture
on your deck. So keep reading to find out more.
Pros Of Polywood
There's a reason that Polywood furniture has such rave reviews, and in this section, we'll tell you why you should consider putting this type of furniture on your deck. 
Easy Maintenance
Polywood's reviews about its durability aren't a joke. The materials used don't crack, rust, rot, or splinter.
If you want some furniture that won't break and that you won't need to do lots of work to maintain, then Polywood is a great option.
Some furniture you have to take inside if the weather isn't great. If it rains or snow, you might have to take any other furniture inside. But not Polywood.
No, Polywood can withstand any weather, from the heat to the very cold. You don't even need to put any waterproof coating on it. Instead, you can just put it where you want it on your deck. 
Because of that, it's one of the easiest types of furniture to maintain. If you want to just sit back and relax, then this might be your best choice. 
Environment Friendly
If you're a fan of decks, then you're probably a great fan of the outdoors. You might be conscious of your furniture's effects on the environment, and if that's the case, I have some great news.
After all, Polywood lumber is composed of recycled materials.
Polywood is made from plastic bags, shampoo bottles, pipes, and other recyclable materials.
So, if you did need to get rid of Polywood, you wouldn't have to worry about it going straight to the landfill, as it's immediately recyclable.
You can even style it with wood-colouring materials that are still better for the environment.
So, if you don't want to cut down trees and break down forests for your furniture, then Polywood may be one of your best choices.
I've already mentioned how easy it is to maintain, and while you may be wary of the price tag, the longevity of this lumber makes it worth it. 
Great Colour And Designs
For aesthetic reasons, you'll want to know if Polywood can retain the colours. After all, you don't want furniture where the colour fades over time.
Polywood prevents this because it is made with UV stabilizers when it is being designed.
You can do colouring and designing easily if you want to colour and design your Polywood furniture. After all, the colour will be distributed all over the area.
So if there are scratches, you and your guests won't notice them. You can design your Polywood furniture regardless of whether you want a classic or modern look. All these shapes can be easy for it to pull off.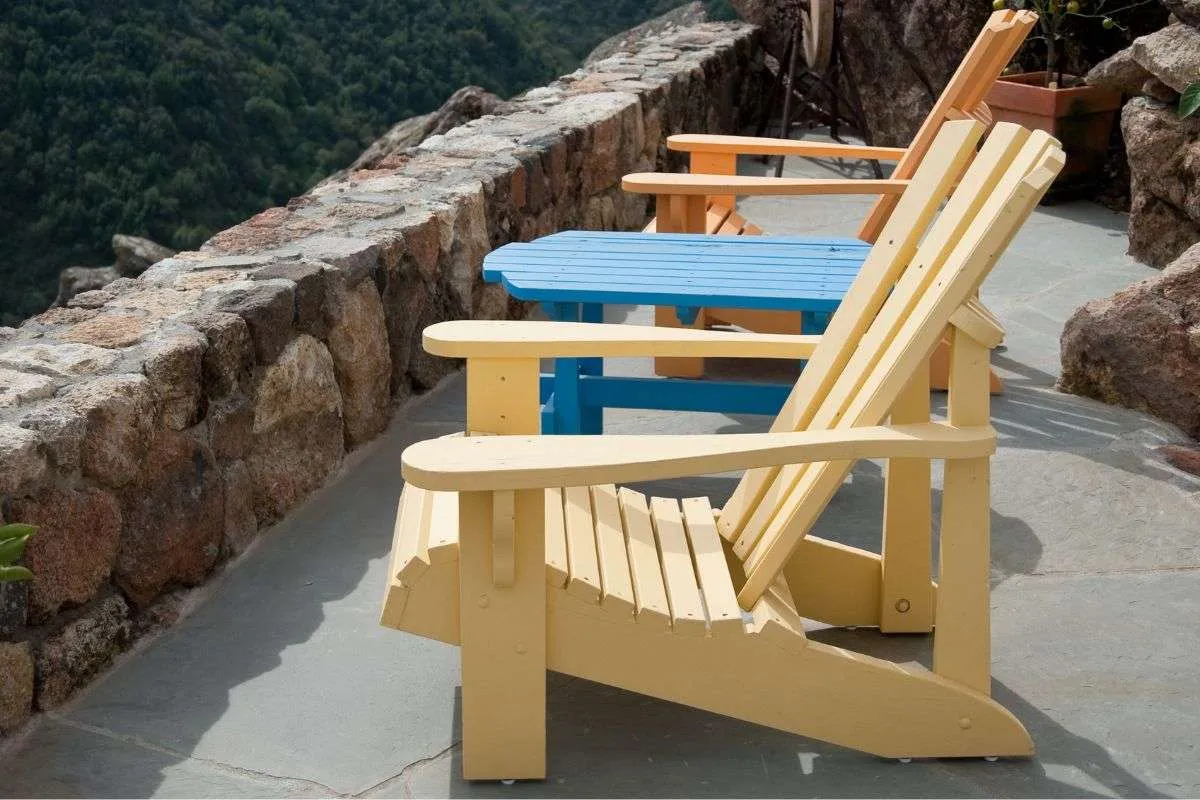 Polywood looks incredibly similar to authentic wood, especially with its wood embossing and sculpted design.
If you do want some authentic-looking furniture with good durability, then Polywood will be the perfect choice for you.
Cons Of Polywood
However, you can't deny some disadvantages to Polywood furniture that you might not have considered. You must consider these things when deciding whether Polywood is right for you. 
Doesn't Adapt To Your Body Shape
If you want to buy some Polywood furniture, you should make sure you buy one that already feels comfortable. I've mentioned how durable Polywood is, and because of that, it can also be quite rigid. 
Due to the rigidity of Polywood, it won't adapt to your body. While other types of wood will change shape to fit you over time, it is not the case for Polywood.
However, this just means you'll have to test the furniture before buying it. Overall, this isn't much of a deal breaker. 
Cushions are a great addition on many wood furniture. Including Polywood.
Expensive
Suppose you want to design your deck on a budget. Then Polywood might not be the best choice. Polywood is certainly a high-quality option and has been designed to last.
I believe the Polywood cost is worth it, especially if you're saving money on maintenance costs. 
But there is no getting around it. Polywood will cost you more. Especially when compared to injected plastic patio furniture.
So, if you're hoping for a cheaper option, then Polywood will not be your best choice.
Heavy
If you plan on moving your Polywood furniture around, I have some bad news. Polywood is heavy, and it can be difficult if you want to move it from place to place.
However, you can turn this into an advantage.
Due to the weight of the Polywood furniture
, you won't have to worry about strong winds blowing it away. After all, there's a reason that it's so durable against the weather.
But if you struggle with carrying heavy objects, or if any of your family and friends do, they might not appreciate having to move around this furniture. 
Final Thoughts
As you can see, Polywood is lumber with numerous advantages that make it stand out when it comes to furniture for your deck.
When it comes to its disadvantages, they aren't dealbreakers, but they can have an impact on whether you would personally like this type of furniture on your deck. 
Many issues with Polywood do stem from its comfort. However, if you test out your furniture, you may find the perfect one for you.
If you prefer the idea of an environmentally friendly and durable bench, then Polywood is also your perfect option. The only real issue is the price, but you could argue it is well worth it.
Considering these pros and cons, consider getting some Polywood furniture for your deck.