Once you reach a certain age, you want to just have comfort in your life. This can be from a lifetime of hard work and wanting to reap the benefits that you have sown, or just from getting tired and on a bit in age.
Whatever the case may be, the comfort that you want in your life is something that everyone deserves, especially if it is just a little peace and quiet in the garden.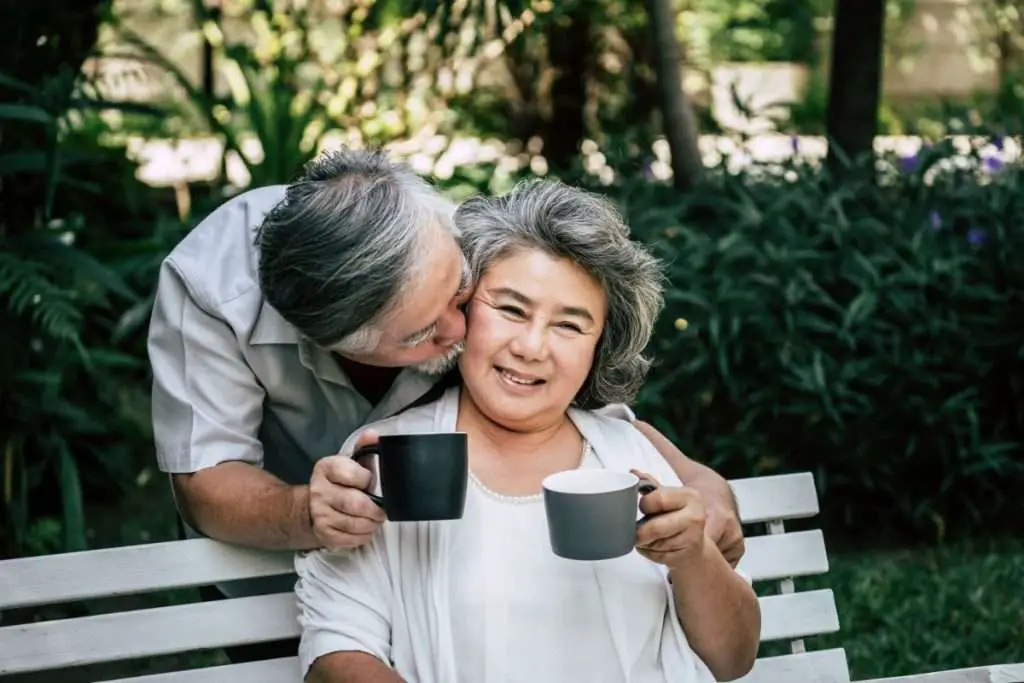 One of the ways to achieve this is through a lovely deck chair or lawn chair.
Due to these pieces of furniture being outdoors and because they have to provide comfort and ease to an elderly person, they need to be considered very carefully.
As such, we have decided to make a list talking about the different and best outdoor chairs that you can get as an elderly person and why they are so good.
Best outdoor chairs for the elderly:
Now that we have covered that, it's time to actually look at the chairs in question. So without further ado, here they are:
This chair has a sense of style. It is a wicker chair that has two solid armrests and is propped up with some removable but insanely comfortable cushions.
This provides an insane level of comfort, not just from the cushions, as the wicker will mould itself to the shape of your body over time while the armrests will continue to prop your body up without changing, which adds more comfort to the chair as well as allowing for a great posture.
The chair sits on a tough metal ring that holds up the entire construction. This ring allows for complete 360-degree swivelling and is made from a cast aluminum frame.
This frame is resistant to all kinds of weather – both on the hot and cold spectrum – as both the cast aluminum and the resin wicker are themselves made with this in mind and even the cushions are made from Nuvella – an outdoor specialty fabric.
The one area the chair falls down in is ease of use, but only a little bit. The instructions on how to put it together are simple enough, but many people complain of how long it took to assemble. Up to three hours with hard to reach bolt location. It may be best to invite your kids over to help with the assembly.
Once assembled it is heavy. Almost 90 lbs (40kg). Making moving the chair around challenging. Figure out a good location on your deck and have someone help move it. The good news is it won't blow around in the wind.
Swivelling of the chair does allow you to change your view without moving the chair which is great. You can spin around from chatting with the family to watching the sunrise come over the deck railing.
The seat height is 18 7/8″ (480mm) a nice comfort height
for getting in and out off. Plus the rocking of the chair allows one to tilt the chair seat to stand up easier.
Overall, though, one of the best outdoor chairs for the elderly around.
Pros
Maximum comfort.
Good posture.
Incredibly durable.
Comfort seat height
Very sturdy.
Cons
A bit heavy makes it a hassle to move.
Hard to assemble
Sale
Signature Design by Ashley Paradise Trail Outdoor Swivel Upholstered Lounge Chair Set, 2 Count, Beige
SWIVEL LOUNGE CHAIRS: Rethink the way you relax outside with chairs meant for al fresco living. Fashioned with an aluminum frame, they're sure to complement your outdoor area in any weather
DURABLE DESIGN: 360 degree swivel chairs are made of all weather, handwoven resin wicker over a rust proof aluminum frame. Cushions are wrapped in Nuvella. Armrests and base have a wood look
CONTEMPORARY STYLE: Get that coveted modern look with a wood-like swivel base and sumptuous cushions that add so much style while you lounge on a porch, screen patio or deck for outdoor dining
SET OF 2: Includes 2 swivel chairs, each measuring 32" W x 36" D x 35" H for the perfect seating area by a dining table indoors or out
SHIPS IN A SINGLE BOX: Assembly required. Easy-to-follow instructions, hardware and tools included. Imported fabric and fill
If you want comfort, then the Hanover Ventura is definitely the chair for you. It is probably going to be the most comfortable chair on this list.
For starters, it is a recliner, which means you can sit in it and change the angle of your position, so that you can go from sitting to almost lying down on the chair.
This comfort is topped off by the very high quality, soft, and padded pillows which cover the whole chair, are about 4.5 inches (114mm) in height, making the seat extra comfortable.
Durability and sturdiness are also not issues whatsoever.
The foundation of the chair is made of rust-resistant heavy-duty steel frames, that also can resist many different kinds of weather, on the outside, while the inner seat and backrest caters to overall posture, as they are made from wicker that can mold to your body.
Once again, the issue with this chair is ease of use. As with a lot of recliners, this chair is heavy, just under 50 lbs (22 kg) and it can be quite difficult to move.
This is especially troublesome if something breaks in the chair. However, there is a customer support line that anyone can call up, and they will try to solve your issue within 24 hours.
Apart from the heaviness of the chair, this chair is a fantastic model to own.
Pros
Insanely comfortable.
Good for your posture.
Very durable.
Very Sturdy.
Cons
Heavy and difficult to move.
Sale
Hanover Ventura Steel Outdoor Patio Woven Luxury Recliner with Brown Wicker, Vintage Meadow Green Cushions and Pillow
Sturdy Comfortable Design: The Strathmere Collection by Hanover includes stylish and elegant hand-woven wicker furniture with high quality cushions and toss pillows . The set is made of heavy duty, steel rust-resistant frames with UV protection.
Generous Cushion Size: 4.5" UV protected cushions offer maximum comfort while fashionable toss pillow is included to complete the style and enjoyment. The soft, padded cushions provide a cozy seating experience for you and your guests.
Sturdy & Durable: Made with heavy-duty, rust-resistant, weather-resistant steel frames, this stylish dining set is produced with high-performance powder coating, which protects it from rust, scratches and harmful UV rays.
High Quality Outdoor Fabric: Fabric is soft to the touch, dries quickly, and resists fading. Ergonomically designed for comfort and durability for long lasting use to enjoy for many years.
Recliner Dimensions: Seat dimensions WITH cushions: 17"H x 25"L x 21"W, Seat dimensions WITHOUT cushions: 12"H x 25"L x 21"W, Seat length can reach up to 35", Weight capacity: 250 LBS.
While more minimalist than the other two in terms of design, this set of chairs is still functionally amazing to use.
The chairs themselves are made from durable treated acacia wood, which is great in all kinds of weather.
Each one comes with a couple of removable cushions that provide comfort on the tough wooden frame, and the cushions are UV resistant to make sure they can be used outside.
The chairs are set to a nice relaxing posture without it being overly rigid, as such there is no pain from sitting on these seats.
Not supper low but the seat height is 16 3/4″ (425mm). Not the idea higher for getting up out of.
These seats are very easy to move around as well. You can place these basically anywhere you want without worry, and they are quite light, since they are almost entirely composed of wood, bolts, and fabric.
There are a couple of downsides, though. Due to the fact that they are made from hardwood – acacia specifically –, you will need to maintain them a little bit.
This is due to the fact that hardwood attracts bugs and other critters that try and embed themselves in it. Now, this furniture set will resist that, but if you leave them outside all the time, then eventually it will wear down its resistance to these tiny invaders.
The other thing is that acacia struggle in high temperatures and if you leave them out on the deck with high temperatures happening around the area, then they might start to expand and then contract when it cools.
This will eventually compromise the sturdiness of the wood itself.
Another thing you need to consider is that they are not that heavy.
They won't break by sitting on them, but their lightweight means that they can be moved with a heavy shove or a weight placed on them. Also, a strong wind can blow them around on the deck. As such, you need to be careful getting in them.
Pros
Good durability.
Comfy cushions on top.
Fairly good posture.
Easy to use.
Cons
May have problems if not maintained.
Sturdiness can be an issue.
GDF Studio Preston 4 Piece Wood Outdoor Patio Seating Chat Set w/Beige Cushions
Includes: Two (2) Club Chairs, One (1) Loveseat, and One (1) Table
Club Chair Dimensions: 32.50 inches deep x 28.00 inches wide x 31.25 inches high Seat Width: 22.75 inches Seat Depth: 23.25 inches Seat Height: 16.75 inches Arm Height: 22.50 inches
Loveseat Dimensions: 32.50 inches deep x 50.75 inches wide x 31.25 inches high Seat Width: 45.50 inches Seat Depth: 23.25 inches Seat Height: 16.75 inches Arm Height: 22.50 inches
Table Dimensions: 19.75 inches deep x 39.50 inches wide x 18.00 inches high
Assembly Required
Next, we have the Estrella Modern chairs. These chairs are a little different from the other chairs in that they are made with a lighter frame.
This frame means that these chairs are incredibly easy to use or move around to different areas of sunlight in the garden, which is a great bonus if it is a nice day and all the flowers are out.
The frame is made from cast aluminum, and it is a simple construction, designed to hold up the soft wicker seat.
Unlike other wicker, this wicker seat is soft and pliable, so it doesn't take a long time to develop a groove to your body, but instead happens immediately.
This construction is also very durable, as it uses two incredibly durable materials – wicker and cast aluminum – in its body. These materials are weather-resistant and wicker is generally pest resistant, while aluminum is pest immune.
The wicker seat also has a huge, comfy cushion that – with the sink-in nature of the seat – means that you can be quite literally enveloped by the fabric.
This comfort does not come with a price either, as the frame is incredibly solid and sturdy, meaning that when you sink into it, you have no worries of it breaking or of you falling out of it.
There is one drawback to this seat, which is otherwise just incredible.
The soft nature of the wicker seat means that sitting too long in the seat can be problematic for your posture, especially if you sit in certain ways.
Although this is a problem, it is only going to be a problem if you spend very long periods of time in the chair.
Pros
Very easy to use.
Made from durable material.
Great comfort.
Incredibly sturdy.
Cons
Long periods in the chair can affect posture.
Sale
It just didn't feel right not to include an HDPE option. Fan of composite decking, which has transferred to a very similar product High Density Polyethylene (HDPE) for the same reasons. Durable and low maintenance.
One of the most trusted brands in composite furniture is Polywood
so I was glad to find this rocking chair made by them.
This is a classic, rocking chairs have been seniors' chairs of choice for centuries. And for good reasons.
frequent use of a rocking chair improves balance and blood circulation, reduces muscle pain, anxiety and depression.

IPA Medical
Rocking chairs are good for relaxing and help to relieve stress something we could all do better at. They also improve blood circulation along with toning leg muscles and joints
.
More particular things I like about the Presidential Rocking chair for seniors.
First off is maintenance or the lack of it. At first glance, it looks like a wood chair but doesn't need to be stained. Plus it can be left outside all year long, just like your composite decking.
Secondly, I like the seat height at 17″ (432mm), is a good height for getting out of. Plus being a rocker you can rock yourself out of the set.
The wide arms are comfortable for resting your arms on. A relaxing position for taking in the view off the deck. If you don't rock too hard you can rest a glass on the armrest, just keep a hand on it.
On the downside is the chairs back. It's a little too straight and can be too rigid on one back. Especially for long rocking sessions. This can be easily remedied with a cushion for your back. Just make sure it can be left outside or you bring it in.
The back is short also. Which people have mixed opinions of. Some claim if you are taller, 6 feet or more you can adjust better to the seat. Other shorter is better with the seat fully supporting your back.
May need a cushion for the back, especially if shorter.
Lastly is assembly. Polywood is well made and generally assemble well. The trouble is the weight of the pieces. A second set of hands is helpful to lift and hold parts in place. It can be done by one but it will take longer with the added stress of holding things with one hand while screwing with the other.
Pros
Contoured seat
Wide arms for resting your arms on
Low Maintenance
20-year warranty
Cons
Back to straight, can be uncomfortable
Two person assembly
You can also order The Presidential Rocking Chair directly from PolyWood
.
Another online buying option is Wayfair
.
With so many options its worth shopping around for the best delivery and price.
Sale
POLYWOOD R100BL Presidential Rocking Chair, Black
This comfortable rocking chair, with its contoured seat, wide arms and slats that are easy on the back, will complete your porch or outdoor patio
Does not splinter, crack, chip, peel or rot and is resistant to corrosive substances such as oil, salt spray and other environmental stresses
No painting, staining, waterproofing, or similar maintenance required
Resists stains associated with wine and condiments and cleans easily with soap and water
Made in the USA and backed by our 20-year limted residential warranty
Conclusion
Finding the right chair when you are elderly can be very hard. It only needs to have a few things to make things comfortable for you, but finding a chair with all of those things is difficult.
However, with the help of this list, we hope that not only will you find the chair that you need, but that it will be perfect for you in every way.
Seniors Outdoor Chair Buyer's Guide
No matter the chair, you have to consider what criteria you need for your chair. It can't be something that maybe looks pretty, but that you can't get into, otherwise there is no point to the chair to begin with.
Therefore, we have set up some criteria to make sure that the chair that you get is the right one for you.
Sturdy
There are two important things that an elderly person needs from a chair, and that is that it is sturdy.
At a certain age, injuries can become more severe from seemingly the simplest of accidents, and all too often cheap chairs break while you are sitting on them.
A breaking chair and a fall from that height may not seem like much, but it can do terrible damage and if you live alone, you may find it hard to get help.
Another thing to consider when it comes to sturdiness is the fact that you want it to be sturdy to be able to hold onto when you get on it.
Things can become unsteady with age, and you need things to be reliable in case you grasp them. If the chair is not sturdy when you grasp it, then it may move or slip across the surface of the wood and move out of your grasp.
Posture
The chair has to provide you with good posture.
Ergonomics (or the practice of sitting with good posture and getting furniture that helps with that) is something that all people nowadays have to deal with, especially as we are all living more and more sedentary lives.
If you are elderly, this is especially important, as your body will be starting to have problems in the joint and bone area. If you get a chair that has bad posture, you will feel it immediately.
Not only will this not make you uncomfortable, but it could also be bad for your body and spine in the long run and even cause an injury down the line. 
Ability To Use
When you buy an outdoor chair and put it in on your deck, you want to be able to actually open it up and get in it.
If you can't then that chair is just going to sit on your patio unused for the rest of time, until you eventually throw it away or give it to someone who can use it.
This is not an uncommon problem, deck chairs can be heavy. Once in place they are easy enough but help moving them into place is a good idea.
Ease of assembly is also important. It only needs to be done once but if you can't get it together you can't enjoy it. Straightforward instructions and well-drilled holes are a must.
Comfort
We have kind of alluded to this idea before in the previous paragraphs, but one of the most important factors you need to consider when choosing a chair is comfort.
If your chair is uncomfortable, then you are never going to use it. It can't just be a chair with good posture, or sturdiness, or ease of use. You have to want to get in it as well.
This comfort can come from many places – cushions, created grooves from your sitting, or even just a nice shape contour-shaped material.
Durability
Any outdoor chair worth its salt will have to be durable. It doesn't matter how comfortable or sturdy it is, if it falls apart in the rain.
There may be times when you forget to bring it in, or just don't have the space for it inside a shed or a house, and in those times you want it to be able to stand up to the elements easily.
This also means that it has to last a long time. If you are spending a lot of money on a chair, then you want it to be something that you can have for years and not fall apart the first time you set it up.
Look for chairs that can be left outside in all weather conditions. They are more durable.
I would recommend covering deck chairs for the winter. But its good to know they will be fine if you don't get to it before the first snow.
Frequently Asked Questions
Are Recliners Good For Elderly People?
Absolutely, recliners are great, in fact there is one on our list above that would be perfect for an elderly person.
The one issue with recliners is that they are heavy, and being heavy can be very annoying.
This is due to the fact that when you inevitably want to move the chair, you may find it difficult to do so. Apart from this, recliners are great for everyone.
Are Rocking Chairs Good For The Elderly?
They are great for the elderly, but the one issue with rocking chairs that you have to keep an eye out for is the fact that they can be a bit uncomfortable.
Most of the time they are a wooden frame that is made of hardwood. Without cushions to add comfort, you may find them a bit much.