When choosing between Azek and TimberTech composite decking, there are several things to consider. Things like appearance, durability, traction, price, and warranty of the decking.
TimberTech, with 17 colours, has double the options of Azek with 8. Beyond appearances, the most significant difference is their core, PVC vs Wood Composite. Azek is cooler, lighter, and more durable than TimberTech, backed with a longer warranty. The single most prominent advantage of TimberTech decking over Azek is the price, except for the Legacy collection using TimberTech boards will save you money.  
That a lot to say in one paragraph. It would be good to develop and work out the details between the two a little better.
Saying TimberTech has more colours than Azek isn't very helpful in choosing between the two. But how the boards are finish is.
That is just one of many ways that a fuller discussion would be more helpful when picking between the two.
Before discussing decking, let's talk companies, or should I say company?
TimberTech vs Azek as Companies
Currently, TimberTech and Azek are combined into one company, merged in 2012.
Azek is an umbrella company of many low maintenance, sustainable building products manufacturers but is also a decking line within the larger TimberTech Azek brand owned by Azek. Azek is headquartered in Chicago's thriving Fulton Market District, with manufacturing and recycling facilities in Ohio, Pennsylvania and Minnesota. 
"We make homes and structures more beautiful and more useful with leading-edge sustainable products."
So, in reality, we are not comparing two companies but two decking lines within a company.
A Brief History of the Intertwining of TimberTech and Azek
Azek was started in 1983 manufacturing exterior home products. In 2007 they launched a line of PVC decking
.
TimberTech started in 1997 manufacturing composite decking
. Like all composite decking manufacturers, they started with an un-capped board. In time following Fiberon's lead, they started capping their decking, giving its distinct look and durability that we now all enjoy.
"Our brand exists to challenge convention. To rage against mediocrity. We believe "Good Enough" is never enough. We are TimberTech."

Azek/TimberTech
Despite merging the two decking companies, Azek's PVC decking line remains separate as Harvest® and Vintage Collection®. There true composite decking lines made with wood fibres are sold separately as TimberTech Pro and Edge series
Currently, TimberTech has two manufacturing facilities, one in Wilmington, OH, and the other in Scranton, PA.
Speaking of manufacturing, how do the two differ?
TimberTech vs Azek – Decking Differences
Decking Core
TimberTech composite is made from an 80% blend of recycled plastic and wood fibres
plus new material. The plastic helps to protect the wood fibres minimizing maintenance requirements. At the same time, the wood fibres reduce cost while increasing strength. Creating a beautiful, long-lasting decking requiring minimal upkeep. 
Make a note of this. It will come back when discussing strength and pricing.
Azek, on the other hand, is made from polyvinyl chloride (PVC). No wood filler. Nothing to absorb water. Nothing to rot. Just pure plastic to enjoy the outdoors on.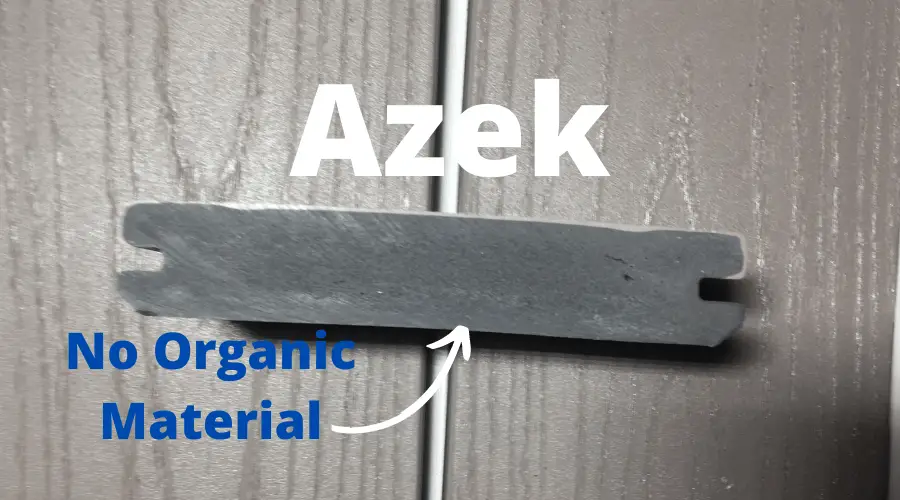 From rigid pipes, to the floor, you just walk over to the siding protecting your house. It's all made from PVC. It's all made from PVC for one reason. It's durable and weather resistant. Or is that two?
The very thing you want from your low maintenance decking.
Durable for you don't have to replace it every few years.
Weather-resistant for whatever Mother Nature throws at her, your deck can take it and be ready for the next barbeque party
.
As a bonus during construction, PVC is lighter than composite.
PVC being lighter than composite, also makes it cooler than composite decking
. The lower density holding less heat, cooling down quicker underfoot. On top of that, thousands of tiny air bubbles are trapped in the PVC, insulating and reducing heat transfer. 
TimberTech also has boards with reduced weight, scalloping the underside of Terrain and Prime+ collections. Increasing the importance of picture framing to finish the decking ends but beyond that impacting the decking little. The scallops making the boards lighter without reducing the board's strength.
None of Azek's PVC boards are scalloped. The material itself reducing the weight.  
Decking Cap
All Azek's boards are capped on all four sides, a complete wrap, top, bottom, sides and groove.
Azek also designs their cap material differently, with Alloy Armour.
"Alloy Armour Technology® (AAT), is a proprietary alloy blend that provides improved performance characteristics, such as outstanding weather protection, UV protection, resistance to scratching, and improved colorfastness."
Holding out much promise that the cap will do its job and more.
TimberTech Pro series includes Mold Guard® Technology, along with a complete 4-sided cap.
TimberTech Edge boards are only capped on 3 sides, the industry standard. This use to be what set TimberTech apart from other composites was complete capping, but with Edge's introduction as an entry-level board, the bottom cap was lost to reduce costs.
It will be interesting to see how this change plays out. Trex and Fiberon having been doing this for years, without problems. But TimberTech use to claim their boards were better being capped on all four sides.
The cap does more than just protect. It's what makes the decking beautiful.
Azek vs TimberTech – Decking Options
The capping finishes also changes the feel of the decking. Along with the blending of colours impacting the look of the decking. From solid colours mimicking painted decking to imitating exotic wood decking. 
| | | | |
| --- | --- | --- | --- |
| Azek Decking Line | Number of Colours | Decking Profile | Capped Sides |
| Vintage Collection® | 5 | Solid | 4 |
| Harvest Collection®  | 3 | Solid | 4 |
Azek Vintage line includes light colour decking like Coastline® to Dark Hickory and many shades of brown in between.
"sophisticated, natural-looking colors with a subtle wire-brushed, low-gloss finish for an authentic wood look."

Vintage Collection®
Vintage wire-brush finish embossing is shallow, creating a smoother decking finish.
Vintage has consistent colouring, a sophisticated blend of shades with the occasional dark streaks.
"Traditional cathedral wood grain patterns and a soft, solid color palette"

 Harvest Collection® 
Harvest embossing is deeper, following the cathedral wood grain pattern.
| | | | |
| --- | --- | --- | --- |
| TimberTech Decking Line | Number of Colours | Decking Profile | Capped Sides |
| Legacy Collection | 6 | Solid | 4 |
| Reserve Collection | 3 | Solid | 4 |
| Terrain Collection® | 4 | Scalloped | 4 |
| Premier Collection | 2 | Solid | 3 |
| Prime+ Collection® | 2 | Scalloped | 3 |
So many collections, so many variations.
"complex blend of hues, natural board-to-board color variation, and a hand-scraped texture"

Legacy Collection
Includes Whitewashed Cedar, one of the cooler decking colours. It also includes shades of brown and grey to compliment your house.
"Inspired by reclaimed wood, the heavy wire-brushed, low-gloss finish showcases the classic cathedral wood grain pattern"

Reserve Collection
Reserve is the deepest embossed of TimberTech decking. All three colours are enhanced with dark streaking along the boards.
"traditional hues … range from solid to moderately varied and create a timeless look with a complex, rugged wood grain pattern designed to camouflage everyday wear and tear."

Terrain Collection
Terrain has the shallowest embossing and least streaking with different shades of brown and grey. This probably is their most wear-friendly decking. Less to chip, collect dirt or notice, making use much less noticeable.
Scalloped to reduce cost, making Terrain an affordable, low-maintenance decking option.
 "subtle, straight grain pattern and offer a painted wood look"

Premier Collection
Similar to Enhance Basics colours but missing the blonde option. Also, a solid profile, instead of scalloped increasing its price over Basic's.
"moderately varied hues. Featuring a subtle, straight grain pattern, … an authentic wood visual"

Prime+
"Beauty is in the eyes of the beholder."
This rings true with decking as much as art. Azek and TimberTech boards have a distinctly different look and feel.
Ultimately this might be what wins you to one series over the other.
Azek vs TimberTech – Durability
Decks are built to be enjoyed, not just seen.
Durable decking is valuable decking.
Decking that wears well under constant foot traffic, the occasional pulling of chairs and spilling of ketchup, grease and beer on the deck. Not that you intend to, but accidents happen. The decking must hold up against all life throws at or drops on it.
Decking Staining Comparison
For the accidental spills, the polymer cap on both holds up equally. Wipe it up immediately or give it a quick scrub, and you won't have a problem.
With both, the caps are very similar to cleaning vinyl flooring in your kitchen.
Most Scratch Resistant Decking
My quick key scratch test has similar results both with Azek and TimberTech. The sharper the object, the deeper the cut.
As can be expected, scratches across the grains cut more profound and noticeable. With the grain, less cutting and harder to see. Similar results as wood decking.
Most items dragged over the decking will leave a mark but will not cut through the cap.
An advantage of the Terrain and Vintage collection are their wire-brushed finishes. The small "wire brush" marks act like camouflage, hiding minor scratches. They are still there to the observant eye. But like camo in the bush, it takes a keener eye to spot. With many slight scuffs disappearing in the background.
Protective plastic, rubber, or felt leg pads under furniture is recommended to help protect the decking from being scratched from moving chairs
and tables. 
Azek vs TimberTech – Traction
If your constantly getting rain showers followed by sun, the decking you choose is critical for how safe your deck will be. Water on any surface increases the risk of slips and falls. Decking is no exception. The polymer cap of the decking repelling the water, creates a potential slipping
hazards.
Azek is interesting in that water increases traction. When you need it the most Azek has your back or at least your foot. Making walking on your deck safer in the rain.
I am not sure about you, but when it starts to rain, and I race for the door, the potential of missteps increases. It's excellent that Azek's traction compensates for my lack of care.
But it is really disappointing how little traction Azek has when dry. Not quite a slip and slide, but that is low.
Especially since Azek is marketed as having "Best Slip Resistance".
I wish I had current third-party testing for TimberTech boards, for we could go head-to-head for traction with precise numbers. The higher being better.
Unscientific Rub Test
For comparing without lab numbers, the texture is often the best tell for traction.
Embossing making all the difference.
Legacy provides the least grip of all the boards with its shallow embossing. The finish itself is also smoother than the other boards. No hard numbers, just rubbing my hand over them.
That being said, I have built and walked on both Azek and TimberTech decking without slipping. Both are safe to walk on but are slippery than pressure treated decking.
Azek vs TimberTech – Pricing
Pricing is always a tricky one, constantly changing from region to region, fluctuating with the season. In fact, just crossing the street at times can save you a few hundred on a deck. But this should give you a sense of the cost of TimberTech and Azek decking. At least in comparison to each other.
| | |
| --- | --- |
| Azek Decking Lines | Lineal Price |
| Vintage Collection® | $6.50 – 7.00 |
| Harvest Collection®  | $4.75 – 5.25 |
The cost of the cap finish is reflected between Azek's two lines. Vintage being their premium line with more colour on the boards. Resulting in multi-tone boards. With not one, not two but a rainbow of shades from dark to light.
But this extra colour is not free. Vintage costing roughly 30% more than the Harvest collection.
| | |
| --- | --- |
| TimberTech Decking Lines | Lineal Price |
| Legacy Collection | $5.80 – 6.35 |
| Reserve Collection | $4.30 – 4.75 |
| Terrain Collection® | $3.35 – 4.05 |
| Premier Collection | $3.10 – 3.25 |
| Prime+ Collection® | $2.40 – 2.65 |
TimberTech, with so many collections, offers a wide range of decking to meet any budget.
Embossing, woodgrains and colours aside, the biggest difference here is the core of the decking. TimberTech is composite, Azek is PVC.
PVC costs more than wood composite
. For the simple fact that sawdust from mills is going to cost less than plastic. TimberTech, which is composed of as much as 50% wood fibres, will simply cost less.
Almost all TimberTech boards will save you money compared to Azek. The one outlier is TimberTech Legacy.  Not sure why but it is priced closer to Azek's Vintage board than the rest of TimberTech decking. Here the savings from wood fibres are lost.
But that's from a manufacturing perspective.
The life of the board tells a much more positive story for Azek's PVC decking.
They are expected to last twice as long. That's twice as much barbequing, suntan, soak up the sun or sitting outside to gather your thoughts. Then the slightly higher price doesn't seem as big.
The most expensive Vintage at $7.00 a lineal foot only costs only $0.14 a year. Not much!
Prime+ is around $0.10 a year, for 25.
If you are choosing strictly on price, TimberTech Edge wins. With boards costing less than $3 a lineal foot.
"But we don't all drive Fords. Sometimes a Cadillac is a better fit regardless of price."
There are advantages with Azek over TimberTech beyond price. Sometimes these added features are worth the extra cost. Or even make the cost irrelevant.
Speaking of life expectancy.  The warranty often reflects that best. And Azek and TimberTech are not the same.
Azek vs TimberTech – Warranty
All are pro-rated but with different rates of depreciation.
For all the first 10 years is 100% replacement.
TimberTech Edge series warranty
is the shortest, with only a 25-year stain and fading.
After the first ten, TimberTech Edge drops replacement value by 20% every three years.
Moving up to TimberTech Pro
you get an additional 5 years for a total of 30-years of protection..
TimberTech Pro series with the longer warranty period drops 10% every 2 years until the final four with 10% replacement value. Making the last few years less valuable but still warrantied, nonetheless.
Azek has the longest warranty
, at 50-years. That's 50 years of protection from staining and fading beyond 5 Delta E.  That's a long time. Plus if the deck is less than 5 years old when you sell the house, the warranty can be transferred to the new homeowner. Providing them with the same remaining warranty.
Azek drops 10% every four years, till the last 10 years, where it drops even slower. The last 10% replacement lasting a full seven years.
Fading and Staining
All the decking is warrantied against fading beyond 5 Delta E and staining for the warranty's length.
Which says a lot for Azek. I am not sure if in 50 years I will be able to tell the difference in colour. But Azek promises it will still be minimal.
Labour Warranty
This is a new development in composite decking warranties
. The labour to install decking is often as much or more than the cost for the material. Covering labour makes sure you are not on the hook for labour if the decking fails. Increasing the value of the warranty substantially.
Limited to certified contractors. This makes sense. I would not want to warranty an untrained installer.  
TimberTech labour warranty
and Azek are the same. The higher the contractor's rating, the longer the labour warranty.
Member & Silver 2-4 years
Gold & Platinum 5-7 years
The maximum protection is provided if railing is included. The lower years for only the decking and fasteners.
Backed by the same company, both warranties are equal in value. The only difference is the length.
Azek 50 years.
TimberTech 25 and 30.
If you are building your forever deck, Azek's additional years may be worth it. If not its good to know that with both the first 10 years, they have you covered 100%. After that, it will vary but still providing years of peace of mind.
Azek vs TimberTech – Which is Better for You?
Now for the hard part, choosing which decking will be suitable for you for the next 25, 30 or 50 years if you go with Azek. Wow, that's a long time!
Comparing Azek vs TimberTech for
Appearance
Durability
Price
Traction
Warranty.
This one is tough.
Warranty islargely the same. Except as already noted, Azek's is longer.
Traction goes to Azek. Only because they have third-party testing results available. Plus, larger industry testing has shown PVC to provide more grip than composite. I see no reason why this would not also be true with Azek vs TimberTech.
Price goes to TimberTech's composites except for Legacy. The price of Legacy without the advantages of PVC makes it a costlier board.
Durability goes to Azek. Anything that is going to last for 50 years without little maintenance is one durable product.
That is not to say that TimberTech is not durable, able to handle whatever life throws at it. But Azek promises to do it longer.
Selection often comes down to appearance.
Appearance is very subjective. My wife loves fish, I do not. We each have our own taste. The same is true with decking. Some of us love the multitone colour boards, other solid. Or Gray over brown.
Except for the TimberTech Premier collection, all will give you the look of wood. The believability may vary from one to the other. But still the look of wood.
TimberTech Pro is very close to Azek in appearance.
If choosing between TimberTech and Azek, I think it comes down to this question.
"How long do you intend to enjoy your deck for?"
If this is your forever deck, Azek will serve you better.
If you just want low maintenance for the next few years, TimberTech can provide that at a lower price.
Either way, Azek or TimberTech will give you many years with minimal work to enjoy time outside on your deck. Which is truly the goal with both, more fresh air with the sun kissing your skin. What could be better, while spending time at home.
There are many composite decking brands. Click the link to see some of the best composite decking brands
on the market.