You probably spend as many hours on the beach as you do indoors if you own beachfront property.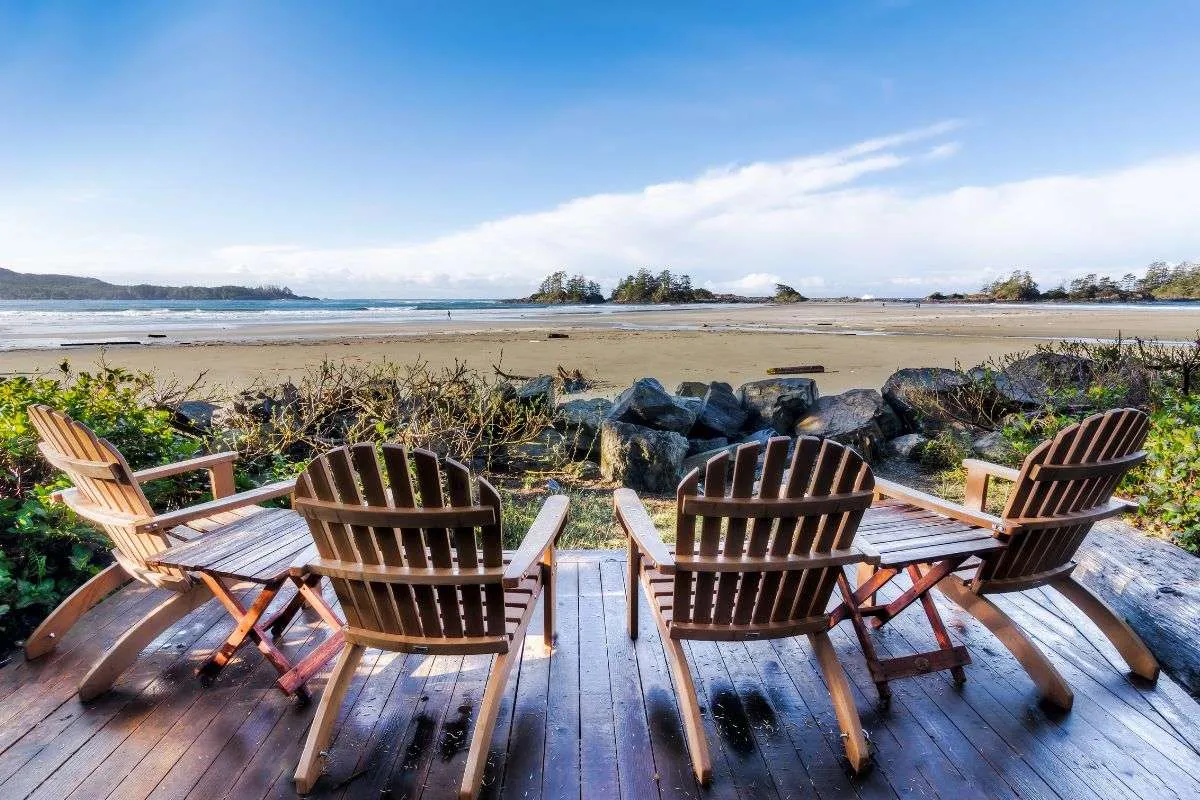 Why not?
Beautiful sunsets, clean air, and the rhythmic sounds of waves crashing all can be enjoyed from your beach deck
.
Whether you enjoy calm seclusion or outdoor entertaining, high-quality beach furniture that can withstand the harsh elements connected with being on the beach. You know the sun and water that we all enjoy but can wreak havoc for patio furniture.
But not all furniture is equal in beach performance. Some materials will hold up better than others under the sun. Dripping with water and the likes.
Each outdoor furniture material has its own advantages and disadvantages.
So let's get to it. For you can get out on the beach on your future favourite chair.
Things To Think About With Outdoor Beach Furniture
Based on where you reside, the conditions at the beach change. A beach overlooking the Gulf of Mexico is much different than looking over lake Winnipeg.
Nevertheless, there are certain external elements that all waterfront have:
Humidity
Salt mist (only for ocean front)
Moisture
Sand
Wind exposure 
Sun
Storms with high winds (hurricanes, nor'easters, etc.)
When looking for beach-friendly furniture, keep these factors in mind. You should look for outdoor eating and lounge furniture that can withstand adverse weather conditions including rain, wind, fading, sea air, and sun to name a few.
Types Of Outdoor Beach Furniture Materials To Consider
Some common types of outdoor beach furniture materials, often enjoyed on by water. Are as follows no particular order.
Aluminum
Aluminum is a popular material for outdoor furniture because of its strength and low cost.
Pros
Material that is lightweight and portable
Options that are powder-coated are considerably more robust and resistant to corrosion, water, and pests.
Doesn't need much maintenance or cleaning.
Cons
Unpleasant in extreme temperatures 
A little heads up. Aluminum is a good material but power coated will last longer. Resisting rusting better than uncoated furniture.
Cedar
Cedar is an old classic for outdoor use including furniture. With many of its pros coming naturally.
Pros
Natural resistance to water, decay and bugs
Longevity, if properly maintained can last 30 years
Cool to the touch on hot days
Cons
Requires regular maintenance like staining/sealing
Easily scratches
You can let cedar "grey" and many people do to minimize maintenance. But the problem with greying is there is no going back. Once you let your cedar lose it wood beauty its gone.
On the flip side, you could consider hardwood furniture.
Hardwood
There are many types of hardwood used for furniture but one of the most durable is teak. So if you want your wood beach furniture to last, consider teak.
A downside of hardwood, including teak, is it needs to be maintained to last outdoors. Letting the wood grey is an option but will shorten its life span.
But hardwood is durable against
Hardwood maintains its resistance to sand, insects, wetness, humidity, warping, and cracking with routine maintenance.
Pros
Wind-resistant
Relatively unaffected by salt, decay, and insects
Not easily bent or cracked
Constantly feels nice on the skin in both hot and cold climates
Cons
Can become discoloured from the sun over an extended period of time 
Heavy and difficult to carry and store
Poly Lumber (HDPE) 
Poly lumber may be more costly than other types of material, but due to its sturdiness and endurance, many homeowners think poly lumber is a worthwhile investment. 
HDPE (High-density polyethylene) furniture is frequently manufactured from recycled materials reducing its environmental impact.
Pros
Won't easily rot, peel, chip, splinter, fade, or distort.
Resists humidity, insects, wind, moisture, and salty air
Resist mildew, fungus, bacteria, mould and rotting
Not affected my water exposure, both rain and the waves
Non-porous making cleaning easy
Won't blow around in the wind
Limited colour fading with UV inhibitors protecting the colour
Cons
Heavier weight makes it more difficult to move around the deck or patio
Costly compared to many other materials
If you are looking for long-lasting beach furniture, consider poly lumber. Made to last even in harsh environments like the beach. The most popular brand of poly lumber furniture is Genuine PolyWood.
Its biggest drawback is price. You can buy wood and many other material options for less. Most are not as durable but will cost less.
Natural Wicker
Natural wicker, which is fashioned from plant-based materials like willow, bamboo, rattan, or reeds, is a lovely choice for lounge furniture.
Pros
Convenient for movement 
Comfortable seats no matter the weather
Cons
Blows around in the wind
Needs regular maintenance to avoid breaking and fading due to the weather
Becomes brittle over time and cracks
Potential insects damage,
Fading in the sun
To be overly frank, I don't recommend natural wicker. The durability of natural wicker when under the constant sun and high water exposure. Comfortable and looks good initially but will not last long on your beach deck.
This is why you should consider, synthetic.
Synthetic (Resin) Wicker
Synthetic wicker furnishings can be weaved from a variety of different materials, just like their natural counterpart. 
Types of Resin Wicker
PVC
Nylon
Polyethylene (PE)
High-Density Polyethylene (HDPE)
The best of these 4 options is HDPE, a denser material than the other options with more durability.
Pros
It is portable and lightweight.
Able to withstand salt, dampness, wetness, and insects
Does not overheat or freeze in very cold or hot conditions
Simple to clean and takes little upkeep
Moisture-resistant
Resists mould and mildew
Minimal fading
Cons
Styles that are lightweight are susceptible to wind gusts
Often confused for natural wicker but lasting longer. If you like the look of wicker, resin is a good option that will last out in the sun.
Wrought Iron
The exquisite, even whimsical appearance of wrought iron furniture makes it a popular option for outdoor furniture. In coastal climates, this material may need a lot of upkeep because of its propensity for rust.
Pros
Due to its heaviness, it is highly wind-resistant
Little upkeep and simple to clean
Options with treatments prevent corrosion from salt, dampness, and moisture.
Cons 
In low or high temperatures, it could become too hot or chilly to use.
Hefty and difficult to transport
Susceptible to corrosion
Wrought iron furniture looks distinctly unique from the other patio options here. If it's the look you like, it's hard to substitute something else. But be aware out on the beach. You will need to regularly paint to ensure all the corrosive water and salt don't turn it into a pile of rust.
Injection Molded Plastic
Injection-moulded plastic is the cheapest choice for outdoor furniture materials, and people who own vacation homes or permanent residences near the ocean frequently choose it.
Pros
Price
Simple to clean
Resistant to rust, salt corrosion, dampness, moisture, and humidity
Maintains a pleasant temperature in both cold and hot conditions
Light, easy to move around
Cons
Sensitive to strong winds
Fades quickly under direct sunshine
High temperatures cause warping and cracking
Fragile, weak ( I have a friend who refuses to sit on plastic chairs)
How Can I Keep My Beach Furniture Safe?
When the weather turns bad, you may keep your beach furniture safe by putting it in a shed or under a covered porch.
As an alternative, each component can be protected from the weather with weatherproof covers. Furniture can endure longer if it is kept in a shaded area and is periodically cleaned of salt, sand, and dirt.
How Can Outdoor Furniture Be Shielded From Moisture?
Moisture is a bigger problem for natural materials like wood or wicker, which can quickly be damaged by water
.
Place your outdoor furniture far enough away from the water's edge to keep out of the way of waves and tidal surges. 
As soon as your furniture becomes wet, quickly dry it with a towel. Place the items in a covered area to keep them safe from the rain, and when not in use, keep it in a dry place.
Final Thoughts
Because of how harsh and beautiful a beach environment can be, you need sturdy lounge and dining furniture that can withstand some blustery weather. This is even more critical on coastal beaches with higher winds coming off the water and bigger waves.
The greatest beach furniture can withstand elements, like sand, salt, humidity, dampness, and wind.
Ideally light enough to maneuver around your outdoor area without straining yourself. Pieces should have enough weight to keep them on the beach to enjoy.