Nothing is more soothing than enjoying your favourite beverage while sitting outside on your patio with the wind bringing a nice breeze.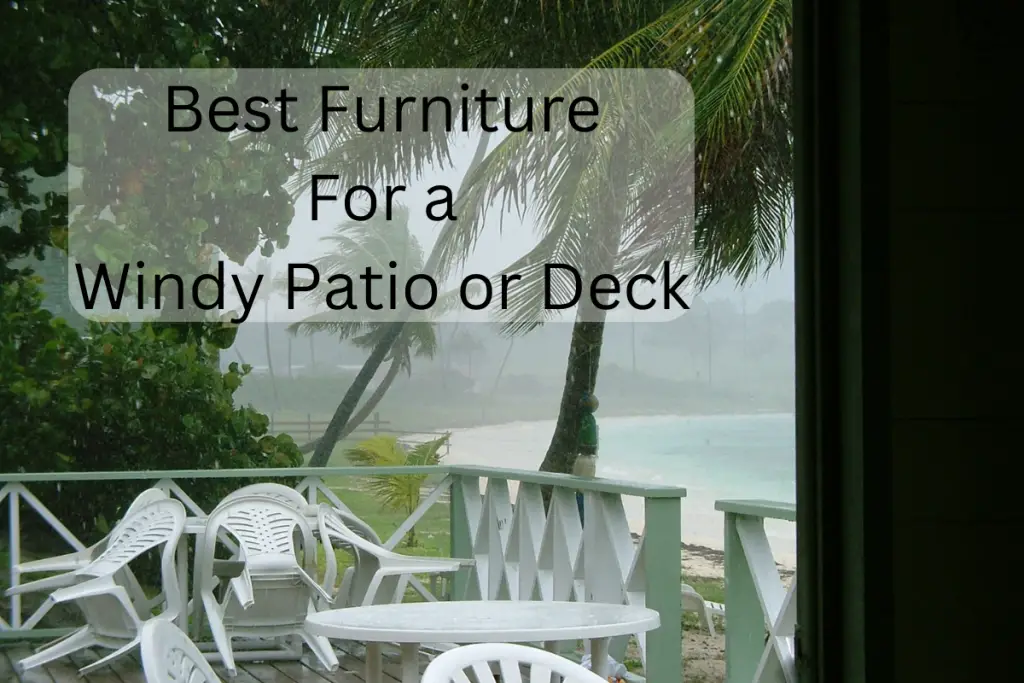 But have you ever gone outside your home only to discover that the wind had dispersed all of your patio furniture or ruined some of it?
There is sturdy outdoor furniture designed for windy places that will endure any impact from the wind, so you can relax.
Weight is a significant consideration when selecting furniture for a windy location that you simply cannot disregard it.
If you can effortlessly lift it, so can the wind.
You need outdoor furniture that can withstand wind, not an item that will scatter everywhere or blow over the top of your fence, leaving your patio appearing unkempt and entirely out of place.
Furthermore, the greatest patio furniture for windy regions shouldn't only be strong enough to withstand a blustery storm. That won't break when blown over. Even better designed that, they aren't.
The furniture below are durable and stable despite the wind.
5 Excellent Heavy Outdoor Furniture Options For Windy Environments
If you live in a windy region but still want to enjoy your deck. Look for theese features when buying outdoor furniture.
1. Wide-Margin Fire Tables
Why not think about adding a fire table to an outdoor patio instead of just a heavy-duty table? A good piece of furniture that combines a table with a fire pit is called a fire table.
Even though it's not a need, it may completely change the appearance of a patio and turn it into a comfortable place to hang out, which is especially important if you'd like to continue taking in the beauty of nature during the winter.
If you reside in an area with a lot of wind, you can't just buy any fire table. Choose a style with big lips and broad platforms wherever possible. 
If the flame ever shifts in any direction due to the wind, the huge margins will keep it away from people.
Consider including a wind guard for your fire table. Helping to calm the flames from the wind gusts plus protecting those around from accidental contact.
Together a wide perimeter table around the fire bowl and a wind guard allows you to enjoy a calming fire even when the wind is not.
2. Barstools
Barstools, at first glance, appear to be the type of furniture that winds may easily blow over.
But their simple design makes them stable even on windy days.
Choosing a stool without a back to catch the wind and flip the chair over.
Additionally, because these outdoor seats are simple to tuck away, you can store them there, particularly if the wind is forecast to develop into a storm.
Barstools are without a doubt wonderful works of art with such a sturdy construction. They can be made of metal or wood, and they can have armrests or not. The types without padded backs work best for windy patios.
Swivel barstools with a floor mount are particularly popular in commercial settings. You can use a similar idea to your yard environment as well but bear in mind that the stool cannot be moved because it is floor mounted. But the swivel is great for swinging in and out of the seat. Even when fixed in place.
3. Chairs With Lattice Backs 
The first guideline to remember when selecting outdoor furniture is that if it can get caught in the wind, it would undoubtedly blow away.
We advise selecting chairs with lattice surfaces and ornamental cutouts. Without a solid back, the air rushes through but leaves the chair in its place.
Like a ship with a broken sail. The wind may blow but the ship does not.
The same is true with lattice back chairs on a deck.
Being stable in the wind doesn't mean you have to compromise appearance.
Lattice back chairs can be made from metal, bamboo, or plastic.
The chairs are sturdy enough to support users weighing 250+ pounds even with their open backs.
4. Low Siting Chairs with Wide Leg Spread
Lower the centre of balance, reducing the chance of the chair tipping over.
Sounds simple enough. Deck chairs that sit low with a big footprint. The chair legs make it hard to flip the chairs. Being lower there is less to catch winds, moving them around less.
One such chair is an Adirondack chair. The classic design from the 1930s designed to be comfortable while sitting outdoors. But it also has a large spread between the front and back legs.
For example, Polywood Nautical Adirondack Chair is almost 33″ front to back. That is a large spread.
Plus it weighs 34 lbs. Weight is so helpful in keeping furniture down which is my next point.
5. Patio Built from Heavy Material
Heavy furniture may be harder to move around on your deck but it also will be moved less by the wind.
Some heavy patio furniture materials are.
Cast aluminum
Steel
Wrought iron
HDPE often called Poly Lumber
Consider these materials when looking for furniture on a windy deck.
Final Thoughts
When choosing pieces for your patio or space, it's typical to search for the same quality that you appreciate in interior furniture. 
While that's the ideal strategy, you must also consider whether the furniture items you want to purchase can withstand exposure to inclement outdoor weather.
There isn't patio furniture that is completely weatherproof, of course, but there are versions that are made to withstand harsh, windy conditions and can be quite helpful for the outdoor area.
You don't need to compromise appearance to find outdoor furniture that will stay put in the wind. But do consider what will make your furniture better in the wind.