Just because its winter doesn't mean you can't enjoy your deck. The temperature may drop a few degrees, but your deck is still a fun place. Part of your home and space of pleasure. Here are nine ways to use your deck in winter.
Heat it up
A safe deck fire pit, warming hands
Fire up the Barbeque
Have an outdoor cookout
Soak in your hot tub
Shelter your deck from the elements with a roof
Temporary enclose your deck
Warm it up by lighting it up
Plant trees around your deck, that will take a few years to enjoy
Yes, you can enjoy your deck in the winter. Winter cools our decks down a bit, but it's not always -40°. We just need to take the bite of the cold and love our decks.
Start by adding a little deck heat.
There are many ways to heat a deck. From patio heaters, overhead heaters to fire tabletop heaters. A deck heater radiant warmth on the deck, allowing you to take the parka off and enjoy your outdoor oasis. I actually researched it and found 11 ways different types of deck heaters. If you would like to read about ways to heat a deck, click here
.
Embrace the winter with a deck fire pit
The problem with fires in the summer is that they are hot. The heat in winter is welcoming. Set up a gas fire pit
. Yes, gas, wood fires with there spark may heat your deck up a little too much if you know what I mean. But a small gas bowl fire is great to circle the deck chairs around and take the mitts off and warm your hands. I almost want to go outside right now just to have a fire, and it is minus twenty.
I don't know the psychology about it, but aren't conversations better around a fire? Telling stories and exaggerating funny events as the flames dance before our eyes. Break out the guitar and have a campfire sing-along. I love campfires.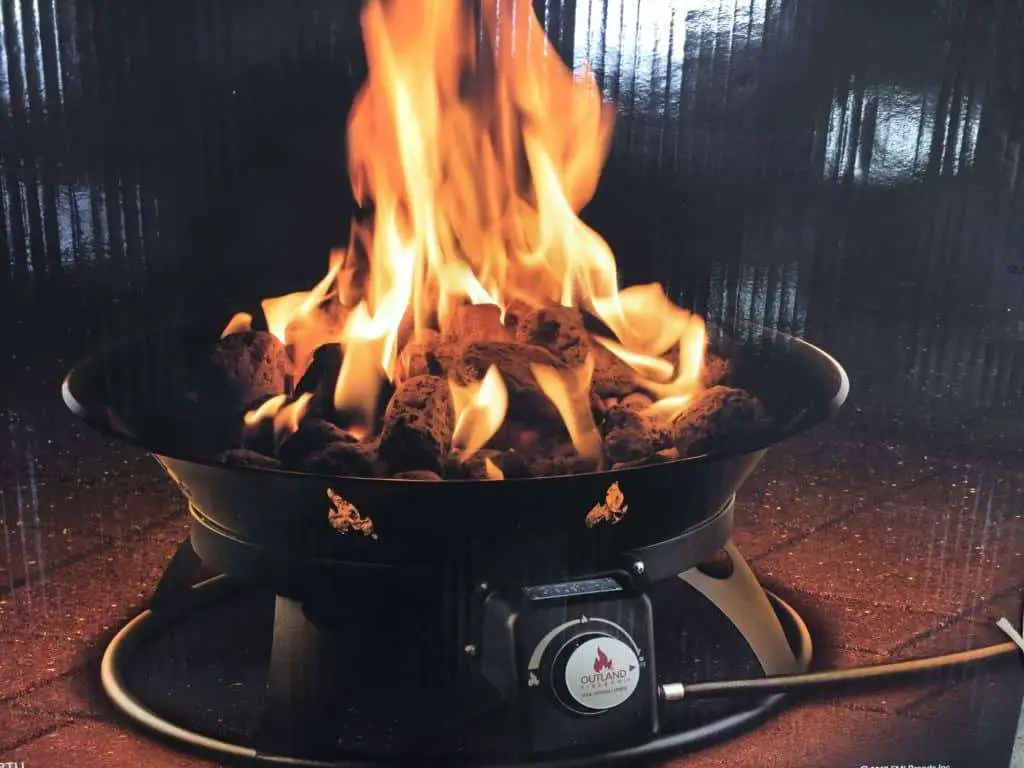 Barbeques still work in winter
 You have two options here, either embrace the winter, pull a sweater on, fire up the grill and have a picnic on the deck
. It's only a little cold air, and as my Dad would say, "No mosquitos." A hot steak or burger is great outside. Not for -40° winter day, but in Calgary, most "winter days" are just a little chilly.
Or if its too cold, a deck just outside the kitchen means you can step outside flip the burgers and step back inside. You can enjoy the grill without "being" outside. Just another reason why I love the arrangement of the barbeque on the deck close to the patio door.
Read more about deck barbequing and set up here
.
A little Chilly on a Chilly day
Sorry, I couldn't help myself. But a warm pot of chilly out on the deck is a great way to enjoy your deck in winter. Warm food on a cool day warmer the belly and soul. Careful I was fine till I watched this BBQ Pit Boys make some chilly, but a little heat is a good thing.
Soak in the hot tub
Not sure where you come from, but where I come from the "polar bear plunge" is a right of passage. Especially in the middle of January, there are always some group of crazies gathering around a hole in the ice.
But even more popular is the winter hot tub. Started with hot springs in the snow brought conveniently home with a hot tub. An exhilarating experience, the cold in the air, surrounded by snow sitting in a boiling pot of water. Hopefully not quite boiling but hot water none the less.
Put a roof over it!
Shelter your deck with a roof or awning, trapping the heat in. The number one thing insulating your house is the attic. Few things will trap heat more than a roof over your deck. Remember, though, no fires under roof, but a deck roof will keep the snow off and shelter you from the cold.
A wind block for your deck
Whenever I check the Weather Network in winter, I always look for the wind chill. It's not the cold that will get you. It's the wind. Having a wind-blocking privacy wall
on your deck will not only stop the wind but also warm the deck as the sun reflects off the wall. It makes an incredible difference. Read more about Wind Walls on your deck by clicking here
.
Enclosing your deck for winter can be both permanent as deck privacy walls have value in both summer and winter and can be integrated into the deck design. Another option is what this guy did with a roll of plastic and a covered deck.
Let there be light
It's all in your head! Heard that before and in some ways it's true. Stand outside, tuck your arms together, squeezing your hands in your armpits, and you will feel cold. Hanging some lights over your deck will add warmth with light. Maybe that's why people decorate Christmas Trees. It just feels warmer with light. Hey, embrace it with your deck. String some colourful Christmas lights around your deck
. Bring cheer to your home and neighbourhood.
Speaking of Trees, plant some around your deck
This is not an immediate fix, but in time trees, especially evergreens will shelter your deck in winter. Often you can only have a 6′ (1.8m) high privacy wall on your deck, but an evergreen can grow to over 40′ (12m). Now that's a wind block
. The green living tree brings life to your yard and deck even in winter.
Let it snow; just embrace a winter deck. Maybe we are trying too hard to warm our deck in winter. This guy just embraced the snow on his deck.