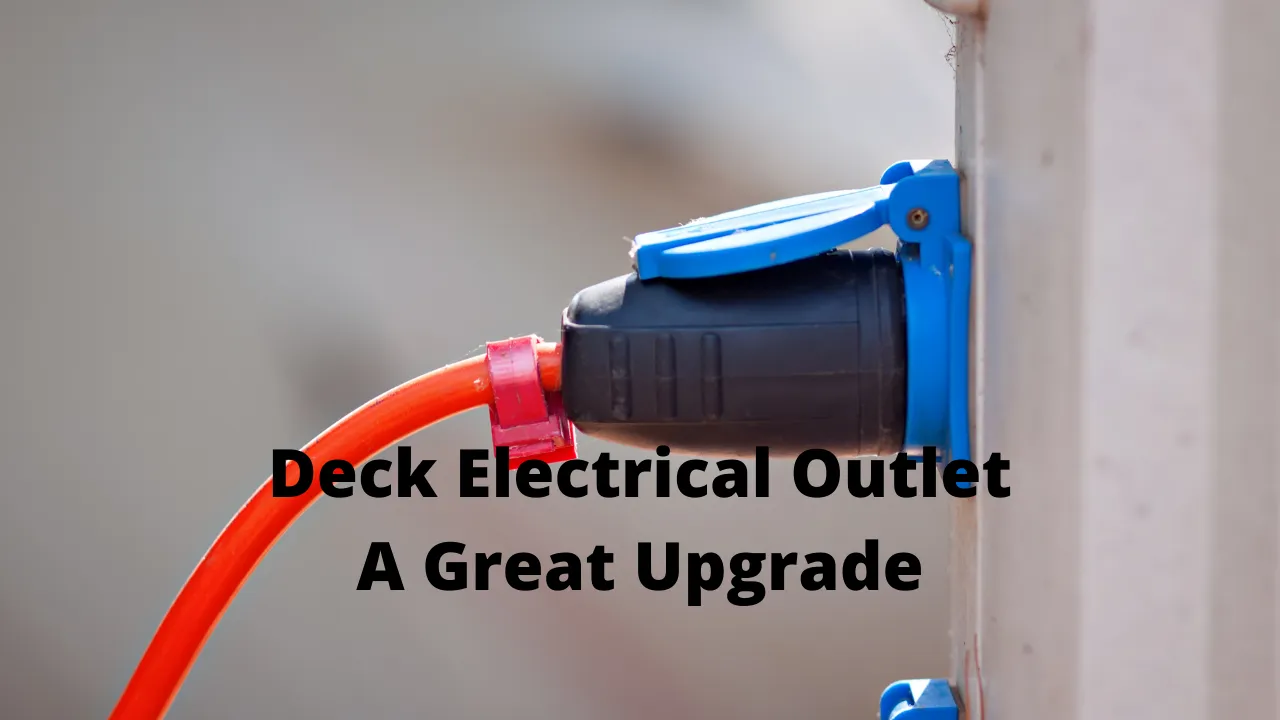 So many things make a deck better, upgrades taking your outdoor room to a whole new level. But often overlooked is electricity. Just like in your house, having a convenient plug makes your deck safer and more enjoyable. There are so many things that we enjoy out on our deck that require an electrical outlet.
Yes, you can often make it work. Patch together cords across your deck. Move your chair closer to the wall.
Yes, a single wall plug on the house can work, but you can do better.
I know you are that person because you have searched Google for the answer about deck electrical outlets.
First, let's brainstorm a little about possible uses of electricity on your deck. What will you need to plug while on your deck and off?
Then discuss location. Where on your deck should you have an electrical outlet?
But before we do all that, safety.
Deck Electrical Outlets Requirements
Most decks attached to your house will have a single deck outlet by the backdoor. Most jurisdictions require a rear and front outlet on your house.
"Balconies, decks or porches with a usable area of less than 20 square feet (1.86 m2)
 are not required to have a receptacle installed."  


https://archive.org/details/gov.law.nfpa.nec.2017
Almost any deck will be greater than 20 square feet (1.86 m2), therefore requiring an electrical outlet.  I would suggest that if you add a deck to your house, you build it no less than 144 sq' (12.96m2).
For more about building the right size deck check out How to Figure Out the Right Size Deck for Lounging, Dining or Grilling
.
But unless your deck is just a small landing outside your door all decks require at least one electrical outlet.
But are additional deck electrical outlets better?
In most cases, yes.
There are 2 ways that additional outlets are advantageous.
With so many things needing to be plug in often the standard 2 receptacles are not enough.
Here is just a quick list of some things that you might need or enjoy on your deck that need to be plug in.
Heaters
Fans
Speakers
Deck Lights
Electric blankets
Grill Rotisserie
Deck refrigerator
Cell phone charger
Laptop
Television monitor
Christmas lights and blow-up decorations
Hot tubs
Spa equipment (jacuzzi)
Power washer
Yard care equipment
Yes, more things needing to be plugged in and will be an excellent addition to your deck.
You would think a laptop with its battery wouldn't need a plug. But man, is it convenient to plug it in when you are outside working or surfing online and the warning light comes on.
Just one example where a plug is great on a deck.
And with so many things to plug in, 2 outlets by the door will often not be enough. Especially when you have already had the deck lights plug in, leaving you with only one spare outlet.
Will it be a cooling fan
or your laptop?
You don't need to choose. Additional outlets on your deck will solve all this.
Location of Electrical Plugs on a Deck
Often this is more important than the number of outlets.
Your chair perfectly sitting in the corner of the deck catches all the rays but is too far away to plug in your laptop.
Running a cord across the deck is both a tripping hazard and just plain ugly. You didn't install the best-looking composite decking to have a bright orange cording ruining the look. If you haven't picked out that beautiful composite decking. Click the link to learn more and compare the top composite decking brands
.
But even more importantly, cords are a tripping hazard on your deck. Correctly placed outlets will make your deck safer by removing cords with a convenient outlet where you need it.
But where will you need to plug something in on your deck?
Only you can answer where is the best location, but think about what you will be using on your deck and where. That is where you need an electrical outlet.
Outside of Deck
This is the number one additional location a deck plug is needed. Not on the deck but for plugging in things of the deck.
Lawn Mower
Leaf Blower
Power Washer
Just to name a few.
Making yard work more straightforward with a convenient plug on the outside of your deck to plug into.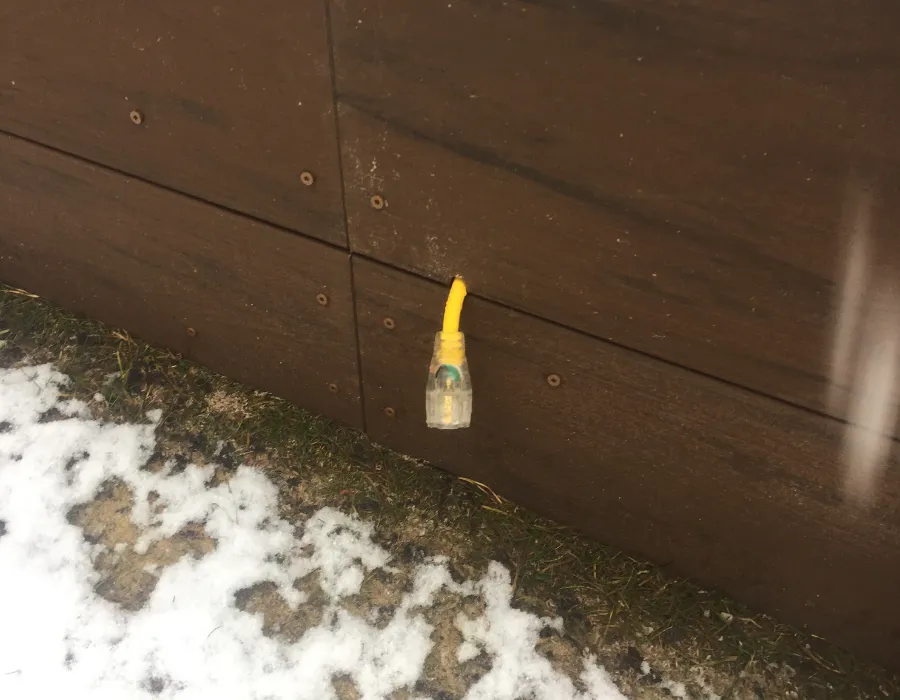 This can be as simple as running a cord between the joists before installing the decking. Plug it in on the wall outlet, and you are good to go. Except now, the number of outlets on your deck is decreased.
Deck Railing
Just like in your living room, the outside perimeter of your deck is often the best place for plugs.
This can be either floor or railing posts.
Floor installation is often easier, except if you have hollow composite or vinyl post. Where you can snake the wire up through the decking up the post sleeve. Except the electrical cannot be recessed into the post but must be mounted on the side.
Either on the post or in the decking around the permitter of your deck is often a ideal location for a plug.
Corner of the deck
Still the outside perimeter, but specifically the corner of the deck.
Just like in your living room, an end table in the corner between two chairs will often be the ideal location to charge your cell phone or set your laptop.
The corner is often a great place to place a fan. Oscillating back and forth, cooling down your entire deck.  
By the Grill
If you love grilling on the deck, it is an ideal place for cooking in summer
. A convenient plug brings it to the next level with a slow-moving rotisserie.
There is already so much action around the grill no need to add a tripping hazard of a cord.
In-Floor Deck Electrical Plug
If you are having trouble finding a nice, discrete deck floor electrical outlet, here are 2 ones I have found on Amazon. Manufactured by 2 quality brands Thomas & Betts and Red Dot.
The better but a little more complicated option. The plug is hard wired into your wiring. Freeing up your house's electrical outlet.
Disclaimer

A qualified and licensed electrician should do all electrical work. If that is not you, hire an electrician to install the wiring and box.
Being hard-wired and installed by a qualified electrician reduces the risk of electrical shock while increasing the number of electrical outlets on your deck.
If you want to do it yourself, save a little money and install it by yourself.
Here is a corded option.
At a much lower price and does not need an electrician to install. The simple receptacle and cover can be cut into the decking. Run a cord from the GFI receptacle at the house to the plug. Ugly and dangerous cords are removed from the deck without the added expense of running additional plugs.
The biggest advantage is price, and you can do it yourself. The drawback is it is a cord plugged into your house's outlet. Which limits the amount of electrical appliances you can use on your deck. Plan wisely, and it shouldn't be a problem for a smaller deck.
But for a larger deck, you will be better having an electrician run some additional fascia and floor plugs on your deck.