Maintenance is the number one reason for using composite decking followed by longevity. But I have also seen people choose composite for appearance which speaks to how much the look of composite has improved over the years.
Trex has long dominated the composite decking market and I would say is still one of the most recognized composite decking brands.
But brand recognition does not make it the best.
There are many things that go into determining the best composite decking. Things like appearance, longevity, and warranty. All very important factors.
But after years of building, researching and enjoying composite decking. I have come to the conclusion that there is not one best brand of composite decking for all applications but rather brands that excel in certain deck environments.
That it is the application that determines the best composite decking.
Still, there are 5 key characteristics that need to be considered when selecting the best composite decking for you.
Appearance
Durability
Traction,
Cost
Warranty (Durability)
And if you are going to build it yourself, ease of installation.
No one composite deck board is the best in all these characteristics. Therefore, I am going to provide a round-up of the best composite brands, with an emphasis on what the brand excels at.
Plus a few brands of composite decking that really are best in a particular application.
Followed by a few select composite brands that are not yet considered the best but should be considered, rising stars that could be exactly what you are looking for.
But before getting into the decking of the matter.
What is Composite Decking
Composite decking is a blend of polyethylene (HDPE or LDPE) or PVC (polyvinyl chloride) mixed with wood fibres, rice hulls, fibreglass or minerals.
Composite decking is commonly capped with polymer to enhance the appearance and protect the inner core from the elements like sun and rain.
But some composite decking is not capped with polymer but acrylic for its extra durability.
Other and these are becoming increasingly rare are uncapped.
Best Composite Decking Brands
Now to the best composite decking, arranged not in order of quality but alphabetically. Do read through the entire list or find the brand you are most interested in.
Number 1 is not #1.
Deckorators mineral based (Best for Decking Designs/Stable)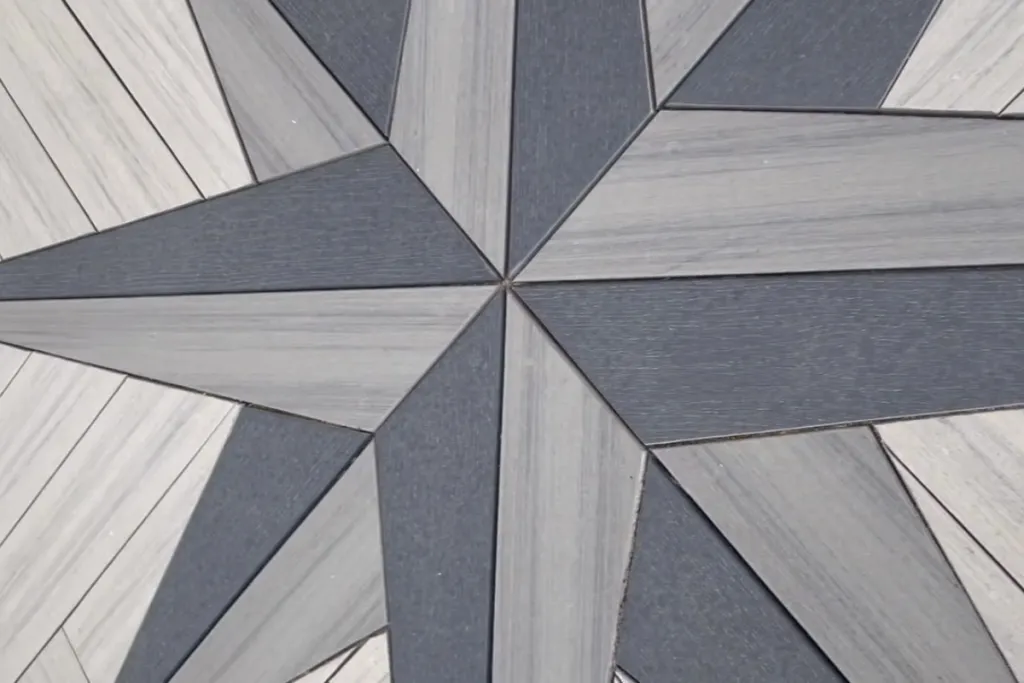 Deckoratorsmakes both wood and mineral-based composite decking but it's their mineral-based composite that is its star. That sets it apart from other composites for the following reasons.
Virtually no thermal expansion or contraction
34% better traction
35% lighter than traditional composites
Warrantied for installation in the ground or water
Nothing for mould and fungi to grow on
The biggest of these is expansion and contraction followed by traction.
One of the challenges of composite decking is designing and building your deck to allow for thermal movement. Which can limit decking designs.
If you are one who loves inlays, and patterns, make your deck equally art as an outdoor oasis. Consider Deckorators mineral-based composite.
It will allow you to design the unthinkable with its low expansion and contraction boards. 
To learn more read a full  Review of Deckorators Decking
.
Fiberon (Best Warranty)
In an age where almost every brand of composite decking includes a 25-year warranty. Making them all look alike. Fiberon sets itself apart with the best warranty in the business.
Concordia, 50-years
Sanctuary, 40-years
GoodLife Escapes, 30-year
GoodLife Weekender, 25-year
These warranties include fade, stain and structural warranty. Along with paying for the labour cost of replacing any defective boards for the first five years of the deck's life. Which sets it apart from almost all other brands of composite decking for warranty.
Except maybe MoistureShield which is a close second.
To see how other companies stack up with composite decking warranties, click the link. For you can know what to look for in a composite decking warranty. It's more than just length.
Not only does Fiberon have a great warranty, but they also have a wide selection of boards to choose from, including 32 different colours.
Along with multiple price points. From a premium board Concordia to a much more affordable GoodLife. Making low maintenance decking an option for any homeowner. 
"Decks should be enjoyed, not maintained."

Fiberon
One aspect that Fiberon falls short, except their PVC line is slip resistance. Some of Fiberon's wood-based composites are the worse performing for traction.
To learn more read the full Review of Fiberon Composite Decking.
MoistureShield (Best Around Water)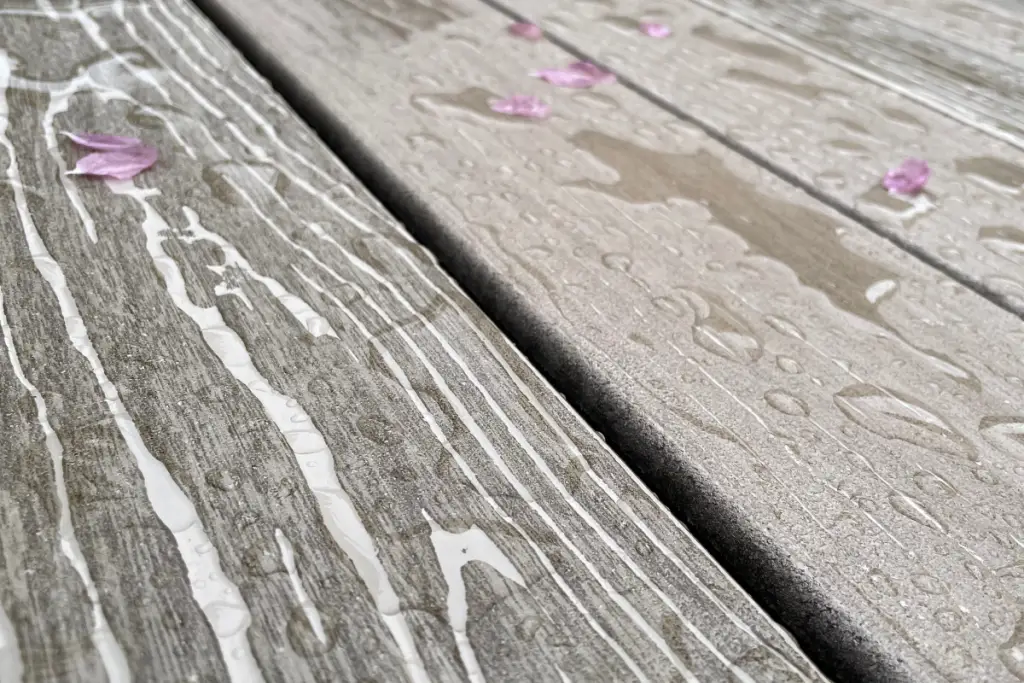 As their name suggests, if your dream deck is near water. MoistureShield is a brand to consider.
MoistureShield has one of the best performances with water.
With its encapsulated wood fibres, MoistureShield can be installed in and around water without impacting the decking for over 50 years.
"With a proven history of 30 years with no structural field failures."

Tim Ortman, President, Oldcastle APG
Making it one of the best composite decking brands for around water. Including docks, pools, hot tubs, and even just rainy regions. MoistureShield can take all the water you can throw at it.
A few places where decks and water go together, and after careful research MoistureShield was shown to be the best pick.
Along with having one of the higher ratings for traction when wet.
| | | |
| --- | --- | --- |
|   | Slip Resistance (Dry) | Slip Resistance (Wet) |
| MoistureShield Vision® | 0.79 | 0.81 |
| MoistureShield Vantage™ | 0.83 | 0.77 |
| MoistureShield Elevate™ | 0.77 | 0.71 |
Ensuring you can stay on your feet while enjoying your deck. 
A drawback with MoistureShield is the price. Elevate their budget line is priced similarly to Trex Transcend and many other mid-tiers composite deckings. The cost only goes up from there.
MoistureShield performs extremely well, especially around water, but it does cost more.
To learn more, read Review of MoistureShield Decking
.
TimberTech Azek (Best Appearance)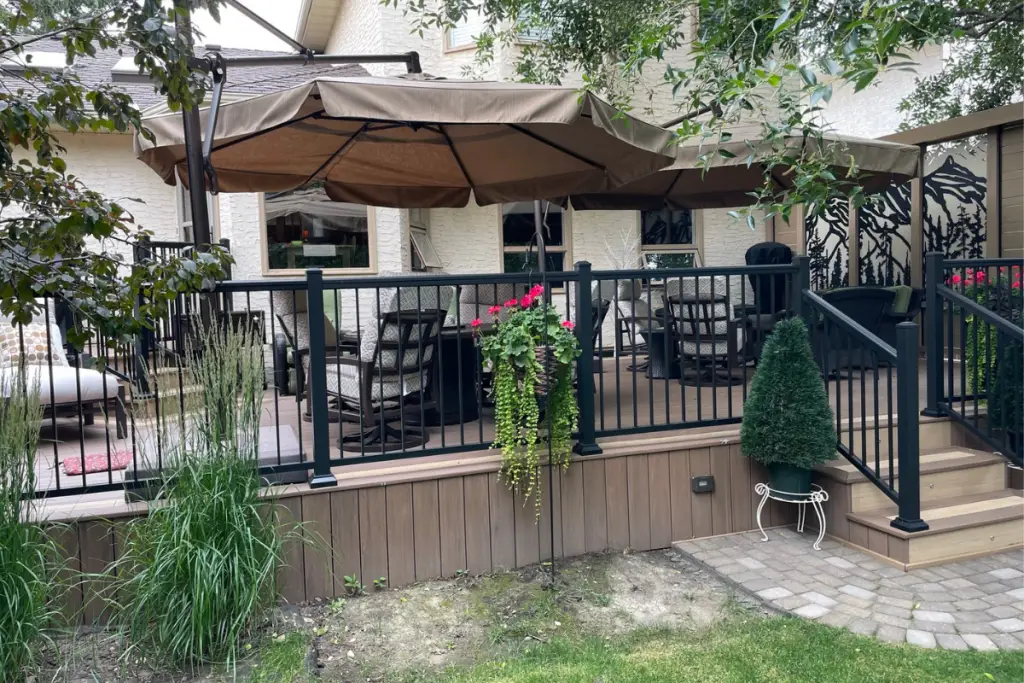 "Beauty is in the eyes of the beholder" so this may not always ring true, but TimberTech has some of the best-looking composite deckings. With 25 colours to choose from.
"Our brand exists to challenge convention. To rage against mediocrity. We believe "Good Enough" is never enough. We are TimberTech.

Azek/TimberTech
A distinct appearance difference over boards like Trex is the wire brush finish of many of their boards. A softer look and feel compared to deep wood grains.
Not only does their decking look good but they also have a good warranty ensuring that your decking will look amazing years from now.
TimberTech has a wide range of decking options including their more affordable Edge line (25-year warranty). A good-looking scalloped board capped on three sides.
But the best looking of course will be in their higher-end collections Pro (30-year) and Azek PVC (50-years) boards. 
Two things I don't like about TimberTech composite decking are its scalloped profile and hidden fastener design.
The wide scallops on the bottom of the boards poorly support the decking overhang. Only a problem with the Edge line but still limits design and application.
There is an argument that CONCEALoc® Hidden Fastener holds the boards better and are more durable than other alternatives. But the angle screw design makes replacing damaged boards challenging along with less versatility in installation. 
I still recommend TimberTech because of its appearance but understand that during construction there will be some additional challenges.
To learn about TimberTech read Review of Timbertech Decking
Trex (Best Priced & DIY Installation)
Trex offers 22 colours in three lines, Transcend, Select and Enhance.
Trex's woodgrains are deeper and more pronounced than most. Impacting the look and feel of the decking.
All are backed with the same 25-year warranty. Making choosing shopping easier, not having to include a warranty in the equation when choosing between lines.
Best DIY Installation
There are many things appealing about Trex such as their durable cap and the length of time the company has been making composite decking.
But what sets it apart from other brands is the ease of installation. Making it one of the best composite deckings for Do-It-Yourself applications.
There are many things to consider when building a composite deck. This is where I find Trex excels in keeping it simple, making it easier to build a deck you can be proud of.
Often these are little things that all add up to being the best. From Trex Academy with well-presented how-to videos in building a Trex deck, or any deck for that matter. To straight drive hidden fastener screws that are easier to work with. To a groove design that simply receives the hidden faster clip. To scallop design that better supports the edge of economical deck boards.
Best Priced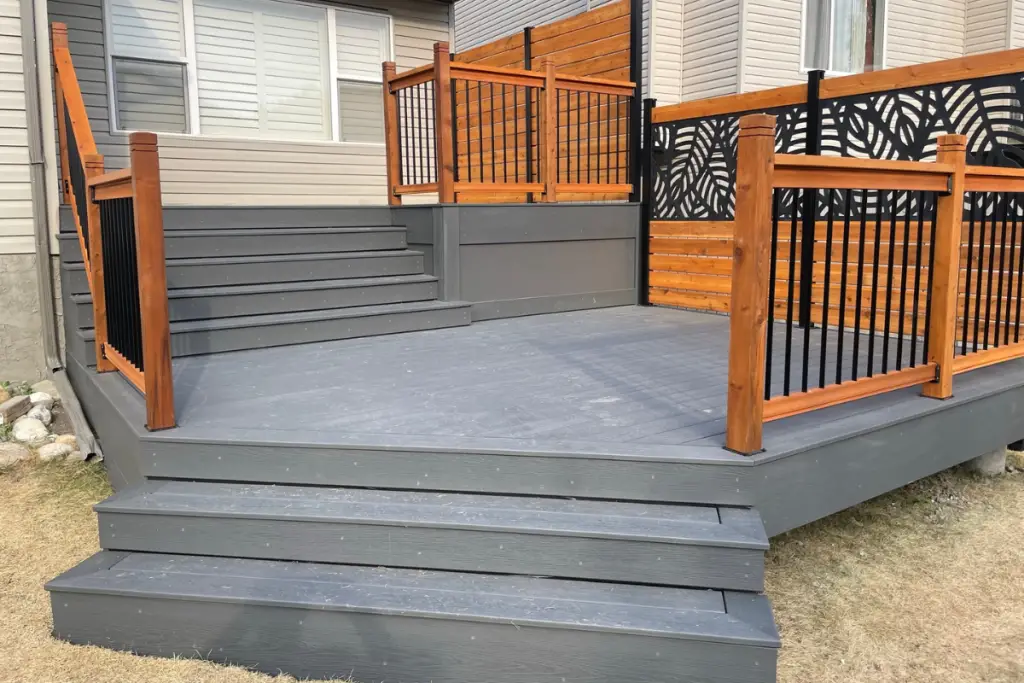 The one thing that often stops people from using composite decking is the price. The low maintenance, the look, the longevity all are really appealing but the thought of spending thousands more on your deck is just to much.
Trex Enhance is the best composite for this challenge. It is not the cheapest composite decking but it is one of the best-priced composite deckings from a reputable brand with a warranty to back it.
"Priced to put the pressure on treated lumber."

Trex
Trex Enhance will cost you less to build a composite deck, hands down. And being so well priced but still lasting 25+ years means that it will save you more money and be quicker than building and maintaining a pressure-treated deck.
Not only is Enhanced well priced but their Premium board Transcend is priced similarly to mid-tier decking but overall performs better than many of its peers.
Two things I don't like about Trex are Select and Cap.
Select is their mid-tier (Better Line) which is 7/8" thick. Slightly thinner than Transcend and Enhance which are a full 1" thick. The standard thickness of composite decking. Limiting the use of Select, it cannot be mixed with other lines. You cannot install Select boards in the field and dress up with Transcend for the picture frame or transition borders. Or install the more economical Enhance boards but dress up the perimeter with Select.  
Unlike Trex's warranty, which is consistent for all their decking, their cap is not. Enhance cap scratches much easier than Transcend. Still has the same fade and stain resistance but do expect marks to show up on your deck.  
To learn more about Trex read Review of Trex Composite Decking,
Wolf Serenity (Best Priced PVC)
A smaller brand focussed on PVC, Wolf Serenity has only 11 colours protected by COLORWATCH100® to minimize fading.
Colour choice seems low till you consider that these are all PVC boards. They have the same amount as TimberTech Azek line and one more than Fiberon's PVC options.
There are many advantages of PVC decking over wood-based composite decking
. But one of the drawbacks of most PVC decking is the price. Often costing twice as much as composite.
Enter Wolf Serenity is priced competitively with mid-tier composite decking. Making PVC an option even if the budget is tight.
Adding to their affordability is their fasteners system. With many hidden clip systems expect to add hundreds if not thousands to the decking costs. Wolf Serenity is edge-screwed using affordable Camo edge screws. Making it one of the cheapest composite boards to install.
In conjunction with installation is the fact that they offer only one profile of decking, square edge. No sorting between groove boards for the field and square edges for the edge boards. You only need to order one profile. So much simpler.
But all these saving does not mean a lower quality decking. Wolf Serenity has a similar 50-year warranty as many of the best PVC decking boards.
Plus, Wolf Serenity has some of the best slip resistance among composite decking boards.
| | | |
| --- | --- | --- |
|   | Slip Resistance (Dry) | Slip Resistance (Wet) |
| Wolf Serenity | 0.74 – 0.85 | 0.75 – 0.87 |
Keeping you on your feet as you stroll across your deck.
For a cost affect deck with the advantages of PVC consider Wolf.
To learn more, read Review of Wolf Serenity PVC decking
,
Zuri PVC (Best Cap)
Not only is Zuri photo image cap one of the most realistic-looking hardwoods without the maintenance for your yard but it's also one of the most durable.
Unlike most composite decking caps made from polymer Zuri's cap is acrylic. Which has some huge advantages.
30% more durable compared to other composite decking
5X more resistance to wear
Incredible traction
Which makes Zuri best for many deck applications. In particular where your decking is going to take a beating.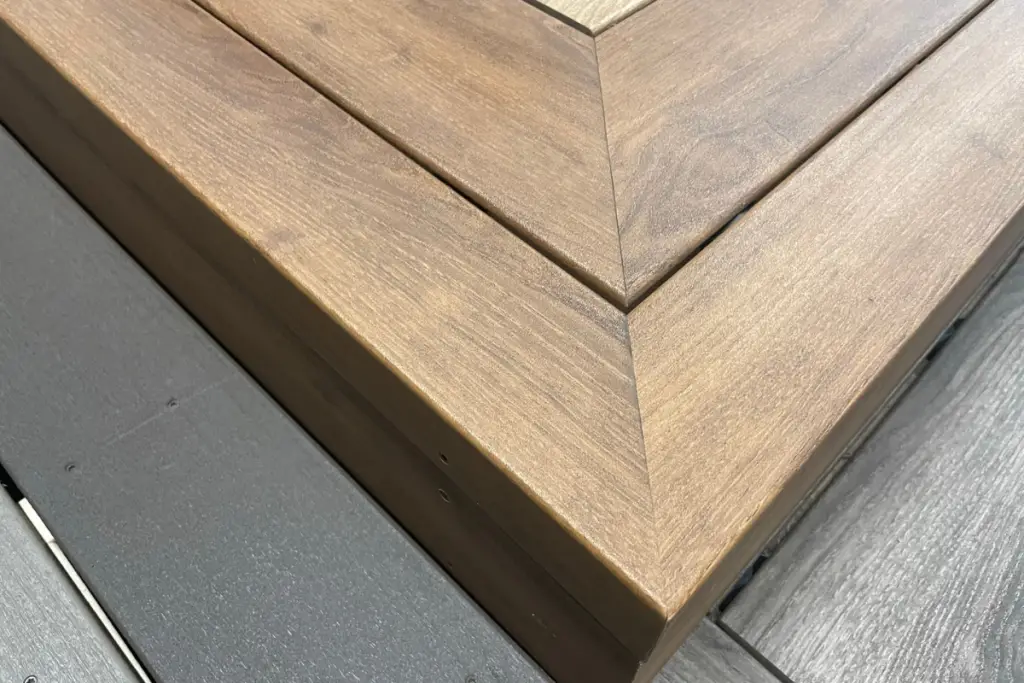 If you want an amazing-looking deck but also love your big dog
. If any decking cap is going to hold up, it's Zuri.
For seniors where slipping on your deck is not an option, Zuri has one of the highest-rated slip-resistance deckings. 
| | | |
| --- | --- | --- |
|   | Slip Resistance (Dry) | Slip Resistance (Wet) |
| Zuri | 0.82- 0.86 | 0.89 – 0.97 |
These and many other applications are ideal for Zuri decking because of their durable cap.
If you are looking for the look of hardwood Zuri probably has the best-looking decking. Its photo image cap puts it in a league of its own. Making it hard to compare with traditional wood and composite decking. Unfortunately, choice is limited to only 6 colours. All authentic hardwood looking but with limited choice.
Another disadvantage of Zuri is installation. It can take a pro 20% or more time to install Zuri correctly compared to other composite boards. Only adding to its cost. Which is already on the high end.
To learn more read a Review of Zuri PVC Decking
,
Unique Composite Decking to Consider
Cali Bamboo
What makes Cali Bamboo distinct from other composite decking is bamboo. Should have guessed.
The bamboo is mixed with recycled plastic (40%) and extruded into hollow-core planks.
The decking is 3x stronger plus the bamboo adsorbs less water than wood fibres helping to minimize the chance of water damage.
To learn more read Review of Cali-Bamboo
.
Envision/Evergreen
Two things about Envision need to be highlighted.
Compression Technology
Non-Repeating Grains
Its core is distinct from many other composite deck boards in that it is manufactured using Compression Technology. Think about how a diamond is formed.
The plastic and wood fibres are heated while being compressed into deck boards, including the cap. Unlike most composite decking, which is extruded.
These boards all have deep, non-repeating grains with a unique blend of colours.
Making decking that's not only beautiful but designed to stand up to harsh conditions.
To learn more read, Review of Envision Composite Decking,
TruNorth Composite Decking
What sets TruNorth apart from many other composite decking is rice hulls.
A blend of Arkansas rice hulls and recycled high-density polyethylene (HDPE) with UV inhibitors. Compared to wood fibres, rice hulls absorb less moisture reducing the chance of mould and other rot-related issues.
Plus the rice hulls are more durable, resisting impact damage better than wood-based composite.
On top of all this TruNorth decking is reversible. Capped with full colour and texture on both sides allowing you to flip damaged boards or use off cuts.
To learn more, read Review of TruNorth Decking
.
WearDeck
WearDeck's main application are docks, which require high levels of water resistance and greater span strength.
Made from high-density polyethylene (HDPE) and fibreglass it excels in both of these departments.
With no organic material, it does not decay or grow mould.
Plus, it's 2.7 times stronger, allowing it to span 24" on centre joists spacing. All while still splinters-free and slip resistance.
With a lifetime warranty to boot.
To learn more read Review of WearDeck
.
Best Composite Decking Resources for Research
We have often mentioned that decking is one of the best, or top of the line, etc. That is all based of much research and comparisons. Here are some more references specifically about composite decking performance.
Or if you are trying to find the best for a specific deck application.
One more resource for finding the best composite decking. Read through the Best Composite Decking Buyer Guide.
Buying Guide to Find the Best Composite Decking
Composite decking is a sensible, durable and popular material for making decks of any size, but what's the right choice for your backyard? In this buying guide, you'll learn everything you should know about the cost, features, and various buying considerations to keep in mind when you go shopping.
Price (Budget)
Cost for composite decking can be listed in two ways: square feet or linear feet. Square feet are always higher because there's more space per unit. Roughly 2′ of decking for every 1 square foot of deck. I say roughly because, of course, a 5 ½" board times too is not quite a foot. That said, mistaking it for linear feet can give the impression that one option is significantly more expensive compared to others than it really is.
Price of Composite Decking
If we are talking strictly decking, composite decking will cost between $2 to $10 a lineal foot, that's between $4.34 and $27.70 a square foot.
Now that is a significant range. But I am only getting started.
Decking Fasteners Costs
Hidden fasteners are critical for the best performance and appearance of your deck. But this must be included and will vary. On the lower end are Camo Edge screws, which some brands allow for and will cost less than $1 a square foot.
Trex is probably one of the lower-cost biscuit fasteners approved. Trex and many other companies will cost a little over $1 a square foot.
On the higher end, brands like Conceal Lock or Cortex plugs will add an additional cost of around $1.50 a square foot for your deck.
But don't think you can just buy anyone you like. Many fasteners are specifically designed to work with the exact groove of the composite decking. But more importantly, warranty. Most composite decking warranties are void if the "correct" fasteners are not used.   
Don't be foolish and save a couple of hundred bucks on fasteners only to void a warranty worth a few thousand.
Cost of Decking Substructure
The composite decking pricing model also hides another cost: the supporting material under the deck itself. Supports are a meaningful increase in the expense of constructing a deck, but they're also required components. You can reduce the cost of a deck by building it lower and doing some prep work yourself, but there's a firm maximum on what you can do here.
Realistically, most people will spend between $40 and $60 per square foot for composite deck, usually somewhere in the middle of this range. This number includes the cost of installation and gives us a good range to estimate composite decking costs.
With the cost of lumber in the last few years, don't be surprised if it will cost even more.
A typical deck is somewhere around 24′ by 12′ deep. That's 288 square feet of decking. With the price listed above, a structure on the lowest end will cost $11 520, while a deck on the higher side may be closer to $17 280.
For comparison, pressure-treated wood costs between $15 and $25 per square foot to install, while higher-quality cedar wood is usually $30 or more. Composite is highly competitive with cedar, but pressure-treated wood is more affordable.
Don't forget to think about the long-term costs when you're installing a decking. Wooden decks, especially pressure-treated wood, require annual maintenance to remain in top condition. Maintenance can easily exceed several hundred dollars a year, which will increase the cost of wood over composite within just a few years.
Composite decking needs significantly less maintenance than any wood, so it's usually more affordable long-term despite the higher initial cost.
Appearance (Color, Woodgrains, Variegation)
Composite decking comes in a wide variety of colours, textures and widths, many of which mimic genuine wood. Techniques for making composite decking material have improved over time, so many of them are considerably more realistic than they used to be. Obviously, artificial choices are also available, though these aren't as popular as wood lookalikes.
For colour, composite decking runs the full spectrum of brown. The palest options include white and beige material, while darker hues mimic cedar, tree barks, and other plant life. Gray and red hues are also popular choices and easy to find from most manufacturers. Anything outside this range, including green decks, may be harder to get.
Woodgrains depend on the manufacturer, but these are commonly added to composite decking as part of the production process to ensure appropriate texture and traction (more on that in a bit). 
*Builders Tip*

The most realistic-looking composite boards are also the most expensive. Look at the higher-end boards if you want them to look like a million bucks. Colour, streaking and embossing all cost money. This is where you do get what you pay for.
The appearance of composite decking varies significantly based on the overall quality of the deck. Higher-end options are more wood-like, up to the point of having excellent shading and even individual patterns, with no boards two boards the same look.
In summary, you generally have your choice of colour (in the gray-brown-red range), texture, and variation with composite decking.
Deck Environment (Sun/Moisture)
Your deck's environment also determines what kind of composite decking makes the most sense for your home. Generally, the more exposure your deck has, the better the materials you should use. The ideal environment is a shady, temperate area with minimal rainfall. Any deviation from this starts putting more stress on the deck, affecting its lifespan.
Moisture doesn't affect composite decking nearly as much as regular wood, but that's not to say there are no effects. Smoother composite decking can get slippery and unsafe if it's too wet, which is part of the reason that textures and patterns are so important. Aside from their aesthetic qualities, they help ensure the deck is safe to walk on in the rain.
Similarly, some people install decks near pools. This has the added threat of exposing the deck to pool chemicals, particularly chlorine. Fortunately, most composite materials are highly resistant to chemical staining and certainly better at this than stone or wood. If the deck is too close to the pool, though, you may want to add an extra plastic barrier.
Sun exposure is a more common threat for people, coming in at several levels. UV exposure is not a significant factor because composite decking is made to resist sunlight and won't fade as quickly as many other materials.
However, dark composite decking tends to absorb heat and can get uncomfortably hot in the summer months, especially in hotter climates. The same qualities mean the decking can absorb heat better in winter and melt snow off faster, however, so it's essentially a matter of location.
Some brands like Azek and MoistureShield claim lower temperatures in the sun with specially designed boards and caps. Be a little wary, as most claims don't significantly hold up in the heat. With an only small difference in the sun. But due consider colour the most significant variable in how hot the board will get in the sun.
Plus, the best test for any deck location is order a sample from a brand you like and leave it out in the sun beside a few other samples. Your hand will tell you pretty quickly which one is cooler.   
Or consider incorporating shade into your deck design.
Composite doesn't hold much heat, but it reflects the sun's direct rays. Shade will cool a deck
better than almost anything else.
As a general rule, darker composite decks work best in cooler areas, while lighter decking is a wiser choice for warm areas.
Expansion or contraction from heat should also be considered. Most PVC decking and many composite decking will move a lot from the warm afternoon sun to the cool evening. If you want fancy inlays, mitre cuts in your decking pattern are considered boards with minimal impact from heat. Deckorators
(MBC) mineral-based and Fortress Bamboo reinforced composite
are two off the top of my head.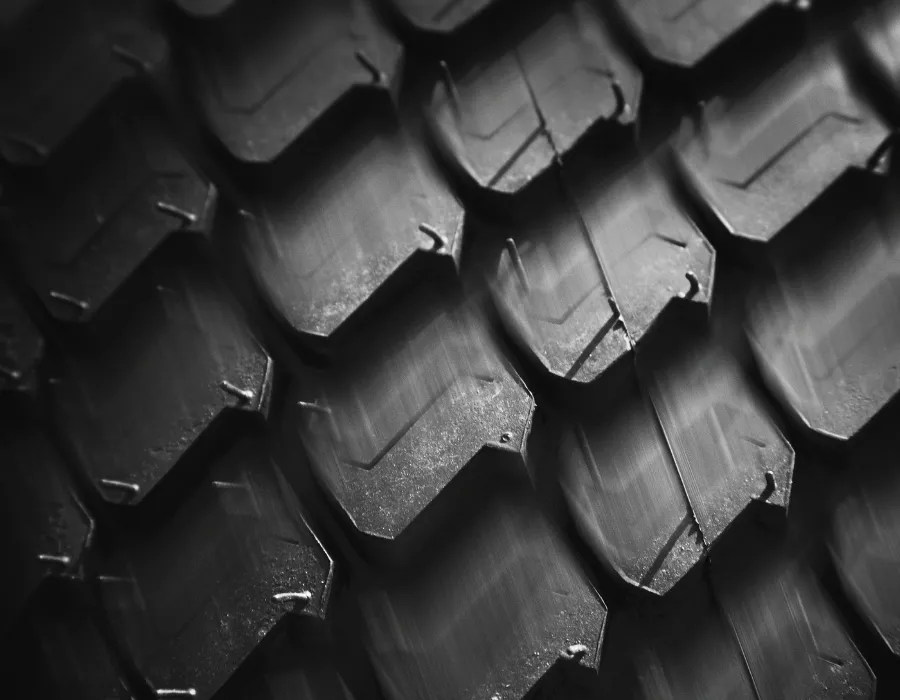 Decking Traction
Composite decks are often cited as being more slippery than other options, but this isn't entirely true. Older composite decks tended to be smooth, yes, but modern options are significantly better about this thanks to their built-in patterns.
Composite decks are generally safe to walk on while dry, although anybody who's mobility-impaired should be cautious just in case. The main issue with traction tends to come when the deck is wet, either from rain or splashing from a nearby pool. Occasionally, sprinklers and other watering systems can make decks wet, too.
Rougher decks tend to have better traction than smooth decks, with more bumps and ridges that allow water to drain away. Many deck boards also have a slight curve to them, encouraging water to run off the sides instead of staying on top of the deck.
High-quality boards tend to provide better traction than lower-quality ones, but this can vary by manufacturer.
Often material-wise PVC based decking have the highest ranking for traction. Not directly related to the PVC because the core in most cases is wrapped with a polymer cap, but the higher price boards include the better-designed caps.
Safety is a paramount concern for most people buying decking, and manufacturers are developing many new safety features to their entire product line to help them stay competitive. Don't write off a brand because your Dad's deck is slippery. Check out the latest design for traction.
Durability
Composite decking is one of the most durable decking options currently on the market, even in areas with a lot of sun and water exposure. It doesn't require much maintenance, though an occasional washing will help remove the buildup of mould, algae, and similar threats that could actively harm the enjoyment of your deck.
Insects are rarely a significant threat to composite decking because they don't care about it. It's not easy to convert into a home, and it's not edible, so they mostly don't bother going onto it at all.
The cheapest composite boards will usually last at least 25 years or more without deterioration of the decking. This includes fading and possible food stains. And of course, structural. They will not break under you.  
Higher-quality decking will last 50 years or more with proper care.
For context, most traditional wooden decks only last for 15 years at the most, and that's with regular cleaning, staining, and treatments to prolong their life. Having essentially half the lifespan of composite decking while costing far more in maintenance is why traditional decks are ultimately more expensive despite their lower initial cost.
Cedar
is a little more durable than other types of wood, and it's such a big part of the market that it deserves a separate mention. Well-cared-for cedar will usually last 15 to 20 years in a deck. Cedar deteriorates much faster if it's moist
or close to the ground, so elevated cedar decks with exposure to sunlight will last the longest.
Plastic (PVC) decking are more durable than composites, usually lasting for 50+ years. Many manufacturers will give 50-year warranties on PVC decking requiring only regular cleaning.
Aluminum and steel decks can last 60 years or more, but steel in particular needs more care on top of being quite expensive, comparatively. And the look of a aluminium decking has a institution look, not quite right for a backyard oasis.
Correctly installed concrete pads and patios can last more than 70 years, but they are prone to cracking if they're not set just right.
As you can see from these guidelines, composite decking is essentially a middle-of-the-road material in overall durability. However, it's also the longest-lasting material that's essentially wood-like and provides the aesthetic appearance most homeowners want. Plastic, metal, and concrete decks all have a very different look and feel, and they're also quite expensive.
Specific Durability Concerns
Along with Longevity, here are a few more deck-specific items to consider.
These are not for everyone and every deck, but they are more important than others in some cases. Largely focus on the use of your deck, but a few quick examples to getting you thinking if they wil matter for you.  
Scratch Resistant, is generally not a common problem, but if you have dogs with claws on your deck, some extra thought should be given to the durability of the decking against scratches. Either decking with a strong cap resistant to be scratched or "self-healing" decking.
Expansion and Contraction, composite and PVC decking moves as it warms and cools. Often simple gapping will accommodate this, but if you have an elaborate decking design board with less expansion and contraction will ensure the mitre cuts,  etc., look good the day they are constructed and the seasons that follow.
Contact with Water or Ground, docks and decking that will be installed less than 6″ (150mm) from the ground will need not be damaged by high moisture levels.
Fire Rating, the concern is not grills but WILDLAND URBAN INTERFACE (W.U.I). Decking use it in such an environment needs the correct certification to ensure a wildfire doesn't burn your house.
Just few extra things to consider when decking durability in specific applications.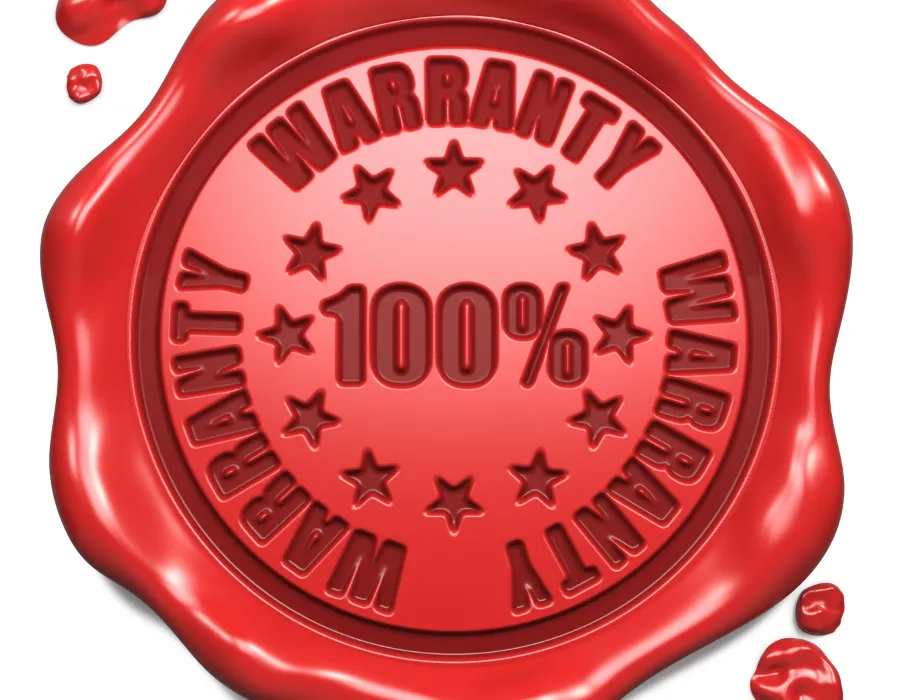 Warranty
Warranties vary by manufacturer, but all quality composite decking will have a minimum of 25 years for residential use. The longer, the better. Not that you are going to use it, but if they guarantee it for longer, it's less likely to fail sooner.
Commercial use with increased traffic and abuse generally only has a 10-year warranty. Not that it can't last longer, but they are aware of the increased wear that will happen compared to your backyard.
Terms may also vary, but companies typically provide a limiter warranty ensuring that the deck will be free from material defects in the boards and the workmanship under normal use conditions. Note that everyday use usually requires following whatever maintenance guidelines they provide.
Warranties for composite decks generally cover splitting, rotting, splintering, and structural damage, including any that termites or fungi might cause. Many residential warranties can usually transfer to a new homeowner within a few years of installation, but not past that. A possible selling point if you need to sell your home. Buyers will love the idea of still having a warranty with their new favourite part of their home.
Beyond structural most quality brands will include fading and staining.
Fading of the colour will be less than 5 Delta-E, barely noticeable with the naked eye. Ensuring that the colour you loved in the store will be the colour you enjoy for the life of your deck.
Staining is limited to most food spills on your deck. The usual suspects mustard, barbeque sauce and red wine. The one exception is suntan lotion. Almost every warranty will exclude damage from suntan lotion. So enjoy the sun on your deck but apply the lotion somewhere else. Also, food spills will need to be cleaned up within 48 hours or 1 week, depending on the brand.
Exclusions to warranties for composite decking
are largely standard and mostly what you'd expect for products like this. Manufacturers won't cover improper installation, any activities beyond normal use, changes in the terrain, improper handling, or complaints about slight colour variations.
Warranties for composite decks don't cover Acts of God
, either. Despite the religious connotations of the term, Acts of God generally refer to any natural event without human intervention, especially those people could not reasonably foresee or prepare for. Natural disasters like sudden floods and storms fall into this category.
In short, warranties for composite decks cover normal use in typical situations, but they don't cover abnormal situations.
Workability
Workability refers to how easy it is to cut, shape, and generally manipulate decking material. Composites are quite workable, being roughly similar to wood in how easy it is to shape and cut them for the exact design you want. Often installation will require no special tools beside standard woodworking tools.
Composite materials have one distinct advantage over wood when it comes to their workability, however. Heating the boards makes it easier to bend and reshape them without the risk of splintering the wood or weakening it. At least, this is the case if you don't push the material too far.
The practical benefit here is that you can create curved deck sections with composite materials. Curved sections can be flat and bend around corners, but you can also make bridges and arches with them for people to walk on.
*Builder Tip*

Check out Dr.Decks on YouTube to see the potential for board bending and curving. You will never be satisfied with a rectangle again.
Composite does have one notable disadvantage, though. Most boards aren't structurally sound enough to be load-bearing, which means you can't make the frames or understructure out of the same material. Most people end up using wood for these areas, although buyers may occasionally get metal for Longevity.
Choosing the right material for structural support is important for making a deck. All materials supporting the deck are moderately protected from the elements, but they'll still have some exposure to moisture and, in many cases, a little bit of sun. If the supports wear out, you'll have to start replacing things even if the rest of the deck is good.
Installers can tell you which support materials make the most sense for your environment. Wood is usually good enough, so don't be surprised if they recommend that. However, make sure to tell them how you plan to use the deck.
If you plan to have several heavy appliances like hot tub on your deck
long-term, for example, you may want a denser and more rigid structure beneath it. It's always safer to overbuild a structure and have a generous margin of error. You can even use this to justify a higher sale price for the property if you end up needing to move out, so it's possible to recoup the expense.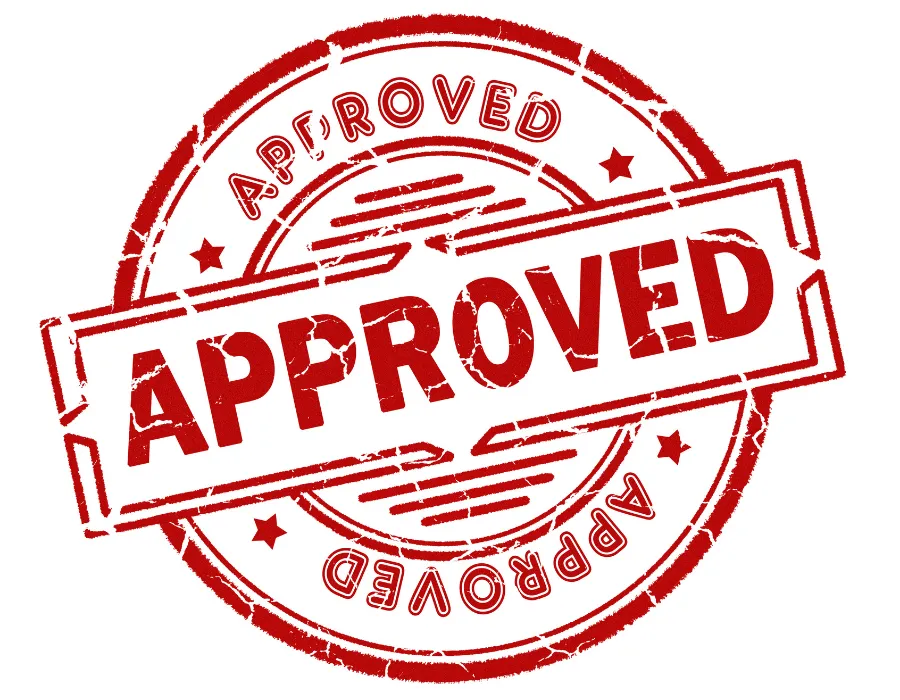 Meeting Code (CCMC or CCRR)
Finally, there's one more consideration to remember when you're buying composite decking, and that's whether the material you choose meets local codes. This isn't as hard as you might think because local retailers should know the codes and only stock options that meet them. It's important to verify and be sure, though.
Meeting code usually includes demonstrating to an official that your proposed deck meets all relevant codes and standards. Options like Interket's Code Compliance Research Reports
can help ease this process, especially when you need to demonstrate a deck plan's appropriateness to multiple agencies. Most agencies accept CCRR at face value.
In Canada we have Canadian Construction Material Centre
(CCMC). One thing I love about CCMC over CCRR is the readily available decking performance ratings, like traction. Which you can compare decking traction from lab test results. Now that's helpful. This is just one of many ways that you can compare decking using CCMC Reports.
Super important, but even more critical is permitting. Many jurisdictions will require decking that complies with the national building code. It makes sense. You want decking that is safe to use. But the way they verify it is if the decking was tested by CCMC or CCRC.
In Calgary, where I build decks, all permits applications, including composite decking, must include a CCMC report for the brand of decking. Making everything else irrelevant without it.
Off course, there is many other code requirements for decks like railing, stairs, joists, and footings
, but here we are talking decking. Which also must comply with code to be of any value.
Final Advice of Buying Composite Decking
First, Congratulation, you have started this process on the right path. Research is so valuable in buying the right decking, and you are doing that. You are already miles ahead in selecting the right decking.
Decking like everything else in our lives will start with appearance. The colours and texture will catch our eye and ultimately decide which decking we install. If you don't love how your decking looks, it's hard to love your deck.
But just like how our future spouse caught our eye across the room, it's the other things that make our marriage enjoyable. The same with decking, performance (the decking not your spouse) must be evaluated to ensure your buy decking that will make your deck the favourite part of your home. Traction, Durability and Workability are some of key performance metrics that should not be overlooked. There are many important elements about decking, but these are key.
The warranty will help to set your expectation. For you will know how long decking to last and what to wear to expect. Will it fade, stain? What can you expect in the next 20, 30, 40 years. Composite decking is expensive but knowing that it will last a lifetime makes it worth it. But if it won't, if the warranty is short maybe cheaper is not saving you money if you will have to replace it again, and again.
Speaking of money, yes, you need a budget before shopping for decking. This will guide you in which boards you look at, saving you time and preventing letdowns. Plus make you feel better spending thousands on a deck you will love with the peace of mind that you can afford it.
You can revisit your budget if you need to, but don't just walk up to the counter and say,
"I want your best composite decking."
The best may not be the best for you. If you cannot afford it, it is better to compare the decking that fits within your budget. It is even possible that you will be surprised what is available in your price range. The price of composite decking has made huge strides in affordability the last few years.
But make sure that when you are shopping for composite or trying to find something within your budget, you check if the boards are code compliant. No decking is worth its price if it is unsafe to use.     
Wow! That final piece of advice was an article in itself, but it's all of value.
If while you are shopping and you come across a brand you are not familiar with, check out
Decking Reviews and Comparisons
With an ever-growing list of decking brands reviews to help you buy the decking you will love and enjoy.