If you're shopping for a new deck, you may be wondering if composite decking is worth the extra money. In this Zuri PVC Decking review, we'll go over some of the characteristics and benefits so that you can make an educated decision before spending your money. Let's get started!
What to Consider Before Buying Composite or PVC Decking
To begin, we'll go through some of Zuri decking's highlights and advantages so that you can make an informed selection before investing your money.
Colour (Appearance)
Traction
Price
Durability
Workability
Zuri decks are available in 6 different colours. The look of Zuri is quite unique with its photo-realistic wood imaging. Think hardwood flooring more than painted decking. Which takes the look of your deck to an entirely different level.
Because composite decking can be slippery when wet, it's critical to pick a board that has good traction. Zuri decks cap provides excellent traction in both wet and dry conditions. Making it ideal for children, dogs and even seniors.
The price for Zuri PVC decking is a bit more expensive when compared to other types of decking materials. However, you have to consider how long the deckng will last, the look and traction of Zuri. Do these features make Zuir worth it? We will need to figure that out.
When shopping for decking, you will want to pick boards that will not rot, warp or splinter. Decking that is durable, lasting for many years.
Brief Introduction to Zuri as a Company
Zuri is a brand belonging to Royal Building Solutions, which is also part of Westlake Company. Westlake Company is North America's second-largest PVC producer and the third-largest worldwide. The company was founded in Toronto in 1970 as Royal Plastics but has grown considerably over time, together with changing names. It's now based in Woodbridge, Ontario, and has around 1,000 employees.
Zuri decking boards are available with caps made of recycled Royal Building Solutions produces a variety of exterior materials, including vinyl siding, shingles, and composite stone, to name a few. PVC is emphasized in their offerings because it is low-maintenance and long-lasting. Zuri decking is one of their products; it's a PVC decking product manufactured by a company dedicated to creating high-quality exterior materials for the building industry.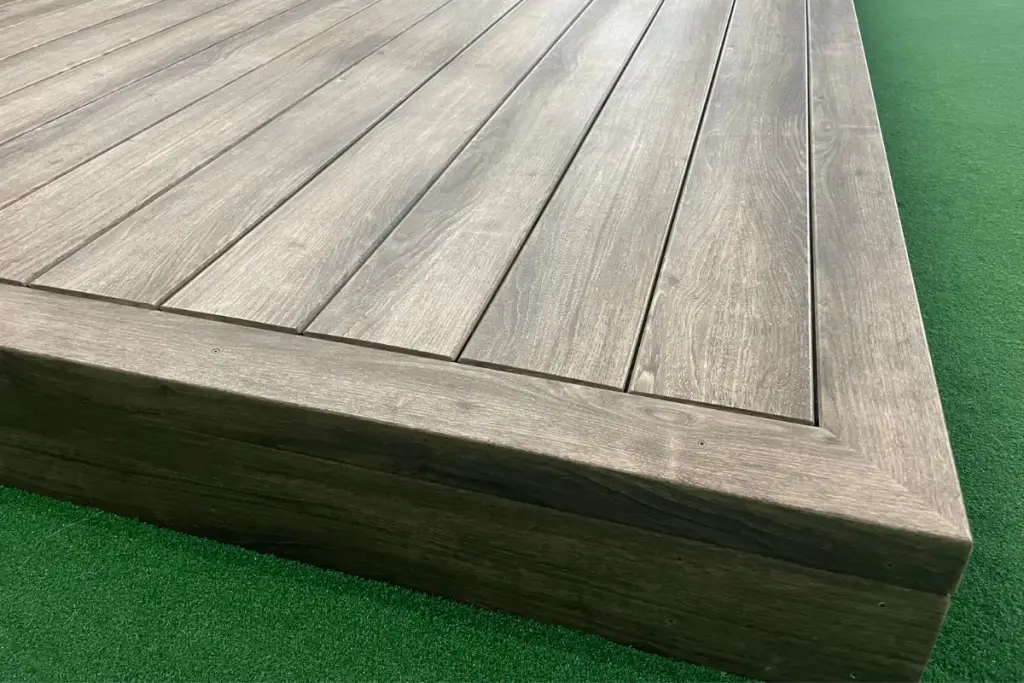 Description of Zuri PVC Decking
Zuri has 6 colours of decking, capped on 3 sides.
Zuri PVC Decking Colours
Chestnut
Walnut
Pecan
Barzillai
Weathered Gray
Hickory
Zuri is designed to have a subtle wood grain pattern for the capped boards that imitate hardwood flooring. Wood names inspire even the 6 colour names.
Zuri PVC Decking Profiles
Zuri decking is 5 ½" wide and 1 1/32″ thick, including grooved and square edge boards.
Which can be ordered in.
All the right length to be a deck.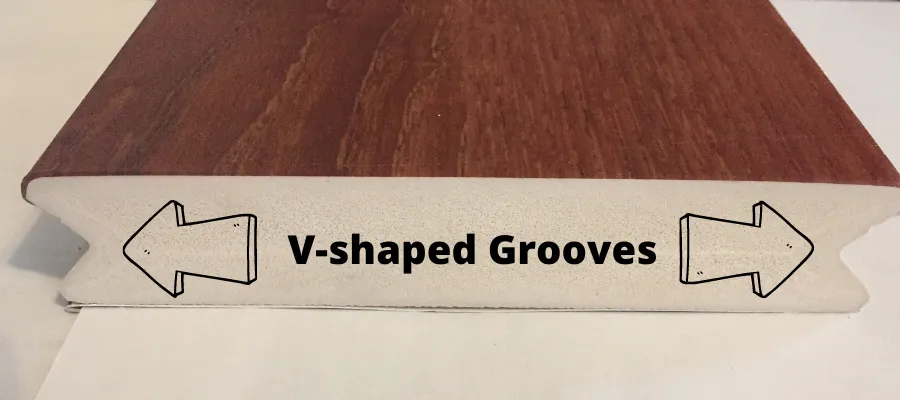 An interesting thing about the grooved board design is its groove is more of a triangle then a cut into the board. A much different design to the classic composite decking grooves of Trex, Fiberon, Timbertech or almost any grooved board on the market.
Features & Benefits Zuri PVC decking
If you're considering decking, you should consider what Zuri decking has to offer in terms of characteristics and benefits.
Zuri PVC Decking Core
Zuri is made of PVC plastic, which contains no organic material and thus cannot rot, mildew, or mould. This means that there are no concerns about bacteria or algae growing in the decking.
The material itself is more resistant to decay, and it's also better on hot days since it's cooler. With a lower heat retention level than money other composite decking.
Zuri decking is even cooler than wood decking, making hot summer days even more enjoyable on the deck.
Zuri PVC Decking Cap
Zuri decking is finished similarly to laminate decking, with a clear acrylic coating over the PVC core. You have the core, which is made of extruded PVC, covered with an accurate wood image protected by a transparent acrylic layer. Acrylic similar to that used to protect kayaks, recreational vehicles, and even optic lenses. It's not just an image; it's an actual layer of protection.
It's 30% more durable and five times more resistant to wear than composite decking.
The surface is textured, creating increased traction on your deck. This texture increases both safety and durability since the material won't slip or scratch easily. It provides a sturdy base that can handle heavy foot traffic whether you're hosting dinner guests or having an outdoor party for family and friends.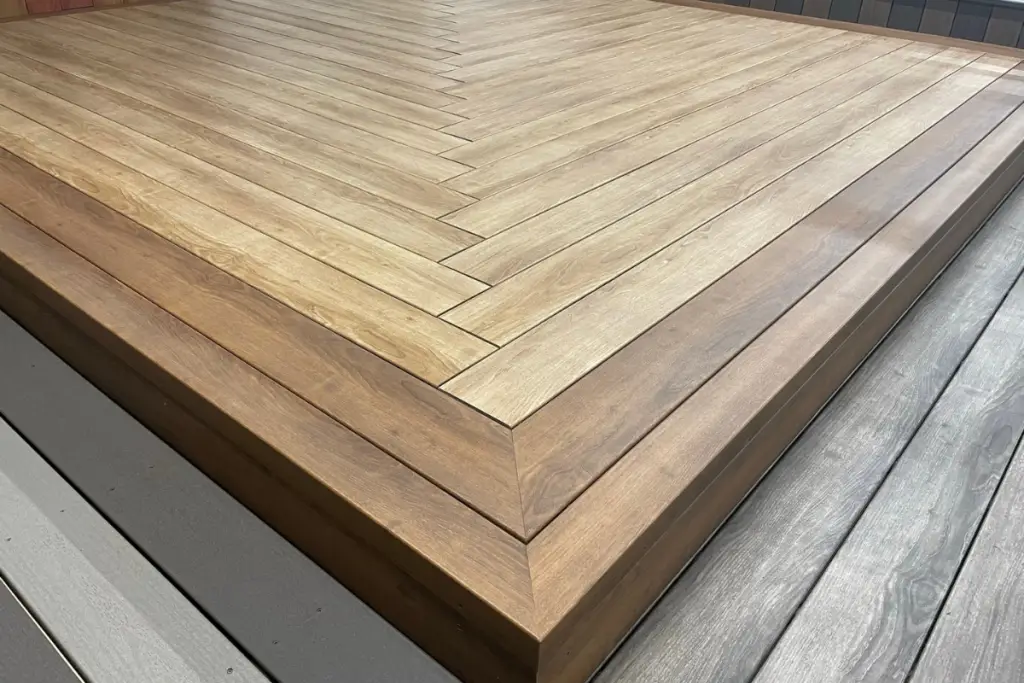 Traction of Zuri PVC Decking
A deck should be both safe and pleasant to walk on. This is especially true when the deck is wet.
Zuri decking is textured, creating increased traction.           
| | | |
| --- | --- | --- |
| | Dry | Wet |
| Zuri | 0.70 – 0.72 | 0.56 – 0.64 |
Slip Resistance
The industry standard for traction on floors is 0.5, but Zuri exceeds it by a significant margin. Putting Zuri decking near the top for best slip-resistance composite decking.
Price of Zuri PVC Decking
Zuri is a premium "hardwood" outdoor decking and, as such, comes at a premium price point. Zuri does not sell entry-level or cheap decking.
Zuri decking is often sold for around $8 a lineal foot but can be as much as $12.
When compared to Fiberon
or Azek PVC decking, Zuri costs more than either of them.
Durability and Warranty of Zuri PVC Decking 
Unlike most composite decking Zuri warranty and durability tests do not line up.
Zuri is backed by a 25-year warranty. The industry standard. In fact, I would not recommend buying any decking that does not have a 25-year warranty
.
But Zuri tests results are significantly higher than the industry standard. So, I am going to look at this separately.
What does Zuri promise in their warranty?
What are Zuri's decking test results?
Fade Warranty
Zuri offers a full 25 years of fade-replacement value for the entire cost. They will refund you the full amount if your decking fades excessively, regardless of how old it is. Now that's a bold statement. If their decking does not have the bright hues that it did 24 years ago that you loved, your money back.
That's what I call a warranty!
Stain Warranty
Surprisingly, despite extensive testing with excellent results against staining, Zuri does not cover staining in their guarantee.
Which is disappointing. But they are very zealous for their decking. And have a long list of many products that could stain your decking
.
Some like Sulfuric Acid and Brake Fluid are obvious, but others are less so. Suntan lotion, which is known to discolour most composite decking, is also highlighted.
Zuri Wear Test
Zuri's hardwood surface is 30% harder than traditional non-wood decking materials and has a three-times greater coating thickness (3) than interior flooring industry standard.
Test data demonstrate that Zuri's protective acrylic finish has wear resistance that surpasses the interior flooring industry standard. Simply said, Zuri was created to last, with a protective finish that is both scratch and wear-resistant.
Zuri's Stain Tests
The AAMA test simulates the effects of detergent, window cleaner, and various acids on surfaces. Zuri decking is unaffected by these chemicals.
The most important test for decking is exposure to food and consumer goods, prevalent in a deck setting. Many everyday foods and items were allowed to cure on Zuri decking for 30 days. Even after drying to a crusty, sticky mess, the products were easily cleaned with only mild detergent, water, and a swipe with a cloth.
So maybe it's better to say that Zuri decking will not stain with everyday use. Just no changing your brake pads on your Zuri deck.
Zuri's UV Fading Tests Results
Zuri has been exposed to 17,000 hours in the QUV chamber with a colour change of less than 1.5 Delta-E, which is 10 times longer than the typical test exposure. After this length of time, the colour change is barely perceptible to the naked eye. Simply said, Zuri® will keep its lovely appearance for decades to come.
My take on Zuri's durability and warranty. Stop being so modest. You have a fantastic product that has shown to be quite durable in numerous tests, including the wear test. An exceptionally beautiful product, make a warranty to match its quality.
Negatives about Zuri Decking
One of the drawbacks and possible reasons not to build a Zuri deck is installation. Especially if you are a DIYer and wish to build your deck yourself.
Zuri has many idiosyncratic in regards to installation. That may take it out of the realm of your average homeowner to be able to install it.
Talking with a decking salesperson they estimate on average it takes a professional deck builder 20% more time to install Zuri decking than other composite decking. So even with skilled trades who regularly work with composite decking, it takes more time and skill to install Zuri decking.
Meaning, you have three options to build with Zuri.
Plan for a slow build with mistakes and rebuilds to occur
Hire Zuri Deck Specialties
Find an alternative to Zuri
The choice is yours. Zuri decking is unique and few brands have its look and durability. But initially, care will need to be taken to have it installed correctly. Either by you or a professional.
Alternatives to Zuri PVC Decking
Here are three reviews comparing Zuri with other well-known composites. To see the comparison, click the link.
If you want to learn more about different composite decking options, be sure to check out our additional list of the top composite decking brands
.
Conclusion in Reviewing Zuri PVC Decking
Zuri PVC Decking
is backed by a 25-year warranty and has been extensively tested for durability. It is unaffected by food, chemicals, or sunlight and is incredibly scratch and wear-resistant.
Zuri decking is also beautiful, with the look of hardwood for your outdoor room. That is 30% harder than many other composite deck boards.
Even with Zuri's modesty on covering staining, it still comes through with flying colours. A good-looking decking that will last for years. I imagine it will last much longer than promised.
Enjoy your deck.