When choosing between Azek and TimberTech composite decking, there are several things to consider. Things like appearance, durability, traction, price, and warranty of the decking.
Zuri has 6 colours, Azek 10 but a distinctly different look. Zuri provides more durability and traction with its phenomenal acrylic cap. Azek is better priced for PVC decking with a warranty that should ease all our worries.
But we should understand what each one brings to the table, or should I say deck.
How is Zuri more durable?
How much better is Zuri's traction compared to Azek?
Will you always save money buying Azek?
How much better is Azek's warranty compared to Zuri decking?
I hope to answer these questions and more as we compare these two PVC decking.
Before discussing decking differences, let's talk companies. Who are the companies making the decking for you to enjoy.
Azek vs Zuri as Companies
One thing Azek and Zuri have in common is they are both part of a much larger PVC company. Companies with years of experience in making low maintenance durable exterior products.
A Brief Introduction to Azek
Azek was started in 1983 manufacturing exterior home products. Since its inception, they have grown to become the world's third-largest manufacturer of PVC products based out of Chicago with a focus on low maintenance exterior building products. 
In 2007 they launched their first line of PVC decking.
"We make homes and structures more beautiful and more useful with leading-edge sustainable products."

Azek Purpose
In 2012 Azek and TimberTech
merge to create a company offering both PVC and composite decking. Despite the merge, their PVC decking is sold as Azek, composites as TimberTech. Azek has grown to three collections of PVC decking Vintage®, Harvest® and their new Landmark Collection™.
A Brief Introduction to Zuri [Royal Building Solutions]
Zuri is not a stand-alone brand but is part of a much larger company, Royal Building Solutions, which is also part of a larger company Westlake. Westlake Company is the second-largest producer of PVC in North America and the third-largest worldwide.
Royal Building Solutions, was founded in Toronto in 1970 as Royal Plastics but has grown significantly over the years along with changing of names.
Currently headquartered in Woodbridge, Ontario.
Royal Building Solutions manufactures many different exterior products, including vinyl siding, shingles and composite stone, to name a few. With a significant focus on low maintenance, durable products made from PVC.
Zuri decking is one of their offerings, a low maintenance durable product to enhance the exterior of your house.
Azek vs Zuri– Decking Differences
Both are PVC decking
at their core have very similar attributes. No rot, no water absorption.
Decking Core
PVC creates a very lightweight decking
roughly 1.5 lbs/ft.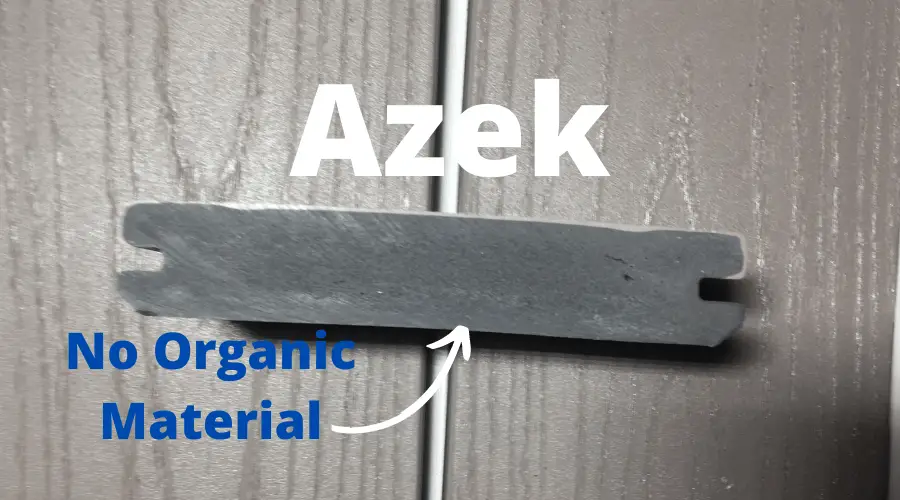 Not only is PVC lighter to work with, but the lower density also has advantages on hot summer days. Zuri performing tests showing that compared to many common wood deckings, they significantly heat up less.
| | |
| --- | --- |
| Decking | Heat Build Up |
| Pressure-Treated Pine | 71 |
| IPE | 77 |
| Zuri | 55-58 |
Decking Cap
When area, where Zuri and Azek differ is their cap.
All Azek's boards are capped with a polymer cap on all four sides. Completely wrapping the decking, top, bottom, sides and groove.
Azek newest decking line Landmark, also has a coloured underside, something that is left out with the finish of their other decking boards. 
Azek also designs their cap material differently, with Alloy Armour.
"Alloy Armour Technology® (AAT), is a proprietary alloy blend that provides improved performance characteristics, such as outstanding weather protection, UV protection, resistance to scratching, and improved colorfastness."

Azek
Promise that the cap will do its job and more.
Zuri caps their decking with a clear acrylic coating. The clear acrylic is protecting a photo-realistic wood image wrapping the PVC core. Allowing you to enjoy the look of wood without damaging it.
The acrylic is similar to what is used to protect kayaks, recreational vehicles and even optic lenses. Not exclusive to decking but a tried-and-true product to protect against life's bumps and the UV destroying rays.
It is 30% harder than conventional non-wood decking and five times more resistant to wear than composite decking.
Making Zuri cap not only a thing of beauty but an enduring finish.
Azek vs Zuri- Decking Options
Included under each cap in Zuri case or the cap with Azek are different designs and colours to enhance the appearance of your deck.
| | | | |
| --- | --- | --- | --- |
| Azek Decking Line | Number of Colours | Decking Profile | Capped Sides |
| Vintage Collection® | 5 | Solid | 4 |
| Harvest Collection®  | 3 | Solid | 4 |
| Landmark Collection™ | 2 | Solid | 4 |
Azek Vintage line includes light colour decking like Coastline® to Dark Hickory and many shades of brown in between.
"sophisticated, natural-looking colors with a subtle wire-brushed, low-gloss finish for an authentic wood look."

Vintage Collection®
Vintage wire-brush finish embossing is shallow, creating a smoother decking finish.
Vintage has consistent colouring, a sophisticated blend of shades with the occasional dark streaks.
"Traditional cathedral wood grain patterns and a soft, solid color palette"

 Harvest Collection® 
Harvest embossing is deeper, following the cathedral wood grain pattern.
"classic cathedral wood grain pattern is complemented by a rustic crosscut grain and matte finish. The dramatic, highly color-blended boards with cascading hues have highlights and lowlights in each board"

Landmark Collection™
Landmark is the newest of Azek's decking collections but falls in line with their purpose of "more beautiful" with its blend of embossing and wood grain options. In my humble opinion, it is the perfect blend of the Vintage and Harvest drawing from the beauty of each combined into one board.
| | | | |
| --- | --- | --- | --- |
| Zuri Decking Line | Number of Colours | Decking Profile | Capped Sides |
| Zuri | 6 | Solid | 3 |
Zuri gives you 6 different images of wood protected by clear acrylic.
"Decking that looks as amazing as exotic hardwood can also be high endurance and low maintenance."

Zuri
They are not trying to have lots of colours but real wood options for the deck. Without all the maintenance. With names like Chestnut, Walnut, Pecan, Brazilia, Weathered Gray, and Hickory.  
Most are names of hardwood trees or finishes.
This is the single most significant contrast between the two.
Azek is plastic formed and coloured to look like wood decking.
Zuri is a picture of wood.
Resulting in a distinctly different look and feel. One is of a picture, the other, an imitation.
"Beauty is in the eyes of the beholder."
Just looking at the two, you are seeing two very different deckings. As much as decking performance matters. It is not a simple as saying does Azek have a similar colour or vice versa.
Both decking, but they do not look the same.
If you want a decking looking like hardwood, Zuri is for you.
Azek looks more like traditional decking except in PVC.
Ultimately appearance may be the single deciding factor between the two.
But before running to the store, what beyond appearance separates the two.
Azek vs Zuri– Durability
Both deliver a long-lasting low maintenance decking. With a PVC core with similar strengths.
Both recommend 12" (300mm) on centre joist framing. Providing extra rigidity and decreasing flex.
What separates the two is their cap.
Azek – polymer
Zuri – Acrylic
Decking Staining Comparison
For the accidental spills of ketchup, grease or beer, Azek's polymer cap can be easily cleaned up without staining if not allowed to sit on the deck. Wipe it up immediately or at least within the day, and you should be fine. Even with the occasional dried-on spill, scrubbing with a stiff, natural fibre brush using dawn mixed with water should remove most evidence.  
To prevent staining, Azek requires this all to be done within a week of the spill.
Zuri also can be wiped up and cleaned, similar to Azek.
In thirty days!
Zuri has tested their decking for staining after 30 days. After the spill has dried out on the decking, it can still be easily wiped off.  From crusty ketchup, sunscreen and wine. All of it can be cleaned off after 30 days without staining the decking. It's that stain-proof.
Resistant to Scratches
We never intended to, but dragging chairs on the deck, the occasional rock in the sole of our shoes can all damage decking.
This is why protective plastic, rubber, or felt leg pads under furniture are recommended to help protect the decking from being scratched from moving chairs
and tables.
But beyond pads, Azek and Zuri vary in scratch resistance.
Here again, the difference is the cap material.
Azek polymer cap is strong. Pulling a screw over the decking will leave a surface mark but generally will not cut entirely through the cap. Which with a heat gun can be repaired if needed.
An advantage of the Vintage collection is its wire-brushed finishes. The small "wire brush" marks act like camouflage, hiding minor scratches. They are still there to the observant eye. But like camo in the bush, it takes a keener eye to spot. With many little scuffs disappearing into the background.
With Zuri acrylic cap, tests have shown to be five times more durable than composite decking. Not directly tested against Azek, but I believe it would be similar in results.
With Zuri's more robust cap, you are less likely to have scratches marring your beautiful deck. 
Azek vs Zuri– Flame Spread
Grilling
on the deck has become an American pass time. One even us Canadians have embarrassed. But with fire comes the potential of disaster.
I highly recommend to always grill on top of a grill pad to protect the decking from heat, grease and fire. 
This is even more important in Wildlife/Urban interface areas. Where you have the potential of wildfire sweeping across the region and burning your deck.
Zuri and Azek burn differently.
Azek's Vintage and Harvest collection are both third-party tested with a Class A flame spread rating. As much as I can tell, I will assume the new Landmark collection is also. But at the time of writing, limited third-party data is available.
Zuri has a flame index of 40, putting it into Class B for flame spread.  Azek's with a score of 25 will have less flame spread on your deck.
Making Azek a safer deck around a fire.
Azek vs Zuri- Traction
If your constantly getting rain showers followed by sun, the decking you choose is critical for how safe your deck will be. Water on any surface increases the risk of slips and falls. Decking is no exception.
I am not sure about you, but when it starts to rain, I race for the door, increasing the potential of slipping and falling on the deck.
| | | |
| --- | --- | --- |
| | Slip Resistance (Dry) | Slip Resistance (Wet) |
| Azek Harvest | 0.28 | 0.59 |
| Zuri | 0.82- 0.86 | 0.89 – 0.97 |
Azek is interesting in that water increases traction. When you need it the most, Azek has your back or at least your feet. Increasing deck safely when it rains.
But it is really disappointing how little traction Azek has when dry. Not quite a slip and slide, but that is low.
Especially since Azek is marketed as having "Best Slip Resistance".
Zuri, on the other hand, has excellent traction. Similar to Azek with improved performance when wet, but it starts considerably higher.
Regardless of if its wet or dry on your deck, Zuri will provide better traction
. Minimize the slips and fall. Making Zuri a safer decking.
Azek vs Zuri – Pricing
Pricing is always a tricky one, constantly changing from region to region, fluctuating with the season. In fact, just crossing the street at times can save you a few hundred on a deck. But this should give you a sense of the cost of Zuri and Azek decking. At least in comparison to each other.
| | |
| --- | --- |
| Azek Decking Lines | Lineal Price |
| Vintage Collection® | $6.50 – 7.00 |
| Harvest Collection®  | $4.75 – 5.25 |
The cost of the cap finish is reflected between Azek's two lines. Vintage being their premium line with more colour on the boards. Resulting in multi-tone boards. With not one, not two but a rainbow of shades from dark to light.
But this extra colour is not free. Vintage costing roughly 30% more than the Harvest collection.
| | |
| --- | --- |
| Zuri Decking Lines | Lineal Price |
| Zuri | $5.00 – 7.75 |
All Zuri boards are created and finished the same with minimal difference between board finishes. Zuri is a premium "hardwood" outdoor decking and is priced accordingly.
You may be able to find Zuri boards less than Azek's Vintage, but don't expect it. If you're buying Zuri you will pay more. This is, even more pronounce when compared to the Harvest collection.
Strictly on price, Azek is the winner.
Azek vs Zuri – Warranty
Surprisingly, with all the durability of Zuri decking, its warranty doesn't reflect this. Especially when compared to Azek.
Azek warranty
.
50 years, structural, fade and stain
100% replacement first 10 years
Depreciates 10% every 4 years after the first 10 years
Included is a one-time transfer of warranty between homeowners in the first five years. If you build a fantastic PVC deck
, enjoy it for four and a half years. The next proud homeowner can still be protected for the rest of the 45 years.
Zuri warranty
25-years, structural, fade and stain
100% replacement for the first 10 years
Depreciating 20% every 3 years after.
Zuri warranty is also limited to the original homeowner. If you sell the place, the warranty is void.
We could just end our conversation here. Azek's warranty is twice as long as Zuri. Simple math, Azek's warranty is better. But let's go into a few of the details.
Fading Warranty
Azek iswarrantied against fading beyond 5 Delta E and staining for the entire length of the warranty. The full 50 years.
Which is promising a lot.
I am not sure if in 50 years I will be able to tell if the decking colour has changed, but it is still warranted not to fade.
Here may be where Zuri redeems itself, its warranty against fading. Unlike Azek, which is prorated in its entirety. Zuri has 100% replacement value against fading. If it fades more than 5 Delta E in year 24, they will refund you the entire cost of the decking.
Not 60% that Azek will cover.
Staining Warranty
Azek lays out their expectation that all spills will be wiped up within a week. If this does not remove the stain, hiring a professional to clean the decking before making a warranty claim.
Interestingly, despite extensive tests with excellent results against staining, Zuri does not include staining in their warranty.
Not sure what to think of that.
Labour Warranty
This is a new development in composite decking warranties
. The labour to install decking is often as much or more than the cost for the material. Covering labour makes sure you are not on the hook for labour if the decking fails. Increasing the value of the warranty substantially.
Limited to certified contractors. This makes sense. I would not want to warranty an untrained installer.  
Azek warranty
. The higher the contractor's rating, the longer the labour warranty.
Member & Silver 2-4 years
Gold & Platinum 5-7 years
The maximum protection is provided if railing is included. The lower years for only the decking and fasteners.
Zuri warranty
includes labour for the first 24 months at their discretion. They will either pay for someone to replace or repair the defective decking or pay the equivalent money not exceeding the original cost.
Unlike Azek, Zuri does not limit their labour warranty to select deck builders. Except like any company that the decking must be installed correctly to start with. So, some hack who doesn't know how to read an Installation Guide will not be covered.
In short, the difference between warranties seems to be a case of putting your money where your mouth is. Zuri speaks a fantastic game, with tests to back them, but falls short with its warranting.
Azek may not have the same level of test results but provides a longer and better warranty backing their decking. Putting their money (warranty) where their mouth is.
Azek vs Zuri – Which is Better for You?
Now for the hard part, choosing which decking will be suitable for your deck. Azek promising 50 years, Zuri 25 but will probably last equally as long.
Comparing Azek vs Zuri for
Appearance
Durability
Traction
Price
Warranty
Well, finally decision time.
Time to pick your decking.
Appearance, I am going to call a draw, or better personal taste. Azek and Zuri both make great-looking decking.
If your looking for the more "traditional" what you expect, a low-maintenance imitation wood decking, Azek will serve you well.
If you are looking for the beauty of hardwood floor in your backyard, Zuri will serve you well. It has a distinct look match by no other decking. Synthetic or natural. Zuri is a class of its own.
This will really boil down to personal taste.
Durability, I will give to Zuri. It has taken an entirely different approach to low-maintenance decking. An approach that is more resistant to wear, staining and fading. Both with a PVC core, but the game-changer, is the acrylic. It's just more durable than polymer. Making the entire decking superior.
Traction also goes to Zuri. The numbers speak for themselves. If you are worried about slipping on your deck, Zuri is an excellent choice. Not to be too hard on Azek, but Fiberon's Paramount also has much better traction. Check it out at Azek vs Fiberon PVC
.
Price, finally a win for Azek. But only if you are going with their lower-priced Harvest Collection. The premium lines are closer in price, but you will probably save money by buying Azek.
Warranty shouldn't but also goes to Azek. Shouldn't because the test show Zuri is more durable, but Azek is willing to back their decking with an equally impressive warranty. A warranty twice as long Zuri, it is hard to argue with that. Zuri does have a better fade promise but not enough to counter the extended length of Azek's warranty.
There you have it, 2 for 2.
If durability and traction are critical, enjoy your Zuri deck.
 If the budget is a little tight but you still want a long lasting low maintenance deck with a warranty backing it. Enjoy your Azek deck.
I think because both Azek and Zuri produce quality decking. This means appearance is going to play a larger role than the other 4. Two distinctly different looking but phenomenal decking. You can't go wrong with either, except if you don't like how they look.
As a friend advice me years ago. There is no point in owning a car that you don't like how it looks. Good advice. Appearance is worth a lot. Hard to relax out on your deck, repulsed by what you see.
Pick the look you love and then…
Enjoy your Deck!
There are many composite decking brands. Click the link to see some of the best composite decking brands
on the market.