These days there are many options for decking for backyard decks. For low-maintenance decking, there are two popular synthetics to choose between, composite and PVC decking.
Composite decking is a blend of polymer and organic material like wood fibres. PVC decking formed from polyvinyl chloride (PVC) with no organic material.  Despite being very similar in appearance, there are some ways that PVC decking is superior to composite.
PVC is better than composite decking with zero potential for mould or mildew growth. PVC is also lighter, cooler with better traction and flame spread rating than composite decking. PVC decking will also last longer than composite decking backed by extended warranties compared to composite.
Not all decking performs the same even PVC decking.
As we compare PVC and Composite, I will try to make a note of the difference in the popular PVC decking brands. Here are 4 popular PVC decking options I have researched.
Azek
Fiberon Paramount, Promenade
Wolf Serenity™
Zuri
Not technically a PVC decking but should be  a different class than composite is Deckorators mineral-based composite (MBC). Which has many advantages over traditional composite decking but is still a composite of material.
For composite decking, the options are many. From Trex, one of the original composite decking brands and still one of the most well know. To a much more regional composite decking brands like Ultradeck from Menards and everything in between. A few of the more popular composite decking companies
are.
Trex
Deckorators
Timbertech
Fiberon
Armadillo
Moistureshield
Ultradeck
Just to name a few. Within even these 7 composite deck companies, there are differences in composite performance.
I will try as much as possible to compare them as a group. Answer if PVC decking is better than composite as much as possible. But when there are notable exceptions, to bring those to your attention also.
Difference Between PVC and Composite Decking CORE
This is obvious, but we need to discuss it to understand their advantages better.
PVC and composite decking are made from different material.
Glad we got that out of the way.
(6) Ways that PVC is Better Than Composite Decking
The use of PVC in decking has many advantages. Not only over wood decking but also composite decking. Here are a few benefits of PVC compared to composite decking.
PVC is Better Than Composite with no Organic Material.
PVC made without organic material is more durable than composite.
It has become less of a problem with capped composite decking, but in earlier uncapped versions, this was a challenge. The wood fibres in the composite decking growing mould.
PVC decking doesn't have this problem regardless of the moisture level or if the ends are sealed after being cut. With no organic material in PVC decking, there is nothing for mould to grow on.
No food = No mould
Making PVC decking better for wet or humid locations.
No organic material also makes PVC better-reducing insect infestation. Who also feed on wood. But with no wood in PVC decking, there is nothing for them to eat or reason to hang around.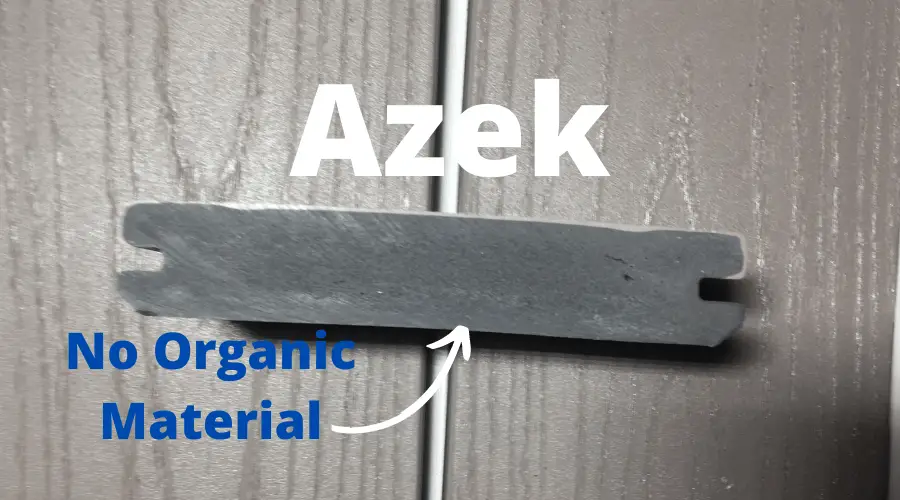 The notable exception is Deckorators (MBC), which contains no organic material removing any possibility for mould or mildew to grow on the decking.
PVC Decking is Better Being Lighter than Composite.
How much lighter varies by brand with different manufacturing formulas. Azek is one of the lighter decking boards weighing a little over 1.5 pounds (0.68 kg) per lineal foot. Just under 19 lbs (8.61 kg) for a 12′ (3.6m) board.
Fiberon's Paramount board weighs roughly the same amount.
Concordia which Fiberon also makes, a 12′ (3.6m) board weighs over 28 lbs (12.7 kg). Pretty much any composite that is not scalloped will be heavier than PVC decking.
But even Fiberon's Goodlife, which is scalloped, weighs more than a solid PVC deck board.
Scalloping is when the manufacture design grooves or ploughs on the underside of the decking material to reduce the amount of material.
In fact, almost all PVC deck boards weigh less than composite
. Making building a PVC deck easier with lighter material.
PVC Decking is Cooler than Composite.
One of the advantages of PVC being lighter is it is also cooler than composite
.
Reduce the heat of the decking on your feet in the summer sun.
How much cooler does vary by brand but almost all our cooler than composite.
The one exception may be MoistureShield.
"Helps create more comfortable outdoor living environments by reducing heat by up to 35%"
MoistureShield, with its CoolDeck technology, claims that its composite boards are 35% cooler than other composite decking.
Which is amazing. The only challenge is these results are not consistent in natural outdoor environments.
PVC is Better than Composite Decking with a Lower Flame Spread Rate
Almost all composite decking has a class C flame spread
rating.
A few composite deck boards with better flame spread ratings
are TimberTech Edge, Trex's Transcend and Deckorators Vista which are class B.
Where all Azek's PVC boards are a class A flame spread rating. Fiberon's Promenade PVC decking also has a class A rating.

One exception is Paramount, with a class B rating. But this is only marginally. Scoring 30 in  flame spread where the cut of for class A is 25.
Compare this to Fiberon's Goodlife scoring 120 it's easy to conclude that PVC is better with a lower overall flame spread rating than composite.
PVC is Better for Traction than Composite Decking
A quick scan of the chart below you will see that all the top-rated decking for traction when wet are PVC.
The notable exception is Deckorators
(MBC) which has better traction than Azek. Despite it being a composite, not PVC.  
A little different story when dry where Azek scores lower than most composite decking. Even many composites not on this chart.
But as a group, PVC decking has better traction than composite decking, especially when wet.
PVC Decking Has Better Warranties Than Composite Decking
Almost all PVC decking have a 50-year warranty compared to most composite, which has only 25-years. Twice the time is almost always better.
I say most because despite being an amazing PVC decking, Zuri
only provides a 25-year warranty. Comparable with composite.
For composite, TimberTech Pro is an exception with 30-years.
The greatest exception is Fiberon's Concordia matching PVC with 50 years. Sanctuary also stands out with 40 years.
In short, for composite decking, Fiberon is the exception with many more extended warranties, but overall, PVC decking consistently provides longer warranties than composite.
(2) Ways Composite is Better Than PVC Decking.
Not a clear-cut case of PVC decking is better than composite. There are two primary ways composite decking is better than PVC. This is more than just some of the exception of composite decking that I already mentioned.
Composite decking is better priced than PVC decking and is more rigid with less deflection.
Composite Decking is Better Than PVC In Pricing
Both composite and PVC are low-maintenance decking. Allowing you to spend more time enjoying your deck and less time maintaining it.
But PVC decking will cost you more than composite.
Composite decking has a large range for pricing but overall, it is less than PVC decking.
To show this lets take a look at the chart below for TimberTech Azek which sells both PVC and composite decking.
| | | |
| --- | --- | --- |
| TimberTech Azek Decking Lines | Lineal Price | Material |
| Vintage Collection® | $6.50 – 7.00 | PVC |
| Landmark Collection | $6.50 – 7.00 | PVC |
| Legacy Collection | $5.80 – 6.35 | COMPOSITE |
| Harvest Collection®  | $4.75 – 5.25 | PVC |
| Reserve Collection | $4.30 – 4.75 | COMPOSITE |
| Terrain Collection® | $3.35 – 4.05 | COMPOSITE |
| Premier Collection | $3.10 – 3.25 | COMPOSITE |
| Prime+ Collection® | $2.40 – 2.65 | COMPOSITE |
All their PVC decking is on the top end of pricing. Only Legacy, a composite, is priced similar to PVC, with Harvest (PVC) costing less.
It varies how much, but you can easily pay twice as much for PVC decking than composite.
On the extreme, Prime+ is almost a third of the price of Vintage, their most expensive PVC decking.
This trend is not unique to TimberTech Azek.
Looking at Fiberon, it is even more evident.
Not as big as the price difference as TimberTech Azek, but Fiberon's PVC decking is the most expensive.
| | | |
| --- | --- | --- |
| Fiberon Decking Line | Lineal Price | Material |
| Paramount | $5.20 – $5.80 | PVC |
| Concordia–Horizon | $5.15 – $5.35 | COMPOSITE |
| Concordia–Symmetry | $5.00 – $5.30 | COMPOSITE |
| Sanctuary | $4.23 – $4.60 | COMPOSITE |
| Good Life/ArmorGuard | $2.15 – $2.60 | COMPOSITE |
This happens with almost all synthetic decking.
PVC will cost you more than composite.
How much will vary but expect to pay more.
Composite Is Better Than PVC With Less Deflection
Having a little spring in your step is great, but not for decking.
Composite decking is more rigid than PVC, reducing how much the boards deflect under your feet. Making your deck feel more solid.
Of course, as we have continuously seen, there are exceptions.
MoistureShield in the above comparison bends more than Fiberon's Paramount, but overall composite decking is more rigid. Bending less under your feet.
The one that really surprised me is Deckorators (MBC).
That is strong stuff, but I guess in the lab it still bends under pressure.
No product discussion feels complete without a discussion of environmental impact. As deck lovers, we are enjoyers of the outdoors, nature and all it has to offer. At least what we can experience stepping out our backdoor.
Environmental Impact of PVC and Composite Decking
Almost all composite decking is made from recycled plastic and wood fibres
.
Trex and Fiberon
are two of the leaders in volume of recycled content, with between 94-96% recycled content.
"we diverted approximately 400 million pounds of waste and scrap from landfills in 2020"

TimberTech
TimberTech is on the lower end with on 80% recycled content, which is still a lot of waste being diverted away from landfills into something beautiful and useful.
PVC decking is largely made from Virgin Plastic. An exception is Azek's Landmark collection which contains up to 58% recycled material. But compared to composites is still a low level of recycled content.
Which initially makes composite decking far more environmentally friendly than PVC decking.
Except composite decking cannot be recycled
. Where PVC decking is a pure material, it can readily be recycled where facilities exist. 
Making it a little bit of a toss-up.
Initially, composite is better diverting waste away from landfills, but in the end, it will sit much longer in the landfill as wood/plastics composites do not break down. Estimated it will take hundreds if not thousands of years for composite decking to break down.
Where PVC decking may be made of entirely new material produced from oil, it can be easily recycled after years of enjoyment, limiting the impact on the environment over the product's life. 
Is it Worth It to Upgrade From Composite to PVC Decking?
Now we all have our own priorities. Which may make one better for you over another.
But if you are still on the fence, here are some things to think about.
If traction is critical on your deck
.
If slowing flame spread is mandatory.
PVC decking is worth it for you.
Those two aside, then it comes down to how long do you hope to enjoy your deck?
If this is your forever deck that you hope to enjoy for forty, fifty or more years. PVC is built to last that long. It will cost you more initially, but the added years will easily compensate for that.
If the additional time is not required. There are some great-looking composite decking options that will not cost as much as PVC decking. Saving a little on the decking will give you more money to buy some deck furniture to complete your deck.
If really does come down to time. How many years you hope to enjoy your deck.