I love the appearance and low maintenance of composite decking. What I don't like is slipping. Composite decking made from plastic can be slippery, leaving very little to grip your feet.
The best decking for traction are often PVC. Providing better slip-resistance than most composite and wood decking. The highest-rated is Clubhouse, a PVC decking with a clear acrylic coating with exceptional traction of 0.97 – 1.0 when dry and 0.86 – 1.0 when wet.
These numbers are from CCMC, an independent third-party material testing organization. Ensuring that there is no bias in results. Which I will use for comparing other composite decking for traction.
"The CCMC provides code compliance assessments either as an alternative solution, which uses a proprietary CCMC-developed set of criteria to establish code compliance, or as an acceptable solution, that verifies if a product meets a code-referenced product or material standard."

CCMC
As a deck builder, I must admit that I have my favourite brands.
That is why I will rely on CCMC lab test results to counter any personal bias I have.
But of course, I will still refer to my personal experience touching, installing and walking on many different decking brands
to better explain why certain composite decking provides better traction.
The more decking I install, the more I appreciate high slip-resistance boards. Over the years of building decks and reviewing composite decking
, I have found some with an excellent level of traction, allowing you to enjoy your deck without worrying about falling.
Just the other day, I was replacing some old uncapped composite decking with Fiberon's Goodlife. The difference in traction was immediately felt as I moved the boards around. Unfortunately, not in the new decking's favour.
Before building your deck, I highly recommend you feel the boards for yourself. Fortunately, you can get samples from your local home improvement store, especially decking specialty stores. You can also have samples delivered directly to your front door from manufacturers like Fiberon, TimberTech Azek, and Deckorators. Ensuring you pick the right decking for you and your deck.
Just be careful. Beauty can distract you from traction.
But here, we will stick to traction. Get it "Stick"?
Moving along.
Top 5 Decking for Best Traction and Slip-Resistance.
Of all the decking I reviewed, Clubhouse from TruNorth has the best traction. With excellent slip-resistance ratings.
Two other decking with similar traction when wet are DuxxBak and Vantage (MoistureShield).
What I love about this year's report on slip resistance is that the top 5 deck boards are made of different materials, along with different caps. But not surprising is the fact that the top 3 of the 5 are PVC.
Clubhouse has a PVC core with an Acrylic cap
Wolf Serenity (PVC) with a styrene copolymer cap
Fiberon [PARAMOUNT PVC]
Deckorators (MBC)
DuxxBak is a High-density polyethylene (HDPE) rice hull composite
Not always the case, but often is. Knowing nothing else about the decking, if you have to choose between a PVC or Composite decking for slip resistance. Choose PVC. You will win almost every time.
None are rated as high as Clubhouse but still are well above the 0.5 minimum residential ratings recommended by CCMC.
We do have some hesitation with DuxxBak. It has incredible slip resistance when wet. But perform poorly when dry. The time when most of us enjoy our decks the most.
The reason we kept them at the top is that most of us slip, not when it's dry outside but wet. Therefore having incredible traction when wet matters more than when dry. But be warned.
What we love about Clubhouse, Wolf Serenity and Fiberon Paramount. Is consistent slip resistance both when wet and dry. Rain or shine, they will grip your feet.
Fourth is Deckorators' mineral-based composite
competing with PVC decking for traction.
I personally love the grip I feel under my feet when walking on Deckorators (MBC).
In fact, it has better traction than Azek's Harvest collection, with a PVC core.
And even Zuri a premium PVC decking. With an acrylic cap similar to Clubhouse but with a lower traction rating.
The interesting new entry is DuxxBak Rice Hull-based composite decking. Interesting in two ways.
The first is Rice Hulls. Most composite decking is a combination of plastic and wood fibres. A relatively small portion are Rice Hulls. There are advantages of Rice Husks over wood fibres
, but here is the fact it's not PVC but has incredible traction when wet.
The next one puzzles me. When dry, DuxxBak decking doesn't score as well. Better than most wood-based composites but poorer than most PVC decking. So, what is it about DuxxBak decking that gives you more grip when you pour water on it but is less slip-resistant when dry?
(18) Composite & PVC Decking Traction Ratings
There are many more decking options with differences in slip resistance. Traction is one of many things to consider when selecting the best composite decking for your deck.
Below is a fuller chart of decking traction ratings to consider.
There are multiple reasons why one decking has better traction than another. I will discuss more later, embossing and finishing being the top ones.
Of course, as I already mentioned, PVC consistently scores high for traction.
Not an exhaustive list, and we should consider some other decking not rated by CCMC but by evaluating their embossing and finish will indicate if they provide good traction or not.
Before discussing individual decking, we need to address traction rating standards.
"no surface finishes met the 0.5 criterion. This criterion may not meet all occupant expectations."

CCMC
This is from the Fiberon CCMC report, but many composite decking evaluated by CCMC have some version of it.
The expectation for flooring traction, including decking, is 0.5, which few composite decking meets. That does not mean that composite decking is unsafe. It is simply an acknowledgement that they do score low and may not be ideal in some applications.
For example, a senior's deck where traction underfoot is critical. Where the impact of slipping is more significant, and the ability to react is less.
But for most people, a lower rating is not ideal but is not a deal-breaker.
I have built and walked on many composite decks with low traction ratings without slipping. Still, the better the traction, the better. Increased traction decreases the chance of falling on your deck. It is always a good thing.
But without third-party testing, you still can evaluate composite decking traction level.
What Makes Decking More Slip-Resistance with Better Traction?
Despite composite and PVC decking all being primarily made of the same material, the traction varies. The most significant difference between Good and Bad traction is the cap.
Many of the good ones have deep embossing with a gripping finish.
The Bad ones are smooth with shallow embossing. Giving little to grip your feet and draw rainwater off the surface of the decking.
Deep Decking Embossing Improves Traction
This is where Trex excels and is able to create more traction than many other composite deckings.
Trex Transcend has deep wood embossing. Giving something for the sole of your foot to sink into and grab.
Even comparing Fiberon's Paramount and Promenade, both PVC boards. But Paramount has slightly deeper lines, increasing the grip. Giving it a slight edge over Promenade.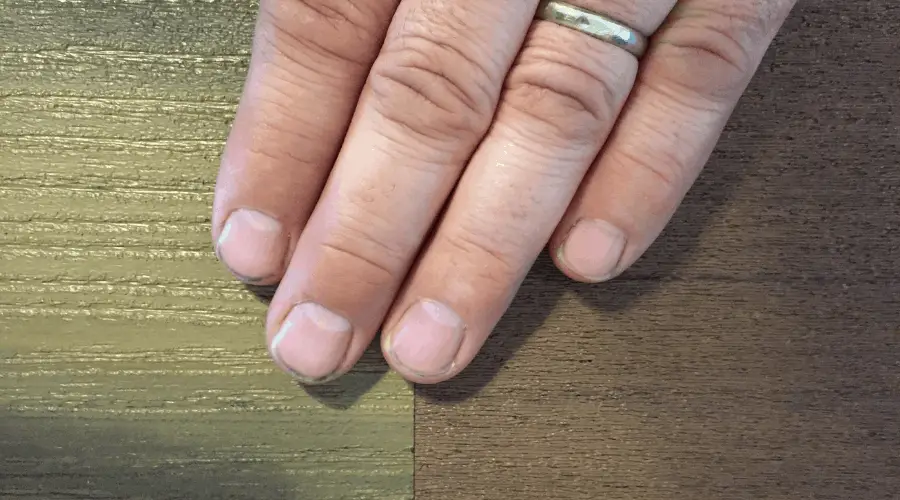 Simply running your hand over Paramount decking, you can feel the increased friction and grip.
This is where Azek falls short and possibly causes you to. Azek is going for a different look and has a wire brush finish. Which is much smoother, gripping your feet less. Harvest has slightly deeper wood grains than Vintage. Harvest, being PVC, has a better grip when wet than most composite but is at the bottom compared with most PVC.
What I find most interesting with Azek's Harvest is the same is true with Armadillo the traction is significantly improved with water. Adding water doubles the decking grip.
Which is good. When it starts to rain, I run the fastest on the deck and need traction the most traction so I don't slip off the deck running for the door.
Embossing may be added for looks, but it is phenomenal for increased traction.
A little aside, the direction of the lines impacts traction so much that they will often give two different ratings during testing. One parrel with the decking and embossing, another for against the grain.
Perpendicular, rating higher with better traction.
With Transcend, this is the difference between 0.43 with the embossing and 0.52 perpendicular.
Armadillo, with very shallow, almost non-existing embossing, the direction changes little.
Grain embossing does make a difference. The more defined, the better for traction.
Decking with Rougher Finishes Are More Slip-Resistance
Running my hand over Deckorators' Voyage, I would say this impacts traction more than embossing. This is probably why it is rated so high compared to other composite decking. Competing with PVC decking, which consistently ranks better.
This is a hard one to explain without feeling the decking.
But I think the best analogy is carpet vs laminate. Carpet gives better traction with its thousands of fibres, increasing the friction between your foot and floor.
These fibres are more minor and barely visible with decking, but they are still gripping your foot.
So much so that despite Voyage having shallow embossing, it has good traction. The surface of the decking is not smooth.
Sandpaper versus Slip and Slide.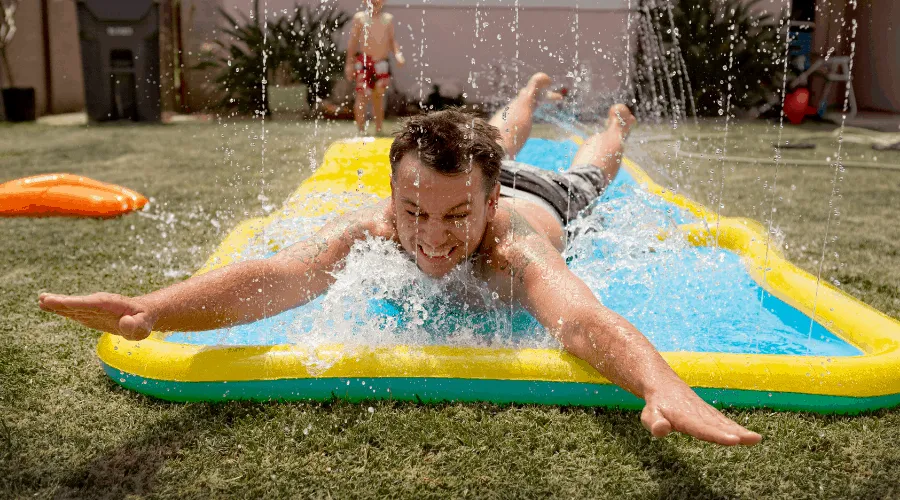 Which is the primary reason why Armadillo, Trex Enhance and Fiberon Symmetry score so poorly. They are just too smooth, allowing your foot to slip along the board.  
Not drastic, but between Transcend and Enhance, you can feel this slight texture difference and traction. Small but it makes a difference.
Deep Embossing Combined with Texture is a Winning Combination for Traction
Fiberon's Paramount is a winner for this. Paramount has both deep embossing wood grains and raised texture. Making it one of the best deckings for traction. Both wet and dry, with slight variation between the two.
Ironically, Paramount is the opposite of Azek's Harvest. Adding water reduces traction. Not significantly, but still a change. Still, it's better than almost all other decking for traction, even when wet.
Here Wolf Serenity is great for consistency. It matters little if the decking is wet or dry. The traction is practically the same.
Decking with Excellent Slip-Resistance Not on The List
The chart is handy for quick reference comparing traction, but some decking is missed. Decking having excellent slip resistance, but I have not included it on the list.
There are several reasons why.
No, available third-party testing. I have worked in construction long enough to hear many a brag that did not line up with reality. Almost all decking will claim not to be slippery, but without seeing a third-party test result, I am hesitant to include them on the list.
Another is the method of testing.
I will use Fortress Apex PVC decking as an example. Running your hand over an Apex board, you will immediately feel its grip. This is even more apparent when setting an Apex board beside a composite board. Apex will grip your foot much better.
Fortress does have third-party test results, and they are impressive. But they are done in Australia, which has a different measuring scale. Making direct comparisons inaccurate.
Similar to metric and imperial. Not saying one is better than the other, but you can't interchange feet and metres without creating serious issues.
The same with Fortress Bamboo PVC decking. It is worth considering for slip resistance, but I could not include it because of testing methods.
Comparing Wood Decking and Composite for Slipping
No decking review for traction would be complete without mentioning wood decking, which is still the lion's share of decking, from Pressure Treated to Ipe and everything in between. Wood, similar to composite decking varies in traction.
To start, most wood decking scores better than composite for traction. On the other hand, PVC decking rated the best in our comparison of synthetic decking and also ranked better than most wood decking.
The challenge with wood decking is not only that different woods have different textures and traction, but to be maintained should be stained and sealed. 
Sealing wood helps to preserve the wood but can also reduce traction. The glossier the finish, the slippery the decking is.
Sealing the decking minimizes water absorption, which is good for preserving the decking. But absorbed water raises the wood fibres increasing friction. Similar to what texture does for composite decking. So, the better protected the wood is, the lower the traction it will have.
More importantly, it is not the wood decking itself but what is on it.
Mould and mildew on the decking surface are the single largest cause of slips on decking.
A safe wood deck with maximum traction is a clean deck. Making regular maintenance and cleaning all that more important with a wood deck. It will be slippery if you let mildew or mould grow on the decking.
Like a banana peel under your foot is mildew on the decking.
Now for some quick answers to specifically frequently asked questions about slip resistance of composite decking.
FREQUENTLY ASKED QUESTIONS about Slippery Decking
What Type of Composite decking is not slippery when wet?
PVC decking consistently scores higher for not being slippery when wet. Making it the best type of composite decking for wet decking.
Of the higher-rated composite decking for slip resistance, 3 that are not PVC decking are MoistureShield, Deckorators and WearDeck
. MoistureShield is a wood-based composite with a unique capping process that provides better grip. Deckorators and WearDeck are mineral-based composites.

Which Composite decking is most slip-resistant?
The least slippery decking is Clubhouse. My research has shown that Clubhouse is less slippery when wet when compared to other decking. Clubhouse also scores the highest when dry.
Side note, not third-party testing, but real-life experience Deckorators Voyage decking traction is amazing. Walking over the decking, you instantly feel your feet stick to the decking.
What Composite Decking is Non-Slip?
No decking or surface is absolutely non-slip. But there is decking that has better slip resistance making it more non-slip compared to other brands.
A non-slip surface will minimize slips and falls making your deck safer to enjoy.
But, non-slip composite decking is more than just a non-slip surface. To better understand what type of decking is more non-slip
and why. Plus, how to maintain that non-slip decking. Click the link to explore a fuller discussion.
How to Make Composite Decking Less Slippery?
Cleaning your decking is the best way to make the decking not slippery. Even if you don't install slip-resistant decking, you can still reduce slipping by cleaning the decking. Build-up of mildew, mould, and even mud on the decking will make the surface slippery. By cleaning the decking
, you will reduce slips on your deck.  
Is Trex composite decking slippery?
Trex decking is slippery compared to wood decking and many other composite decking. With a slip resistance of 0.42-0.52 when dry and only 0.32-0.39 when wet. The Canadian Construction Materials Centre (CCMC) has a reference value of 0.5, which Trex Transcend does not meet.  
Is Trex decking slippery in winter?
Trex decking can be slippery in winter, with its low traction rating compounded by snow and ice.
If you hope to use your deck in the winter months, it would be wise to consider another decking option with slip resistance.
Is composite decking less slippery than wood decking?
Most composite decking is more slippery when wet than wood decking.
How slippery wood decking depends on the type of stain. Making comparison challenging as not all pressure-treated decking scores are the same for traction.
The same can be said about the level of sanding of wood decking. The smoother the decking finish, the more slippery the decking will be.
Composite decking is similar. The quality of the cap will impact how slippery the decking is.
That being said, most PVC decking is manufactured with a cap with better traction. These higher-priced composite decking often comes with better quality caps that are more slip-resistant.