When it comes to your outdoor spaces, non-slip composite decking is a must for safety and convenience. Especially when your deck gets wet or damp in the rain or splashing of waves.
A non-slip surface is essential to keeping you on your feet with the best traction underfoot.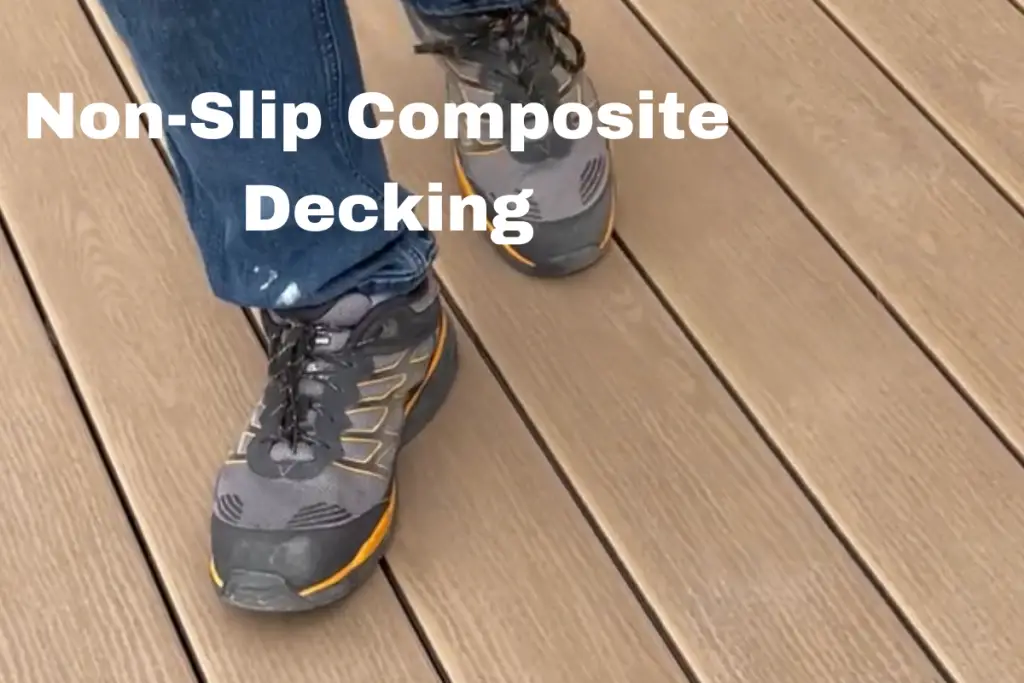 Many composite brands will claim to be the best, but which brands are best at being non-slip?
The top 4 composite brands for being non-slip are Clubhouse, Wolf Serenity, Fiberon Paramount and Deckorators (Mineral Based Composite). They all offer superior traction while adding an attractive aesthetic to any outdoor space.
There are many different brands of composite decking with high levels of slip resistance.
But these, on average, have the best and most consistent level of slip resistance.
But we should look more into what makes decking non-slip.
Explore the different types of non-slip caps and materials that the decking is made from.
Lastly, how to keep your composite decking
slip free.
Best Non-slip Cap Texture
A common misconception is that decking with deep textures is the most non-slip.
I have thoughts this for years myself. But when evaluating decking to be the most non-slip, the opposite was found to be true.
None of the ones with the best traction have deep wood grain patterns.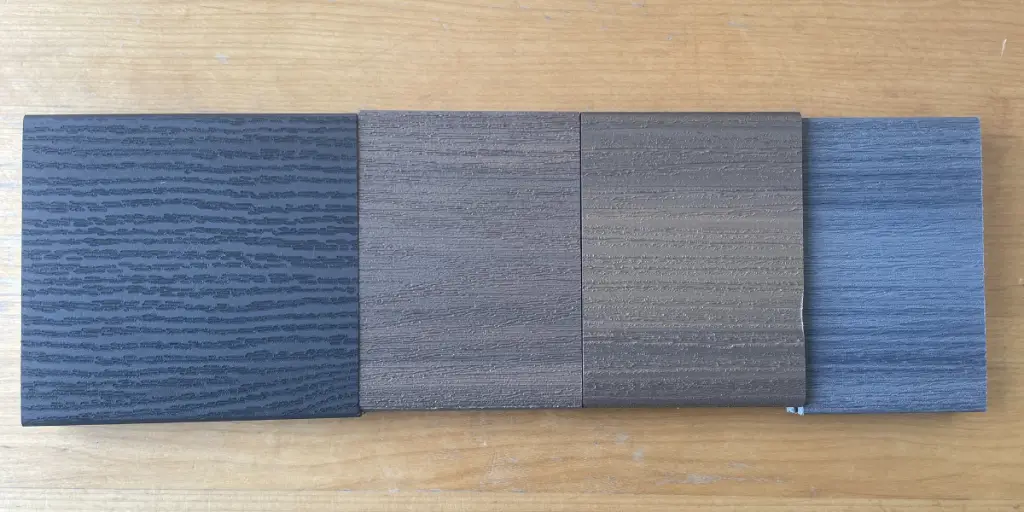 in fact, Firberon Goodlife which has one of the worst slip resistance in the industry has a deep wood grain texture.
Trex Transcend also with deep wood grain, is more non-slip than Good life but still falls below Canadian Construction Material Centre(CCMC) recommended 0.5 ratings.
The deep grooves do help disperse water. But doesn't improves non-slip qualities when wet.
Making deep wood grain composite decking even more slippery in the rain. A possible exception is MoistureShield's Vision.
Vision almost doubles in slip resistance when wet. But this probably has more to do with the cap material than texturing. More on that later.
No, the best texture for non-slip decking is small raised wood grains.
The one consistent feature of these top-rated non-slip decking.
Best Non-Slip Decking Capping Material
The most non-slip composite decking is Clubhouse.
Clubhouse is unique with an acrylic cap. The same material used to make your car dash. Extremely durable and resistant to wear.
And in the case of Clubhouse, non-slip.
Two other brands that also have acrylic caps, are Fortress and Zuri.
Both have a high level of traction but less than are other 3 non-slip deck boards.
Wolf Serenity is capped with a styrene copolymer (Polymer).
Firberon Paramount is a co-extruded PVC cap.
Deckorators (MBC) has a polyethylene cap.
All different versions of plastic but are more non-slip than Fortress and Zuri's acrylic cap.
Leaving me to conclude, it's not the cap material that makes it more non-slip but a combination of engineering elements.
What Decking Core Material is the Most Non-Slip?
Almost every deck board with a high slip resistance rating has a polyvinyl chloride (PVC) core.
But there are some exceptions.
Deckorators (MBC) and WearDeck.
Both are a blend of polymer and minerals. Specifically, fibreglass with WearDeck, but primarily the same thing.
DuxxBak also scores well for slip resistance. Especially when wet. Not so good when dry but is more non-slip than most wood-based composites.
In short, a key ingredient in non-slip decking is PVC core.
It may not make all the difference but adds to it.
What Maintenance is Needed to Maintain Non-slip Features of Composite Decking?
Maintaining non-slip features of composite decking requires a few simple steps that can help ensure safe and non-slip conditions.
The first step is to clean the decking surfaces regularly with a non-abrasive cleaner that is specifically made for composite decking. This will help to remove any dirt, debris, or stains that can accumulate over time and decrease non-slip traction.
Additionally, keep your deck of clutter that can become tripping hazards. Small items like branches, toys, and furniture can be a risk if they are not properly secured.
Mats with folded-up corners or that slip on the decking surface. Can become a tripping hazard even on non-slip decking.
You can improve your deck safety by replacing these with non-slip mats that stay firmly in place.
On some parts of your deck where traction is critical, like steps. You can make them more slip resistant by installing slip-resistance strips on the nosing of the stairs. Not ideal for your entire deck. But for slippery stairs, this is a good option.
Conclusion on Non-slip Composite Decking
Non-slip composite decking will improve the safety of your outdoor space. The slip-resistant surface will minimize slips, and falls even when it's wet outside.
With the right non-slip composite decking, you can ensure the safety of your visitors.
But, it is important to maintain non-slip composite decking through regular cleaning and removing any clutter that may become a tripping hazard.
You can also improve non-slip traction on stairs by installing non-slip strips onto the nosing.