When choosing between Azek and Fiberon PVC decking, there are several things to consider. Things like appearance, durability, traction, price, and warranty of the decking.
Fiberon and Azek both offer 10 different PVC options. Almost equal in durability, Azek with a slight edge, but Fiberon has the best traction. Warranty and price are practically equal, except Azek has a lower-priced collection.
These two PVC decking
options are almost equal in value, with only slight distinctions and advantages. We will need to go into more details to understand which one is better for you.
What are Azek's slight advantages in durability?
Do they really make a difference on your deck?
How much better is Fiberon's traction compared to Azek?
Does the price difference, make a difference?
I hope to delve into these and many more comparisons, for we can better know which decking is best for you.
 Before discussing decking differences, let's talk companies.
Azek vs Fiberon PVC as Companies
A Brief Introduction to Azek
Azek was started in 1983 manufacturing exterior home products. Since its inception they have grown to become the world's third-largest manufacturer of PVC products based out of Chicago with a focus on low maintenance exterior building products.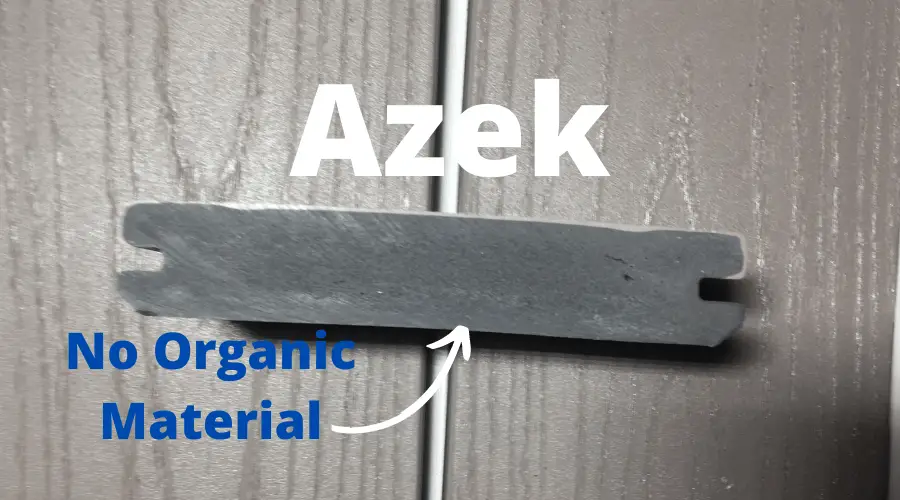 In 2007 they launched their first line of PVC decking.
"We make homes and structures more beautiful and more useful with leading-edge sustainable products."

Azek Purpose
In 2012 Azek and TimberTech merge to create a company offering both PVC and composite decking
. Despite the merge, their PVC decking is sold as Azek, composites as TimberTech. Azek has grown to three collections of PVC decking
Vintage®, Harvest® and their new Landmark Collection™.
A Brief Introduction toFiberon
Fiberon was started in 1997 in New London, North Carolina. With a focus on selling high-quality composite decking, railing and fencing manufactured in an eco-friendly fashion. Resulting in a high percentage of recycled content and sustainable environmental practices. An impressive 98.5% recovery rate of manufacturing material waste diverting over 70 000 tons of plastic and wood away from landfills and incinerators every year.
"Decks should be enjoyed, not maintained."
Fiberon
 In 2007 matching their success, they opened a second plant in Meridian, Idaho, serving both sides of the continent efficiently.
Some of Fiberon's most outstanding achievements are its innovations and being a leader in development. Included in this innovation are their PVC decking, Paramount and Promenade. It is these two collections that we will focus on. Fiberon's PVC decking.
Azek vs Fiberon PVC – Decking Differences
Decking Core
There is a slight difference in the description of core material. Azek is "foamed polyvinyl chloride (PVC) and cellulosic fibre".  Where Fiberon describes itself as "cellular foam polymer with coextruded cap".
But ultimately, they are the same PVC decking. With no wood or any organic fillers to rot or absorb water.
Durable for you don't have to replace it every few years.
Weather-resistant for whatever Mother Nature throws at her. Your deck can take it and be ready for the next barbeque party
.
Decking Cap
All Azek's boards are capped on all four sides, a complete wrap, top, bottom, sides and groove.
Azek newest decking line Landmark, also has a coloured underside, something that is left out with the finish of their other decking boards. 
Azek also designs their cap material differently, with Alloy Armour.
"Alloy Armour Technology® (AAT), is a proprietary alloy blend that provides improved performance characteristics, such as outstanding weather protection, UV protection, resistance to scratching, and improved colorfastness."

Azek
Promise that the cap will do its job and more.
Fiberon is not consistent in capping.
Promenade is capped on all four sides. The unembossed bottom still has the colour of the top, including streaking. Making it ideal for installation where the underside of the decking is exposed, like second-floor deck covering a ground-level patio.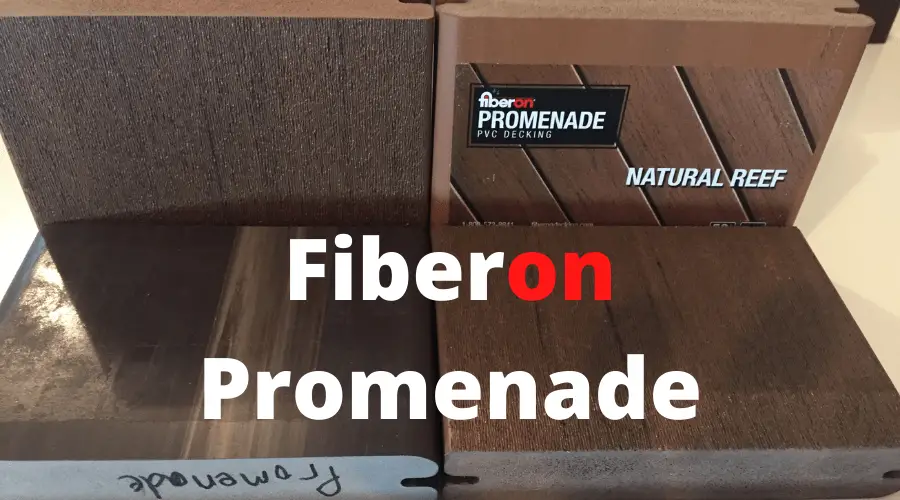 Paramount is only capped on three sides, with an uncapped, unfinished bottom. Regarding performance, this difference impacts little as the core requires little protection, but for a second-story deck, the underside will not have the same beauty and colour as the top.
Azek vs Fiberon PVC – Decking Options
The capping finishes also changes the feel of the decking. Along with the blending of colours impacting the look of the decking. From solid colours mimicking painted decking to imitating exotic wood decking. 
| | | | |
| --- | --- | --- | --- |
| Azek Decking Line | Number of Colours | Decking Profile | Capped Sides |
| Vintage Collection® | 5 | Solid | 4 |
| Harvest Collection®  | 3 | Solid | 4 |
| Landmark Collection™ | 2 | Solid | 4 |
Azek Vintage line includes light colour decking like Coastline® to Dark Hickory and many shades of brown in between.
"sophisticated, natural-looking colors with a subtle wire-brushed, low-gloss finish for an authentic wood look."

Vintage Collection®
Vintage wire-brush finish embossing is shallow, creating a smoother decking finish.
Vintage has consistent colouring, a sophisticated blend of shades with the occasional dark streaks.
"Traditional cathedral wood grain patterns and a soft, solid color palette"

 Harvest Collection® 
Harvest embossing is deeper, following the cathedral wood grain pattern.
"classic cathedral wood grain pattern is complemented by a rustic crosscut grain and matte finish. The dramatic, highly color-blended boards with cascading hues have highlights and lowlights in each board"

Landmark Collection™
Landmark is the newest of Azek's decking collections but falls in line with their purpose of "more beautiful" with its blend of embossing and wood grain options.
In my humble opinion, is the perfect blend of the Vintage and Harvest drawing from the beauty of each combined into one board.
| | | | |
| --- | --- | --- | --- |
| Fiberon Decking Line | Number of Colours | Decking Profile | Capped Sides |
| PROMENADE [PVC] | 6 | Solid | 4 |
| PARAMOUNT [PVC] | 4 | Solid | 3 |
Promenade with an equal number of greys and browns to choose between.
"aesthetic of high-end, handcrafted wood decking"

Promenade
With a wire brush finish similar to Vintage but without the less distinct grain patterns. Not a significant difference but a slight pattern change.
"high-performance, low-maintenance decking that suits a busy lifestyle."

Paramount
Paramount has one shade of brown, complimented with three shades of grey. There is variation in colouring within boards, but not overwhelming. The same can be said about the woodgrain, noticeable but not eye-catching. Designed for performance, with little maintenance.
"Beauty is in the eyes of the beholder."
This rings true with decking as much as art. Azek and Fiberon boards have a distinctly different look and feel.
Not to get ahead of ourselves, but you should not choose between the two strictly on price. The beauty that each brand brings is distinctly different. Yes, some similarities between lines but still a beauty of their own.
Ultimately appearance might be what wins you to one manufacture over the other.
Azek vs Fiberon PVC – Durability
PVC decking is made to be enjoyed, not maintained, which both Fiberon and Azek take very seriously. At their core, PVC, which is more durable than almost any other decking material while requiring less maintenance than virtually any other decking option. 
Decking Staining Comparison
For the accidental spills of ketchup, grease or beer, the polymer cap on both can be easily cleaned up without staining if not allowed to sit on the deck. Wipe it up immediately or at least within the day and you should be fine. Even with the occasional dried-on spill, scrubbing with a stiff, natural fibre brush using dawn mixed with water should remove most evidence.  
Caps are very similar to vinyl flooring in your kitchen in regard to cleaning.
Scratch Resistant Decking?
My quick key scratch test has similar results both with Azek and Fiberon. The sharper the object, the deeper the cut. But I would put little stock in such a test.
As can be expected, scratches across the grains cut more profound and noticeable. With the grain, less cutting and harder to see. Similar results as wood decking.
Most items dragged over the decking will leave a mark but will not cut through the cap.
An advantage of the Promenade and Vintage collection is their wire-brushed finishes. The small "wire brush" marks act like camouflage, hiding minor scratches. They are still there to the observant eye. But like camo in the bush, it takes a keener eye to spot. With many little scuffs disappearing into the background.
As with all decking, protective plastic, rubber, or felt leg pads under furniture are recommended to help protect the decking from being scratched from moving chairs
and tables. 
Azek vs Fiberon PVC – Flame Spread
Azek's Vintage and Harvest collection are both third-party tested with a Class A flame spread rating. As much as I can tell, I will assume the new Landmark collection is also. But at the time of writing limited, third-party data is available.
Promenade also can be used in a Wildland Urban Interface zone with a Class A fire spread rating.
The odd decking is Paramount with only a Class B rating. This looks a little more dramatic than it is. Paramount score is 30, and Harvest is 25. We are not talking about a dramatic difference, but the cut-off between the two ratings is 25. So Azek barely makes it into the highest rating, and Paramount is just slightly below.
Azek vs Fiberon PVC – Traction
If your constantly getting rain showers followed by sun, the decking you choose is critical for how safe your deck will be. Water on any surface increases the risk of slips and falls. Decking is no exception.
Azek is interesting in that water increases traction. When you need it the most, Azek has your back or at least your feet. Increasing deck safely when it rains.
I am not sure about you, but when it starts to rain and I race for the door, the potential of missteps increases. It's excellent that Azek's traction compensates for my lack of care.
But it is really disappointing how little traction Azek has when dry. Not quite a slip and slide, but that is low.
Especially since Azek is marketed as having "Best Slip Resistance".
Fiberon Paramount grips much better, delivering superb traction both when dry or wet. CCMC calls for a minimum of 0.5 traction rating for residential use. Paramount exceeds this and more.
If you need grip on your deck, Paramount is a good choice.
Azek vs Fiberon PVC – Pricing
Pricing is always a tricky one, constantly changing from region to region, fluctuating with the season. In fact, just crossing the street at times can save you a few hundred on a deck. But this should give you a sense of the cost of Fiberon PVC and Azek decking. At least in comparison to each other.
| | |
| --- | --- |
| Azek Decking Lines | Lineal Price |
| Vintage Collection® | $6.50 – 7.00 |
| Harvest Collection®  | $4.75 – 5.25 |
The cost of the cap finish is reflected between Azek's two lines. Vintage being their premium line with more colour on the boards. Resulting in multi-tone boards. With not one, not two but a rainbow of shades from dark to light. But this extra colour is not free. Vintage costing roughly 30% more than the Harvest collection
| | |
| --- | --- |
| Fiberon Decking Line | Lineal Price |
| Promenade | $6.50 – 7.00 |
| Paramount | $5.20 – 5.80 |
There may be some variation where your buying decking, but Vintage and Promenade will cost roughly the same.
Where Paramount is slightly more expensive than Harvest, for a 12' X 12' deck, buying Harvest instead of Paramount could save you around $300. But over the life of the deck, which are both warrantied for 50 years, that difference is minimal.
Speaking of warranty, how do they compare?
Azek vs Fiberon PVC – Warranty
Azek and Fiberon's PVC decking are equal in length of warranty and prorating.
50 years, structural, fade and stain
100% replacement first 10 years
Depreciates 10% every 4 years after the first 10 years
Both allow for a one-time transfer of warranty between homeowners in the first five years. If you build a fantastic PVC deck, enjoy it for four and a half years. The next proud homeowner can still be protected for the rest of the 45 years.
Fading and Staining
Azek and Fiberon PVC warrantied against fading beyond 5 Delta E and staining for the entire length of the warranty. The full 50 years.
Which is promising a lot.
I am not sure if in 50 years I will be able to tell if the decking colour has changed, but it is still warranted not to fade.
Azek lays out their expectation in more detail to minimize stains. That all spills will be wiped up within a week. If this does not remove the stain, hiring a professional to clean the decking before making a warranty claim.
Fiberon is not upfront in their warranty, but it would not surprise me that they would request a professional cleaning prior to replacing any deck boards.
In short, for stain and fades, Fiberon and Azek provide equal coverage.
Labour Warranty
This is a new development in composite decking warranties
. The labour to install decking is often as much or more than the cost for the material. Covering labour makes sure you are not on the hook for labour if the decking fails. Increasing the value of the warranty substantially.
Limited to certified contractors. This makes sense. I would not want to warranty an untrained installer.  
Azek warranty
. The higher the contractor's rating, the longer the labour warranty.
Member & Silver 2-4 years
Gold & Platinum 5-7 years
The maximum protection is provided if railing is included. The lower years for only the decking and fasteners.
"Fiberon offers a five-year limited labor warranty on select products sold in the United States and Canada.
Fiberon
Fiberongives a blanket five years.If the installer has done the training, they warranty it for 5 years. Plain and simple.
Azek vs Fiberon PVC – Which is Better for You?
Now for the hard part, choosing which decking will be suitable for you for the next 50 years. Wow, a lifetime! This is almost a bigger commitment than marriage, but that to can be great.
Comparing Azek vs Fiberon PVC for
Appearance
Durability
Traction
Price
Warranty.
When I started researching and comparing Azek and Fiberon's PVC, I was hopeful that we would have a clear winner. The Best PVC decking to recommend.
Both Azek and Fiberon have worked hard, preventing this. Both are making amazing PVC decking. There are some slight advantages with each but not a clear winner.
To start, both are equal in decking options. You may have a personal favourite, and that's excellent. But if you are looking for a choice, both are equal in the number of options.
A possible distinction is the variety of colours. Azek has more extremes. Such as Weathered Teak®, a lighter blond, separating it from the rest.
For durability, I am going to give it to Azek. But this is only for minor reasons. Both are made from high-quality PVC, creating extremely durable decking. But two advantages Azek has over Fiberon are cap and fire rating.
To be fair, this is mainly over Paramount, not Promenade. Paramount is only capped on three sides. It is not critical, but it gives Azek a little more consistent protection from the elements being completely wrapped and protected.
Secondly, Azek decking has a better fire rating. As we discussed, it is only slightly better than Paramount, but we are trying to decide which one is better between two great decking options.
Traction is the one that Fiberon comes out the clear winner. The difference between the two is not talking a few points, but in the rain Fiberon almost has three times the traction of Azek. If you need grip on your deck, Fiberon is for you.
Turning to Price, again, it depends on which line we are comparing. Both Azek's and Fiberon's premium PVC will cost you the same. When comparing Harvest and Paramount, Harvest will cost less.
Finally, warranty. A few years ago, this would have easily gone to Azek with a longer, more comprehensive warranty. But that has all changed. Both are 50-years, equally prorated. Warranty for the same things, fade, stain and structural.
The only possible separation is labour. If you hire a high-volume Azek deck contractor, like Dr.Decks
in Washington with railing which he generally goes with Regal, not Azek composite, you get 2 extra years of coverage. Except he bends which voids warranties, or last I heard.
Otherwise, Fiberon, with its consistent 5-year labour warranty, has the advantage.  
As I said, this is not a clear one.
If one catches your eye, whichever one it is, Fiberon or Azek will serve you well.
If you need something to tip the scale. Traction
is for Fiberon. Azek's Harvest is slightly more durable at a lower price.
Beyond that, flip and coin and enjoy your deck.
There are many composite decking brands. Click the link to see some of the best composite decking brands
on the market.