Surf and sun. Oh, the pleasure of a deck on a beach beside your house. It is easy to envision the pleasure of a deck on the beach, but a beach also includes challenges for decking. The beach contains elements that threaten to destroy the decking.
So, what is the best composite decking for a beach house?
The best composite decking for a beach house is resistant to the sun and water of the beach. Provides excellent traction, while not being damaged by sand or drinks enjoyed on the deck and beach. Some of the best composite decking brands
for a beach house are TimberTech Azek, MoistureShield and Deckorators mineral-based composite.
You want to enjoy your deck, not maintain it, so it will need to be a composite or PVC decking. Something that is low maintenance.
Aluminum decking doesn't require much maintenance and will last on a beach for years but doesn't have the same beauty as wood or composite decking. This is why we are going to focus on composites.
Before explaining my top picks for your beach house deck, let's discuss the challenges facing decking on a beach. Why will not any old decking work on a beach, and why are some composite decking brands better than others for a beach house.
Qualities Need in Decking for a Beach House
Sun and surf, the very things that attract us to the beach, are also working against the deck. Reducing pleasure and even destroying the decking. To overcome these, the decking must have certain characteristics.
Needs to Stay Cool in the Sun's Heat
This is almost a given but should be noted. Decking on a beach needs not become burning hot in the sun. You want to be able to stroll in the sand with your bare feet and back onto the deck without having to put your shoes on. Decking that stays cooler in the sun is a real plus.
Cannot Fade from the Scorching Sun
That sun will also be damaging the beauty of the decking. Fading the brilliant colour selected in the store into something far more weathered. A decking with limited fading, that will last for years will allow you to enjoy its beauty many summers from now.
We cannot know the future but a good warranty against fading will demonstrate the ability of the decking to last on the beach.
Needs to Not Be Damaged by Water
Decking on the beach will not only have to deal with the sun but also water. This is especially true for a low deck close to the beach and ground.
Decking that is not damaged by water with a low water absorption rate is ideal. We don't necessarily need decking that can be submerged in water like decking on a dock
. But the better it deals with water, the better it will perform.
Stainless Steel Fasteners
A little aside from the decking but is critical, fasteners that will last on the beach. Most coated screws, which are fine for your backyard deck, will rust on a beach. Whatever decking that is selected must be able to be installed with stainless steel fasteners.    
Durable Against Scratches
All decking scratches including composite decking. But the best for dealing with the scratching sand is one with a strong cap but one that camouflages minor scratches made by a broom sweeping off the sand.
More significant scratches made from dragging beach chairs need to be able to be repaired. This is asking a lot from the decking, but some brands can be repaired without replacing. 
Will Not Stain
The setting sun, the cool ocean breeze and a glass of wine. Yes, this is why you want a deck on the beach. But if that glass spills, will the decking be damaged?
Not if you installed decking that isn't stained by wine, ketchup, mustard and whatever else might be spilled on the deck.
The good news is most composite decking is warranted against staining from spills if clean within 48 hours. Zuri decking goes as far as 7 days. Now that's stain proof.
Speaking of warranty.
An Extended Warranty for Years of Worry-Free Deck Enjoyment
No need to be paying to replace your decking ever few years. Beach decking should have a warranty that will last as long as you hope to enjoy your deck.
Twenty-five year is a good start, and any composite decking worth installing comes with a 25-year warranty. But if you are looking for something better, Fiberon, MoistureShield, TimberTech Azek and TivaDeck just to name a few, come with 50-year warranties, often including staining a fading for the life of the decking. Now that's a lifetime of worry-free deck enjoyment.
Best Composite Decking for a Beach House
Of the many composite decking boards that I have reviewed, one stands out as an excellent choice for a beach house is MoistureShield's Vision. MoistureShield is the best composite decking for a beach for the reasons.
Encapsulated Wood Fibres
CoolDeck® Technology
Extended warranty
And those are just a few of what sets MoistureShield apart from many composite deck boards.
Encapsulated Wood Fibres, have answered the problem of water damaging composite decking and mould and mildew.
Comparison of Water Absorption of Composite Decking
If you remember, the early generations of composite made in the 90s failed because despite combining recycled plastic and sawdust, the exposed sawdust would still get wet, and mould would grow on it. In some extreme cases, the boards' wood rot and fail.
Many companies' answer was "capping" the core of the composite decking, which solved many of the water problems and improved the appearance of the decking.
 MoistureShield went one step further, and maybe that's why after 30+ years of making decking, they have never had a structural failure on one of their customer's decks. They wrapped or "capped "the individual wood fibres. Ensuring the wood is always protected even if you cut or trim the board.
Good for decking, deck for beach house decks.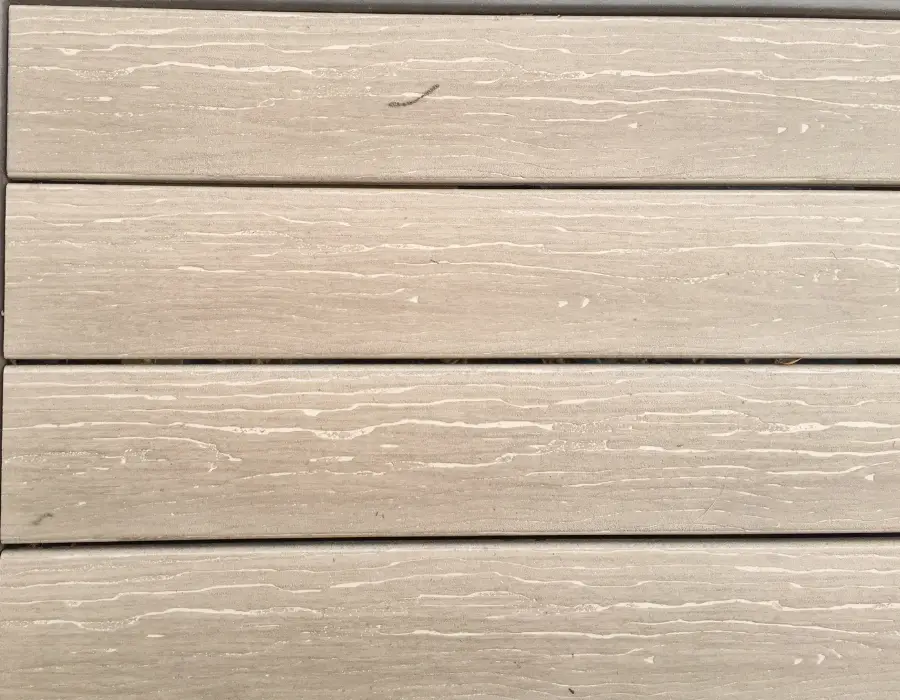 Speaking of cap, it's hard to explain, and you may need just to order a sample from MoistureShield, but their cap is less "plastic" looking than many other brands. Blending it in better to the whole beach look.
CoolDeck® Technology is MoistureShield's answer to composite decking becoming dangerously hot in the sun. Little expectation management, MoistureShield boards still get hot in the sun, but their tests have shown that it reduces the board's temperature by 35%. Making it just a little more comfortable to be on in the sun.  
Extended warranty makes MoistureShield an excellent choice for a beach deck.They warranty Vision decking fade, stain and, of course, structural for 50-years.
There are other composites decking like Fiberon, TivaDok and many PVC boards that have similar warranty lengths, but overall, MoistureShield is the most comprehensive.
"The only thing better than a comprehensive, extended warranty is not needing one."
A big drawback or disadvantage of MoistureShield decking is the price. MoistureShield will cost more than many other composite deck boards
. It's quality stuff, but the price is high.
Other Good Composite Deck Boards for a Beach Deck
MoistureShield is not your only option for a beach deck. Here are a few other options to consider.  
DuxxBak Decking replaces the wood fibres with rice hulls which are naturally not absorbent. Decreasing the potential of water damage.
Rice hulls combined with a denser plastic
make the boards stronger. So much so when most composite decking can only span 16″, DuxxBak can span 24″. Just one example of its increased strength.
| | | |
| --- | --- | --- |
|   | Slip Resistance (Dry) | Slip Resistance (Wet) |
| DuxxBak Decking | 0.51 / 0.55 | 0.90 |
| MoistureShield Vision® | 0.41-0.42 | 0.71-0.77 |
| MoistureShield Vantage™ | 0.60-0.62 | 0.61-0.66 |
Composite Decking Traction
It also has amazing traction when wet. Outperforming MoistureShield and many other decking for slip-resistance.
Deckorators (MBC) you may have noticed absorb less water than MoistureShield make it an excellent choice for a beach deck.
Deckorators is a mineral-based composite (MBC), also deleting the risk of mould growing on the organic material by replacing the wood fibres. Another plus of Deckorators is less expansion and contraction. If you want to include mitre cuts and other unique decking designs without having the gapping constantly changing. An excellent option.
And Deckorators (MBC) costs less than Vision decking.
Deckorators also has wood-based composites at a lower price, but they will not perform as well.
You may have noticed the challenge of composite decking on a beach is wood. Solving the problem of wood on a beach even with composite decking.
This brings us to our next alternative decking option for a beach deck.
Best Plastic (PVC) Decking for a Beach House
There are many ways that PVC decking is better than composite
decking making it a good option for a deck. If you want fully synthetic decking, here are my top recommendations for PVC decking.
My pick for best PVC decking for a beach house is TimberTech Azek for these reasons.
Let me explain why these make Azek the best for a beach deck.
Traction rating, Azek is not the best here but is near the top of the list. Meaning it will provide sufficient resistance to keep you on your feet enjoying the waves lapping on the shore. Even when you are spinning around with someone special in the moon light.
One of the reasons why Azek has good traction is its wire-brushed finish. The finish improves not only traction but also appearances. Especially concerning small scratches. Small scratches will occur, with sand being a regular part of the beach. The small wire brush lines help to blend and hide these scratches as not to destroy the entire appearance of the deck.
And for deeper scratches, you can use a heat gun to repair them. Helping to keep Azek looking good on the beach.
"Up to 30 degrees [17°C] cooler than many competitive composite products."
Finally, decking will get hot in the sun. Azek PVC core stays cooler than most composites do. Making barefoot enjoyable on your deck.
The coolest boards are Azek's Coastline®, Weathered Teak® and French White Oak®. All a lighter colour reducing the sun's heat.
Other Good PVC Deck Boards for a Beach Deck
Azek is one of many excellent PVC deck options for a beach. A few other brands to consider are Wolf's Serenity, and Clubhouse, which you may have noticed have better tractions than Azek.
Wolf Serenity is well priced for a PVC decking, often lower than many composites but with all the advantages of PVC, including superior traction.
With a similar warranty as Azek, 50-years. Including all the essentials such as fade, stain and structural.
A drawback of Wolf compared to Azek is the finish. Serenity is not wire-brushed; therefore, minor scratches will be seen much more readily than Azek.
Clubhouse has a similar wire-brushed finish with exceptional traction is an excellent choice. With many of the same characteristics of Azek, but its warranty is shorter. Clubhouse only has a 25-year warranty. If length matters, it falls short.
Conclusion
Almost every composite decking will be an improvement over traditional wood decking on a beach. With its reduced maintenance and longevity. Giving you more time enjoying your deck.
But if you want to take your beach deck to the next level, consider MoistureShield for its overall amazing performance as a wood composite.
If you want composite but are nervous about wood on the beach, consider DuxxBak or Deckorators (MBC). Both replace wood with material that deals with water better.
Leaving composite entirely, PVC decking like Azek, Wolf Serenity and Clubhouse all should give you a lifetime of pleasure on the beach, relaxing on your deck.