Fiberon is one of the world's major producers of composite decking. As one of the top three suppliers of low-maintenance composite decking, up with Timbertech and Trex.
This is why, as a deck contractor, I set out to evaluate Fiberon. To discover the best characteristics and advantages of Fiberon and whether or not I would suggest it.
Before getting into all the details and the many options with Fiberon, just a quick review of Fiberon composite decking.
The best things about Fiberon composite decking are warranty, colour options and availability. The biggest drawback of Fiberon decking is the traction of their non-PVC decking. The PVC board's traction is amazing, the wood composite not so much.
The most frequent reason that people begin looking at composite decking is that they believe it will require less maintenance. It could be your old deck has deteriorated and must be replaced with something that requires less effort. Alternatively, you may be considering building a new deck so you can enjoy being outside without adding any more work to your already busy schedule.
Fiberon, like other composite decking, promises greater enjoyment with less upkeep.
More cold ones, less staining.
More relaxing, less repairing.
However, the spacious backyard still offers a refuge from the city to rest your legs. Read a book in the sun or cook a burger while listening to the birds.
What to Consider Before Buying Composite Decking
Before purchasing composite decking, you should think about several factors. Applicable to all brands of composite decking
, including Fiberon.
Colour (Appearance)
Traction
Price
Durability
Workability
Colour is what entices us to notice it. It draws us outside onto the deck. This is why you want a company with a sufficient number of hues to pick from. But more significantly, the correct color for your home and deck.
The most composite decking colours can be grouped under one of these four groups Blonde, Brown, Greys, and Reds. Most decking boards are a shade or hue of the above four
Traction is a special category of its own since it is so crucial. If your deck is a slip and slide, and you are continuously trying to find your footing. It will not be a pleasant venue to sit and rest. You'll be too afraid of falling and injuring yourself to enjoy the scenery.
Cost or price is frequently an obstacle. Some composite decking is simply too expensive to enjoy. On the other hand, a larger budget allows for more color and attractiveness in deck board designs.
This is particularly true of Fiberon. The greater the board cost, the more colours and patterns are included in the decking. It's a good incentive to spend a little more to obtain a lot more.
The major difference between a deck that lasts for years and has to be replaced is its durability. The more durable the deck, the longer you will like it, and the less upkeep it will require.
The warranty is often a sign of quality for composite decking
. When buying composite decking, the promise of long-term durability may frequently be found in the warranty. What is its anticipated longevity? Will it fade? Will mustard stain the decking? Giving us an indication of how long the deck will last.
Last is workability because you will enjoy your deck for much longer than you will be building it. Construction is such a minimal component over the life of a deck especially composite or PVC. Some we are talking about a lifetime of enjoyment, that is, much longer than construction. However, if the decking's installation is too difficult, you won't be able to play cards on the deck for weeks.
Let's get this party started by looking at whether Fiberon is the best composite for you.
Brief Introduction to Fiberon
Fiberon was founded in 1997 in New London, North Carolina. With a dedication to selling high-quality composite decking, railing, and fencing that are produced in an environmentally friendly way.
As a result of this, a significant amount of recycled content and sustainable environmental policies are implemented. Fiberon diverts over 70 000 tons of wood fiber from landfills every year while producing over a million square feet of decking. They also use recycled content in their Fiberon products to reduce the impact on the environment while still providing a durable and high-quality product that can be passed down from generation to generation.
They expanded in 2007, opening a second facility in Meridian, Idaho, to match their popularity. Serving both sides of the continent efficiently thanks to logistical placement.
Fiberon's most outstanding accomplishment is its leadership in innovation. Resulting in some big firsts for low-maintenance decks.
First capped composite decking with multi-chromatic technology
First PVC composite railing
First stain and fade warranty on capped composites
First moulded and embossed WPC decking
Customizable rail and baluster system
Description of Fiberon decking
When it comes to Fiberon, we have a lot of decking alternatives to consider.
These can be further broken down into PVC, two lines and four lines of wood composite decking. But don't let the number intimidate you. Fiberon does a good job of grouping them into lines by features and price. Helping to guide you to the right decking for you.  
Fiberon PVC decking
Fiberon has two lines that are not composite but entirely PVC board with no organic material to rot. PVC has many advantages over composite decking
, which Promenade and Paramount also share.
The top two being.
Lightweight
Exceptional slip resistance
Both are also formulated for a Class A flame rating making them suitable for Wildland Urban Interface area
s. Still, be careful with the grill. They still melt.
Promenade
Natural Reef
Russet Dune
Sandy Pier
Shaded Cay
Weathered Cliff
Moonlight Cove
Fiberon Promenade decking was inspired by a day at the beach with its distinctive multi-tonal hues. Fiberon Promenade decking offers a high-end handcrafted wood appearance with the advantages of premium PVC.
Paramount
Hearth Collection
Mantel Collection
It's ideal for docks, marinas, and other waterside locations since there is no organic material that may promote mould growth. It's robust wearing yet lightweight and simple to transport.
Concordia
Symmetry Collection
Warm Sienna
Burnt Umber
Cinnabar
Graphite
Horizon Collection
Ipe
Tudor Brown
Rosewood
Castle Gray
The gleaming varnish and uneven colour streaks look like tropical hardwoods. The low-gloss finish and micro-texturing provide a distinctive sheen. The grain patterns are subtle, with no repeats. The composite core is durable and resists splitting, rotting, cracking, insects, and decay.
Sanctuary
Espresso
Latte
Early Grey
Moringa
Chai
Sanctuary Decking's all-weather design, bold hues, and rustic embossing distinguish it from other composite decking products. The PermaTech® cap layer provides exceptional stain and fades resistance.
Good Life
Escape Collection
Cabana
Beach House
Bungalow
Tuscan Villa
Weekender Collection
An authentic wood appearance with distinct grain patterns.
ArmorGuard (Only available at Home Depot)
Sandcastle
Brazilian Walnut
Nantucket Gray
Enjoy the natural beauty of wood decking without having to worry about costly, time-consuming upkeep.
Fiberon Decking Profiles
Fiberon includes both grooved and square edge boards in all their decking lines. All grooved boards are 12′, 16′ and 20′. The right size for building a deck for dinning, lounging or grilling
.
| | | | | |
| --- | --- | --- | --- | --- |
|   | Square Edge Lengths | Grooved Edge Lengths | Profile | Cap Sides |
| Promenade 1.05 in. x 5.5 in. | 16 ft., 20 ft.** | 12 ft., 16 ft. 20 ft. | Solid | 4 |
| Paramount 1 in. x 5.5 in. | 20 ft.**   | 12 ft., 16 ft. 20 ft. | Solid | 3 |
| Concordia 0.92 in. x 5.4 in. | 12 ft., 16 ft. 20 ft. | 12 ft., 16 ft. 20 ft. | Solid | 4 (reversible) |
| Sanctuary 0.92 in. x 5.25 in. | 16 ft. and 20 ft.   | 12 ft., 16 ft. 20 ft. | Solid | 3 |
| Good Life 0.92 in. x 5.25 in. | 20 ft | 12 ft., 16 ft. 20 ft. | Scalloped | 3 |
| ArmorGuard 0.92 in x 5.2 in | 8, 20 ft.   | 12 ft., 16 ft. 20 ft. | Scalloped | 3 |
The square boards vary a little by lines, all have 20′. Some of 16′, Concordia also has 12′ lengths, ArmorGuard also includes a 8′ length. This must be for convenience for your lumber cart in Home Depot because few decks perimeters are 8′.
Available in your local market will also impact what you can buy. With fewer sales of square boards, I find most suppliers pick a length and only stock the one, usually the 20′ because it can finish the most deck sizes.
In regards to the actual size of the decking. In short, the more you pay, the bigger the board. Promenade is 1.05 thick and a full 5 1/2″ wide. ArmorGuard is thinnest at under an inch thick, 0.92 and 5 3/16″ wide.
The good news is all the composite boards are the same thickness, so you can intermix them for boards and picture frames. Getting the colour you want.
The PVC is close enough in size that it shouldn't be a problem. Some builders like to raise their transition board just a hair for the edge of the deck boards blend better with the cut ends of the board. Maybe that 0.05″ difference is enough.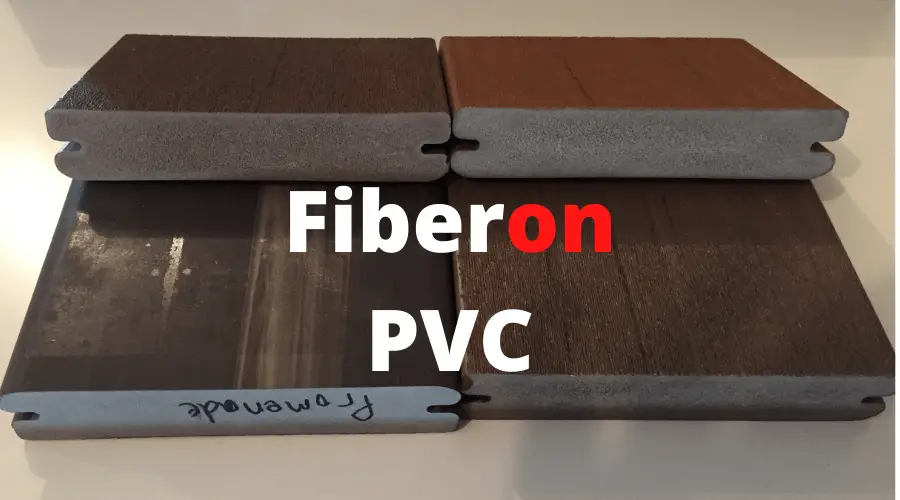 One special note about Fiberon's decking is their scallop boards. Fiberon scallops their cheaper boards to reduce cost like everyone else. Except they leave enough material above the scallop that you can still use Cortex plugs. For you can dress up deck and hide all the fasteners, even on scallop boards.
Features & Benefits of Fiberon
What does Fiberon bring to your deck? Well, let's evaluate some of the key parts of Fiberon decking.
Fiberon Decking Core
Fiberon's Promenade and Paramount are the two low-maintenance decking options from Fiberon. Both are made of PVC, with a cellular foam polymer core and a coextruded cap. This makes them resistant to rot, water absorption, and staining. They also have a Class A fire rating, meaning they won't ignite or contribute to fire spread.
Fiberon's CONCORDIA, SANCTUARY, Good Life and ARMORGUARD composite decking cores are made of a patented blend of recycled wood and plastic fiber. Made of between 94-96% recycled materials, and is one of the most environmentally friendly composite decking products on the market.
Two of Fiberon's decking lines, Good Life and ArmourGuard, employ scalloping to reduce price and weight.
Fiberon Decking Cap
The Fiberon Decking Cap is a key feature of their composite decking. The cap is PermaTech and is capped on all 4-sides with Concordia but only for 3-sides with Sanctuary, GoodLife and ArmourGuard.
With Concordia the cap is finished on both sides, making it reversible. Meaning that if there is damage to one side of the board, it can be flipped over so that the other side is facing up.
The Fiberon Promenade and Paramount decking cap is a key difference between the two decking. The Promenade decking is capped on all 4-sides, while the Paramount decking is capped only on 3-sides.
This difference impacts durability very little as the core requires little protection. But for a second-story deck, the underside of Paramount will look better with the beauty of the decking colour on the bottom of the board.
Fiberon Decking Traction
One of the key features that people look for is traction when it comes to composite decking. This is because decks often include a lot of foot traffic, such as on a porch or in a backyard.
The good news is that some of Fiberon decking provides excellent traction
, which means that you won't have to worry about slipping and falling while you're walking on it.
The bad news is some of Fiberon decking is has very poor traction. Concordia and ArmourGuard are in the middle for traction, close to 0.5 (acceptable rating for floor traction) when dry. Goodlife is the worst for traction, but Sanctuary is not much better.
| | | |
| --- | --- | --- |
| | Slip Resistance (Dry) | Slip Resistance (Wet) |
| Fiberon [PARAMOUNT PVC] | 0.80 | 0.75 |
| Fiberon [Promenade PVC] | 0.70  | 0.51 |
| Fiberon [Sanctuary] | 0.37 | 0.36 |
| Fiberon [GoodLife] | 0.37 | 0.33 |
| Fiberon [Concordia Horizon/Symmetry] | 0.40 | 0.31 |
| Fiberon [ArmourGuard] | 0.40 | 0.31 |
If traction is super important for your deck, check out Composite Decking WithThe Best Traction. Hint just like Fiberon's decking. All the top-performing are PVC.
Cost of Fiberon Decking Lines
Fiberon intentionally has a broad range of decking both in colour and price. With a decking line in every category as grouped in Lowest Cost Composite Decking, except for the high end.
Considering that this includes two PVC lines and a composite with a 50-year warranty says something about the affordability of Fiberon's decking.
AmourGuard is the most Economical sold exclusively through Home Depot at less than $2.50 a lineal foot. It's an incredible price, it's hard at times to even buy quality pressure-treated decking at that price.
Next in line is their Budget line, Goodlife. You should expect to pay between $2.50 – $3.00 a lineal foot. A little more but still very affordable.
Then the much larger group, Mid-Range with the remaining boards between $3 – $6 a lineal foot.
Expect to pay around $4.50 a lineal foot for Sanctuary.
Concordia will be a little over $5 a foot.
Paramount their PVC line will be closer to $6.
Considered that both Concordia and Paramount are warranted to last 50 years makes them a good deal.
Durability and Warranty of Fiberon
Fiberon varies their warranty by decking line.
| | |
| --- | --- |
|   | Length of Residential Warranty |
| Good Life Weekender Collection, ArmorGuard, | 25-Years |
| Good Life Escapes Collection | 30-Years |
| Sanctuary | 40-Years |
| Concordia Symmetry & Horizon Collection | 50-Years |
| Promenade, Paramount | 50-Years |
Fiberon has one of the longest warranty periods in the industry, with a pro-rated system that covers product failure, staining, and fading. For Concordia, this warranty is for 50 years, which is unheard of in the industry for composite.
And Yes, both of their PVC decking lines also have a 50-year warranty.
"Fiberon offers a five-year limited labor warranty on select products sold in the United States and Canada.
The Fiberon decking warranty includes structural failure, staining, and fading. The coverage is pro-rated, diminishing over time. The same 100% for the first 10 years for all their decking. After that, it diminishes proportionally to the length of warranty.
In short, if you want a long warranty, think Fiberon. It has the most extended warranties in the industry.
Alternatives to Fiberon
Want to better understand Fiberon by comparing its features to other composite or PVC decking?
Click on the links below to read wood composite comparison reviews.
If you are more interested in Fiberon PVC boards, click below to read the PVC comparison.
The above article is much more focused on each brand's PVC offering. Azek the PVC line of Timbertech vs Promenade and Paramount of Fiberon.
Conclusion in Reviewing Fiberon Composite Decking
Having installed Fiberon and many other decking brands, I can vouch for its quality. It is a well-built decking.
With multiple price points to match almost any homeowner's budget for decking.
With longer warranties than most composite decking, you can rest assured that your deck will last for years to come.  
The biggest drawback is traction with their composite lines. Their PVCs are outstanding. But their composite does leave something to be desired. A little more grip would be nice.
Overall, you would do well installing Fiberon decking on your deck. But don't forget to review some of the other brand comparisons. Each composite line and brand have unique features and benefits the evaluate.