When choosing between Trex and Fiberon composite decking, there are several things to consider. Things like available colours, durability, traction, warranty and price of the decking.
Fiberon has 31 colours vs Trex's 24. Fiberon is more durable, taking more force to damage the decking than Trex. Both warranties are equal with entry-level boards, but Fiberon's warranty is longer than Trex for higher-end boards. Trex is better than Fiberon in two areas, Price and Traction.
That being said we should delve into the details a little more to determine whether Fiberon or Trex decking is right for you.
Starting with an introduction to the companies, getting to know Fiberon and Trex a little better.  Who are they, and where did they come from?
A Brief History of Trex
Trex was one of the first innovators of composite decking
, inventing and manufacturing their first board in 1996. This single colour board was patent in 1998, and they have since developed four lines and 24 colours of decking. One of their original big pushes was to take material that was otherwise headed to the landfill and innovate a useful product. They are still a huge player in the recycling industry.
"To enhance the lives of people by engineering what's next in outdoor living."

Trex
The primary benefit of their decking is its long life and low maintenance compared to traditional wood decking.
A Brief History of Fiberon
Fiberon was started in 1997 in New London, North Carolina. With a focus on selling high-quality composite decking, railing and fencing manufactured in an eco-friendly fashion. Resulting in a high percentage of recycled content and sustainable environmental practices. An impressive 98.5% recover rate of manufacturing material waste diverting over 70 000 tons of plastic and wood away from landfills and incinerators every year.
"Decks should be enjoyed, not maintained."

Fiberon
 In 2007 matching their success, they opened a second plant in Meridian, Idaho. Allowing them to serve both sides of the continent efficiently.
Some of Fiberon's most outstanding achievements are its innovations and being a leader in development.
First capped composite decking with multi-chromatic technology
First PVC composite railing
First stain and fade warranty on capped composites
First moulded and embossed WPC decking
Customizable rail and baluster system
This focus on innovation translates into an extensive and dynamic decking offering. Which can be a double edge sword. If there is a particular deck board you love, you may want to build your deck this year because it may not be available next year. On the other hand, Fiberon regularly introduces new attractive decking options. Waiting next season may bring that fresh, unique deck board, with colour and design matched by no other that you will love forever.
Fiberon vs Trex – Materials and Capping
There are few differences when comparing the material core and the cap of Fiberon and Trex composite decking. Both have their proprietary blend of recycled plastic and wood fibres
, including as much as 95% recycled content.
When it comes to the cap coverage, we have some variation. Trex consistently caps its decking on three sides, with the groove cut in. For Fiberon, the decking line determines how its is capped.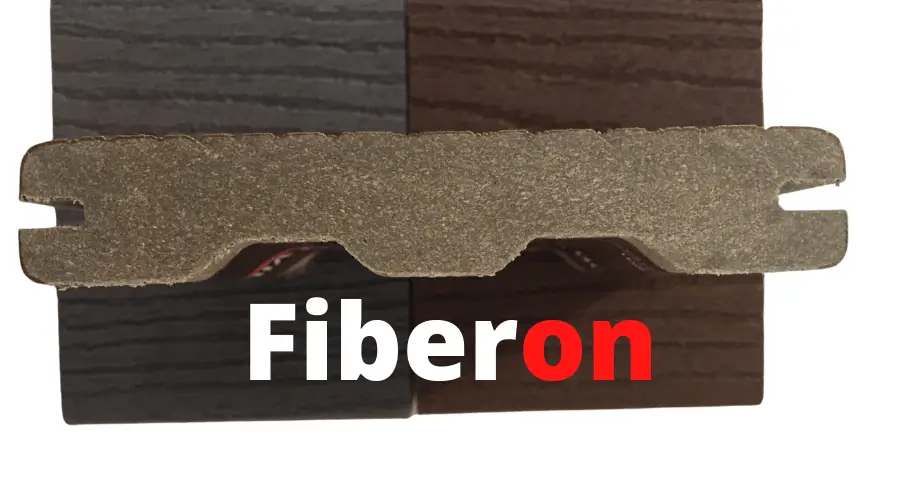 With Fiberon, the cost of the decking determines the amount of cap. The lower-end budget boards are only capped on three sides, similar to Trex. The higher-end, more expensive boards with extended warranties, are capped on all four sides, with the groove cut in. 
Trex composite decking is simply arranged with Best [Transcend], Better [Select, Enhance Natural] and Good [Enhance Basic]. With the same core and capping, the main difference is the aesthetic appearance of the cap.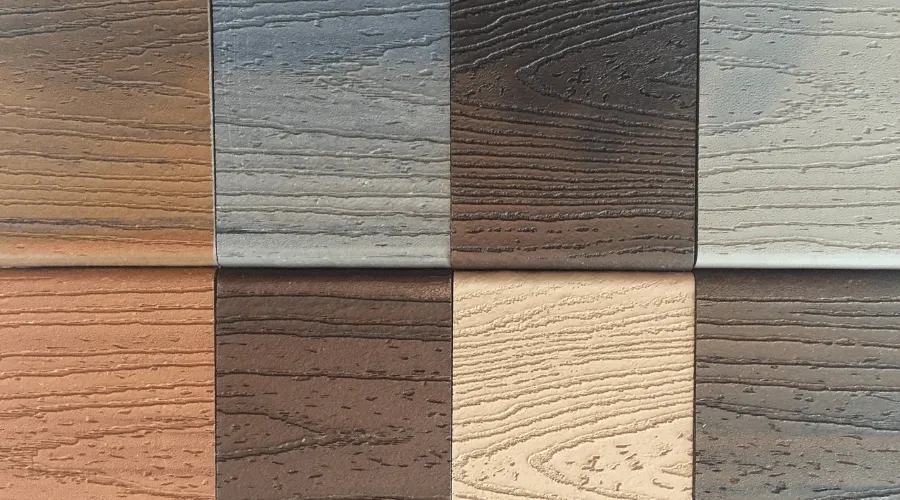 Transcend has a more natural-looking wood pattern with more distinct grains and distinct colouring. Also, the more durable and scratch-resistant of Trex's decking.
"Transcend decking's deep wood-grain pattern and luxury colors create a premium, ageless look that leave other composites in the dust."

Trex
Basic is precisely that. It has a more basic wood pattern, not ugly, but you know it's a budget offering sitting beside Transcend. Basic is about getting a deck without all the maintenance, not about looks.
With 31 decking options, you have plenty of choices with Fiberon for colour and performance. If you like wood but not the maintenance, Fiberon is for you. A consuming love of the look of hardwood wood is reflected in their board design. Many boards mimicking or outright looking like exotic hardwood flooring.
"Dramatic colors and streaking emulate exotic hardwoods"

Concordia Decking
With many shades of brown and grey with both streaking and cathedral wood grain patterns. Like many decking lines, the higher the quality of board, the more realistic looking the boards are.  If you love wood decking, Fiberon probably has a board design you will love.
Trex vs Fiberon – Durability
Decks are built to be enjoyed, not just to be seen. Durable decking is valuable decking. Decking that wears well under constant foot traffic, the occasional pulling of chairs and spilling of ketchup, grease and beer on the deck. Not that you intend to, but accidents happen. The decking must hold up against all life throws at or drops on it.
Decking Staining Comparison
For the accidental spills, the polymer cap on both holds up equally. Make sure to wipe it up and give it a quick scrub, and you won't have a problem.
Which one will hold up better against the occasional rock in your shoes?
Comparing Decking Hardness
For that, we must ask which is rated the hardest. Which one is less likely to be indented by a rock on the sole of your shoes?
For comparing hardness between Trex and Fiberon, we will not talk about the entire brand and lines but focus on Trex's premium line Transcend and Fiberon's equivalent wood composites.
Right out of the park, Fiberon is a harder board. When you get a rock on your shoe, on a Fiberon deck, it will take twice as much pressure to indent the decking. For most people, the indents will be little, if any. It takes a lot of force to push a small pebble into Fiberon decking. 
The more likely decking damage are scratches. From chairs to dragging feet, they all can leave a mark. It's hard to give a number to it, but Trex Transcend has a durable cap, but I have found it no more durable than Fiberon's in most situations. Shuffling feet or dragging chairs will all leave a mark.
In short, both Fiberon and Trex decking will scratch equally.
Decking Breakability
On the rare occasion, you will actually test the decking's ability not to break. With both, it will take a lot of force to break the boards, especially when supported with joist at 16″ o.c., which is required.

But how much can you pack unto the deck before the boards break under the weight? How heavy of furniture is too much?
Ultimate Concentrated Load (failure) at 50°c
Fiberon's wood composite is the best for concentrated load failure. Hold 200 lbs more than Trex before crushing under the weight. That is 25% more weight that Fiberon can hold than Trex.
Decking Resistance to Becoming Deformed
How much pressure can the decking withstand before becoming deformed?
But to give us a number to compare, we will turn to Modulus of Elasticity (MOE).
Fiberon's composite has a large range of breakability, with GoodLife the second-lowest among Trex and Fiberon, with only the PVC decking
breaking easier.
The highest-rated board for Elasticity surprisingly is Fiberon's AmourGuard.
Trex is the middle of the road for breakability. Trex is not the strongest nor the weakest. Just a good durable decking.
Trex vs Fiberon – Pricing
Pricing is always a tricky one, constantly changing from region to region, fluctuating with the season. In fact, just crossing the street at times can save you a few hundred on a deck. But this should give you a sense of the cost of Fiberon and Trex decking. At least in comparison to each other.
| | |
| --- | --- |
| Fiberon Decking Line | Lineal Price |
| Paramount | $5.20 – $5.80 |
| Concordia–Horizon | $5.15 – $5.35 |
| Concordia–Symmetry | $5.00 – $5.30 |
| Sanctuary | $4.23 – $4.60 |
| Good Life/ArmorGuard | $2.15 – $2.60 |
Not surprisingly, Paramount the top-rated of Fiberon but as PVC board comes in as the most expensive.
Ignoring Paramount since it's a PVC board that technically is a category to itself, both in what it's made out of, along with performance and warranty. Leaves us with Concordia, a little over $5 a lineal foot being the costliest of Fiberon's composite decking.
Good Life and ArmorGuard are tied as Fiberon's most economical board. Both are sold as budget decking, allowing people to upgrade from wood decking without breaking the bank.
| | |
| --- | --- |
| Trex Decking Lines | Lineal Price |
| Transcend | $4.15 – 4.50 |
| Select | $2.65 – 3.10 |
| Enhance Natural | $2.05 – 2.50 |
| Enhance Basics | $1.85 – $2.20 |
Trex's premier line, Transcend, is under $5 a lineal foot, but the cost quickly drops from there. Till reaching Enhance Basics, one of the lowest price composites deckings
with a 25-year warranty.
If we group them as BEST, BETTER and GOOD, Trex comes out as the less costly decking.
Transcend versus Concordia, on average; you will save $1 a lineal foot buying Trex instead Fiberon. For a 12'x12′ deck. That's over $300 savings just for using Trex decking.
Between Sanctuary and Select, the price spread becomes even greater to $1.50 a lineal foot. A 12′ x12′ deck is now saving you $450 by buying Trex.
Moving to the bottom with budget decking. Enhance Naturals versus Good Life. You are talking a few cents between the two, not making much difference. But if you are okay with limit colour and design. Just wanting a low-price deck, Enhance Basic is the cheapest. Not quite as cheap as pressure-treated decking but very close especially if you include the cost of staining.
Fiberon markets itself as the Best Value Composite decking, but this is talking about more than price. Strictly on price, Trex is the most economical.
Trex vs Fiberon – Traction
If your constantly getting rain showers followed by sun, the decking you choose is critical for how safe your deck will be. Water on any surface increases the risk of slips and falls. Decking is no exception. The polymer cap of the decking repelling the water, creating potential slipping hazards.
The CCMC looks for 0.5 ratings, enough grip to keep you on your feet. Also, almost all decking becomes slipperier when wet with less grip. Trex's and Fiberon are no exception.
No surprise here Fiberon's Paramount has the best traction
both when wet and dry. With minimal difference between wet and dry. This is one of the advantages of PVC decking, grip. PVC decking as a whole performs better under feet, with less slipping and sliding
.
Disappointingly all the other decking do not even provide 0.5 of traction. In short, unless you go with PVC, you will slip more on Fiberon or Trex than wood decking.
That being said, Trex is the closest with the most traction. The spread in traction is between walking with the decking or against. As with most decking, the pattern affects grip. Lower when walking with the grains as opposes to against the grains. The same is true with wood.
Trex vs Fiberon – Warranty
Fiberon has one of the longest warranty periods in the industry. Warranting Concordia, an unheard-of 50-years.
Yes, Azek
PVC and Fiberon's PVC decking both have a 50-year warranty, but that is for PVC decking not composite. Most wood composite decking warranty
tops out at 25 years. Some do 30, but Fiberon is the only company that I know of that does 50-years.
Trex only warranties for 25-years. A universal 25 years on all their decking line from Transcend to Enhance Basic. It doesn't matter what you pay for it. It is covered for 25-years.
This is where Fiberon differs from Trex. Fiberon starts with a 25-year warranty for their entry-level decking and increases the warranty level with every price point increase.
| | |
| --- | --- |
|   | Length of Residential Warranty |
| Good Life Weekender Collection, Fiberon Jatoba, ArmorGuard, Veranda, Xtreme Advantage | 25-Years |
| Good Life Escapes Collection | 30-Years |
| Sanctuary | 40-Years |
| Concordia Symmetry Collection, Concordia Horizon Collection | 50-Years |
| Promenade, Paramount | 50-Years |
Both Trex and Fiberon's warranties are pro-rated. The first 10-years are the same, 100% replacement for failure of product. Then diminishing every few years by 10%. The longer the warranty, the more years of coverage before stepping down to the next level.
Roughly lowering every 2-years with 25 and 30 years except a few 3-year periods in their 30-year to cover the additional 5-years. Three years is the standard pro-rated step for 40-years. 50-years sprinkles a few 4-year periods to cover the additional 10-years. 
There are two distinct notes about both Trex and Fiberon's warranty to mention.
Labour Warranty
This is a new development in composite decking warranties. The labour to install decking is often as much or more than the cost for the material. Covering labour makes sure you are not on the hook for labour if the decking fails. Increasing the value of the warranty substantially.
Both are limited to certified installers. This makes sense. I would not want to warranty work done by an untrained person. That's just foolish.
"Fiberon offers a five-year limited labor warranty on select products sold in the United States and Canada.

Fiberon
Fiberongives a blanket five years.If the installer has done the training, they warranty it for 5 years. Plain and simple.
Trex steps their warranty based on the contractor doing the work.
TrexPro 1 Year
TrexPro Gold 3 Years
TrexPro Platinum 5 Years
Trex goes into much more detail of what differs the companies. Simply put, the better the company, the more training and experienced the installer, the longer the warranty.
A small difference but something to be aware of. As a deck contractor, I like the idea of offering a 5-year warranty but actually support Trex's approach more. It just makes sense to have more faith in a more established company than one just starting out. A company with a good track record will do a better job, reducing the chances of failure.
Limited Residential Warranty
I am not a lawyer, so I may be overstating this difference but something that jumped out to me when comparing the two warranties.
Both Fiberon and Trex have exclusions, which makes sense. Common in almost all warranties and insurance policies, "Act of God." Yes, if the Almighty is going to destroy your deck, what can any company do about that. That's not a defect on their part.
But it's what Fiberon states it is not liable for.
"Normal wear and tear, abuse or neglect, including but not limited to, impact from objects;"

Fiberon
What kind of damage is considered "normal wear and tear is normal?" If walking on my deck is going to damage it, that is not much of a warranty. All of us anticipate that we will walk on our decks. That decking have better be able to handle a little foot traffic.
Giving Fiberon the benefit of the doubt, my gut tells me they are just trying to put out a limit. How many homeowners done terrible things to their deck and then said "I was just walking on it and it broke".
I have heard of many stories of bored workers seeing if they can break a Snap-On tool. Doing things to the tool that it was never intended for just to see if it could be broken. Then with a sheepish grin asking for a replacement because their tool broke and is guaranteed not to
Fiberon may be just trying to establish a limit. They stand behind their product, but they have an easy out if someone is trying to pull a fast one. If not, it's not much of a warranty.
All that being said. I like Trex's simplicity in their warranty. Regardless of the line or price, 25 years.
But I am impressed by the length of Fiberon's warranty. Who warranties wood composite decking for 50 years? Fiberon does. That's an extraordinary length of time. A little secret, I will not be filling out paperwork in 50 years, is simply a lifetime of deck enjoyment, not replacement value.
Trex vs Fiberon – Which is Better for You?
Now for the hard part, choosing which decking will be right for you for the next 25 or more years. Wow, that's a long time!
Comparing Trex vs Fiberon for
Number of colours
Realistic wood grain
Durability
Price
Traction
Warranty
Fiberon wins!
Overall, Fiberon has more decking colours (31) and a more realistic wood appearance. Fiberon is more durable, taking more force to damage the decking compared to Trex. With the longest warranty between the two, if not even the among on wood composite
decking.
The two areas where Trex is better are Price and Traction. Trex is better priced than Fiberon. If you need to stay within a budget, and we all do, Trex is easier than Fiberon. Even with the higher quality decking lines, Trex will simply cost less. 
If we remove PVC decking from Fiberon's lineup, Trex has the best traction. This is one of those things that is not weighted equally. Slipping on your deck is no laughing matter. Having six more colour options mean little to being safe on your deck.  But is it worth more than decking durability and warranty? Now that one is a little harder to answer.
In the end, it often comes down to appearance. Do you like the colour of the decking? Are the wood grains believable?
For colour, it can hard to distinguish between 20 or 31 shades of brown and grey. Some will say one is distinctly different, but it can be debatable.
Personally, I like the look of wood, even when I am working with composite. Fiberon decking is more realistic, with more authentic-looking wood grains. Even the streaking is more subtle and believable. But beauty is in the eyes of the beholder. You may be holding a Trex board in your hands and loving everything about it.  
There are many composite decking brands. Click the link to see some of the best composite decking brands
on the market.