After years of building composite decks, I have become aware of some pros and cons of composite decking. Combined with many hours researching composite decking, advantages and disadvantages.
Researching all the major composite decking brands
like Trex, Fiberon, TimberTech Azek and Deckorators, just to name a few.  Therefore I collect a list of the pros and cons of composite decking. 35 in fact. Not an exhaustive list of reasons to buy composite decking or not to but the most comprehensive list that I know of.
Capped Composite Decking Has Changed Everything.
This list has changed over the years with the introduction of capped composite decking. Which is now the standard composite decking.
In fact, MoistureShield Vantage™
is one of the few exceptions in the market that is not capped. If you want to learn more about MoistureShield, both capped and uncapped, check out  TimberTech vs MoistureShield. MoistureShield is unique in there manufacturing process with outstanding results.
The introduction of capped composite decking made many previous reviews of composite decking outdated. Since the problems that use to plaque early versions of composite are no longer a problem.
Problems like mildew growing on the surface of the decking.
I actually have a bench built from Trex decking that is over 20 years old. Uncapped with dark mould growing on the surface. Still strong as ever, but without the beauty it once had.
The addition of a cap resulted in more pros while reducing the cons of composite decking.

Capping took an okay product and made it amazing. But there are still some drawbacks of composite decking which we will get to but first the advantages.
What are the pros of Composite decking?
(19) Pros of Composite Decking
1. Requires Minimal Maintenance
If you would rather spend time soaking up the sun sitting in your gravity chair than on your knees sanding. Composite decking is for you.
There is much debate on how often wood decking needs to be stained.
But it doesn't matter if it a yearly chore or every 10 years like Behr solid Stain
claims. Composite decking will require less time maintaining.
The real answer is not what the can promise but if the wood decking fails the bead test
.
Unlike all other decking, requiring upkeep. Composite decking only needs to be cleaned. A simple scrub to remove whatever dust has collect and gunk between the boards, and you're done.
Less maintenance saving you both time and money. A huge advantage of composite decking.
2. Easy to Clean
Spills clean off like a vinyl floor.
Decks are great excellent for grilling on and enjoying food and company
. But with food companies, spills, ketchup, or grease drips onto the deck.
With wood decks, this can be hard to clean off. Especially grease, absorbed into the wood, leaving a dark mark on your deck.
"The Product will resist permanent staining from food and beverage items that may be spilled onto the surface of the Product, including items such as condiments (barbecue sauce, ketchup, mustard, mayonnaise), salad dressing and salad oils, grease, tea, wine, coffee, fruit punch, sodas and other food and beverage related items that would typically be present on a residential deck, provided that such substances are removed from the Product with soap and water or mild household cleaners after no more than one (1) week of exposure of the substances to the surface of the Product."

TimberTech Azek
Often cleaning is a simple as dish soap and water. A simple wipe and you are done. No fancy chemicals, special tools. Just a squirt of Dawn in a bucket, fill with water and a cloth from the kitchen, and you are good to go.
And you don't have to stop the party to clean up the spills. As long as you get to it the next day, there will be no staining.
Zuri
PVC decking gives you a full 30 days. But really, who wants Barbeque sauce sitting on their deck for a month?
For annual cleaning, you may want to use a brush with a long handle to make the job easier. Check with the brand for bristle type.
With most composite decking, you can even use a power washer with a wand tip. Just make sure to keep the appropriate distance from the decking and that the pressure is low enough as not to damage the decking.
Now that is easy.
3. A Price Point for Every Budget
From the entry budget decking like Trex's Basic Enhance or Fiberon's GoodLife collection, costing around $2 a lineal foot.
To the higher end PVC decking of Azek and Fiberon
priced around $7 a lineal foot. Considerably more than the entry boards but including some distinct advantages of PVC.
There are also many boards in the middle, costing roughly $5 a lineal foot. Ironically Trex's Best decking line Transcend is priced in the middle compared to other composite decking, which speaks a lot about Trex. The leader in composite decking but one of the most budget-friendly brands
.
Trex
is also the easiest to compare decking prices, grouping their decking as Good, Better and Best.
With so many brands and price points, you are sure to find a composite decking that fits with your taste and budget.
Most quality composite decking brands offer grooved board options for field deck boards held in place with clips removing unsightly screw heads from the decking surface.
Hidden fasteners also create consistent gapping between boards.
Hidden fasteners allow you to enjoy the beauty of the decking unmarred by screws.
Which also helps to keep the deck cleaner by removing dirt collection points on the decking.
I always recommend dressing up decking with a picture frame border
or even with transition boards where clips cannot be used cortex plugs hide screw heads.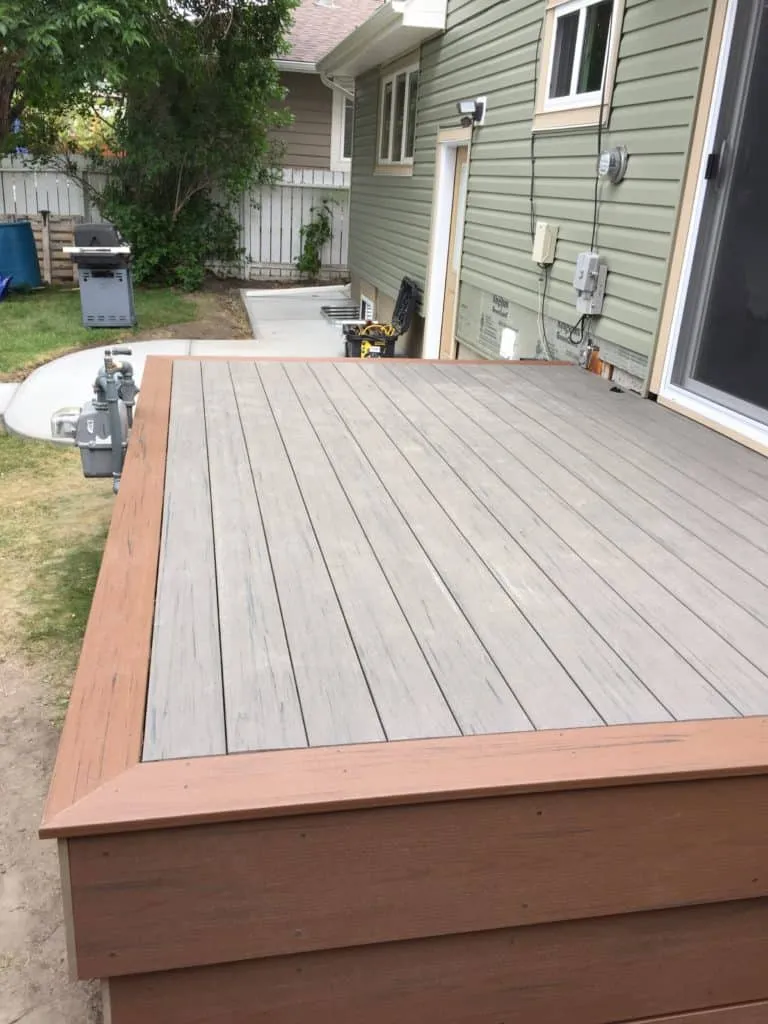 Fiberon is one of the best for this. Even their budget-priced scalloped boards are thick enough that you can still use cortex plugs to create a clean finish around the edge of your deck.
5. Consistent Decking Dimension
This is super important when you have a transition border or butt joints of decking.
With consistent widths of composite decking, the decking gaps will line up on both sides of the transition board. Creating a beautiful aesthetic appearance. With every perfectly lined up decking.
I recently built a 5/4 treated deck of which the boards varied from 5 3/8″ to 5 5/8″. Halfway through the deck, my gaps hit the middle of the board on the other side of the transition. The growth was frustrating.
But with composite decking, this is not a problem. All the boards are consistent in size.
6. Water Resistant
If anything is going to damage your deck, it is going to be water. With water comes rot, mould and mildew.
Composite decking has none of these problems.
Composite decking does not absorb water like wood. You can read more about composite decking water resistance
by clicking the link. Some brands are better for water-resistant but all absorb less water than wood decking.
Deckorators
mineral-based composite is one of the best, absorbing less than 0.05% of water after soaking for 24 hours. That a full day in water.
MoistureShield, with its encapsulating technology, is one of the best for water contact.
With MoistureShield, you can build your deck or dock underwater with no worries about being damaged from water.
But for most decking, it's the cap that protects the decking from water.
Both Fiberon's Concordia and TimberTech Pro series are capped on all four sides sealing out water from the decking core. 
7. Enhanced Traction
Okay, this is not universal. Some composite decking has very poor traction, but many provide better traction than standard wood decking.
Zuri PVC decking is one of the best for traction, followed by Wolf Serenity
.
When comparing, you will find that most of the top performers are made from PVC.
Armadillo, when wet is one of the better performing composites for traction
.
Trex, with its deep wood grain embossing, grips your feet both dry and wet. Providing good traction
to enjoy your deck on.
8. Wide Variety of Colour and Finishes.
Most composite decking brands offer your Greys, Browns, Reds and Blondes to choose from. Giving versatility in decking colour.  TimberTech
even has a white, Whitewash Cedar®. A distinctly different-looking colour.
Decking colours and finishes range with brands.
Fiberon
alone has 31 different deck boards to choose from. Add Trex's 20, Deckorators' 10, TimberTech
Azek's 27, and Moisture Shields' 18 colours, and we have over 100 to choose from.
But there is even more, when you add all the other brands.
NewTechWood
has an additional 16 colour options but with a dual finish. A subtle wired brush finish on one side with embossed wood grain patterns on the other. Creating twice the options.
Not only is there many colours to choose from but dark streaking and variation enhancing and separating boards from each other.
This is one of the distinctions between budget and premium. The better the quality, the more variation and streaking of colour.
"Inspired by reclaimed wood, the heavy wire-brushed, low-gloss finish showcases the classic cathedral wood grain pattern on these resilient boards."

TimberTech
Along with colour, there are many different finishes to choose from.  From Trex's deep woodgrain embossing to TimberTech subtle brush finish.
Composite decking gives you plenty to choose from.
9. Environmentally Friendly Being Made From Recycled Material.
We all want to do our part to help the environment and reduce waste.
Composite decking allows us to do this while still enjoying our homes. By manufacturing composite decking out of plastic milk cartons, bags and wood fibres. Material that would otherwise end up in the landfill.
"We are a recycling company that manufactures decking."

MoistureShield
Trex is one of the leaders in recycled content, manufacturing decking with 95% recycled content.
"The average 500 square-foot composite Trex deck contains more than 140,000 recycled plastic bags, films, and wraps."

Trex
Not only does composite decking divert trash away from the landfill, but it also reduces the harvesting of trees. Allowing trees to be used for other purposes.
"No tree is ever felled to make Fiberon Decking."

Fiberon
There is much more that can be said about how composite decking is environmentally friendly
. If you want to learn more, click the link.
10. Safe for bare feet
Kick your shoes off and enjoy being outside.
Composite decking has no painful slivers to ruin your fun.
No annoying screws, snagging of socks.
Composite decking is just good bare feet fun.
11. Composite decking will not rot or warp
Composite decking will always lay flat on your deck with no worries about decking cupping, trapping water and rotting.
In fact, new capped composite decking will not rot
. The organic material is wrapped and protected from the elements.
12. Is Insects Resistant
Composite decking is perfect for warmer climates, with termites and other wood-boring insects being insect resistant.
13. No Harmful Chemicals
Every read a stain can warning label? No need to worry about that with composite. You don't need to work with any harmful or dangerous chemicals.
Composite decking is resistant to insects and never needs to be treated with chemicals to deter insects or repel water.
Composite decking lasts for years without the use of chemicals.
14. Doesn't Require Paints or Stains
With composite, there is no yearly spring sanding and staining of your deck. You only need to give it a quick wash and enjoy.
More time enjoying your deck.
Less time and money spent working on your deck.
15. Increased Design Options with Curved Decking Boards and Railing
Traditionally decks were built square, limited by the lack of decking flexibility.
Composite decking changes all that, with the ability to bend decking into unique, curved boards to finish the edge of a composite deck.
This is not a DIY option, but an experience, skilled deck builder with heat bending equipment opens new deck design options. Out with the boring in with the curves.  
16. Composite decking has longer boards
Butt joints are ugly and an Achilles heel for decking. Composite decking longer boards, as long as 20′ (6m), allows wider decks without butt joints or borders. Improving the appearance of the deck and minimizing complications with butt joints.
17. Longevity of Decking
Quality composite decking will last a minimum of 25 years or more.
With composite decking, you will not need to plan or budget for future decking replacements. The length of time that composite decking lasts makes that unnecessary. Composite decking is made to last and will last.
Which is why composite decking includes such long warranties.
18. Extended Warranties
The standard composite decking warranty is 25 years. Cover structural, staining and fading. A good long period of worry-free deck enjoyment.
Trex so believes in their decking it doesn't matter if you buy their budget Enhance line or premium Transcend it all is equally backed with a 25-year warranty.
But if your looking for more TimberTech Pro collection adds an additional 5 years, a total of 30 years of coverage. Pro-rated of course, 100% the first 10 years and than decreasing 10% every two years after that.
If you want more decking warranty.
Fiberon is for you.
Goodlife Escape collection a 30-year warranty.
Sanctuary includes a full 40 years.
Concordia a lifetime, at 50 years.
Now that is a lifetime of deck enjoyment, all backed by Fiberon's fade and stain warranty.
Many of those warranties include even replacement costs. Paying for the labour if the decking fails in the first few years. Now that is reassuring because often labour will be as much as the decking. But companies like Trex, TimberTech Azek, Armadillo
and Fiberon all include labour for the initial life of your deck.
After reviewing the 10 most popular composite decking companies' warranties, I am impressed with how far they have come. Promising a lot but also clearly spelling out their expectations and how to ensure your decking will last.
19. Limited Fading
Almost every decking warranty promises that the decking will fade no more than 5 Delta E
. This means it will be barely visible to us commoners.
"The Product's color will not fade from light and weathering exposure, as measured by a color change of more than 5 Delta E (CIE) units. While the Product is designed to resist fading, no material is fade proof when subjected to years of exposure to ultraviolet (UV) rays and the elements."

TimberTech Azek Warranty
To notice 5 Delta E will require placing a new "unfaded" deck board beside one that's been in the sun for years.
The same affect can be produced with floor mats or carpets on your deck
. The floor mat sheltering the decking from the sun, retaining its full colour. But the exposed decking slightly fading. So, when you move the floor mat you will have a darker spot on your deck.
Most fading will happen in the first 12-16 weeks. It is often a good practice to not place mats and deck carpets on the deck until after a full season of sun. Then all the decking will be consistent in colour even after under the deck carpet.
One exception is MoistureShield Vantage™
an uncapped composite decking board which MoistureShield is very upfront will fade.
Ultra deck
also has two lines TRIUMPHTM and RUSTICTM which will fade significantly the first 6 months.
But these are more the exception than the norm. Most composite decking protected by its tough cap will fade very little in the sun.
Composite decking is not all positive.
There are also some drawbacks.
Disadvantages and reasons not to use composite decking.
(16) Cons of Composite Decking
1. Cost
I have talked with so many homeowners excited about building a composite deck until they hear the price. Then all the wind is blown from their sails.
Composite decking will often cost 3 times as much as 5/4 pressure treated decking.
Cost of composite decking
can be reduced by installing Trex's Enhanced Basics, which is specifically designed to compete with pressure-treated decking on price. But it will still cost more.
There is more to consider than simple price between pressure treated and composite decking. If you want a fuller discussion, check out Trex vs Pressure Treated.
2. Smaller Resale Return for Composite than Wood Decks
Adding insult to injury. You pay more for composite, but that doesn't mean that you will get more when it comes time to sell.
Unfortunately, when you sell your house, buyers don't appraise composite fairly. Only paying a fraction of what you paid for the deck. Ironically, according to Home Advisor, you will receive a smaller percentage when you sell than a wood deck.
75% average return for a wood deck
70% average return for a composite deck
A big disadvantage if you build a $30 000 composite deck and need to move in 2 years. You will lose around $9 000 with the deck during the sale, but with a wood deck only $2500. Part of that is simply the price of composite decking but also the percentage you recoup at the time of sale.
3. Permanent Composite Decking Colour
You would think this would be a positive, but for some people, change is golden. Not with composite decking. You don't have the option of changing the decking colour during annual staining.
You might love Fiberon's Warm Sienna today but will you in 49 years?
Hopefully, because that is how long you will be having a Warm Sienna deck. The colour is permanent and cannot be changed.
4. Unnatural in Appearance and Feel
Many composite decking boards are made to imitate wood, but they still don't have the look and feel of wood.
Azek's Mahogany from their PVC Vintage Collection® is close.Like really close to looking like wood but it's still not quite Mahogany. Compounded with the fact that it feels like plastic, not wood.
If you love wood and are willing to do the maintenance, you are probably better off installing wood decking.
5. Heavy Compared to Wood Decking
On average, composite weighs 45% more than wood decking.
Deckorators WPC is one of the heaviest, weighing 2.38 lbs per lineal foot.
PVC decking will be lighter than most composite, and in fact, even as light as treated pine. Azek, for example, only weighs 1.55 lbs per lineal foot. Roughly the same as treated pine.
Scalloping of entry-level composite also helps. Initially done to reduce cost, but an added benefit is reduced weight.
This can be seen with Fiberon. Concordia, a solid composite deck board, weighs 19% more than GoodLife, a scalloped board.
6. Composite Decking is Not Structural
This becomes crystal clear when framing for a composite deck. Everything needs to be blocked and supported. There is no leaving the decking to support itself. If the decking overhang more than 1 ½" (38mm) it will need to be support.
With many composite decking, the brand limits overhang even more.
The extra blocking will increase time and cost to your deck construction.
7. Composite Decking is Hard to Move
Because composite decking is not structural and weighs more, making it is harder to move.
On a hot day, those beautiful 20′ (6m) boards will become spaghetti in your hands. Dragging on the ground behind you and pocking into the ground in front of you.
Better get a friend to help you carry them.
8. Composite decking Requires Special Fasteners
This is a pro once you are finished, but during construction, fasteners can be a con.
They are expensive compared to screws.
Trex concealed fasteners are one of the cheapest, but they can still add $1 a square foot to your deck. TimberTech requires CONCEALoc Hidden Fasteners, and they cost even more.
That is another drawback of specialty fasteners.
Brand limitations. Almost all composite decking brands require specific brand fasteners. Using other fasteners often voids the warranty.
One exception is Wolf Serenity PVC decking
. They don't manufacture grooved boards requiring special clips but recommended Camo Edge
Screws. Which cost significantly less than almost all other composite hidden fasteners.
9. Hard to Repair Surface Damage of Composite Decking
Composite decking is limiting in repairs. You accidentally gouge your decking while pulling the table on the deck. It can't be sanded out and re-stain, returning your deck to its original beauty.
Any scratches deeper than the polymer cap cannot be repaired. That decking board will need to be removed and replaced, which can be complicated with hidden fasteners (See #8)
To be fair, minor scratches on composite decking can be heated and repaired. But that only works for small scrapes and a steady, experienced hand.
10. Composite Decking Expands and contracts with temperature change
Because of this, constant expansion and contraction decking must be installed with the correct gapping to accommodate. A con in two ways for composite decking, first during construction.
Trex 2019 installation guide recommends 1/8″ (3mm) for temperatures higher than 40°F (4°C) but 3/16″ (5mm) for when the temperature is below for butt joints. A fairly common requirement for most brands.  
You also need to install your boards soon after cutting before the temperature changes. A 20′ (6m) board unattached can shrink a ¼" (6mm) or more. That board you perfectly cut yesterday in the heat of the day will be too short tomorrow morning, and there is nothing you can do about it. 
Expansion and contraction also limit decking design features. Many experienced deck builders will not use mitre joints with picture frame design because of expansion and contraction. It doesn't matter how perfectly you cut and install mitre joints on composites. The temperature changes, and they open up never to return to their former perfection.
An exception is Deckorators mineral-based composite which does not expand and contract with the weather. It is extremely tough to boot.
11. Composite decking can melt!
Melting is something that never had to be considered with wood decking. It may burn, be scratched or fade but never melt, but composite decking can.
Trex is the most upfront about this. Clearly stating that Trex can soften at temperatures as low as 176°F (80°C)
and outright melt between 250 and 350°F (121-177°C).
Making protection of your decking from extreme heat like a fire pit critical.
DeckProtect offers the most protection for your deck and is recommended by Trex. But there are other options and ways to minimize your decking from melting under a fire pit. Click the link to learn how and recommended fire mats.
Beyond heat from fires, composite decking can also melt from reflection from Low-E windows.
August 2, 2010, Azek Building Products announced that Low-E windows could damage composite decking.  
"Exclusions from Warranty Coverage: (4) exposure to, or direct or indirect contact with extreme heat sources including reflected sunlight from low-emissivity (Low-E) glass which may damage the surface of the product and/or cause the Product to fade;"

Azek Warranty
Azek is not the exception. Many other companies' warranties also not covering damage from reflective surfaces like Low-E windows.
12. Most composite decking can be hot on your feet
How much depends on colour and design, but aware that composite decking is hotter on your feet in the summer heat. With a south-facing unshaded deck during the hot summer months, composite decking may be too hot to walk barefoot on. A real con for composite decking.
There are some exceptions.
MoistureShield with their CoolDeck® Technology, claims their boards are 35% cooler than other composite decking.
PVC is also a good option. But the heat of composite decking is a real disadvantage in the summer sun.    
13. Comparison Shopping Is Required
Always compare Apples to Apples, right? This is hard with composite decking. Each brand and line of composite decking varies in the formula. From wood fibres, bamboo to inorganic (mineral) fillers like DecKorators® decking, they are all different.
On top of that is a large variety of cap finishes in texture, colour, and appearance. To truly get the best composite decking for you will require you to become an expert in not only one brand but multiple brands and lines of decking. With many trade-offs in formulas, colours, and texture to find the right composite for your deck.
14. Limited Post Use Recycling
Composite decking may be made from recycled material but is limited for recycling. The number one reason is the combining of organic and synthetic materials. Plastic and wood fibres combined together make great decking but recycle close to impossible.
Even when composite decking can be recycled, limit supply. Few composite decks are being replaced annually because of their long life span. Limiting facility to recycle old composite decking.
Making the end life of composite decking a con for the environment.
15. Requires Superior Substructure
Composite decking being a softer material variation between joists, will become more evident. With wood decking, a crowned joist in the middle of the deck is inconsequential. But with composite, the rise and fall of joists will create waves on the deck. Composite decking joist must be consistent to minimize waves.
There are solutions to prevent wavy composite decking.
One option is to use steel deck joists. Manufacture to exacting specification, they will provide a consistent joist depth and being steel I joist will be perfectly straight. A wonderful option but at a price. The steel joist will cost four times that of its wood equivalent.
Another options, which is what I generally do for composite decking to minimize difference between joists, minimizes waves in the decking.  But that is an article in itself. Click the link if you want to learn how to install deck joists for composite decking,  
Both solutions add to the complication of building a composite deck.
16. Class Action Lawsuits against Composite Decking Manufactures
When discussing warranties, I must address this issue. In the last 20 years, there have been many class-action lawsuits against composite deck companies. Spend a little time researching on the web, and this will become obvious, Trex in particular. I would like to suggest that a lawsuit does not necessarily mean that the company should be avoided.
Some off the lawsuits where because of being an innovator in a new product that companies oversold the promises of composite decking. Initially, to sell composite decking, companies spoke to highly of their decking, then they should have.
Initially sold as "maintenance-free," which sounded great. But "low maintenance" is more accurate of what is required for composite decking to be enjoyed for years to come
Overpromising resulted in lawsuits.
Other times it was an issue of reality that did not mesh with lab testing. Without 25 years in the field, you are only making an educated guess of how long it will last. This is understandable but, at times, became painful for homeowners—resulting in a lawsuit.
Here, you are best to look at how the composite failed in the past and how the manufacturer addressed it.
For example, mould spotting and colour variation. Fiberon solved the problem with a polymer cap to protect the decking core. Soon everyone was capping their decking.
Companies dedicated to finding solutions will strive to take care of their customers, even when they initially fail.
Which I think is worth more than if they hadn't made a mistake in the first place.
The (3) Biggest Pros and Cons of Composite Decking
With so many reasons to and not to make your next deck a composite it may be hard to decide. For they are not all equal in value, not being able to change your decking colour is a minor con compared to cost. How much will your new deck cost
?
So here are my top 3.
Top 3 Pros of Composite Decking
Maintenance
Hidden Fasteners
Consistent Decking Dimensions
Maintenance is the reason that composite decking was created and is still the number one reason for building a composite deck. Few of us have the desire or time to maintain a deck. We would much rather be one and done. Installing decking that will last for years without any additional work.
The look of fasteners are blemishes on a beautiful deck surface.
Hidden fasteners help to preserve the beautiful decking surface without dirt collection potholes or snagging socks on screw heads. Hidden fasteners take a deck from an 8 to 10 in appearance.
Speaking of appearance.
That could be on this list, but its not universal. The single colour, more budget-friendly composite decking is functional but not exceptional in appearance.
But when you get into the higher-end boards like Zuri, or TimberTech Azek Vintage and Harvest Collections, they are attractive in themselves. Looks are reason enough to install instead of wood decking.
And with those high-end boards, you better not use face screws. That would ruin a masterpiece.
Consistent decking dimensions play more into construction but also improves the overall appearance of the deck. I love the look of tidy rows perfectly lined up. Having consistent material makes this easier to achieve.
But there are elements of composite decking which are not consistent. This leads us to our top cons.
Top 3 Cons of Composite Decking
Cost
Decking Movement
Hot on Bare Feet
As I said before, the cost is often the deal-breaker.
Almost everyone would install low-maintenance composite decking if it cost
the same as wood. There are a few wood lovers who would not, but all others would if they could.
It is a large hurdle to get over, paying three times more for composite. Especially if you are on a budget.
But the way I see it, either you can pay it upfront or in maintenance payment over the deck's life. Many calculations have been done of how quickly maintenance cost adds up, making composite decking cheaper than wood.
Personally, I think most are over-inflated. They are factoring in more regular staining than required. Often annually. Where depending on where you live may not be necessary.
Just the other day, I was talking with a homeowner whose pressure-treated wood deck was 22 years old. He had only stained it 3 times. It could use a fresh coat, and some of the boards were starting to crack, but structurally he could enjoy his deck another 10 years. Lasting as long as many composite decks.
Which means for him. It was about even for cost. During the life of his wood deck it cost him about the same as if he had installed composite decking. Except he had spent 3 weekends and need 2 more spent sanding and brushing instead of soaking up the sun on his deck chatting with friends.
Decking movement plays a lot larger role during construction than any other time. If you account for it while building your deck, you will never need to worry about it again.
But since I spend more time building decks than relaxing on them, it's a big deal to me. Always accounting for movement, adjusting gapping according to the temperature. Knowing that what is a tight joint now will be a gapping eyesore tomorrow morning.
There are many ways to accommodate the decking movement, hiding fascia joints, providing room to move without making it obvious. Still, all these take time and experience knowing when and how.
A challenge that can be overcome but is still a con of composite decking,
We enjoy our deck the most in the summer, and most composite decking will get hot in the sun. Burning hot on your bare feet.
Heat is a problem of most flat reflective surfaces, including wood decking, but composite decking heats up faster and transfers that heat to your skin quicker.
There are ways to cool a deck down
to make it more enjoyable even during a heatwave but be warned. Composite decking will get hot.
Walk with care.
Did this list of Cons scare you away from composite decking?
Or did all the pros convince you it's the right decking for you?
You may have guessed already that I am a fan. After working with composite decking for years, going over this list just increases my love of composite decking.
But there are times when it may not be right. I still build wood decks.
Whichever one you choose, I hope you enjoy your outdoor living space for years to come. Enjoy your deck.
There are many composite decking brands. Click the link to see some of the best composite decking brands
on the market.