When choosing between Azek vs Wolf Serenity composite decking, there are several things to consider. Things like appearance, durability, traction, price, and warranty of the decking.
Wolf Serenity has 11 colours, Azek 10. Serenity decking is more rigid, while Azek is more scratch resistant with a better fire rating. Serenity has excellent traction. Azek a better-prorated warranty. Price is dependent on where you buy your decking, but the potential to save money with Serenity is higher.
That is saying a lot, but only if you understand how.
How much more rigid is Serenity?
How big of a difference is there in flame spread between Azek and Serenity?
Both with equal length warranty, does the prorating really matter?
How big of price difference is there between Azek and Wolf? Is it consistent?
I hope to answer these questions and many more by comparing these two PVC decking.
Before discussing decking differences, let's talk companies. Who are the companies making the decking for you to enjoy?
Azek vs Wolf Serenity as Companies
Something they both have in common, is they are both part of much larger companies. Azek, a PVC manufacturing company. Wolf, a home improvement distributor.
A Brief Introduction to Azek
Azek was started in 1983 manufacturing exterior home products. Since its inception, they have grown to become the world's third-largest manufacturer of PVC products based out of Chicago with a focus on low maintenance exterior building products.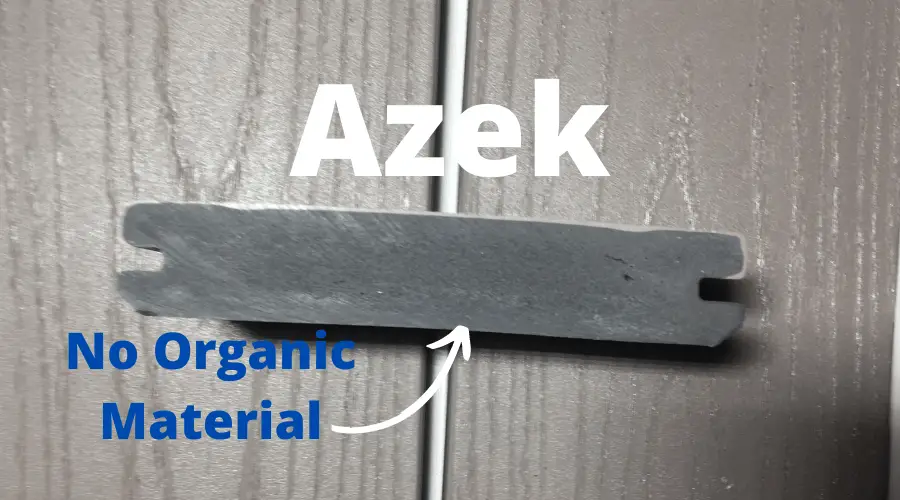 In 2007 they launched their first line of PVC decking.
"We make homes and structures more beautiful and more useful with leading-edge sustainable products."

Azek Purpose
In 2012 Azek and TimberTech
merge to create a company offering both PVC and composite decking. Despite the merge, their PVC decking
is sold as Azek, composites as TimberTech. Azek has grown to three collections of PVC decking Vintage®, Harvest® and their new Landmark Collection™.
A Brief Introduction to Wolf Home Products
Wolf Home Products was started in 1843 as a single store selling "dry goods and lumber". Just that says something about their age. Try to find a store today that sells "dry goods".
Wolf Home Products was started on the banks of Pennsylvania's Susquehanna River. Growing into a much larger company in the first half of the 1900s and is currently Headquartered in York, Pa.
Rapid growth again returned to the company in the early 2000s as they expanded beyond lumber with a variety of home building products.
In 2010 they introduced Wolf-branded products.
Unlike Azek, a manufacturer of home building products, Wolf Home Products is a distributor, and Wolf Serenity decking is their licence PVC decking. Manufacture by another company but licence and sold through Wolf Home Products and select retailers. Similar to how Veranda is licenced and sold through Home Depot but manufactured by another company, currently Fiberon (2021).
Azek vs Wolf Serenity – Decking Differences
One significant difference between Wolf Serenity and Azek is board profiles. They are both solid boards, except Azek offers a grooved board designed for hidden biscuit fasteners. Serenity does not. Only offering square edge boards, which changes installation methods.  
While initially shocking because almost all composite and PVC decking
include groove boards, the use of Camo can actually be a benefit.
Camo screws provide a stronger hold for the decking, reducing expansion and contraction, which is always a struggle with PVC decking. The edge fastening of the Camo screws still keeps the face of the decking beautiful while holding the deck board securely from the edge.
Compared to cortex plugs or CONCEALoc, Camo
screws are a deal, saving you hundreds on fasteners on your deck.
Interestingly TimberTech Azek in 2019 introduced the SIDELoc system for Azek. A Camo tool explicitly made for Azek decking.
But with Azek, you have a choice square or grooved deck boards. Wolf Serenity is only Square.
Decking Core
Both are PVC decking at their core have very similar attributes. No rot, no water absorption.
CCMC, when describing the product, uses slightly different wording.
"(Wolf Serenity) are exterior decking planks made of solid core foamed polyvinyl chloride (PVC) extrusions with a styrene copolymer cap layer."

Evaluation Report CCMC
Which Wolf calls HIGH-DENSITY CELLULAR™ TECHNOLOGY
"(Azek) are made from foamed polyvinyl chloride (PVC) and cellulosic fibre with ultraviolet (UV)-resistant additives and colorants."

Evaluation Report CCMC
But primarily, they are the same.
Azek is slightly heavier but not enough that you will notice while installing the decking.
| | |
| --- | --- |
| Decking Brand | Decking Density |
| Wolf Serenity | 640 kg/m3 |
| Azek | 661 kg/m3 |
Decking Cap
Azek and Wolf completely wrap their PVC decking top, bottom, sides, and Azek in the groove.
Wolf Serenity differs from Azek in that the underside of the board is also coloured. Creating a nicer-looking bottom surface for second-story decks, enhancing the ceiling appearance of patios under higher decks.
Azek newest decking line Landmark, also has a coloured underside, which is not included in their other decking collections. 
Azek's cap includes Alloy Armour to improve performance.
"Alloy Armour Technology® (AAT), is a proprietary alloy blend that provides improved performance characteristics, such as outstanding weather protection, UV protection, resistance to scratching, and improved colorfastness."

Azek
Wolf, not to be outdone, uses ColorWatch100 to protect against fading.
Both holding promise that the cap will do its job and more.
Azek vs Wolf Serenity – Decking Options
It is these caps that create the different colours and textures, creating decking options.
| | | | |
| --- | --- | --- | --- |
| Azek Decking Line | Number of Colours | Decking Profile | Capped Sides |
| Vintage Collection® | 5 | Solid | 4 |
| Harvest Collection®  | 3 | Solid | 4 |
| Landmark Collection™ | 2 | Solid | 4 |
Azek Vintage line includes light colour decking like Coastline® to Dark Hickory and many shades of brown in between.
"sophisticated, natural-looking colors with a subtle wire-brushed, low-gloss finish for an authentic wood look."

Vintage Collection®
Vintage wire-brush finish embossing is shallow, creating a smoother decking finish.
Vintage has consistent colouring, a sophisticated blend of shades with the occasional dark streaks.
"Traditional cathedral wood grain patterns and a soft, solid color palette"

 Harvest Collection® 
Harvest embossing is deeper, following the cathedral wood grain pattern.
"classic cathedral wood grain pattern is complemented by a rustic crosscut grain and matte finish. The dramatic, highly color-blended boards with cascading hues have highlights and lowlights in each board"

Landmark Collection™
Landmark is the newest of Azek's decking collections but falls in line with their purpose of "more beautiful" with its blend of embossing and wood grain options.
In my humble opinion, it is the perfect blend of the Vintage and Harvest, drawing from the beauty of each combined into one board.
| | | | |
| --- | --- | --- | --- |
| Wolf Serenity | Number of Colours | Decking Profile | Capped Sides |
| TROPICAL HARDWOODS | 9 | Solid | 4 |
| SEASIDE | 2 | Solid | 4 |
Tropical includes the usual colours like grey, brown, blonde and red.
"Rich, variegated colors with natural woodgrain texture"

TROPICAL HARDWOODS
Seaside light coloured, with the look of faded decking. Like something that has been on the beach.
"Cool, solid coastal tones"

SEASIDE
There are subtly differences in appearance between the two but not enough to separate the two clearly. Which really brings it down to personal taste.
"Beauty is in the eyes of the beholder."
Wolf has one more option to choose from, but we are not talking night and day differences in appearances. Unlike  Azek vs Zuri
, where Zuri has a distinctly different look.
Between Wolf and Azek, it's a matter of finding the colour and pattern you desire on your deck. That being said, they both have three "grey" options, and each is distinctly different. The brand will determine the look of your deck
.
Azek vs Wolf Serenity – Durability
Surprisingly despite both being PVC decking performing differently. With Wolf Serenity coming out as the stronger board compared to Azek.
| | |
| --- | --- |
| Decking | Concentrated Load @ 50°C |
| Wolf Serenity | 3.99 |
| Azek | 2.59 |
Serenity being roughly 50% stronger than Azek.
This can also be seen in sag or deflection between joists.
| | |
| --- | --- |
| Decking | Deflection under 0.89-kN Load, joists @ 16" (400mm) |
| Wolf Serenity | 5.46 mm (7/32") |
| Azek | 10.29 mm (13/32") |
As you can see, Azek will sink almost twice as much under your feet as Serenity. Which is probably why it recommended for framing to be 12" (300mm). To provide a little extra rigidity under your feet.
Decking Staining Comparison
For the accidental spills of ketchup, grease or beer, both caps can be easily cleaned up without staining if not allowed to sit on the deck. Wipe it up immediately or at least within the day, and you should be fine. Even with the occasional dried-on spill, scrubbing with a stiff, natural fibre brush using dawn mixed with water should remove most evidence.  
Warranty-wise, not to get ahead of ourselves, but both require all spills to be clean up within the week to prevent staining.
Resistant to Scratches
We never intended to, but dragging chairs on the deck, the occasional rock in the sole of our shoes can all damage decking.
This is why protective plastic, rubber, or felt leg pads under furniture are recommended to help protect the decking from being scratched from moving chairs
and tables.
Not significantly, but Serenity does scratch easier than Azek. Commonly if this happens it will be during transportation before the decking is installed. But something to keep in mind, if you have big dogs or lots of rough activity on your deck
, Serenity may not be a good choice.
An advantage of the Vintage collection is its wire-brushed finishes. The small "wire brush" marks act like camouflage, hiding minor scratches. They are still there to the observant eye. But like camo in the bush, it takes a keener eye to spot. Many little scuffs will simply disappear into the background.
Azek vs Wolf Serenity – Flame Spread
Grilling on the deck
has become an American pass time. One even us Canadians have embarrassed. But with fire comes the potential of disaster.
I highly recommend to always grill on top of a grill pad
to protect the decking from heat, grease and fire. 
In Wildlife/Urban interface areas, flames spread is even more important where you have the potential of wildfire sweeping across the region and burning your deck.
Azek and Wolf Serenity burn differently.
Azek's Vintage and Harvest collection are both third-party tested with a Class A (25) flame spread rating. As much as I can tell, I will assume the new Landmark collection is also. But at the time of writing, limited third-party data is available.
Wolf Serenity flame rating is low, at 90. Which is worse than pine, commonly used as treated decking.
Making Azek a much safer decking around a fire.
Azek vs Wolf Serenity – Traction
If your constantly getting rain showers followed by sun, the decking you choose is critical for how safe your deck will be. Water on any surface increases the risk of slips and falls. Decking is no exception.
I am not sure about you, but when it starts to rain, I race for the door, increasing the potential of slipping and falling on the deck.
Azek is interesting in that water increases traction
. When you need it the most, Azek has your back or at least your feet. Increasing deck safely when it rains.
But it is really disappointing how little traction Azek has when dry. Not quite a slip and slide, but that is low.
Especially since Azek is marketed as having "Best Slip Resistance".
With little difference between wet or dry Wolf Serenity consistently provides excellent traction.
If deck traction is critical for you, Serenity will be a better option.
Azek vs Wolf Serenity – Pricing
Pricing is always a tricky one, constantly changing from region to region, fluctuating with the season. In fact, just crossing the street at times can save you a few hundred on a deck. This can be hard with Wolf with its limited availability. It is stocked in far fewer stores than Azek. Still, this should give you a sense of the cost of Wolf Serenity and Azek decking
. At least in comparison to each other.
| | |
| --- | --- |
| Azek Decking Lines | Lineal Price |
| Vintage Collection® | $6.50 – 7.00 |
| Harvest Collection®  | $4.75 – 5.25 |
The cost of the cap finish is reflected between Azek's two lines. Vintage being their premium line with more colour on the boards, resulting in multi-tone boards. With not one, not two but a rainbow of shades from dark to light.
But this extra colour is not free. Vintage costing roughly 30% more than the Harvest collection.
| | |
| --- | --- |
| Wolf PVC | Lineal Price |
| Serenity | $3.00 – 3.75 |
You may remember that one of Wolf's goals was to provide economical PVC decking. Something they clear are doing. Being almost half the price of Vintage.
Be warned though, us up in Canada do not enjoy the same level of savings. Something about shipping to the "frozen north" diminishes these saving.
But in the States, if the budget is tight, it would be worth it to take a second look at Serenity.
Azek vs Wolf Serenity – Warranty
Before we get into the details.
Recently I heard a story from Wade from the Ultimate Deck Store, which gave high praise to how Wolf handles warranty claims. How they sought to do right by the homeowner. Looking first to make things right before worrying about responsibility. If this is their consistent practice, then possibly all the details between warranties will not matter. 
Still, let's understand what their warranties are, at least on paper.
Azek warranty
.
50 years, structural, fade and stain
100% replacement first 10 years
Depreciates 10% every 4 years after the first 10 years
Included is a one-time transfer of warranty between homeowners in the first five years. If you build a fantastic PVC deck, enjoy it for four and a half years. The next proud homeowner can still be protected for the rest of the 45 years.
Wolf Serenity Warranty
50 years prorated structural, fade and stain
Wolf's decking warranty is not a straightforward as Azek, which covers everything equally.
Structural, Serenity is covered 100% for the first 10 years, then drop by 20% every 10 years after.
This warranty can also be transfer to a new owner within the first 5 years of the deck's life.
Stain and Fade Warranties
Stain and Fade warranty of Serenity is a little more complicated. The first 10 years, 100% replacement value, then drops by 20% every 3 years, leaving the last 28 years at 10%. Resulting in very little protection beyond the first few years.
Many of us will indeed move before our decks get past 25 or even 10 years, but it is a significant difference.
Also, fade and stain warranty is limited to the original owner and cannot be transferred.
Beyond the prorating difference, Azek and Serenity have almost the same promise.
No fading beyond 5 Delta E.
Boards won't become stained if cleaned within a week of spills.
Small not, but Wolf specifically mentions that the use of paint or staining on the decking will void the warranty.
Well yeah, that makes sense. Don't try to change the product.
Labour Warranty
This is a new development in composite decking warranties
. The labour to install decking is often as much or more than the cost for the material. Covering labour makes sure you are not on the hook for labour if the decking fails. Increasing the value of the warranty substantially.
Limited to certified contractors. This makes sense. I would not want to warranty an untrained installer either.  
Azek labour warranty
. The higher the contractor's rating, the longer the labour warranty.
Member & Silver 2-4 years
Gold & Platinum 5-7 years
The maximum protection is provided if railing is included. The lower years for only the decking and fasteners.
Wolf is very clear in their warranty that labour and any cost associated with replacing the defective decking beyond the material is not included.
"5. Cost of labor, materials or the expenses incidental to the repair, removal, installation or replacement of the warranted product"

Wolf Serenity Decking Limited Lifetime Warranty
Meaning Azek has a better labour and overall warranty than Wolf.
Azek vs Wolf Serenity – Which is Better for You?
Now for the hard part, choosing which decking will be suitable for your deck.
Comparing Azek vs Wolf Serenity for
Appearance
Durability
Traction
Price
Warranty
For appearance, I can give no determination. You will need to spend some time comparing different decking samples. Contrasting one with the other. Seeing which colour best complements your house. This is going to come down to which one you love.
Durability is a tie.
Wolf Serenity is a stronger board, with less deflection. Giving you a firmer feel to your deck.
Azek, is slightly better for being more scratch resistant with a better flame rating. Both of these are only a value for a specific period of time. Scratch resistance generally only matters before the decking is installed. When most of the damage will occur. Fire rating hopefully will rarely matter, if ever. If you live in a Wildlife Urban interface area, this will be a must, but beyond that, using a gas/propane grill or fire table
and flame spread will not be an issue.  
For traction, Wolf is the clear winner. With almost three times the grip when dry and still better when wet. If slipping is a concern for you, Wolf or Fiberon
are good picks, but not Azek.
Price, I will give to Wolf Serenity. This is also much more dependent on where you live. In the States as a whole, your chances are better, in the North-East even better. But how Wolf decking is distributed and sold to retailers increases the chances that you will save money buying Serenity decking.
Azek has a better warranty than Wolf. Both are 50 years, which is an amazingly long warranty. Azek wins with a better prorating, especially for fading. Azek also, for the first few years, will cover labour with a certified installer. That alone can be worth as much as the decking.
Now it comes back to you and your dream deck. Is Azek or Serenity better for you?
If price or traction are critical, Wolf will be a good choice.
If a comprehensive warranty and protection against fire spread give you peace of mind, Azek is amazing decking.
Beyond those, it's going to come down to appearance. Which is entirely up to you. You cannot go wrong with either decking, for both are durable, low maintenance decking. But you will need to pick one that is pleasing to the eye that you will enjoy looking at. A destination that beckons you to come outside.
For design tips for whichever decking you choose, read 16 Deck Design Tips, Plus One I Personally Regret Not Doing.
There are many composite decking brands. Click the link to see some of the best composite decking brands
on the market.
 Enjoy your Deck!