When choosing between Fiberon and TimberTech composite decking, there are several things to consider. Things like appearance, durability, traction, price, and warranty of the decking.
Fiberon with 21 colours has more options than TimberTech with 17. Durable decking with good warranties, but Fiberon's warranty is longer with their premium lines. Fiberon is also priced slightly better than TimberTech, saving you a few dollars on your deck.   
That a lot to say in one paragraph. It would be good to develop and work out the details between the two a little better.
Saying Fiberon has more colours than TimberTech isn't very helpful in choosing between the two. But how the boards are finished is.
That is just one of many ways that a fuller discussion would be more helpful when picking between the two.
Before discussing decking, let's talk companies.
TimberTech vs Fiberon as Companies
As a deck contractor, I often find that knowing the salesperson or the carpenter makes a big difference in how I view their work or what they say. The same can be said about decking and decking companies.
So, let's start with a brief introduction to each company before talking about their decking.
A Brief Introduction to Fiberon
Fiberon was started in 1997 in New London, North Carolina. With a focus on selling high-quality composite decking, railing and fencing manufactured in an eco-friendly fashion. Resulting in a high percentage of recycled content and sustainable environmental practices. An impressive 98.5% recovery rate of manufacturing material waste diverting over 70 000 tons of plastic and wood away from landfills and incinerators every year.
"Decks should be enjoyed, not maintained."

Fiberon
 In 2007 matching their success, they opened a second plant in Meridian, Idaho. Allowing them to serve both sides of the continent efficiently.
Some of Fiberon's most outstanding achievements are its innovations and being a leader in development.
First capped composite decking with multi-chromatic technology
First PVC composite railing
First stain and fade warranty on capped composites
First moulded and embossed WPC decking
Customizable rail and baluster system
This focus on innovation translates into an extensive and dynamic decking offering. Which can be a double edge sword. If there is a particular deck board you love, you may want to build your deck this year because it may not be available next year. On the other hand, Fiberon regularly introduces new attractive decking options. Waiting next season may bring that fresh, unique deck board, with colour and design matched by no other that you will love forever.
A Brief Introduction to TimberTech
TimberTech was started in 1997 manufacturing composite decking
. Like all composite decking manufacturer, started with an un-capped board. But now, only sell capped composite decking with its enhanced beauty and protection.
TimberTech grew to become a leader in the composite decking industry. Currently, TimberTech has two manufacturing facilities, one in Wilmington, OH, and the other in Scranton, PA.
In 2012 they were acquired by Azek. The world's third-largest manufacturer of PVC products based out of Chicago with a focus on low maintenance exterior building products.  Azek, already having its own line of PVC decking
at the time of the acquisition, merged the two decking companies together.
"Our brand exists to challenge convention. To rage against mediocrity. We believe "Good Enough" is never enough. We are TimberTech."

Azek/TimberTech
Despite merging the two decking companies, they have kept their decking separate by offering different series. All the PVC boards are sold as TimberTech Azek. Simultaneously, the composite decking made with wood fibres is sold separately as TimberTech Pro and Edge series. Within these two series including 5 different collections, each with its own distinct advantages.
At the same time TimberTech Azek continues to manufacture PVC decking. Sold in three collections, Vintage®, Harvest® and now Landmark Collection™.
Now we know them a little better and their story and where they came from, let's compare what you will be installing on your deck, decking.
TimberTech vs Fiberon – Decking Differences
TimberTech Azek and Fiberon have made a comparison a little tricky with multiple decking offering composing of different materials. While still manufacturing wood-based composites.
I think for the sake of simplicity and comparing apples to apples. We are going to divide the two companies and their decking lines.
Here we are going to compare Fiberon and TimberTech wood-based composite decking (WBC).
To compare Azek's Vintage®. Harvest® and Landmark Collection™ against Fiberon's Promenade and Paramount. Read Azek vs Fiberon, Best PVC Decking for You? Which is focused on their PVC lines which, perform and are priced differently than Composite decking. Even within the same companies.
But for now, Composite vs Composite decking only.
Their other decking, not including any wood or organic material, is entirely a different category.
Full Disclaimer: My experience and research has led me to believe that PVC deckin
g is superior to Wood-Based Composites
for performance. But that does not mean they are for everyone. The majority of decks I build are still wood composites. There are many reasons to choose wood-based composites. Price is one of them.
Now with all that said, let's talk decking.
Please remember we are only talking Wood-Base Composite from Here on.
Decking Core
TimberTech composite is made from an 80% blend of recycled plastic and wood fibres
plus new material. The plastic helps to protect the wood fibres minimizing maintenance requirements. At the same time, the wood fibres reduce cost while increasing strength. Creating a beautiful, long-lasting decking requiring minimal upkeep. 
Fiberon decking has an impressive 94-96% recycled content. With GoodLife decking being the most environmentally friendly composite, decking is almost made entirely from recycled content.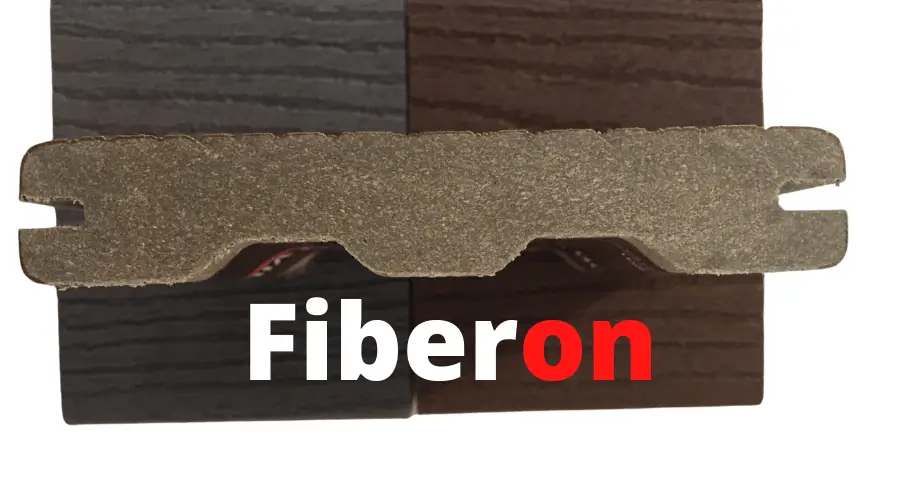 Both companies use scalloping to reduce cost and weight of two of their decking lines.
Fiberon's Good Life and ArmourGuard.
TimberTech's Terrain and Prime+ collections.
Important when you first buy and build your deck being lighter to carry on the pocketbook. Scalloping becomes irrelevant after as it does not affect the decking performance.
Scalloping does increase the importance of picture framing to finish the decking ends
but beyond that impacting the decking little.
So far, both TimberTech and Fiberon decking is similar, except Fiberon contains more recycled content.
Decking Cap
TimberTech and Fiberon cap their boards with high-density polyethylene (HDPE). A more durable material than the core's low-density polymer removes organic material from the surface, making the decking more resistant to water and the sun.
Improving the decking both in appearance and performance.
When it comes to the cap coverage, there are some variations.
TimberTech Pro series is entirely capped on all 4 sides.
TimberTech Edge is only capped 3 sides.
TimberTech Pro series also includes Mold Guard® Technology increasing the level of protection combined with the full coverage.
Similarly, Fiberon have both 4- and 3-sided PermaTech® capped decking.
Concordia is capped on all 4 sides.
Sanctuary, GoodLife and ArmourGuard only are capped on 3 sides.
Not only is Concordia entirely capped, but the cap is finished on both sides, making is reversible. Allowing you to flip damaged boards.
Fiberon and TimberTech's level of capping coincides with their price. The more expensive boards are entirely capped. The lower-cost decking is only capped on the top and sides.
A distinct difference between TimberTech Pro and Concordia is the groove. TimberTech fully wraps its boards, including inside the groove. Fiberon wraps the decking and then cuts in the groove, so the groove is uncapped.
The cap does more than just protect. It's what makes the decking beautiful.
TimberTech vs Fiberon – Decking Options
The capping finishes also changes the feel of the decking. Along with the blending of colours impacting the look of the decking. From solid colours mimicking painted decking to imitating exotic wood decking. 
| | | | |
| --- | --- | --- | --- |
| TimberTech Decking Line | Number of Colours | Decking Profile | Capped Sides |
| Legacy Collection | 6 | Solid | 4 |
| Reserve Collection | 3 | Solid | 4 |
| Terrain Collection® | 4 | Scalloped | 4 |
| Premier Collection | 2 | Solid | 3 |
| Prime+ Collection® | 2 | Scalloped | 3 |
So many collections, so many variations.
"complex blend of hues, natural board-to-board color variation, and a hand-scraped texture"

Legacy Collection
Includes Whitewashed Cedar, one of the cooler decking colours. It also includes shades of brown and grey to compliment your house.
"Inspired by reclaimed wood, the heavy wire-brushed, low-gloss finish showcases the classic cathedral wood grain pattern"

Reserve Collection
Reserve is the deepest embossed of TimberTech decking. All three colours are enhanced with dark streaking along the boards.
"traditional hues … range from solid to moderately varied and create a timeless look with a complex, rugged wood grain pattern designed to camouflage everyday wear and tear."

Terrain Collection
Terrain has the shallowest embossing and least streaking with different shades of brown and grey. This probably is their most wear-friendly decking. Less to chip, collect dirt or notice, making use much less noticeable.
Scalloped to reduce cost, making Terrain an affordable, low-maintenance decking option.
 "subtle, straight grain pattern and offer a painted wood look"

Premier Collection
Similar to Enhance Basics colours but missing the blonde option. Also, a solid profile, instead of scalloped increasing its price over Basic's.
"moderately varied hues. Featuring a subtle, straight grain pattern, … an authentic wood visual"

Prime+
With 21 decking options, you have plenty of choices with Fiberon for colour and performance. If you like wood but not the maintenance, Fiberon is for you. A consuming love of the look of hardwood wood is reflected in their board design. Many boards mimicking or outright looking like exotic hardwood flooring.
" Dramatic colors and streaking emulate exotic hardwoods, and the low-gloss formula and micro-texturing create a unique finish."

Concordia Decking
With two different finishes. The Symmetry Collection with a wire brush embossing, Horizon with a woodgrain finish. 
"bold, multi-tonal colors and rustic embossing"

Sanctuary
With a woodgrain embossing with 3 traditional decking colours brown, blonde and grey. 
"Authentic wood look features distinct grain patterns."

GoodLife
Within the Goodlife line are two collections, Escape with multi-tonal colours resembling exotic hardwood. Weekender is the reverse with solid colours similar to traditional stained decks. Both collections are finished with a woodgrain embossing providing grip.
"beauty and warmth of natural wood without all the expensive, time-consuming maintenance."

ArmourGuard
Finished with a woodgrain embossing.
As a whole, TimberTech has more colour options. Fiberon with many more shades of grey and brown.
"Beauty is in the eyes of the beholder."
This rings true with decking as much as art.
If you love a particular look, our conversation may end here.
Personal taste will significantly determine which decking is right for you. You have to love the look of your deck. Ugly is hard to overcome with performance.  
But let's try. How do TimberTech and Fiberon compete on performance?
TimberTech vs Fiberon – Durability
Decks are built to be enjoyed, not just seen.
Durable decking is valuable decking.
Decking that wears well under constant foot traffic, the occasional pulling of chairs and spilling of ketchup, grease and beer on the deck. Not that you intend to, but accidents happen. The decking must hold up against all life throws at or drops on it.
Fiberon has more third-party testing available than TimberTech. If you want to see some hard numbers and testing, you can read Trex vs Fiberon
, but we will use more experience and personal hands-on testing here. 
Decking Staining Comparison
Cleaning the decking is similar to cleaning vinyl flooring in your kitchen. The polymer cap is an incredible improvement for decking. Making clean-up so much easier than on a wood deck or even first-generation un-capped composite decking.
We will discuss this more under warranty, but TimberTech gives you a whole week to clean up spills.
Fiberon does not spell it out the same, but as with everything, the sooner you wipe it up, the less likely it will leave a mark.  
Scratch Resistant Decking?
My quick key scratch test has similar results both with Fiberon and TimberTech. The sharper the object, the deeper the cut.
As can be expected, scratches across the grains cut more profound and noticeable than with the grain. Similar results as wood decking.
Most items dragged over the decking will leave a mark but will not cut through the cap.
An advantage of Terrain and Symmetry are their wire-brushed finishes. The small "wire brush" marks act like camouflage, hiding minor scratches. They are still there to the observant eye. But like camo in the bush, it takes a keener eye to spot. Many minor scuffs disappearing in the background.
Protective plastic, rubber, or felt leg pads under furniture is recommended to help protect the decking from being scratched from moving chairs
and tables.
TimberTech vs Fiberon – Traction
If your constantly getting rain showers followed by sun, the decking you choose is critical for how safe your deck will be. Water on any surface increases the risk of slips and falls. Decking is no exception. The polymer cap of the decking repelling the water, creating a potential slipping hazard.
Fiberon is rated 0.31 – 0.4 for traction, with Sanctuary being the most consistent, both when wet or dry. Unfortunately, all are rated below 0.5, which is the bar set by CCMC for residential flooring traction.
This is one of the advantages of PVC decking. Fiberon's Paramount has twice the grip than their composite.
I wish I had current third-party testing for TimberTech boards, for we could go head-to-head for traction
with precise numbers. The higher being better.
Unscientific Rub Test
For comparing without lab numbers, the texture is often the best tell for traction.
Embossing making all the difference.
Legacy has the least grip of all the boards with its shallow embossing. The finish itself is smoother than the other boards. No hard numbers, just rubbing my hand over them.
But I think the results would be the same while walking on the deck.
The more deep woodgrain embossing helps to grip while you walk on them with all the other boards.
TimberTech vs Fiberon – Pricing
Pricing is always a tricky one, constantly changing from region to region, fluctuating with the season. In fact, just crossing the street at times can save you a few hundred on a deck. But this should give you a sense of the cost of TimberTech and Deckorators decking. At least in comparison to each other.
| | | |
| --- | --- | --- |
| TimberTech Decking Lines | Lineal Price | Decking Profile |
| Legacy Collection | $5.80 – 6.35 | Solid |
| Reserve Collection | $4.30 – 4.75 | Solid |
| Terrain Collection® | $3.35 – 4.05 | Scalloped |
| Premier Collection | $3.10 – 3.25 | Solid |
| Prime+ Collection® | $2.40 – 2.65 | Scalloped |
TimberTech, with so many collections, offers a wide range of decking to meet any budget.
The most expensive Legacy Collection which is almost $4 a linear foot more than their entry-level Prime+.
You may need to compromise with appearance, but you can find a board to meet your budget.
| | | |
| --- | --- | --- |
| Fiberon Decking Line | Lineal Price | Decking Profile |
| Concordia | $5.00 – $5.35 | Solid |
| Sanctuary | $4.23 – $4.60 | Solid |
| Good Life/ArmorGuard | $2.15 – $2.60 | Scalloped |
Concordia will cost you a little over $5 a lineal foot, or roughly $11.60 a square foot plus hidden fasteners and joist flashing.
A little less than Legacy but more than Reserve.
Good Life and ArmourGuard are tied as Fiberon's most economical board. Sold as budget decking, allowing people to upgrade from wood decking without breaking the bank.
For entry-level decking, Fiberon decking will cost you less than TimberTech. Not much but a few bucks over your entire deck.
Sanctuary solid profiles bring up its price above Terrain with its cost-reducing scallops. Not really making a fair comparison. One's solid, the others not.
Just talking money. Price. Fiberon is a better deal.
But there is more to decking than price; otherwise, we would all have pressure treated decks.
Warranty is one of those things.
TimberTech vs Fiberon – Warranty
TimberTech Edge series warranty
is the shortest, with only a 25-year stain and fading.
Moving up to TimberTech Pro
you get an additional 5 years for a total of 30-years of protection.
Fiberon's warranty
period is a little more complicated, with differences within decking lines.
Concordia is warrantied for an unheard 50-years for composite decking.
Sanctuary warranty is an amazing 40-years.
GoodLife Escapes matching TimberTech Pro witha 30-year warranty.
Broken out of the GoodLife collection, the Weekender warranty is reduced to 25-years. Which also includes ArmourGuard.
All warranties are prorated, full replacement for the first 10 years. After that, dropping at 20% increments for their 25 years warranties every 3 years. The more extended warranty dropping by 10% increments every few years depending on the warranty's length.
Length of warranty favours Fiberon with longer warranties. Especially Concordia's 50-year warranty. I have not heard of any other composites with such a long warranty, matching PVC decking length.
Fading Warranty
TimberTech and Fiberon are similar with fading warranty.
"Everything fades in the sun; their decking is no different."
But after warning about the inevitably of fading warranty against anything over 5 Delta E. In short, barely noticeable to the naked eye.
Fiberon does have an exception.
"Discoloration, fading, spotting or staining from or caused, in whole or in part, by mold, mildew, other fungal growth, organic materials, metallic oxides or particles … dirt, other atmospheric or environmental pollutants, foreign substances such as grease or oil, or chemicals, including but not limited to, those found in cleaners;"

Fiberon's Warranty
Not a serious concern. In short, if you clean your deck annually, this will not be a problem. They are just spelling this out. Some things can damage the finish and colour of their decking. Take care to remove these, and you won't have a problem. Don't, well, you have been warned and are on your own.
Staining Warranty
"Attempt to clean the affected area of the Product by using the cleaning procedures described above within one (1) week of exposure of the food or beverage to the surface of the Product."

TimberTech Warranty
For Fiberon, refer back to fading. They don't spell it out, precisely what is expected as TimberTech does. Get it done within the week. But still, the expectation is that if you don't clean your decking, it can become stained.
The cap is amazing, but it still needs to be cared for. This can be said about all composite decking.
Labour Warranty
This is a new development in composite decking warranties
. The labour to install decking is often as much or more than the cost for the material. Covering labour makes sure you are not on the hook for labour if the decking fails. Increasing the value of the warranty substantially.
This makes sense. I would not want to warranty an untrained installer.  
TimberTech labour warranty
limited to certified contractors. The duration is based on the level of the contractor who built your deck. The more volume of decking installed by the contractor, the longer the labour warranty.
Member & Silver 2-4 years
Gold & Platinum 5-7 years
The maximum protection is provided if railing is included. The lower years for only the decking and fasteners.
Fiberon's includes a 5-year labour warranty for Concordia and Sanctuary, excluding GoodLife and ArmourGuard. Good for the higher-end decking. I guess with the budget decking. You get what you pay for.
For your budget composite decking, TimberTech Edge has a better warranty. Same length of time as Fiberon but including labour for the first few years. It makes it slightly better. But as I said, labour is a new thing, not a deal-breaker in my mind. If the decking is good, not needing to be replaced, including labour, doesn't matter.
The higher-end boards, Fiberon's got it. Warranties of 40 and 50 years are incredible. There are few decks that will be enjoyed for longer. The promise that their decking will last that long is amazing.
TimberTech vs Fiberon – Which is Better for You?
Now for the hard part, choosing which decking will be suitable for you for the next 25 or more years.
Comparing TimberTech vs Fiberon for
Appearance
Price
Durability
Traction  
Warranty
Strictly based on warranty, if you're buying the entry-level decking, TimberTech's Edge is better. Looking at the other end, premium composite, Fiberon has you covered for a longer time.
Still waiting on third-party testing for durability and traction of TimberTech. Without those just working with the new decking, I would not rate one better than the other.
They both need to be improved for traction. Still, you can safely enjoy either without falling. Especially once you are use to your own deck's feel.
Which leaves us little to compare except warranty.
I see Fiberon, with its more extended warranty, promises more durability. Promising that your composite will last 50 years in my mind says it's durable. If not, Fiberon will be paying for a lot of decks to be replaced in the future.
If you are looking to save some money on your deck, except for the Terrain line. Fiberon will cost less. Not a significant amount but less than TimberTech.
I love the look of composite decking
. To the point where maintenance aside, there is an argument to install composite for aesthetic reason alone. Especially the multi-tone variegated boards. They look that good.
This can be said about both TimberTech and Fiberon.
They both make good-looking decking. Not the same, but beautiful in itself. Your personal taste may draw you to one board over the other.
I love the browns, but grey is the number one seller.
I will end with this. You can not go wrong with either Fiberon or TimberTech decking. If you find a look you love, install that on your deck.
If there is a tie between two colours. You will save a little money with Fiberon, and their premium decking will be protected longer. Which may be enough to help you choose. If not, flip a coin.
Enjoy your deck.
There are many composite decking brands. Click the link to see some of the best composite decking brands
on the market.