Looking to build a deck on the cheap? Well then, what is the most affordable decking out there. What decking is the most economical decking? I have built many decks over the years, and there is one decking material that I always recommend for people on a budget.
The cheapest, lowest cost decking material is 5/4 pressure treated decking. Priced as low as $0.75 a lineal foot but on average between $0.80 and $1.00 lineal foot.  5/4 decking material cost as cheap as $1.63 a square foot. For a 12' by 12', 5/4 treated decking material costing as little as $235. 
There is no decking material cheaper than 5/4 treated decking that will actually last. It is even cheaper than untreated 2×6, which, if installed on an exterior deck, will rot in seven years as it is not designed for the elements. It is not that 5/4 decking is low quality, but simply designed to be an affordable decking material.
Traditionally the most cost-effective decking was treated 2×6 boards, installed on thousands of decks as a budget-friendly decking material. It is slightly thicker than 5/4 decking and can span 24" (600mm) joist spacing but with an average cost of $1.10 a lineal foot or $2.40 a square foot. So for a 12' by 12' deck, 2×6 decking material will cost $350. Making the same deck with 5/4 decking a $115 cheaper.
Cedar decking is often hailed as a cost-effective decking resistant to rot. Which is true old-growth cedar naturally decays slower than untreated softwood but 5/4 cedar decking costs around $1.40 a lineal foot, $3.05 a square foot. The decking for a 12' by 12' deck with 5/4 cedar will cost, on average, $440. For the same decking thickness in treated, you will save $205 on decking material.
But Decking maintenance is not cheap
One of the biggest drawbacks of wood decking is maintenance. 5/4 decking is treated against fungi and insects but is not water repellent. Insects and fungi may not eat it, but it needs to be sealed against water to prevent deterioration.
Regular staining of decking quickly becomes expensive. Home Advisor
prices staining the average deck at $2 to $4 a square foot for material and labour. Making staining your decking more costly than the 5/4 decking material. At that price, you can just replace the decking every few years for less money. Harder on the landfill but easier on the wallet.
Another alternative is not staining the deck but sealing it. You can buy a 10-litre bucket of Thompson Water Sealant for less than $40 to seal an average deck. If you are not staining or changing the colour of the deck, you need only to clean off the deck, let dry and seal. Taking only a few hours and extending the life of the deck for many years. Making 5/4 treated decking when annually sealed the cheapest decking material.
If sealing the decking annually does not appeal to you, there are cheap low maintenance decking material. The advantage of composite decking is they don't need to be sealed or stain. Install and enjoyed, except for the occasional cleaning.
Cheap Composite Decking
What? Composite decking is expensive! Yes, it is but not as much as it use to be. Composite decking has drastically come down in price, but not all composite decking. The higher-end embossed colour variation composite decking is still expensive compared to treated decking. But there are lines of composite decking, which are cheaper.
Elegance is a hollow core composite decking material by Leadvision International
. Sold by Lowes and Rona as an economical low maintenance decking. Not as cheap as 5/4 treated decking, but averaging $5.50 a square foot is an excellent price for composite decking. To reduce the cost of the decking, the amount of material is reduced with six hollow cylinders inside the decking. Less material, less cost, but still, 5/4 treated decking is cheaper. A 12' by 12' deck with Elegance composite decking will cost $800 for the decking material. Making 5/4 treated decking $565 cheaper than Elegance but requiring more maintenance to last as long as composite decking.
Home Depot's in-house brand of composite decking
, Veranda. With two scallops on the underside of the decking to make it cheaper. Which feels and looks more like traditional decking but costing less at $5.20 a square foot. It is an exclusive Home Depot decking product, so you are limited in competitive shopping as only Home Depot sells Veranda, but as a budget decking is a good option.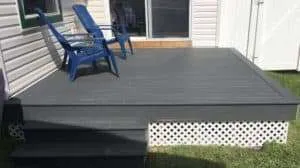 Trex
, the largest manufacturer of composite decking and the innovator of composite decking, in 2020 introduced a new line Trex Enhanced Basics composite decking. With a scalloped bottom but at the lowest price for composite decking. Limited to only three basic colours, hence the name but still with Trex's standard 25-year decking warranty
. A polymer capped composite decking costing
as low as $5.00 a square foot. The most economical, quality composite decking available to date. For a 12' by 12' deck with Trex Enhanced Basics composite
decking material costing only $720. 5/4 treated decking is still cheaper by $485 then Trex's Basics. But Trex Basics is a good deal for low maintenance decking
.
The Cheapest decking fasteners
Another thing to consider when evaluating the cost of decking is fasteners. The type of decking limits the type and cost of fasteners. Hidden fasteners for composite decking are not cheap. Trex composite hidden fasteners will cost around $1.35 a square foot of deck. Where if you use standard coated 3" deck screws faced screwed the screws will cost on average $0.16 a square foot. Making hidden fasteners eight times more expensive then screws for 5/4 treated decking.
To be fair, face screw is not the same look and durability as hidden fasteners. But even if you use Camo
edge screws, which protect the screws on the edge of the decking. To edge screw 5/4 decking will cost, on average, $0.33 a square foot.
Cost of fasteners for a 12' by 12' deck
| | |
| --- | --- |
| Coated deck screws | $80.00 |
| Camo edge screws | $164.00 |
| Trex Hidden Fasteners | $675.00 |
The above table clearly shows that regardless if you edge or face screw 5/4 decking, it is the cheapest decking and fasteners.
Finally, one last question about cost.
What is the cheapest way to do decking?
The cheapest way to install decking is Horizontal decking pattern faced screwed with 3" coated screws. Horizontal decking has the least amount of waste if the decking coincides with the length of the decking.
Standard 5/4 decking sizes of 8', 10', 12' and 16' allow you many options for deck widths. A deck of those widths has minimal waste, for you are only paying for the decking on your deck, not the offcuts headed to the landfill. Diagonal or even picture framing will add to the cost of the decking. The cheapest decking pattern is horizontal, with face screwing.
Conclusion of the Cheapest Decking Material
You don't have to be rich to enjoy a deck. It great to have a place to set a chair and put your feet up and enjoy the sun and the great outdoors
. If you are on a budget, the cheapest decking material is 5/4 treated decking.
If you would like to learn more about 5/4 decking, click here
to read the pros and cons of 5/4 decking. It is a good decking material, at a cheap price. Whichever decking you choose, I hope you enjoy the sun and your deck.