Trex may be synonymous with composite decking but has its own distinct pros and cons. Separating it from other composite decking. Trex decking has its own advantages and disadvantages. Why installing Trex decking can be better than other composite decking.
Of course, Trex shares most of the pros and cons of composite decking. Pros like low maintenance, durability being made from recycled material. And cons like expansion and contraction along with cost.
For a fuller list of pros and cons of composite decking
click the link to see my full list.
But here, we are going to focus exclusively on Trex decking's Pros and Cons.
Pros of Trex Decking
Trex's Multiple Price Points to Choose Between
Trex has several advantages in price point.
One is how they arrange and market their decking.
Trex groups their decking into Good, Better and Best.
When you are out shopping for decking, you can easily see which decking is in your price range.
If you have less than $2.50 a lineal foot in the budget, you have Basic Enhance decking to decide from. All rated as Good.
The Better group is a little bigger with both Enhance Natural and Select. Both are priced around $3 a lineal foot. Depending on your market, of course. What distinguishes Basic and Natural is colour. Pay a little more. You get streaking and colour variation.
Best is their Transcend Line. Which has the best colouring and cap. Along with being a full profile deck board. For less than $5 a lineal foot.
You can check out how Trex compares in pricing of other composite decking
by clicking the link.
But that is one of the biggest Pros of Trex decking.
When I discuss decking and homeowners want advantages of composite decking, but the budget is tight, I often bring up Trex. For compared to other composite decking, Trex is very affordable.
Affordable, not cheap.
I will explain that more later, but Trex is well priced but is not a garbage composite decking.
Basic Enhance can be as little as $1.83 a lineal foot. Competitive with pressure treated. Especially if you consider the cost of staining, added with the fact that it will last 25 or more years and it's a bargain.
Transcend is definitely more expensive than Trex's budget boards. It is in the middle of the pack for composite decking for price. But Transcend is Trex's premium board. Mid-range pricing, premium-level quality.
Pricing is a major plus with Trex decking.
Trex's Consistent Warranty Makes Shopping Easier
Another pro of Trex decking is warranty. It does not matter if you are buying their entry-level board or their premium. It is all backed with a 25-years, structural, fade and stain warranty.
Unlike TimberTech or Fiberon were changing the colour or how much you are paying for the decking may increase or decrease your coverage.
Not Trex.
The same warranty on all their decking. It just makes comparing and shopping so much easier. 
Trex's Transcend Superior Cap Performance
Trex caps all their boards with a polymer cap on 3 sides, leaving the bottom unprotected. Their argument is this allows any moisture that does get into the board a way out. Helping the board to dry out.
This is relatively common with many budget lines, both Fiberon's Sanctuary and Goodlife are only capped on three sides. Even TimberTech, who for years argued their boards were better being completely wrapped, now have Premier and Prime+ collections capped only on three sides.
The pro of Trex for cap is their Transcend line.
It is more scratch-resistant than their other decking. This became crystal clear to me when I installed Trex on two decks back-to-back.
The first was Basic Enhance line on a ground-level deck. The simple action of dragging a deck board over another could level a scuff mark on it. Despite minimizing the number of times, I moved the decking. In the end, there were scuff marks and small scratches on the decking.
My second deck was a raised deck, a walk-out, 10' from the ground with a long distance from the road where the decking was delivered. Down a long steep side yard of which I had to drag the long 20' decking down. Then lean against the deck, and pull the decking up unto the decking, rubbing all along on the board below and the rim joist. Then finally, shuffle them on the joists before installing. All that to say, not a mark.
Trex's Transcend is one durable cap.
Trex has Deep Woodgrain Embossing
Trex has one of the deepest woodgrains embossing on the market.
"Transcend decking's deep woodgrain pattern and luxury colors create a premium, ageless look that leave other composites in the dust."

Trex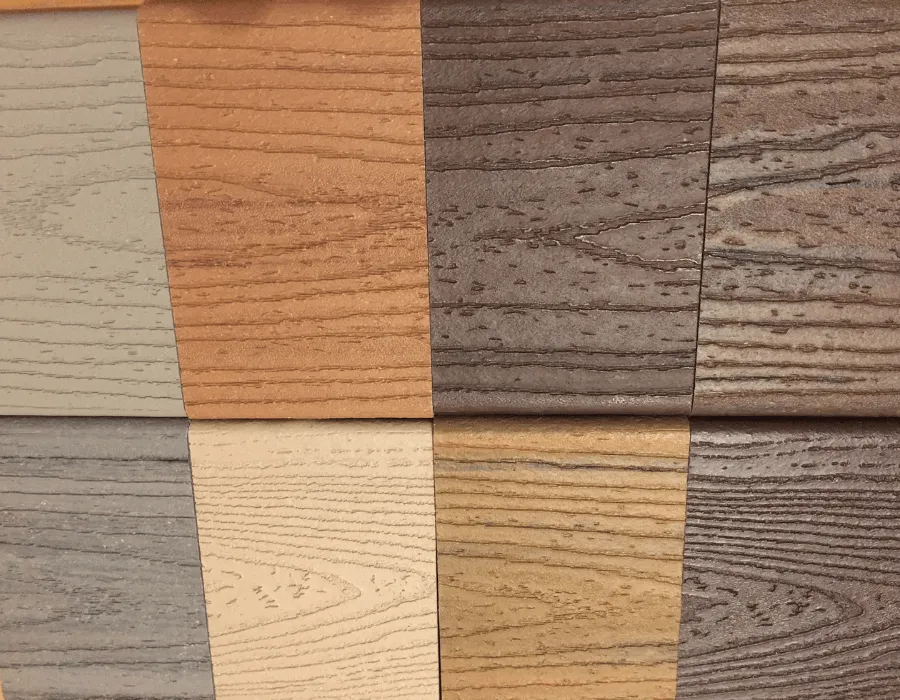 If you love the look and feel of woodgrains. Trex is the one for you.
Trex Traction Rating
Not the best traction rating of composite decking
, but it is the middle of the road. But Transcends traction improves in the rain. When you need traction the most. Trex gives you the grip you need.
Beating out many of Fiberon's budget lines for traction. To see how much, check out Trex's vs Fiberon
for a full comparison.
Trex's has many colours to choose from.
With 20 different colours to choose between. Trex has a colour from you.
Their Best line alone has 8 different colours. Including all the classic decking colours, Greys, Browns, Reds and Blonds.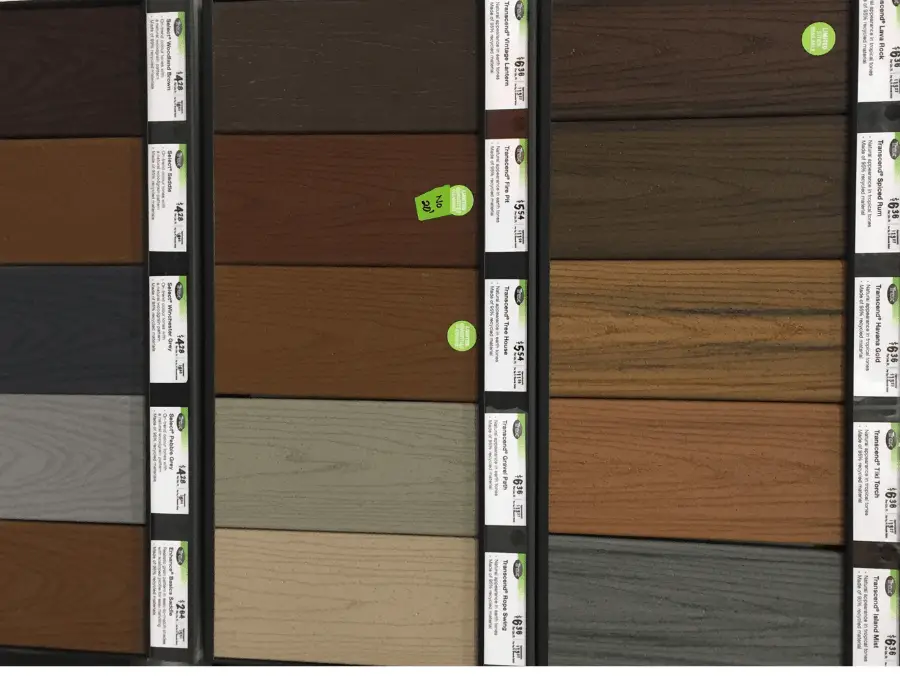 My personal favourite colour is Foggy Warf of their Enhance Natural's line. Which says something about the quality of their decking colouring. Even their budget line has beautiful colouring, enhanced by dark streaking.
Trex has a High level of Recycled Content.
Not unusual as almost all composite decking is made from recycled material
. But Trex consistently includes 95% recycled content for all their decking. A blend of roughly 50% used milk cartons and plastic bags blended with wood fibres waste from sawmills. Making a strong, durable material from waste that would otherwise end up in the landfill.
Almost every composite deck has hidden fasteners, but from my experience, Trex's are the easiest to install. A simple plastic clip with a small 90° screws driven straight into the joist.
The easiest to instal and the easiest to remove if the board becomes damaged.
No complicated angles, or special tools. If you can drive a screw, you can install Trex's decking.
Trex's fasteners are designed for DIYers. 
Trex's Top Pros
There are many things to love about Trex's, but these are my top ones of all the pros I just listed.
Trex sets the standard for warranty at 25 years. I love that regardless of how much you pay for your Trex's decking, the warranty is the same.
But the single biggest reason I install Trex decking is Price.       
Trex is not cheap, but their entry-level boards make composite decking affordable. Beyond budget, even their Best decking is well priced compared to similar quality decking.
These two big pros make a compelling case for installing Trex decking on your deck.
Even with many things to love, Trex has some serious cons. Reasons not to build with Trex.
Cons of Trex's Decking
I have written a fuller list of cons of composite decking in my fuller list of pros and cons. Sixteen cons, to be exact. Trex shares many of these cons, but three stand to me when thinking of Trex.
Trex's is Unnatural in Appearance and Feel
I know I said Trex has very distinct woodgrains, but no one will mistake a Trex deck for wood.
It may have woodgrains, but it still looks like plastic. Unlike Zuri decking, Trex
does not even have wood-sounding names for their decking.
If you want a wood-looking deck but without the maintenance. Trex is not for you. Better to look at TimberTech/Azek or Zuri
decking. Their decking is much closer in appearance to wood than Trex.
Trex is Uncomfortably Hot to the Touch in the Sun
There is no denying, composite decking gets hot in the sun.
Trex is no exception.
In the heat of the day, I often have to wear gloves while installing Trex to protect my hands from the heat.
Yes, things like shade and under deck ventilation help to make decking cooler, but Trex is still hot in the sun.
Uncomfortably hot.
If you hope to spend lazy summer days on your deck. Strolling barefoot across your deck. Better PVC decking, as Trex will be just too hot to the touch.
Numerous Class Action Lawsuits against Trex
Trex being one of the first innovators of composite decking has experienced its share of lawsuits. Many of them stemming from initially promising too much with their warranties plus initial product failures. Some of these failures and lawsuits were due to the use of inferior material. Not all recycled plastic is created equal.
Many of the causes of these lawsuits have been remedy with their now-standard cap. Which protects their decking better than ever before.
"For consumers who want decking that offers higher performance and less maintenance than the first-generation composite products, we developed and introduced Trex Transcend® in 2010. This revolutionary product has a proprietary shell that provides superior fade, stain, scratch and mold resistance. We even provide a warranty against food and mold staining, and color fading. More recently, we introduced two additional high-performance shelled decking collections, Trex Enhance® and Trex Select®."

Kaplan quoted by BusinessWire
Along with many other quality controls processes designed into their manufacturing process to prevent more lawsuits and decking failure. The Trex decking you buy today is not the same as their first-generation decking involved in many of their lawsuits. Making many of the worries about previous lawsuits irrelevant, but it is still a con about Trex decking.
There are many composite decking brands. Click the link to see some of the best composite decking brands
on the market.