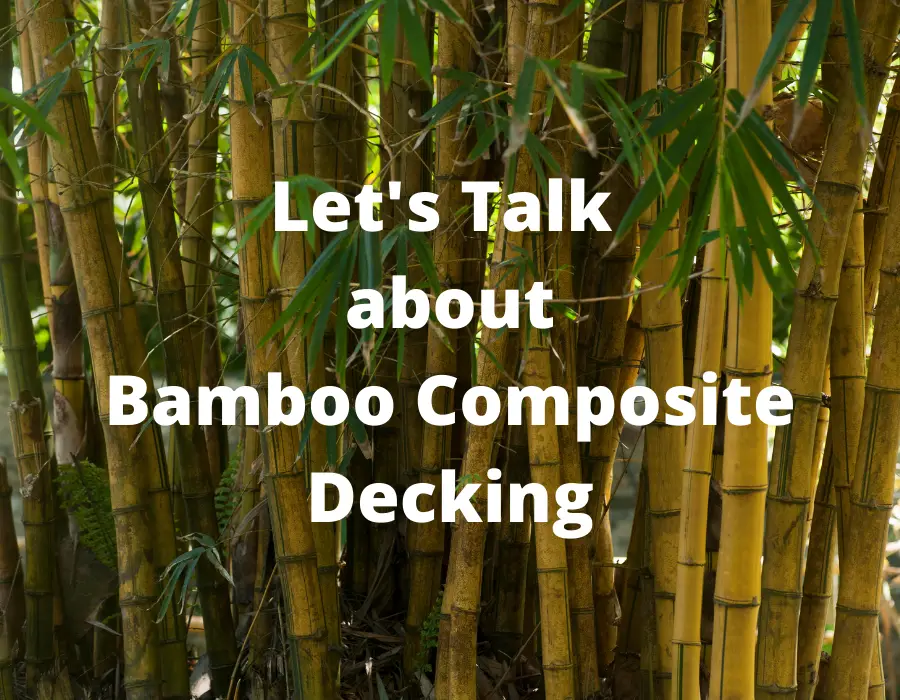 What Is Bamboo Based Composite Decking?
Low-maintenance decking has grown in popularity with the introduction of composite decking in the 90s. Wood-based composite is the dominant variety but is not the only composite decking option. A relatively new option is bamboo composite decking.
Raising the question, what is bamboo-based composite decking?
Bamboo-based composite decking is a blend of recycled plastic and bamboo fibres. A low-maintenance decking with superior strength and durability compared to many other decking options.  
But that only starts to scratch the surface of bamboo composite decking.
In the next few minutes, I will further explain its pros and cons, plus how it compares to the more popular wood composites decking
like Trex and Fiberon.
Before we get there, let's back up and little and better introduce bamboo-based composite decking. Starting with what it is made of.
What Is Bamboo-Based Composite Decking Made of?
Bamboo composite is made from a blend of plastics and bamboo fibres extruded together.
The plastic improves the durability of decking, reducing the need for maintenance.
The organic component of bamboo increases the strength, rigidity and stability of the decking.
The type of plastic used varies by company.
Some companies blend bamboo with recycled High-Density Polyethylene (HDPE) to form their composite decking. High-Density Polyethylene is a petroleum-based product with high tensional strength and resistance to impact. Everyday use is milk jugs and shampoo bottles, which are often the source of recycled plastic for composite decking.
Other companies blend the bamboo with PolyVinyl Chloride
(PVC). A very popular synthetic plastic polymer. Companies like Azek, Fiberon and Clubhouse, to name a few, make pure PVC decking with lifetime warranties. The blend of the two is not as common.
But with the benefits of bamboo in decking being realized. The mixture and the number of companies that make it is increasing.
Constant experimentation occurs, and companies constantly find new ways of making bamboo composite. So you can expect the list above to change. It is also important to remember that many companies use recycled plastics to limit their environmental impact.
Companies That Make Bamboo Composite Decking
Not as numerous as wood composite, but here are a few manufacturers of bamboo composite. Each with its unique designs and material blend.
The Pros and Cons of Bamboo Composite Decking
The addition of bamboo brings some advantages and, of course, disadvantages.  
The Pros
Sustainability: unlike most types of wood, there is no need to cut down trees. Bamboo replaces itself in 4-5 years.   
Strength: bamboo has excellent mechanical properties, making bamboo composites stronger and less receptive to water. Bamboo-based composite is so strong that studies are being done to see if it can replace concrete buildings.
Low maintenance: Would it not be better to spend time enjoying your deck instead of sanding and staining. Composite decking requires minimal maintenance compared to traditional wood decking. 
Durability and longevity: bamboo-based composite can withstand snow, rain and even hail. Because of its long lifespan, it will still be in good shape years from now.
Termite Resistant:  Bamboo's high silica content makes it difficult for termites to digest making it undesirable for insects.
The Cons
Availability: depending on where you live, you might struggle to find a company that sells bamboo composite decking. Which can also increase cost if paying for shipping.
Cost: it isn't necessarily the bamboo composite that is more expensive than other composites, but composites initially will cost more than pressure-treated decking.
It is heavy: Composite decking, including bamboo, is heavy compared to wood decking.
 Advantages of Bamboo Over Wood-Based Composite Decking
I know; I have just discussed the pros and cons of using bamboo-based composite. However, let's compare bamboo directly to wood-based composite.
What are some of the advantages of going with bamboo composite than wood?
To do this, we need to look at 3 key areas.
Neither bamboo nor wood composite is waterproof
. Instead, they are water-resistant. However, bamboo is more water-resistant than hardwood. Absorbing up to 90% less water than wood. Reducing the chance of rotting.
When comparing traditional hardwood with bamboo, the latter is up to three times stronger. Which also gives a more rigid feel under your feet with the decking flexing less beneath you.
However, composite decking varies in strength between brands and lines making comparison a little more tricky.
Environmentally Friendlier
This one is a little complex because most wood-based composite brands will use high levels of recycled material.
Reducing their environmental impact.
But on the whole, using a rapidly replacing bamboo compared to trees is more sustainably and thus more environmentally friendly.  
This one is a little complex because most wood-based composite brands will use high levels of recycled material.
Reducing their environmental impact.
But on the whole, using a rapidly replacing bamboo compared to trees is more sustainably and thus more environmentally friendly.  
Summary Of Bamboo Based Composite Decking
Bamboo composite decking may be harder to buy than the more popular wood composite decking, but there are some significant advantages to using bamboo decking on your deck.
Bamboo composite comes with all the advantages of wood composites plus its own unique benefits.
Pros like increased rigidity and strength with lower water absorption rates than wood. Plus, the peace of mind knowing that no trees were cut down in the making of your decking. Along with the hope of many years of deck enjoyment because of the incredible durability of bamboo decking.
But there are some significant reasons not to use bamboo composite decking.
With limited companies manufacturing bamboo decking, the decking options are fewer. Currently, we have only found 4 companies that make bamboo composite decking which pales in comparison to the more than 40 brands of wood composite.
As consumers discover the advantages of bamboo composites, I could see this number increasing but currently is much less than wood.