Armadillo is one of many composite decking brands that has caught my attention. Demanding a review to know what Armadillo decking brings to the table or should I say, deck being a low maintenance decking.
What to Consider Before Buying Composite Decking
In a much broader sense, Armadillo is a composite decking which is ideal for homeowners looking to spend more time on their deck, not maintaining their deck.
Like seniors, not wanting to spend days every year on their knees sanding and staining but rather sunning or playing with the grandkids on the deck.
Or many of us still in the rat race just don't have time for deck maintenance. After all the hours at our job and the commute, its crystal clear you want a place to come home to and relax. To unwind from the day, not work on your deck.
But composite decking, including Armadillo, is not for everyone.
Armadillo is expensive compared to pressure-treated decking. Like all, composite decking will cost you more to build. Removing everyone with a small budget. More on that later.
This becomes doubly true if you plan to move in a few years. Composite decking is a long-time commitment because of its lower resale value than wood compared to the initial cost of the decking.
But all these are true for all brands of composite decking
. What are the features of Armadillo that are unique and make it the right composite deck board for you? 
Armadillo as a Low-Maintenance Decking
Armadillo is a fully wrapped composite decking with a limited number of colours. As value composite deck board is an affordable composite deck board. But even with the limited number of colours, they include a great deal of colour variation, which is surprising at the price point.
A distinct difference between Armadillo compared to Trex, one of the leaders in composite decking, is capping. Armadillo is capped on all four sides, and Trex is only three. The capping is similar to Timbertech, which on its higher-end boards also caps on all four sides, including the groove. Unlike Fiberon, which cuts through the wrap for the hidden fasteners groove.
A common complaint about composite decking is the plasticly look and feel. Armadillo decking is part of this problem. If you like the feel of wood decking, Armadillo is not a good fit. Its smooth, shining cap is clearly plastic. There is no mistaking it.
These are just two of the pros and cons of Armadillo compared to other brands. Here are a few more to think about.
Pros
Price Point
Recycled content, 100%
Full Capping of board
Cons
Limited Colours
Traction, lack of
Plastic appearance
Brief Introduction to Armadillo
Unlike many composite decking, Armadillo is part of a much larger brand, Avon Plastic. This may explain the plastic feel. It's a plastic company. An older company that started manufacturing composite decking in 1996 later became Armadillo in 2010. Not the first on the market but in no way the new composite on the block.
Features & Benefits of Armadillo Decking
Now, what is unique about Armadillo, and what benefit does that provide?
Decking Core
Let's start with the heart, the core of the decking. Like most composite decking is made from a 50/50 blend of wood fibres and plastic. Armadillo is one of the few that contains 100% recycled material.
The wood fibres are from scraps from cabinet shops. A high-quality wood fibre. This may be the reason why their decking is harder than many other composite deck boards. With an 8.1 Kn rating.
Decking Cap
Armadillo cap separates it from many other composite deck boards with a complete full wrap. Including the groove, ensuring complete core protection against moisture. A common failure of earlier versions of composite decking.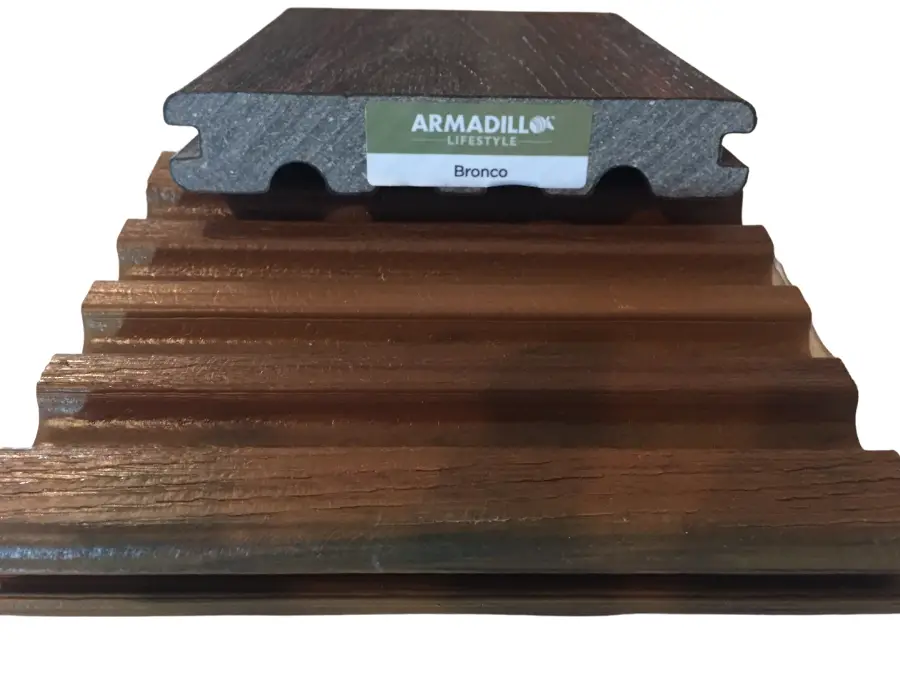 Plus, the underside cap is textured. Giving it a nicer-looking underside. A benefit for walk-out decks where you may enjoy the patio under the deck as much as the top of the deck in summer. Cool shade with a good-looking decking overhead.
The exception is their Commercial line which is uncapped.
Armadillo Decking Colours
Armadillo only has 7 colours in its LifeStyles decking line.
Campfire
White Sand
Bronco
Foothills
Smoke
Sunset
Walnut
Only missing the "blonds" in your common decking options but still having the reds, browns and greys.
Essential has fewer colour options.
The Armadillo Commercial Composite Decking line has only one colour option.
Armadillo Traction
The standard acceptable traction for flooring, including decking, is 0.5. Armadillo falls short on this one. No pun intended. 
| | |
| --- | --- |
| Dry | 0.22 – 0.26 |
| Wet |  0.43 – 0.54 |
It barely makes the grade when wet but nowhere close when dry. Which is a negative characteristic of Armadillo decking. Armadillo decking is less slippery when wet
but overall does not provide good traction.
Scalloped Board Profile
 Like, many lower costs composite decking, Armadillo is a scalloped board. With less material, the cost for the decking is reduced, and it also allows the joists under the decking to dry better with more air circulation.
Cost of Armadillo
Armadillo Lifestyle decking is a budget board for price. Sold in the range of $2.50 – 3.00 a lineal foot.
Making the benefits of low-maintenance decking more affordable. This is especially true compared to most composite decking costing between $3 -6 a lineal foot. 
Click the link to see how it compares to other composite decking for price
.
How Long will Armadillo Last? Based off Warranty
Armadillo's Lifestyle is back by a 25-year warranty. Commercial only 10 years, but we will focus on their residential line, Lifestyle.
Twenty-five is the starting level for decking warranties. Most quality composite brands will provide at least this long, but many, like Fiberon, MoistureShield and Timbertech offer much more
.
The warranty is against checking, splintering, delaminating, rot or structural damage from fungal decay. All are very important but also very basic for composite decking warranties.
Included in the warranty is a mention of claims for stains. Giving the homeowner up to 1 week to clean the spill up, at which time it should not affect the decking. A good deal of time for cleaning up your deck.
Something new for composite decking warranties
is labour. Many are now offering to pay for labour if there is a warranty claim, which is a big part of the cost of a deck.
Armadillo is on the lower end with only 2 years with some limits. But chances are very high if there is going to be a significant manufacturing defect, you will discover it within the first couple of years.
Beyond that, their decking has a good prorated warranty. More focus on structural but including fade and stain.
Alternatives to Armadillo to Consider
Not sold yet on Armadillo? Maybe are closer comparison with other brands would be helpful.
Click the links below to read some direct comparisons.
Conclusion in Reviewing Armadillo Composite Decking
It is not the cheapest on the market but is priced to be affordable. Compared with many other composite deck boards capping and appearance is what I believe set it apart. It is fully wrapped, which I am a fan of. With a distinct appearance. Love it or leave it.
You won't go wrong installing Armadillo composite decking on your backyard deck. It is a quality composite deck board option, with a decent warranty ensuring you will enjoy it for years to come.
Whatever you choose. Enjoy your Deck not Doing Maintenance!