When building your own deck, there are a lot of things to consider, but one thing that you don't want to overlook or forget about is the deck railing. 
The deck railing is an important part of your deck as it helps prevent people from falling from decks, making it safe for everyone to use. Along with adding to the deck's aesthetics.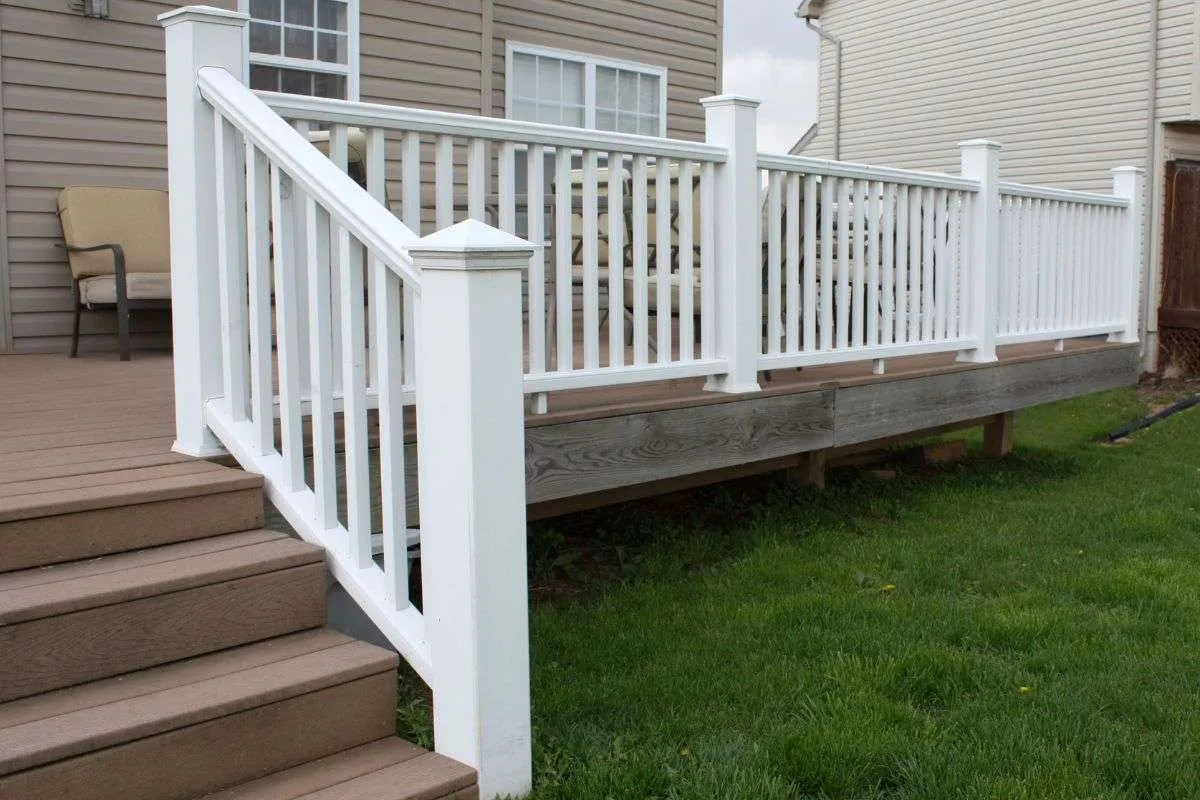 Selecting the right railing material will have a huge impact on its appearance.
There are 6 popular types of deck railing.
Which you should consider when deciding which deck railing material is right for you and your deck.
So, check out the guide below! 
Wooden Deck Railing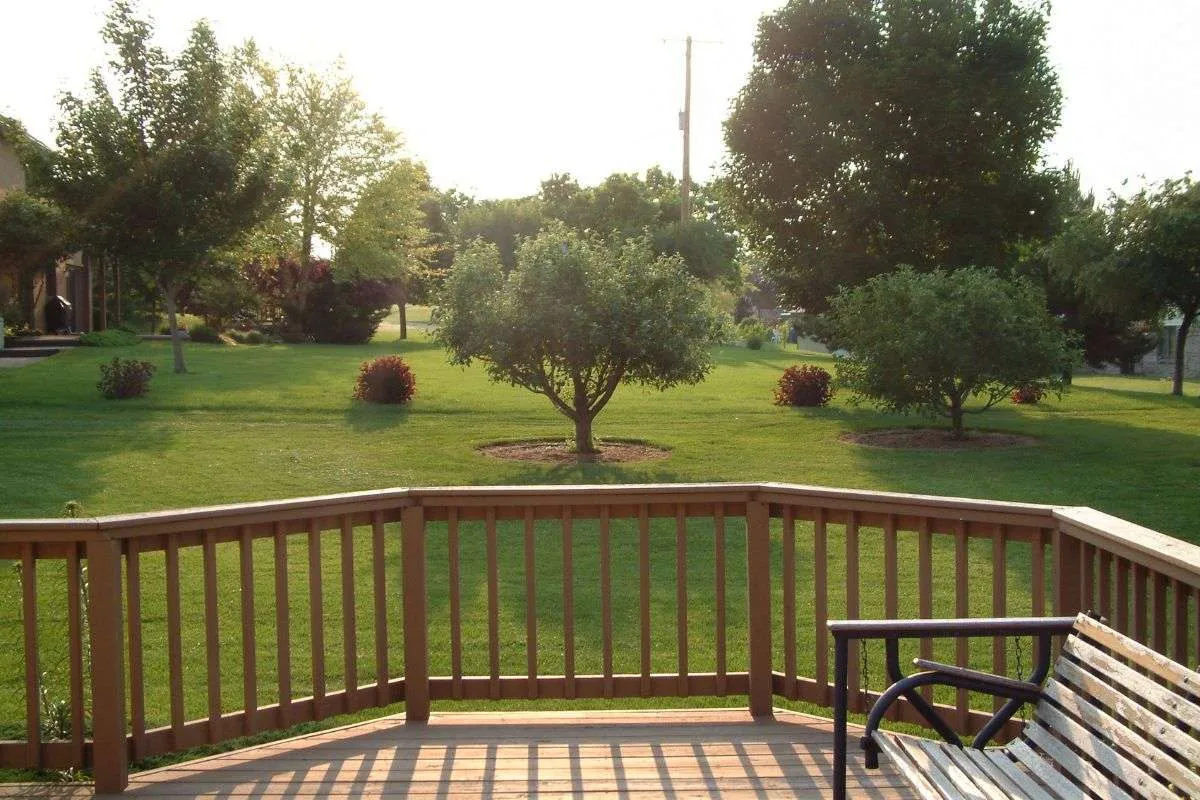 One of the most popular types of deck railing is a good old wooden deck railing. 
Wooden decking is very popular as wood is used to make the substructure, posts, and boards of most decks.
As a result, it's natural that wood is also one of the most popular materials used to make the railing too.
Types Of Wood Used For Deck Railing 
Popular types of wood used to make railings include oak and pine, as they are durable and very aesthetically pleasing types of wood.
However, almost all wood used for deck railings (along with the rest of the deck) is treated wood.
Treating is done by combining the wood with preservatives and chemicals while it is under pressure.
These chemicals help prevent rot and decay fungi from eating away at the wood over time and prevent pests. As a result, treated wood lasts five times longer than untreated wood. 
The Pros And Cons Of Wooden Deck Railing 
Pros
Wooden railing is also one of the easiest railings to build yourself and is affordable too, thanks to the cheap materials. 
You can also paint wooden railings to make your deck look exactly how you want it to, using different colours and patterns to match your home. 
This also means you can customize your wooden deck railing to look more rustic, modern, or classic – whatever you desire! 
Cons
Even treated wood is more susceptible to weathering and more prone to rot than other materials we will be taking a look at further down this list.
As a result, it is one of the least durable materials you can use for your deck railing. 
This also means that wooden deck railing requires more maintenance as it's prone to splitting, warping, and cracking over time.  
Composite Deck Railing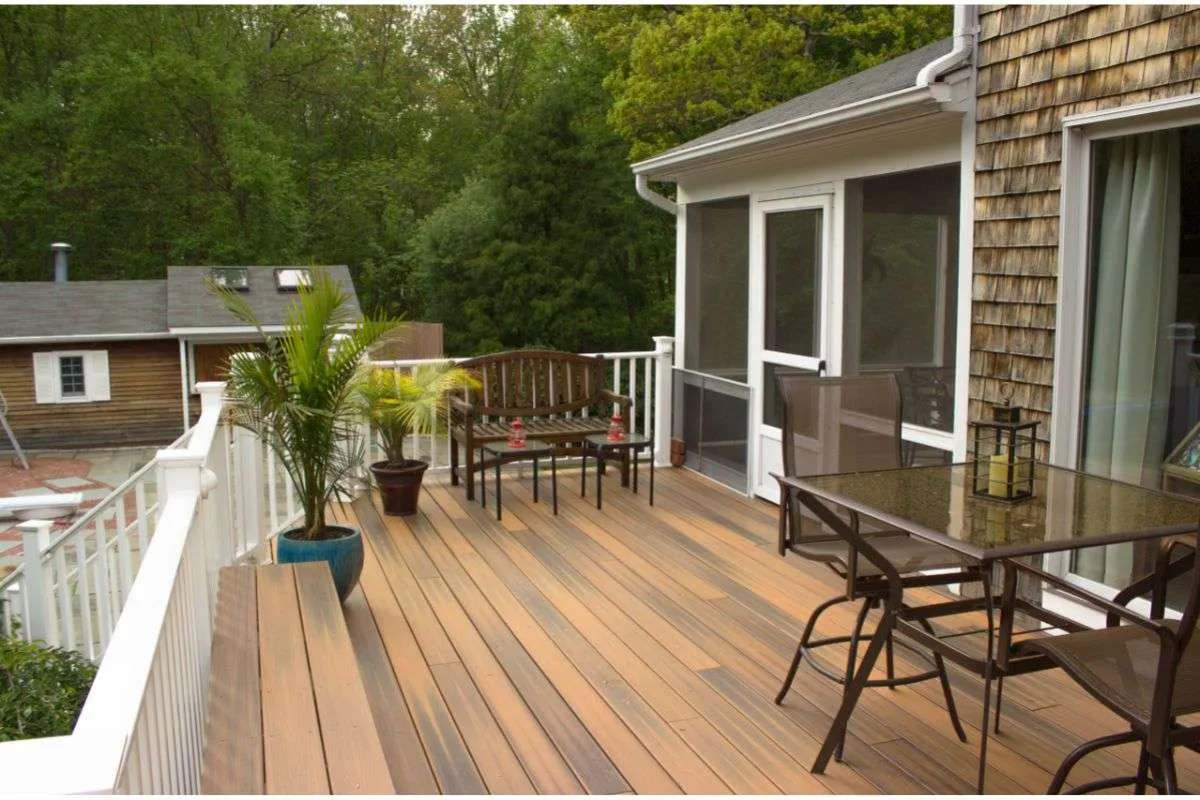 Composite deck railing is another popular choice as more and more people are installing composite decks as opposed to wood or vinyl. 
Composite decks are made from composite materials, which are a combination of wood fibres and plastic.
The end result is a cost-effective material that looks and feels similar to natural wood but without the same level of maintenance.
This material is very popular for deck boards, but it can also be used to make deck railing. 
There are many types of composite deck railing, but the three most common are hollow, solid, and PVC-coated railings.
Some are even fitted over wooden posts and railings for additional strength, so you can better protect the wood underneath from rot and decay. 
The Pros And Cons Of Composite Deck Railing 
Pros
Composite materials are very durable when compared to authentic wood, and are more weather-resistant despite how lightweight the material is. 
This durability also means that composite deck railing requires less maintenance. 
It's also a very affordable material, so it's a great choice for those building a deck on a tight budget. 
Cons: 
The major drawback of composite materials is that they have a high rate of expansion and contraction due to swings in temperature. As a result, composite deck railings need to be carefully installed. 
Vinyl Deck Railings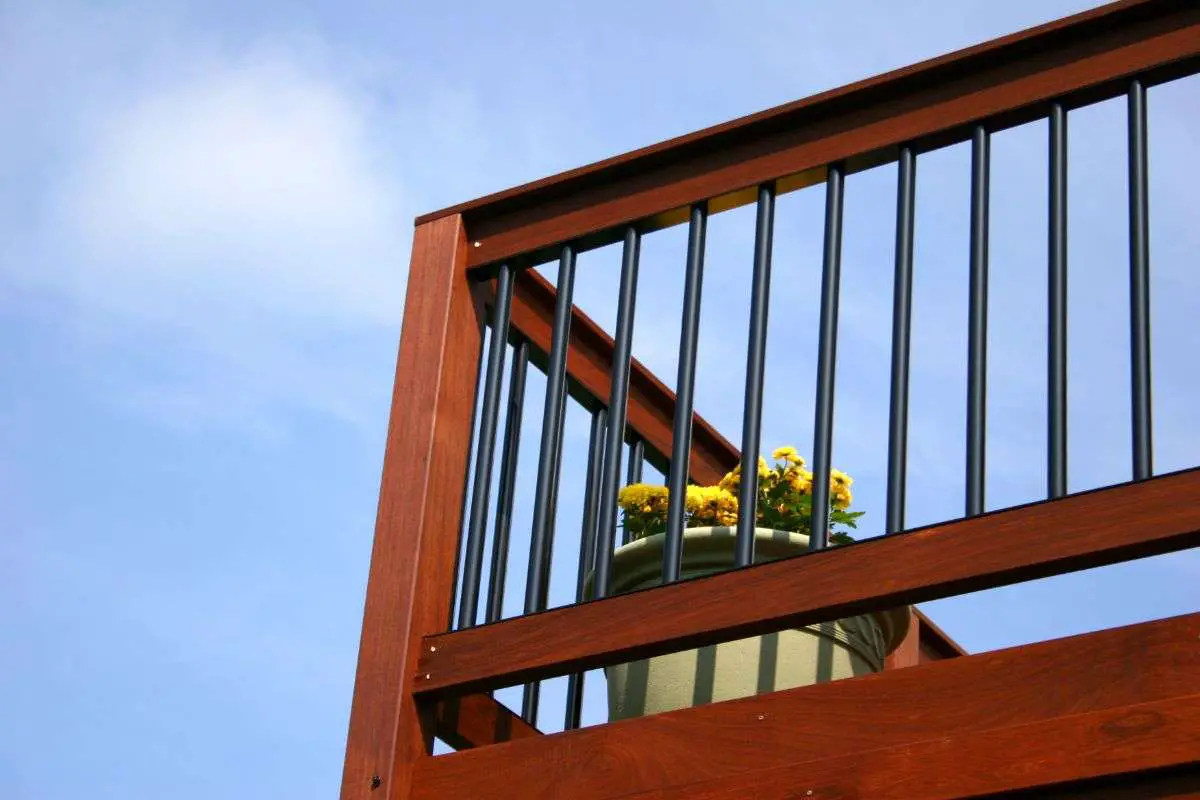 Vinyl and other plastic deck railings are very similar to composite decks in many ways, even though they are entirely made from plastic and do not contain any wood fibres.
They feature most of the advantages and can easily be installed on a deck.
The Pros And Cons Of Vinyl Deck Railings
Pros
Vinyl and plastic deck railings are one of the most cost-effective options out there.
Like composite railings, they are very low maintenance and resistant to mould, moisture, and harsh weather. 
Extremely lightweight and durable. 
Cons 
Some people do not like the feel of vinyl and plastic deck railings and prefer the more authentic wood grain that comes with composite materials or traditional wood. 
Glass Deck Railing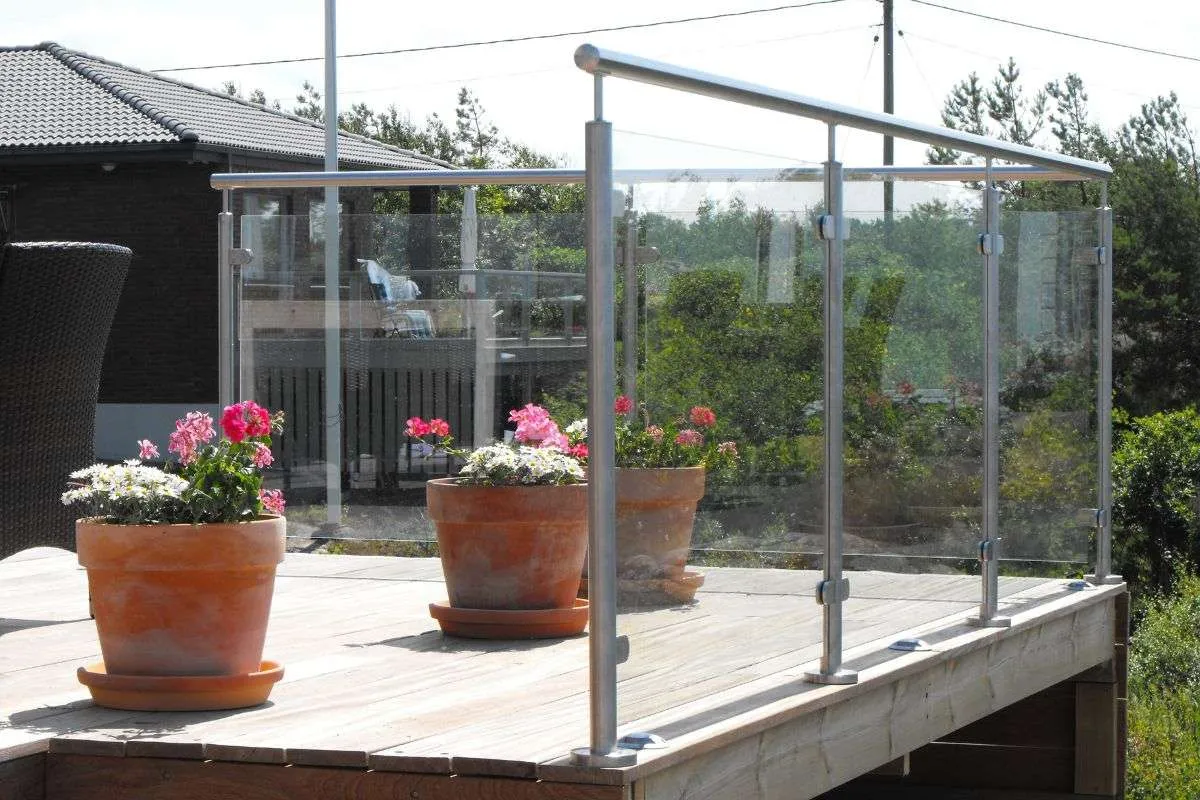 For more modern-styled decks, a popular material used is glass. 
They are usually preferred by those who want a sleek aesthetic for their decking space and those whose deck overlooks a view they would prefer to appreciate.
The glass allows you to sit on your deck and still be able to admire the scenery around you. As a result, it's great for balconies but also for decks with vantage points and views. 
Glass deck railings are usually made using tempered glass panels.
Tempered glass is a type of strong glass that is unlikely to crack, scratch, or break with everyday use and so is one of the safest types of glass to use for a deck railing. 
It's also worth noting that no glass deck railing is entirely made only out of glass – there still needs to be a type of frame to hold the panels in place. Most of the time, this frame is made of some kind of metal. 
The Pros And Cons Of Glass Deck Railing
Pros
Glass deck railing allows for better views and vantage points for high decks. 
They also provide a solid barrier against the wind. 
Tempered glass is also very durable for everyday use. 
Cons
It's one of the most costly materials to use for a deck railing. 
The modern aesthetic won't appeal to everyone. 
Glass is glass, and in the case of your glass deck railing breaking, this could become a very dangerous hazard. 
Metal Deck Railing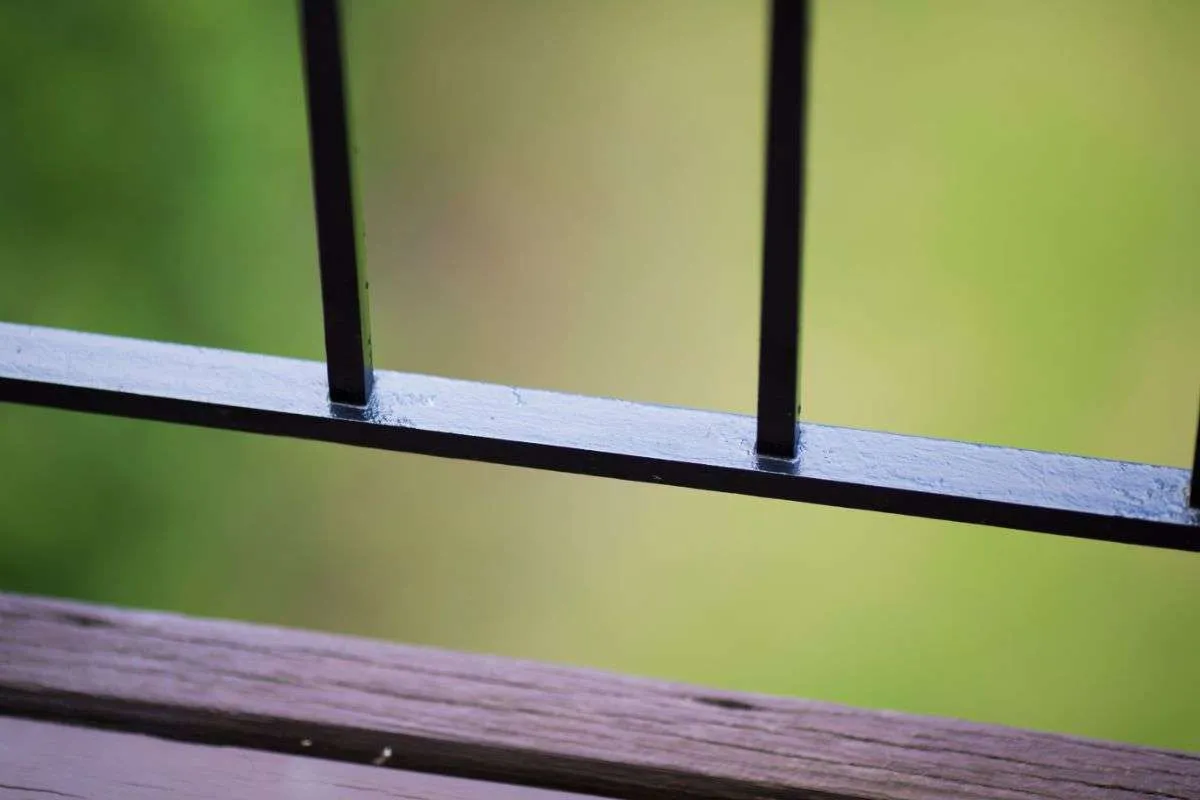 Next, let's take a look at metal deck railings. 
These are one of the most durable and low-maintenance options when it comes to railing materials.
They are great for modern and contemporary designs, including 'industrial' deckings, which are becoming more and more popular.
Metal also can be customized to match the style of your home in terms of colour and pattern too, so it's very versatile. 
Types Of Metal Used For Deck Railings 
There are three main types of metal commonly used for deck railings. These are stainless steel, aluminum, and wrought iron. 
Wrought iron is used for extremely decorative railings, and it, along with stainless steel, requires weatherproofing; otherwise, it will eventually rust over the years. 
Powder-coated aluminum railings, however, are still very inexpensive and are much more weather resistant.
The fact that this railing is also powder-coated means that you can choose between a range of colours to match your decking. 
The Pros And Cons Of Metal Deck Railings
Pros
Metal railings are extremely durable and long-lasting as they are rot-proof, pest-proof, and weather-resistant. 
This durability also means that metal railings require way less maintenance compared to other types of railing. 
They are also very inexpensive. 
Cons
Some types of metal decking are prone to rusting unless properly treated and prepared. 
Cable Deck Railing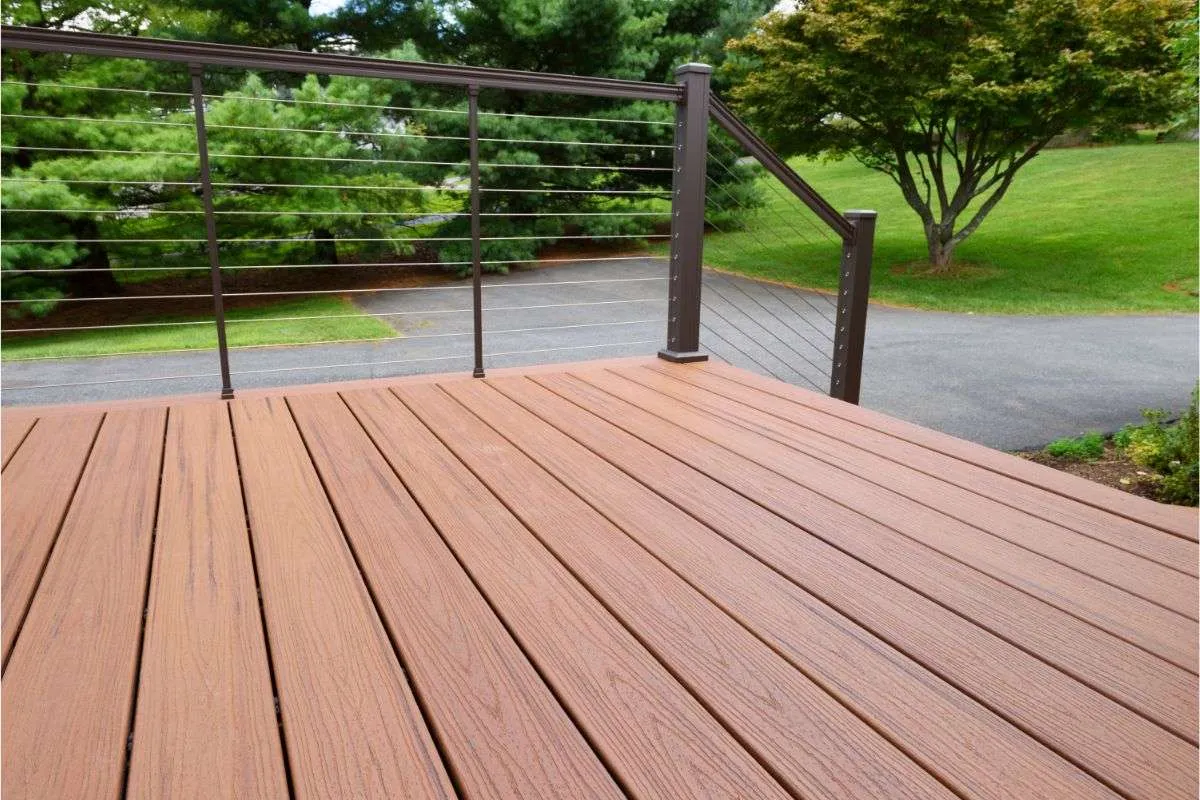 The final popular type of deck railing is cable railing. 
Like glass or metal railings, they are better suited for modern and minimalistic decks. They are low maintenance and durable and also provide unobstructed views for decks with good vantage points. 
However, the strength of the cables or wires you use all depends on the quality of the material itself. If you want to use cable for your deck railing, it's important to get a good quality wire. 
Also, like with glass railing, the posts used tend to be either wood or metal.
The Pros And Cons Of Cable Deck Railing
Pros 
Cable deck railing is very affordable to build. 
It's also low maintenance and very durable.
Cons
The quality of the wire has a big impact on the safety of your railing. 
You still need to decide on the material you want to use for the posts. 
Final Thoughts
So, those were the top 6 most popular types of deck railings.
Wooden railing is the most conventional type of railing, although now a lot of people will encase their wooden railing with composite or vinyl materials for better durability. 
Modern-designed decks may also use materials such as glass, metal, and cables for aesthetic reasons, but these materials have their own advantages and disadvantages when it comes to durability, cost, and customizability. 
Consider all of the above information, and this will help you choose the right type of deck railing for your project. Good luck!