We've all been there – you're out enjoying your deck on a breezy day, and the wind suddenly picks up, making it difficult to relax. It can be uncomfortable and even hazardous if debris starts flying around.
But don't despair – there are solutions that can help protect you from the wind while still allowing you to enjoy your outdoor space!
But these options all come with their pros and cons making one better for your deck than another. Pros and cons of that will help you determine which one is right for your specific needs.
3 Additional Reasons For a Wind Block, Beyond Wind
We all know that wind can be a nuisance when you're out on your deck, and it's important to have ways to shield yourself from its effects.
But there are reasons beyond wind that make them beneficial.
Blocking the wind not only protects you from discomfort and hazardous conditions, but it also improves your outdoor space making it more private, and better looking, while reducing noise.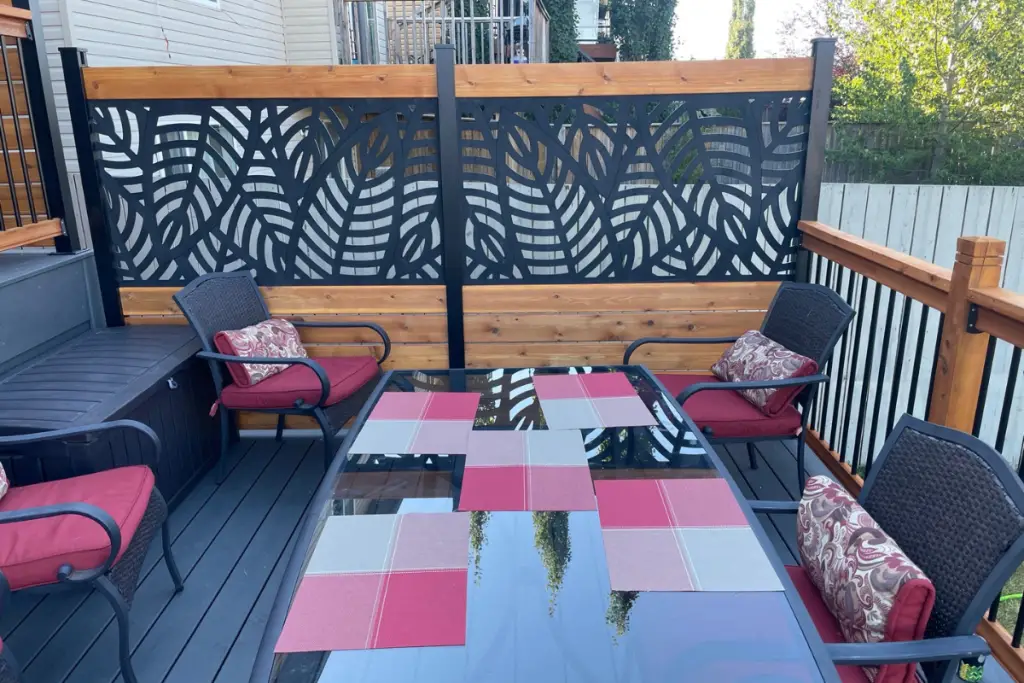 Benefits of using a wind block on your deck beyond gusts of wind.
1. Decoration
A wind barrier can also be used as a deck decoration. Adding some plants or flowers to the top of the wind barrier can add some colour and life to the space, but it can also help block the wind. This can be a great way to add some privacy to your deck while also keeping it looking stylish and well-maintained.
2. Privacy
Adding a wind blocker to your deck can create privacy and protection from unwanted guests and animals from entering without your permission. By installing a wind blocker on your deck, you can keep yourself and your family feeling safe and hidden from the business around you.
3. Noise
A wind blocker is a fantastic way to drown out the noise from your neighbours. By creating a sound barrier between you and them, you can enjoy some peace and quiet on your deck or backyard.
How to Block Wind on Your Deck
1. Plant Shrubs or Trees beside your deck
Planting shrubs and trees near your deck can help block the wind and create a natural barrier. This is a great option if you want to block out the wind without interfering with your view.
However, it's important to note that these plants will take time to grow and won't provide immediate wind relief.
2. Deck Privacy Fence
Wood or composite privacy fences are an attractive and effective way to block wind on a deck.
There are numerous material options available
, from wood to composites or even stone. As well as the style.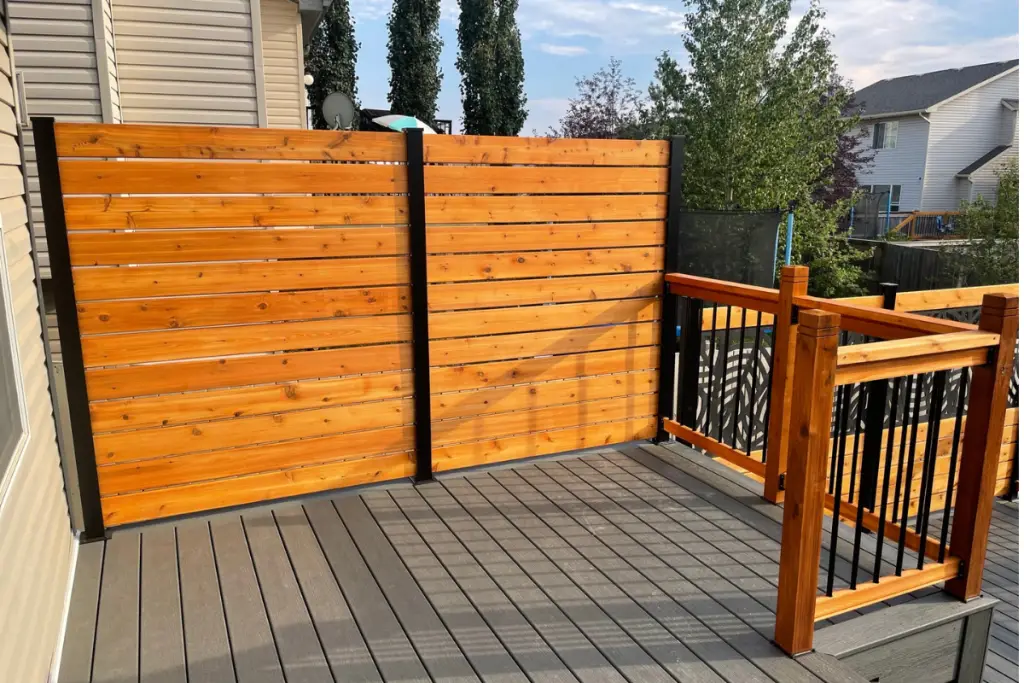 Just with wood, you can install horizontal slats with a clear natural wood stain or vertical with solid stain colour.
Whatever option you choose, keep in mind the main purpose, is to reduce the amount of wind that blows into your patio. Ensure there is sufficient blocking in the deck substructure to anchor the fence posts to. Fasten in place with strong lag screws that can withstand sudden wind gusts.
One thing I don't like about a privacy wall is the loss of view. Often placed on the side of the deck, limiting its view impact, but if the wind blows in off the valley. You don't want to block the best view while blocking the wind.
3. Glass Wind Barriers
Similar to a wood or composite privacy fence, a glass wind wall can block out the wind while still allowing you to enjoy the view.
If the deck is facing a park or golf course, it's important to choose a windbreak that blocks wind but doesn't obstruct the view.
You can install glass on one side of your deck, or wrap around the edge of the deck with clear glass blocking prevalent wind.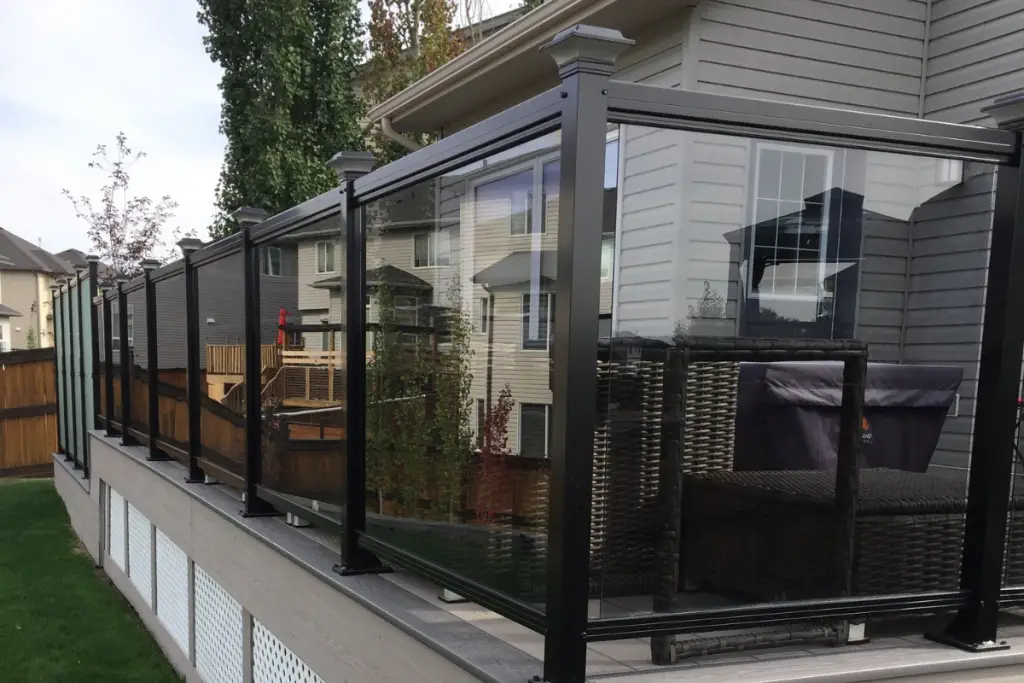 This doesn't always need to be clear glass but can also be obscured glass frosted, or opaque. Improve privacy with less maintenance than a wooden fence.
Thickness and being tempered are important for strength and safety.
A drawback of a glass wall on your deck is heat. The sun reflecting off the glass can heat up the deck considerably on a sunny day.
4. Folding Privacy Screens
Folding privacy screens can be a great way to block wind on your deck.
They are versatile and adjustable, allowing you to create the amount of wind protection that you need. You can choose to completely enclose your deck with these screens, or just partially block it, depending on the amount of wind.
Folding privacy screens come in a variety of materials, textures, colours and sizes. Giving you a choice for a perfect match to your outdoor décor.
5. Potted Shrubs
A great way to block wind on a deck is by arranging plants and shrubs in concrete pots.
Bamboo, Frangula, and Houseleeks are good choices because of their physical structures.
Select plants of sufficient height and set them up close together so they can effectively block the wind.
You could use wooden planters instead of concrete, but you will have to bracket them to the deck. This will help keep the plants upright as the wind blows against them.
Plants and shrubs can add a natural element to your outdoor space while also enjoying protection from the wind.
But be warned, plants are great but do require additional work. Watering and trimming to keep the plants healthy.
6. Install Shade Structure
A shade structure such as an umbrella or canopy can also help reduce wind on your deck area and provide relief from direct sunlight too!
Retractable awnings and umbrellas are easy to install and can be adjusted depending on the amount of shade or wind block needed.
For a cantilever umbrella which is one of the better wind blockers, make sure to have sufficient weight to keep it in place
. Or even better, anchor them securely to the deck or patio surface so that they won't blow away in strong winds.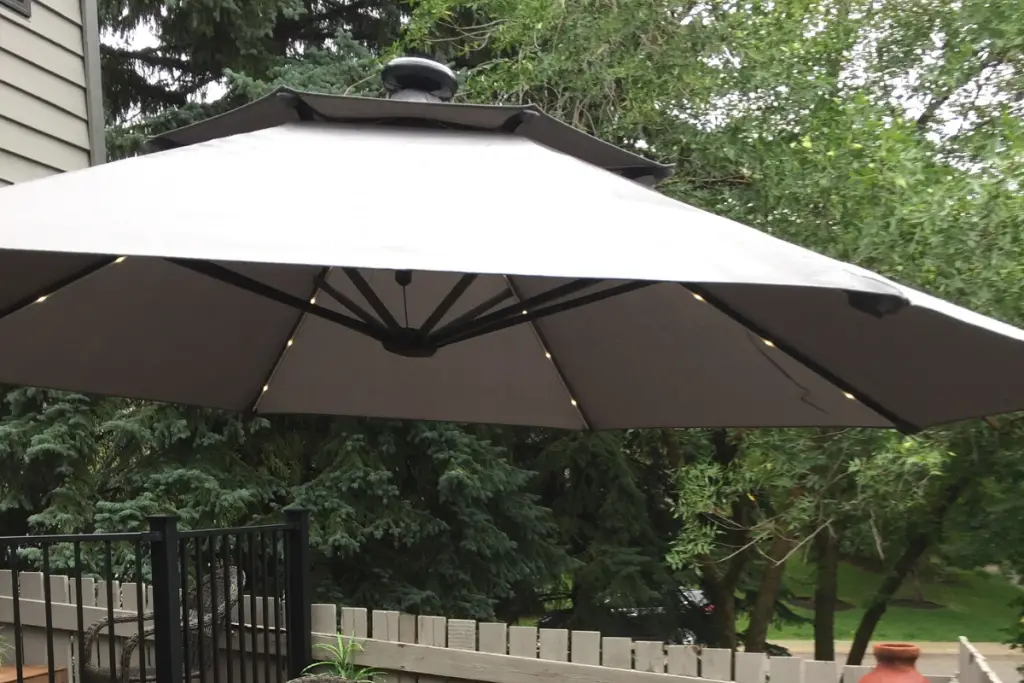 The main con of using an umbrella or canopy to block the wind is that it doesn't provide a complete and secure barrier. Along with the potential of damage or being blown away in strong gusts. Losing both your shelter and umbrella.
7. Outdoor Curtains
Use outdoor curtains or blinds to "block" out the breeze when you need it most.
They often work best with a pergola whose rafters you can hang the curtain rod from.
Then just like the curtains in your house, you can pull them open and close them as needed.
Wide open on a calm day to enjoy the view.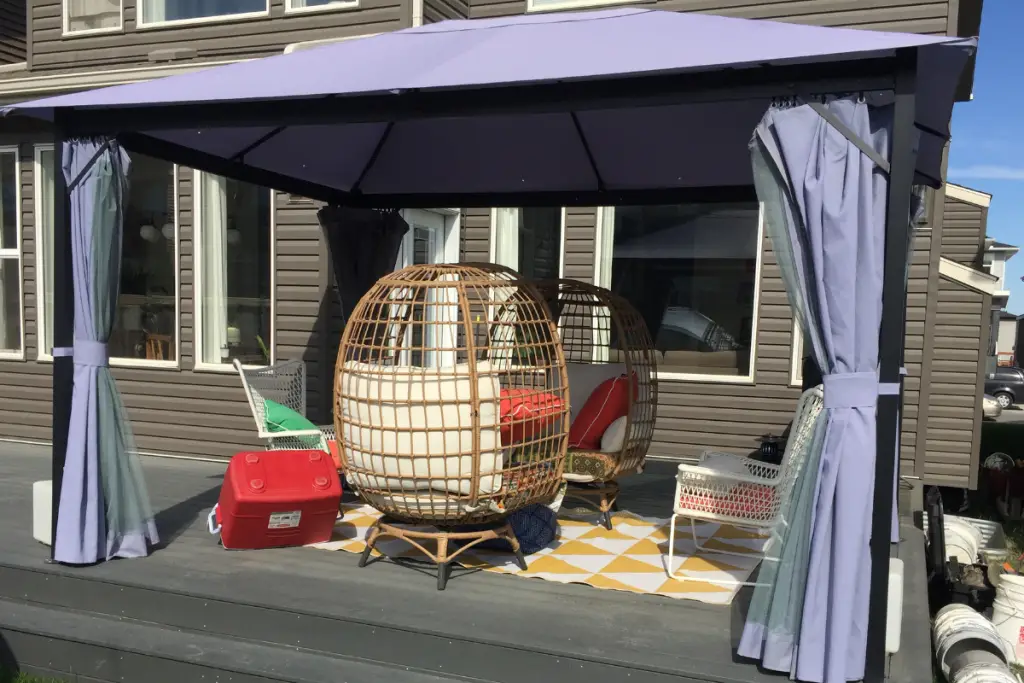 Pull shut for those windy days you still want to be outdoors.
Three curtain materials recommended for outdoor curtains are.
Olefin/polypropylene
Acrylic
Polyester
Olefin is considered one of the best performing outdoors, colourfast and quickly drying, minimizing weather damage.
With polyester, you will save money but is less durable. Which if you want something new every few years may still be a good choice.
The biggest drawback with curtains, is they are not effective against a strong wind. In fact, they may need to be tied back to prevent damage during a windstorm. Not that you are going to be out on your deck then, but preventing damage for when it calms down is important.
8. Adjustable Louvred Privacy Wall
The privacy of a wall but the option of allowing a breeze in.
More expansive than a solid privacy wall, but the refreshing breeze is, well, refreshing. But the slats help to reduce the strong wind gust helping you to enjoy your deck more on windy days.
The con of louvres on your deck is cost. The hardware to move the louvres will add a few hundred bucks to finishing your deck.
9. Artificial Hedge
Using an artificial hedge wall to block wind on your deck can be a great choice if you want something that looks attractive and provides some protection.
Composed of high-quality materials, they are strong and durable and will last for many years. The foliage is designed to be fade-resistant, keeping its vibrant colour through the years.
However, these walls are not as effective in blocking wind as other options, such as solid walls or awnings. Nevertheless, they can still be an effective solution for those who want to add some decoration to their outdoor space while simultaneously reducing the amount of wind on their deck.
10. Deck Blinds or Roll Down Wind Protection
Window shades, also called roller awnings, can be hung from simple hardware which can be taken down when they're not in use. They do require a deck roof or pergola rafter to hang from.
Shades can also be installed as roll-down wind protection. When the winds are calm, it's a convenient option to raise the shades but lower them if the breeze picks up.
Simple by pulleys, or the panels can be fitted with electric controls.
They can provide a partial or full block to the wind with many different material options. Made with ties and hooks at the bottom, helping anchor them down, reducing flapping in the wind.
11. Deck Wind Screen
There are many benefits to installing a deck windscreen. Not only does it protect you from the wind, but it can also provide privacy if you choose the right type of screening. Deck windscreens are also one of the most affordable deck wind blocks. Making them a great option for anyone looking to add some protection from the elements without spending a lot of money.
12. Trellises or Lattice Wall
The lattice wall is a great way to block the wind and add some extra privacy to your deck. Not only does it look nice, but it's also very low-maintenance.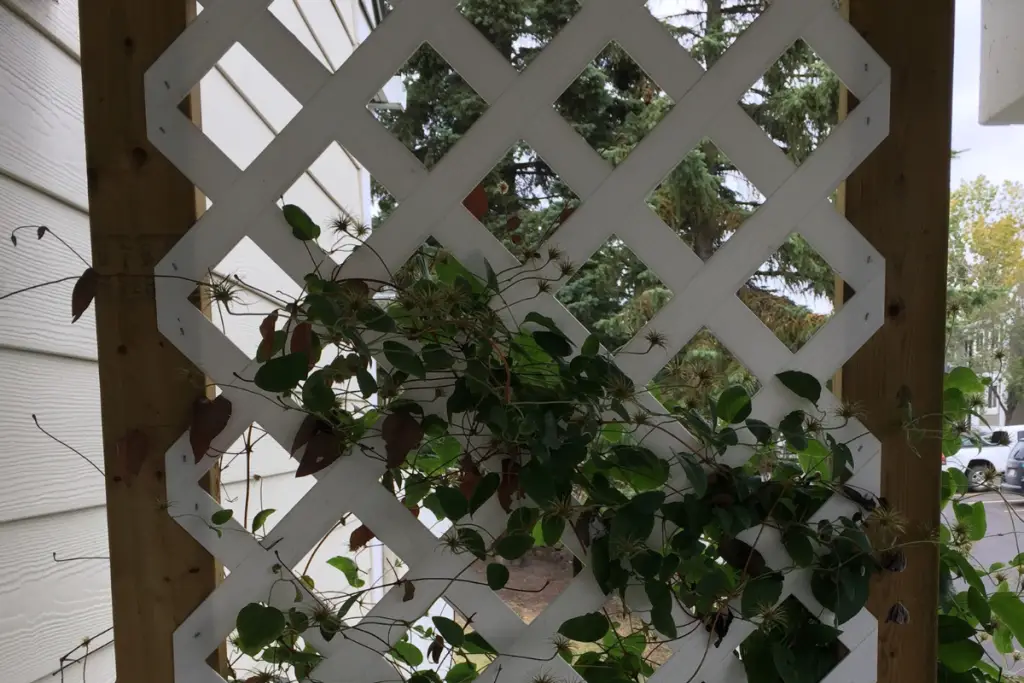 Spruce it up and add some green. Place some pots with ivy vines, and they will naturally weave through the trellis. This is a great option if you want to add some extra privacy without doing too much work.
Personally, I am old school and love to incorporate a trellis with a deck pergola. A traditional Mediterranean look, blocking both sun and wind from the deck. Increasing deck comfort.
How Big Does a Wind Block Need to Be?
A wind block can be effective even if it's not massive. Usually, a 6-foot wall is enough. It's also important to note that many communities do not permit larger walls on a deck. In Calgary, where I build decks, the maximum height allowed is 6 feet and 6 inches from the deck.
"For instance, when the wind is blowing at 10 mph, a 6-foot-high porous fence will reduce that velocity to a minimum 10 feet downwind from the fence. When the wind is 20 mph, the minimum velocity point will be 65 feet from the fence; and at 30 mph, the area protected is about 90 feet downwind."
To protect your deck from wind, you can use multiple windbreaks if your deck is large. There are other ways besides walls to block the wind, and here are a few ideas.
Conclusion
Wind can be an uncomfortable and potentially hazardous nuisance when you're out on your deck. Fortunately, there are several ways to create a wind block so you can enjoy your outdoor space.
From louvred privacy, walls adjustable to the weather allowing a breeze while still providing some protection from strong winds.
An artificial hedge wall is another option that looks attractive and offers some protection.
Plants and shrubs can also be effective wind blockers, while awnings or shade structures are great for providing a comfortable and peaceful outdoor space. With these solutions, you can determine which is the best option for your needs and budget.
Enjoy your Deck.