Composite decking is becoming more popular as it creates a more durable, long-lasting surface. Read below to learn about Coowin Group composite decking options today.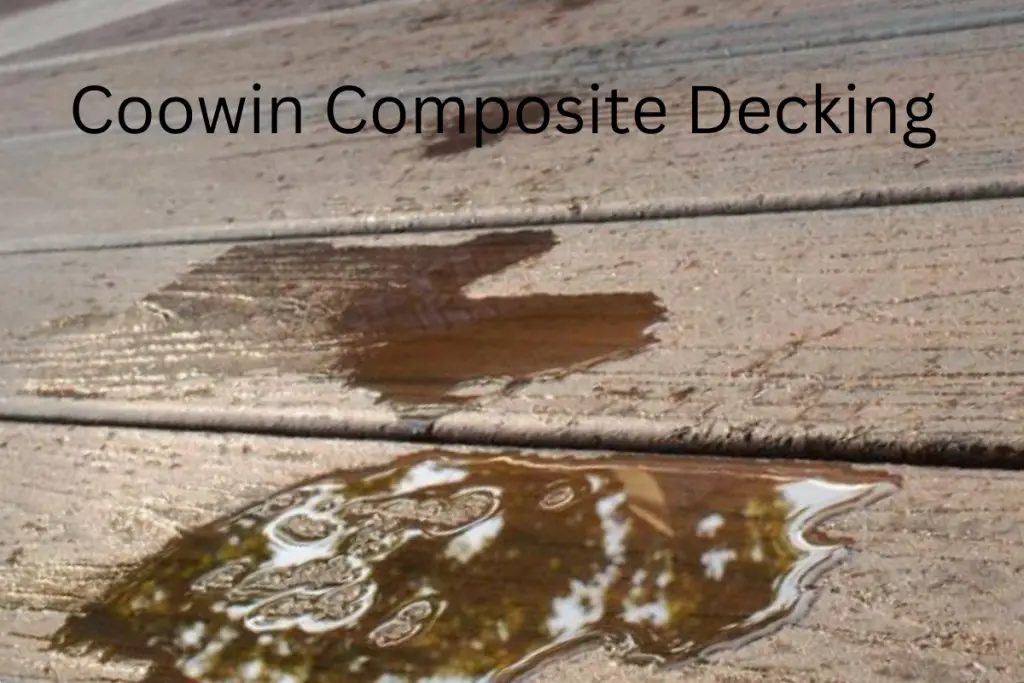 Brief Introduction to Coowin Group as a Company
With over 20 years of expereince, Coowin Group began in China in 2000 and has come to provide high-quality, reliable wood-plastic products. Coowin offers an array of decking/cladding, fencing, and timber tube materials.
Coowin is known for creating products that withstand extreme weather, using special additives like anti-UV, anti-aging, pigments, and other agents.
What Is Coowin Group Composite Decking Made Of?
Coowin composite decking
combines plastic particles and wood fibre to make its composite material. The 80 mesh white poplar wood fibre makes up 50% of the formula, while the high-quality HDPE plastic resin makes up 38%. 
The other 12% of the material is comprised of additives:
Light stabilizer
Anti-UV 
Anti-aging
Coupling agents
Colour pigment
The percentage of additives is high compared to many other brands of composite, like Trex or Fiberon, which have less than 5%.
The use of poplar wood fibres is also unique. Many brands use hardwood sawdust in their formula. For example, MoistureShield uses red oak from cabinet shops.
How Many Colours of Decking Does Coowin Group Have?
The 3D Wood Grain Series solid composite decking comes in 3 colour options:
The hollow composite and solid composite decking in the same series both come in 5 art colours.
In the Capped Series, the hollow, solid, and exceptionally moistureproof composite decking each comes in 5 colours – smoke gray, stone gray, oak, dark teak, and walnut. 
Is Coowin Group Composite Decking Capped?
Coowin Group has a Capped Series of composite decking that combines coextrusion fabric, mildew resistance, scratch resistance, waterproofing, and anti-fading properties. There are 3 types of 3D wood grain capping on their composite decking being exceptionally moistureproof.
Using a polymer protective shell, it's more weather-resistant than Coowin Group's other uncapped composite decking
materials. Further, the Capped Series of composite decking at Coowin does not need to be finished or sealed. 
What Are the Finishes of Coowin Group Composite Decking?
Coowin composite decking uses rich colour palettes for staining and finishing. The finishes are called "art colours", which are streaked and variegated for a more natural wood-like look.
The 5 different art colours include dark teak, walnut, stone gray, smoke gray, and oak. Some composite decking colour options may also be customized at Coowin Group. The company will work with its customers to create the ideal composite deck. 
Profile of Coowin Group Composite Decking (Solid, Scallop, Hollow)
Coowin Group's Capped Series composite decking options include a Round Hollow profile (CO-10 and CO-02 products), as well as a High Strength Solid profile (CO-03 products). 
The uncapped 3D Wood Grain Series composite decking options include a High Strength Solid profile (CD-01 products), as well as a Round Hollow profile (TS-03 and TS-04 products).
Coowin also offers options for 3D Wood Grain Series surfaces, including double surface, groove surface, and 3D wood grain surface.
How Long is Coowin Group's Composite Decking Warranty?
Coowin Group's composite decking products come with 25-year warranties. This outlasts traditional wood decking, and the company even notes that its composite materials can surpass this warrantied lifespan.
Because mould, splintering, and discoloration are less common with composite decking, you may not even have to use a Coowin Group composite decking warranty.
Summary of Reviewing Coowin Group Composite Decking
Coowin Group started as a small factory in China, 22 years ago. Since then, the company has been producing high-quality, durable wood-plastic products for fencing, decking, and timber tubing.
Coowin composite decking combines poplar wood fibre, HDPE plastic resin, and weather-resistant additives. The result is a selection of 3D Wood Grain and Capped composite decking series, which come in 5 different art colour options and have warranty protection for up to 25 years.