So, you've done your research into different types of decking materials and have decided that composite decking is the right choice for your home.
Good choice! However, you should know that there are different kinds of composite decking to choose from.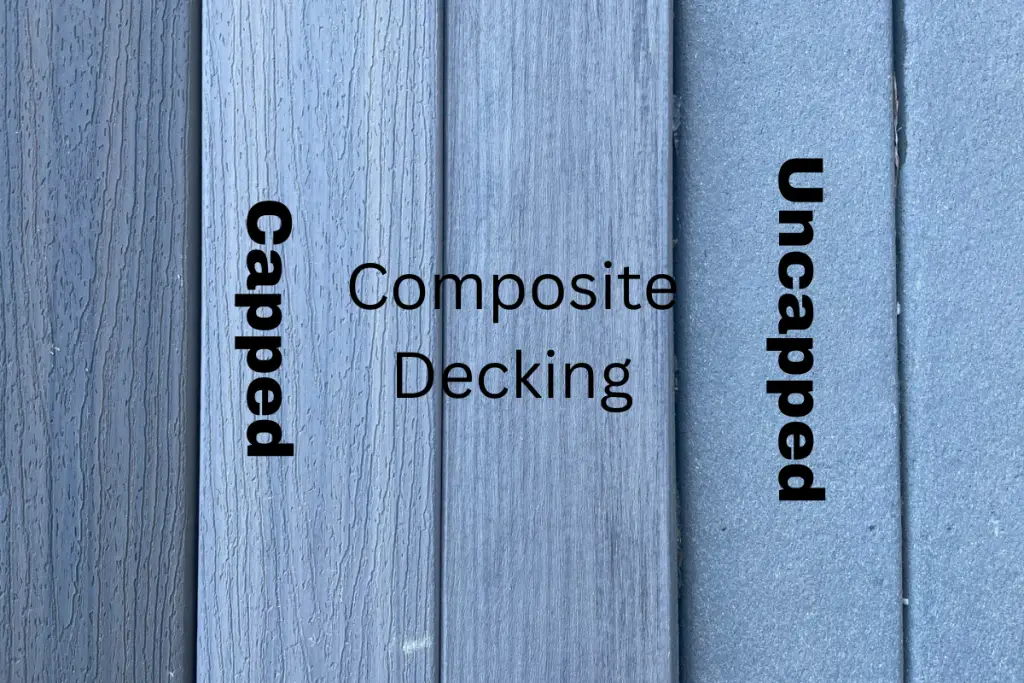 There are a few ways in which types of composite decking can differ from one another. For example, you can have composite decking with and without grooved edges.
However, one of the most important differences to be aware of is that between uncapped and capped composite decking. 
What is Capping on Composite Decking?
Before getting too far in our explanation we need to clarify our primary concern, deck capping. What is capping on composite decking?
The cap on composite decking is a synthetic material wrapping the composite decking core to protect it from moisture, mildew, insects and UV damage. The decking cap also improves the decking's appearance and traction.
Whether or not this additional material is needed depends on your deck. Which is what we will explore here.
Starting what the difference between capped and uncapped composite decking is?
Capped Composite Decking Vs Uncapped Composite Decking 
Here's the main thing you need to know about the difference between capped and uncapped composite decking: uncapped composite decking is basically unfinished composite material.
Meanwhile, capped composite decking is decking made from composite materials with a bonded cover to protect the material underneath. 
With uncapped composite decking, you're basically just getting the core material, which is made from a combination of sawdust and recycled plastic held together by a bonding agent. 
For a long time, uncapped was the only kind of composite decking available, and while it did have some advantages over regular wood decking (namely, increased durability, lower cost and less maintenance requirements), there were and are still some problems with this type of decking.
Uncapped decking is vulnerable to oxidation and UV damage, as well as mildew and mould if water is allowed to soak into the wood fibres.
On the other hand, capped composite decking has a cover bonded to the core material which stops any water from soaking into the core.
This way, mould and mildew won't be a problem.
The cover also protects against the fading and staining that can occur as a result of UV exposure and oxidation. 
The bottom line is that uncapped composite decking is cheaper because it doesn't have the additional bonded cover, but what you don't pay for upfront you may have to pay later on in maintenance work or even replacements due to damage from water and UV light. 
Types of Composite Decking Capping Material
Not all capping of composite decking is the same.
Different brands use different materials to protect the core of the composite decking.
Polymer
The most common is polypropylene, polyethylene or PVC. I am not a scientist but a deck builder. There is a slight difference between these materials but largely they are the same. At least from a decking perspective.
Most of your big companies like Trex, TimberTech, Fiberon and Deckoroators all use some version of polymer to cap their decking.
Some will get fancy in their naming.
Like Fiberon calls it PermaTech. They have done some chemist stuff to it but in short, it's still polymer.
TimberTech does the same with what they call "Alloy Armour Technology®". Part largely it is the same material. No offence Timbertech.
Acrylic
Three companies that do cap significantly differently are Clubhouse, Fortress and Zuri. Capping their decking with acrylic. Material similar to what your car dash is made of.
Zuri has the most data on this, so we will use them to explain the advantages of acrylic caps.
Zuri has strong reasons for this change in caping for their PVC decking. First, they use it as a protective coating for their wood image that is applied to their decking. Which gives it the appearance of hardwood.
But even more important is performance.
Zuri's third-party testing has shown that the acrylic cap is 30% more durable and 5 times more resistant to wear. Setting them apart for cap performance compared to other brands using polymer.
Plus, Zuri has one of the highest ratings for slip resistance for composite decking
.
Capped Composite Decking Brands
Every since 2009-2010 most brands of composite decking
have switched over to cap composite decking because of its improved performance.
Fiberon was one of the initial innovators but this has rapidly increased.
To include the following composite brands.
Deckorators
Fiberon
Fortress
MoistureShield
Timbertech
Trex
Zuri
Just to name a few. Capped composite decking is now standard but there are a few brands that still manufacture uncapped composite.
Uncapped Composite Decking Brands
Two prominent companies that sell uncapped composite decking are MoistureShield and Ultra deck. Neither is exclusively uncapped but includes both capped and uncapped lines.
MoistureShield with their Vantage line. Which despite not being capped is a good-looking board that performs well in and around water.
Ultradeck has 3 lines of uncapped decking, Rustic, Natural and Quickcap. Which they offer as a more economical composite decking.
Both MoistureShield and Ultradeck are upfront about their uncapped decking that it will fade in the sun. Much like wood decking.
Uncapped Composite Decking: Pros And Cons
Here's a breakdown of the advantages and disadvantages of going the traditional route with uncapped composite decking: 
Pros
Less expensive – More budget-friendly upfront 
Cons
No protection against water damage – Might grow mould or mildew 
No UV light resistance – Prone to fading and staining 
Less wear-resistant – Easier to scratch 
Later maintenance costs – Can be more expensive to maintain
Capped Composite Decking: Pros And Cons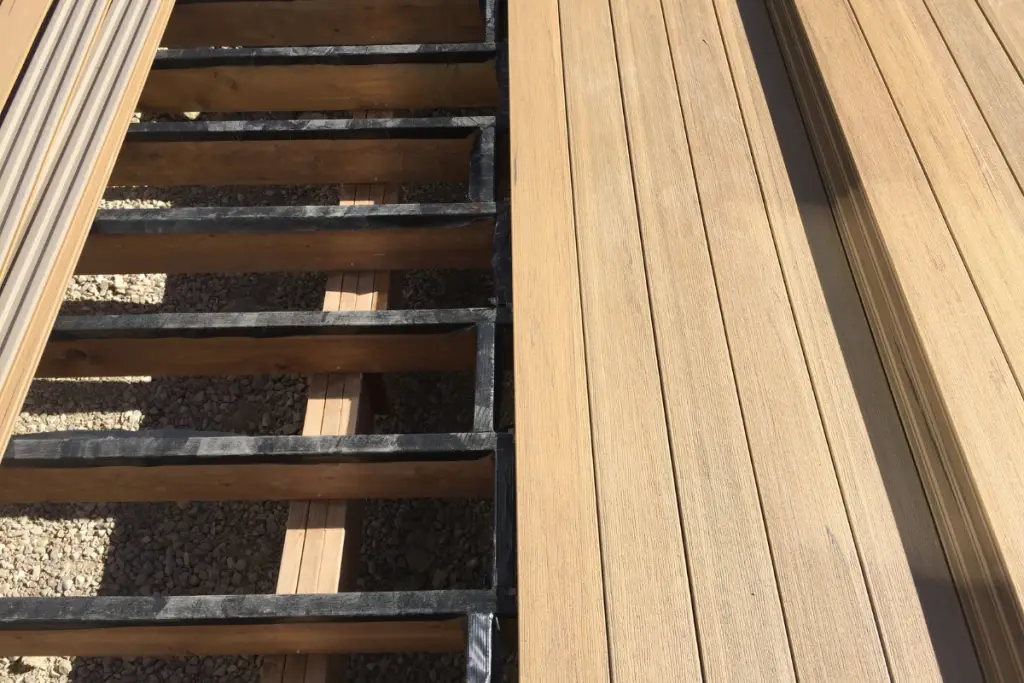 Here are the pros and cons you should weigh up before investing in capped composite decking for your home:
Pros
Water-resistant – Resistant to mould and mildew 
UV-resistant – Protects against staining and fading 
Wear-resistant – Doesn't scratch easily 
Improved Appearance – can look like stained wood
Cons
More expensive initially – Higher upfront costs 
That is just the short list of pros and cons of composite decking
, for a much larger list, click the link.
What Type Of Composite Decking Should You Use? 
If you've read through our initial comparison of capped and uncapped composite decking and our lists of pros and cons, and you're still unsure what kind of decking you should use, here's what we think. 
Firstly, the only real pro of getting uncapped composite decking as opposed to capped composite decking is that it costs less for the initial purchase.
So, if you're in desperate need of new decking and don't have the money for capped decking, uncapped composite is a budget-friendly choice. 
With that being said, the money you save on buying uncapped composite decking may need to be spent later on if water gets into the material and causes a mould or mildew problem.
Similarly, if your uncapped decking is exposed to UV light, it might fade or develop stains over time. 
If you have an overhead covering to protect your decking, you might be fine with uncapped composite decking for a while.
You also have the option of applying a finish to your uncapped decking yourself, but while this will make your decking more water and UV-resistant, it won't be as useful against other forms of wear and tear. 
On the other hand, buying capped composite decking will cost you more when it comes to the initial purchase.
You'll need to pay anywhere between 20% and 50% more for capped composite decking compared to uncapped decking, so many people are hesitant to make this kind of investment. 
However, the advantage of paying more upfront for capped composite decking is that it will save you maintenance costs later on.
Even if you purchase a finish for your decking separately, which would admittedly work out as less expensive than capped decking, the finish won't be as effective. 
You'll save more money in the long run if you go for capped decking, so unless you urgently need to install your decking and don't have the money for capped decking boards, we would always recommend choosing capped decking over uncapped. 
Frequently Asked Questions 
Do The Cut Ends Of Composite Decking Need To Be Sealed?
With wooden decking, you would usually need to seal the ends of cut boards to stop moisture from getting in because the ends won't be treated. 
However, with composite boards, you don't need to seal the ends regardless of whether your decking is capped or uncapped.
That's because composite decking is more water-resistant than regular timber.
Is Trex Decking Fully Capped?
Trex is one of the most popular brands for composite decking, but you may be wondering whether composite boards from Trex have been sealed completely. 
In fact, Trex decking is only sealed on the top and sides. This is because even with the best sealing, moisture is eventually going to get in the material over time.
So, Trex feels it's better to leave the undersides of the deck unsealed to allow the material to breathe freely since water will mostly be hitting the deck from the top anyway. 
What Is The Life Expectancy Of Composite Decking?
Composite decking that has been partly sealed (capped only on top, for example, which is the standard) will last for up to 30 years, although it could need replacing after 25 years depending on your maintenance routine. 
Uncapped composite decking actually has a similar life expectancy, but it's slightly shorter on average because there's an increased risk of moisture and UV damage, so factor this into your decision when choosing between capped and uncapped composite decking. 
Final Thoughts 
Composite decking can either be capped, which means it comes with a cover bonded to the core material to protect against water, UV and abrasion damage, or uncapped, which means you just get the plastic and timber core material without the cover. 
Capped composite decking typically lasts longer and looks better over time because it's less likely to develop mould or mildew issues, stain, fade, or get scratched.
However, uncapped composite decking is significantly less expensive upfront, which is why some people still choose it over capped decking despite the other disadvantages. 
When choosing between capped and uncapped composite decking, think about whether the extra cost of capped decking is worth it for the increased durability and longevity you can expect.