Under-deck drainage systems are a great addition to any raised deck, increasing the useability of the area under your deck.
Providing a dry, clean outdoor space underneath your deck which can be used for living or storage. Along with reducing joist rot
by keeping the wood dry. Helping your deck's substructure to last.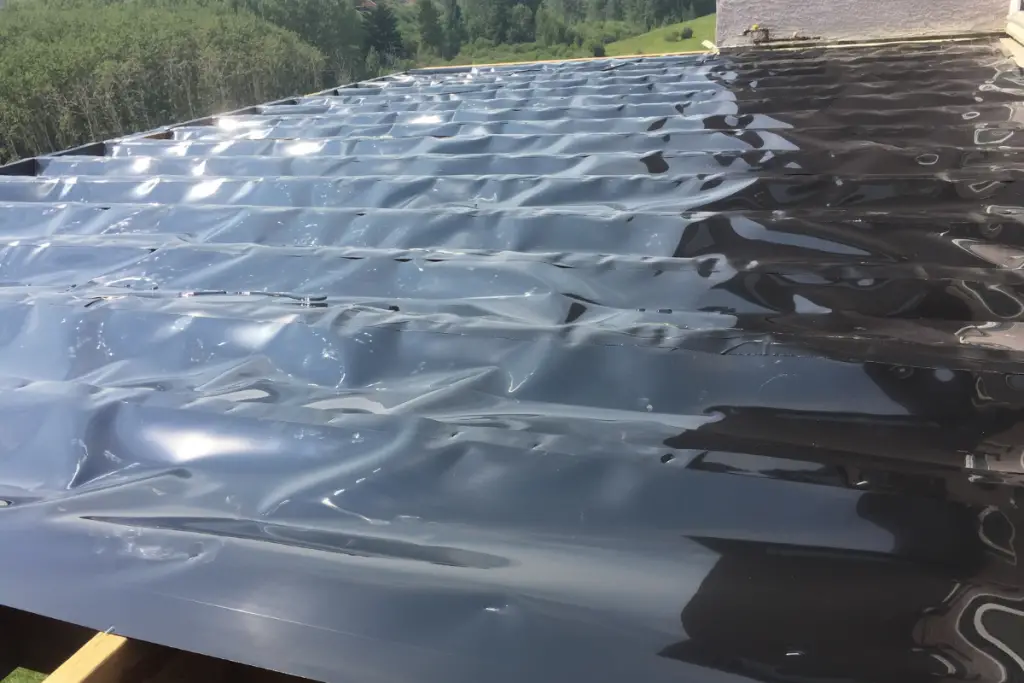 But not all under-deck drainage systems are the same. Leaving us asking which brand of under-deck drainage is system is better?
Consider Dek Drain and Trex Rainescape – two well-known brands of under-deck drainage systems.
We will be comparing them against one another to see which one is the best option for your deck! Check it out below!
What Is Dek Drain?
First, let's take a look at the Dek Drain brand. 
Dek Drain is a proprietary drainage system manufacturer which started out in the US back in 1999. They have since been installed in all 50 states and in 7 different countries.
A good history in this industry and has been well-received across the entire country.
Their main product is, of course, the Dek Drain – an under-deck ceiling system to help ensure that space remains dry so it can be customized for all kinds of purposes.
When talking about the Dek Drain, founder and inventor Keith Risser emphasizes the low maintenance, simplicity, and high practicality of his product. 
So, it's clear that the Dek Drain was made to be a practical solution for homeowners and builders to help expand their space – but does it meet these expectations? 
What Is Trex Rainescape? 
One of Dek Drain's main competitors is Trex, with its own under-deck drainage system, the Trex Rainescape. 
Trex started out in 1996 when they manufactured their own brand of composite decking. Over time, they became the world's largest manufacturer of 'wood-alternative decking'.
Today their products are available in over 40 countries, and they have the largest market share in composite decking not just in the US but in the entirety of North America.
Thanks to this success, they have begun extending their range of products with outdoor lighting, fencing, furniture  – and under-deck drainage systems. 
The Trex Rainescape is Trex's answer to under-deck drainage. Its main selling points are its effectiveness and durability, using advanced technology and design to provide a high-quality product for those needing an under-deck drainage system.
This is in line with Trex's goals as a company, as they aim to make innovative deck-related products that are high quality, durable, and backed by years of research and product development. 
Dek Drain Vs Trex Rainescape
So, from the initial information above, we can point out some interesting differences between Dek Drain and Trex Rainescape.
For example, Dek Drain is the sole product of its company, while Trex Rainescape is one of Trex's many products, as the company is better known as one of the best composite decking brands
. 
But that's only the start of the difference between the Dek Drain and the Trex Rainescape.
Range Of Products
Let's take a look at what exactly you will be getting from the Dek Drain and the Trex Rainescape. 
The Dek Drain offers 2 different deck drainage systems – a topside to be installed during deck construction and an underside system which can be installed on an existing deck. Not as good in protecting the joists from moisture but allows you to realize the potential of a dry space under your deck, even if you didn't initially.
This means that regardless of you are just dreaming of your houses deck potential or already are enjoying your deck but want more from it. Dek Drain has a drainage system for your deck.
Trex Rainescape is ideally designed to be installed during deck construction before the decking is installed. But it can also be used as an under-joist system.
With a wide range of products, including downspouts, troughs, and tapes.
No glue, caulk, adhesive, or sealants required – ever. Deck Drain. Requires taping Trex
Both are easy to install with a stapler, but Rainescape will also require caulking and tape. Deck Drain does not.  
There's nothing 'stylish' about the Dek Drain or the Trex Rainescape –
Making functionality and durability the most important factors to consider when looking for the right under-deck drainage system for your project. 
Durability And Warranty 
Durability is important for your under-deck drainage system as it needs to be able to last for years and years without maintenance or replacement. 
If it fails, it will damage your finish soffit, plus replacing it will require you to practically rebuild your deck As all the decking will need to be removed to install the new troughs and then reinstalled.
Increasing the importance of durability.
Both perform the same function, keeping you dry under your deck, but they are entirely different products when it comes to material which translates into durability.
First, the trough.
Dek Drain is a Rubber Membrane which is 45 mil. thick. The advantage of rubber is flexibility, stability through the seasons and seals around the decking fasteners.
RainEscape is 20 mil. thick but is High-Density Polyethylene (plastic). Providing an extremely smooth surface for the water to run off on but is less flexible with seasonal temperature changes.
The feeder is different between the two.
We like the simple to-install performed Downspout of RainEscape. Made from Low-Density Polyethylene (LDPE), 40 mils. thick, which is more flexible than the HDPE of the trough. And can be turned for either a 12″ or 16″ on centre joist spacing. It can be modified by cutting and taping for odd joist spacing, but this does reduce its durability.
Dek Drain does not sell a preformed downspout but rather bibs to collect and redirect water to the trough. Similar to the trough in material and design.
For waterproofing and tieing the troughs together over the joists, they use two similar approaches but, again, are different.
Trex RainEscape seams are taped together with specially designed self-adhering butyl seam tape, which is 20 mils thick. Looks and feels like joist tape, but Trex is very clear that you must use RainEscape tape.
Dek Drain does not use tape or requires any calling, but the seams are capped with a 4″ strip of rubber membrane, diverting water off the seams. The cap matches the trough in thickness of 45 mils. Giving you a full 90 mils self-sealing material over each joist.
Compared to RainExscape with 40 mils combining the trough and tape material.
With Dek Drain made from more durable material along with increased thickness, it is design to last.
Rain Escape is also designed to last for years, but the material can more easily be damaged.
Which can be seen in their warranties.
Trex Rainescape offers a limited 20-year warranty
. In which they will either replace the failed parts or reimburse you based on the remaining percentage of the warranty. At year ten, the payment would be 50% of the original price, etc.
Compare this to Dek Drain with a fully transferable lifetime warranty. The warranty is transferred from homeowner to homeowner if you sell the property.
But unlike RainEscape, which reduces in value. Dek Drain will fully replace any failed product. Not a percentage, but a full replacement.
Dek Drain is not only made from more durable material but has a superior warranty. Making Dek Drain our pick for durability and warranty. If you need your under-deck drainage system to last, Deck Drain is an excellent pick.
Availability
Dek Drain is sold online directly to homeowners. 
Availability across the US to all 50 states, but for out of the states, you will need to contact them directly to organize shipping.
But Dek Drain does ship to over 7 foreign countries. So there's a good chance you will still be able to get your Dek Drain under-deck drainage system even if you don't live in the United States.
To order your own Dek Drain, visit their home website
to order. 
As for Trex Rainescape, it is way more easily available as you can purchase it through various dealers such as Lowe's, Home Depot, and various independent stores across the states.
Some parts are even available on Amazon.com
!
You can also easily find dealers and installers directly on Trex's 'Find Trex
' tool.
Before we al started ordering everything online this would have gone to RainEscape with their local retailers that you can pick up product at.
But the convenience of Dek Drain shipping directly to your place is convenient. Plus they figure out what yo all need.
The only advantage of RainEscape is if you are short a piece or accidentally put your hand through a trough while installing, you can easily pick up more the same day.
Price
Figuring out the cost is a little complicated due to the differences in installation design and some variations between installers.
But for a simple 12′ x 12′ deck with no cantilever. Expect to pay roughly.
Trex RainEscape will cost $1 090.00
Dek Drain $1258.41.
So do expect to pay more for Deck Drain.
If you are looking for a rough number, $7.60 a square foot for RainEscape. But expect to pay more for Deck Drain, roughly $8.75 a square foot. Close to a buck a square foot difference.
Now, this is very rough.
The on-centre spacing of your deck joists, length, posts and cantilever all impact the cost. Making an individual material list and price is critical.
The good news with Dek Drain is if you provide your deck plan to them, they will work out all that for you. Ensuring you get all the parts you need.
RainEscape, not so much. The design is simple, but you will need to figure it out.
Also, a gutter or eaves trough to run the water into and away from under the deck will be an additional cost. But this is the same for both brands.
Final Thoughts
While both the Trex Rainescape and the Dek Drain are great options for your under-deck drainage system, our pick would be the Dek Drain.
Not only did we find that it had more range when it comes to custom ordering parts, but it has a better warranty with more durability and easier installation than Trex Rainescape. 
However, we understand that availability and cost are huge factors that may make the Trex Rainescape a better option. If your budget is tight or you love the convince of running down to your local building store and buying all the parts. Not having to wait for it to be shipped out.
Either way, both will increase the amount of space you will have at your home to enjoy.