After all your hard work, you finally have the deck you've always wanted. But now that you've built it, what do you do now?
After all, you've seen so many layouts, and now you're overwhelmed by all the choices available.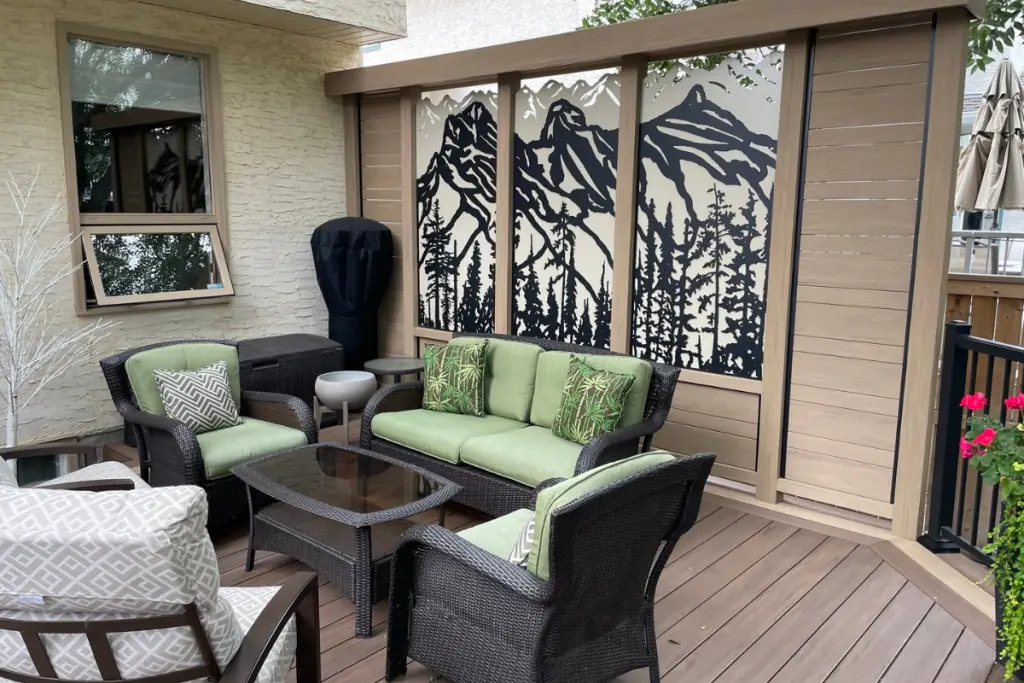 But before you go overboard, let me give you a few tips on what you should consider before you make any rash decisions.
With this in mind, let's take a closer look at your deck to see what you can do with the available space. 
Three Factors To Consider First
The Size Of Your Deck
Before you buy anything, you need to make sure that you measure the space around your deck. There's nothing worse than cramming a smaller deck with too big furniture.
I am still haunted by a deck I build in my early years. The table and chairs were so tight on the deck that people had to get out of the chairs to allow the person beside them to get out. Always measure before ordering.
But you also don't want to have too much space. So measure the available surface. If you have a small deck, you may notice that the outdoor furniture is usually left along the sides of your deck. 
Entry And Exit Points
Before you start putting anything down, make a note of where you can enter your deck. There's nothing worse than blocking an entryway or exit, especially if you intend to use it as an outdoor dining area.
If your deck goes into your garden, you don't want to block the area to that either. Instead, keep track of where any foot traffic will be and ensure you don't get furniture that will block the path. 
To do this, you could map out your deck on some graph paper so you have a better idea of where the furniture placement can be.
The Reason You Built Your Deck
While before I mentioned the logistics, now you should consider why you wanted your deck in the first place. Did you want to have a place to relax outside?
Maybe you wanted an area to entertain guests and dine outside.
Or are you dreaming of a place to grill? Bringing the flavour of fire to all your dining delights.
No matter your reasoning, you should always remember why you built your deck in the first place, so you don't get lost in the number of furniture options available.
The area needed for deck use will vary. But with a little planning, your deck can do exactly what you were hoping for.
3 Popular Ways to Enjoy a Deck
Regardless of the size of a deck, big or small I have there are three common reasons or ways to enjoy your outdoor space.
More often these three are blended together. If you are dining you will often be grilling. You can lounge around a dining table. Or like like my in-laws the grill will feed into the outdoor sofa set. Blending grilling and lounging together.
The size of your deck will limit the furniture
you arrange on it but still, this will often be the focus.
But I will strive to provide furniture options for all sizes of decks. With the hope to create a space you can enjoy.
Furniture for Small, Medium and Large Decks
The less space you have will of course limit the size of furniture and how you arrange it on your deck. But for quick reference, here is what I consider a deck size.
Small Deck-Less than 100 square feet (10'x10′)
Medium Deck-Between 100 and 250 square feet. (16'x12′)
Large deck-250+ square feet.
When it comes to patio furniture the layout of the deck makes a world of difference.
A narrow rectangle deck even if it's over 200 square feet cannot fit a dining table set. So keep that in mind. Square decks are often the easiest to arrange furniture but are often the least appealing. Consider both width, length and area when planning your deck furniture.
Outdoor Dining Ideas
Are you planning on using your deck for outdoor dining? If you are, you should focus on making your dining room table a focal point of your deck.
The table placed in the centre of the deck space or slightly to the side to allow traffic flow. Traffic flow is one of those often overlooked parts of arranging your deck. Even if the table is your main focus on the deck you do not want to impede people from getting up to go grab another drink. Or sneak of to the washroom. No one want to announce to the entire group that they need to sneak off. Leaving some room behind the table chairs to slip out is ideal.
Medium and Large Deck Dining
A nice round eco-friendly table option is the POLYWOOD Lakeside Dining Table. The diameter is 48″(1.2m) fitting on a 10′ space with room for chairs. But that proverbial round peg in a square hole actually works to your advantage here. The round table creates room at the edge of the deck to move.
Or add a little life in the corner of the deck, with a potted plant.
The Lakeside table only seats 4 which is more common with round tables.
If you are hoping for a larger dining area rectangle tables are more common.
Still, in the Lakeside design
, Polywood has a 6′ rectangle table that seats 6. Allowing you to invite a few more out on your deck. But you will need a longer deck for a rectangle dining set. To account for the length of the table.
A good rule for tables on a deck is add 3′ (0.9m) to the ends of the table to account for chairs. So with a 6′ (1.8m) table, you need a deck length of 12′ (3.6m).
An advantage of a rectangle table on your deck is width. The tables are slimmer and sit nicely to one side of the deck while allowing people to move freely beside the table. Making serving your famous burgers all that much easier.
A little side note about dining tables. Consider ones with an umbrella hole in the centre your an off-set umbrella to shade you while out on the deck. Often afternoon barbeques are the hottest time of the day. When the suns glare can become annoying. No one wants to be covering their eyes while eating. Not to mention the heat.
Either size of table, can be a great centrepiece for your deck. Serving as the main area for friends and family to gather.
If you want a more classy look the Elizabeth Cast Aluminum Powder Coated Dining Set
. The look of cast iron but lighter. The table seats 8, for a slightly larger dinner party. The additional foot will need to be accounted for with a larger deck or patio. But the additional foot provides room for 2 more.
Wicker is another popular finish for deck furniture. Another 6-chair option is Grand Patio Wicker Set. This set is made from resin wicker which will last longer than natural but still is not as durable as poly lumber or aluminum.
But wicker has a warmth to it. Setting a relaxing mood out on your deck.
Big fan of decks but with larger tables often a patio area will work better. The grass around the patio serves as access space. Meaning a smaller patio space can host a larger group.
I have seen many people build a smaller raised deck by the rear door with stairs down to the main dining area on the patio. The deck serves as a convenient grilling area close to the kitchen. While people enjoy a smoke-free patio below.
Small Deck Dining Options
For a standing outdoor dining experience consider drink rails. Leaving the deck more open for more guess and free movement but providing convenient places to set your plate down.
Often drink rails will be between 5 to 8 inches. Large enough for a plate but not to impede on deck. With composite decks, this is often done by attaching a wide deck board to the top of the railing. A little more complicated than just screwing a board on but you get the idea.
If you want more space on the edge of your deck, a deck rail table
is another option. Compared to a drink rail this is an add-on. The well-designed ones will slip over the railing, with a clamp to secure them to the railing. Gives you the option of packing them up when not in use.
A deck rail table or bar often should be accommodated with bar stools for comfort.
Unlike a drink rail, I find rail tables less convenient for larger groups. They work much better for a small shared meal. Not a large barbeque.
The best is breakfast with your significant other, enjoying the sunrise perched at the edge of the deck.
Furniture for Lounging Outdoors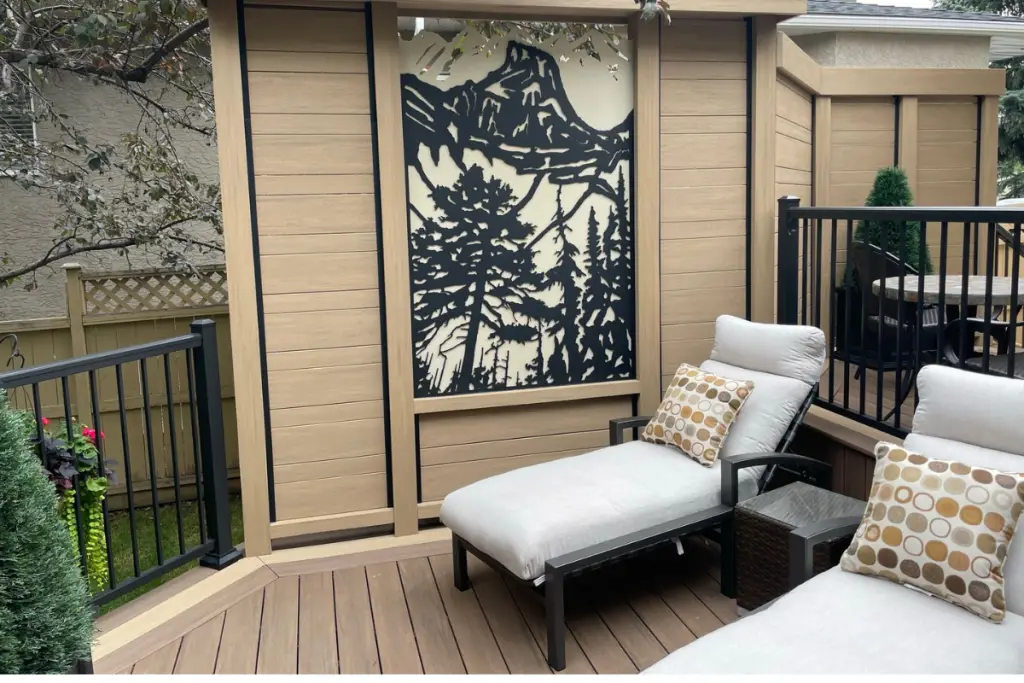 I have good news for you if you just want a place to relax without worrying about the main dining area. Small furniture can make a big difference in making your deck appear larger than it is.
Like with the dining table, you'll want a focal point. This could be a coffee table like the Keter Corfu Coffee Table
or an Outlandliving Fire Table
for when you want to spend time outside in the evening.
If you are looking for more options of fire tables for your deck, click the link. Fire tables are great on a deck but the sizes and styles
are important to reflect your deck layout.
When deciding on chairs for relaxing outside, Wicker Chairs
are great as they aren't too bulky but have a modern design, making them a great choice.
The arrangement of chairs will become the main focus of your deck. Care should be taken to buy the right size, fitting the area.
Plus a design that reflects your deck's mood. Industrial-looking chairs may be durable but are not calming in appearance. One of the reasons I like Polywood and other HDPE furniture. It is strong and requires limited maintenance but still looks like traditional wood patio furniture.
An area where your friends will want to pull up a chair to chat. Bringing people together out on the deck.
A Large Deck Conversation Area
With a larger area, you can have bigger chairs and centrepiece. Great for large lively deck conversations.
Such as the ALAULM Conversation Set
centred around a gas firepit. Comfortable sitting 6.
Don't hesitate to include a few cushions to make your conversation set even comfier. Plus they can add colour to your deck area.
Even with a larger deck setting one sofa to the edge of the deck against the railing will open up the centre of the deck. The opposite of a dining table where you need room around the table for walking. With a sofa set, the space is double utilized in the centre of the deck.
Often meaning you can seat more people on couches than around a table.
To make your conversation area feel more like a lounge, you could consider an outdoor rug again to accessorize and even include a few side tables.
The side tables are multi-purpose. They add to the feel of the space but also double up for dining out on your deck. For snack beside your guest or to set plates down after enjoying a meal on your lap.
To add a bit more colour and shape, you could add a few mosaic tables
to add some variety. By having these, you could make your conversation area less rectangular.
Versatility in Outdoor Lounging
If you would love to use your deck for multiple purposes but worry about having too little space, then don't worry. There are also options available to you to help utilize your space perfectly.
By doing this, you'll need to carefully choose your furniture, so it's lightweight, and also make sure that you have stools that are easy to stow away. 
The perfect way to do this is by ensuring that you strategically place your furniture so that you can utilize your furniture correctly. 
A SunBathing Area
If you love soaking in the sun, think of including furniture for exactly that. Soaking up the rays.
This doesn't have to be a big area, as you can get chairs like these Convertible Chaise Loungers
, which are perfect for those times when you just want to sit back and relax in the sun.
Many Chaise loungers are under 6′ in-depth and 3′ wide. Meaning they don't take a lot of area on a deck. an 8'x8′ deck area will provide plenty of room to set two up with a small walking path between. To relax together will enjoy the warmth of the sun's rays.
Often best to put these by the far end of your deck, facing the yard or deck view, for the best views. Plus this is often the sunnies part of your deck.
If you want some optional shade, I would get an umbrella to place near the lounger. The size of the umbrella will depend on the deck, and how close you want to be to the umbrella.
Offset umbrellas are great to set up at the edge of the deck while providing shade in the middle of the deck. only for those days when the sun is a little to intense.
A small drinks table nearby is great for a cold drink.
Accessorizing A Deck
While we've talked about your furniture, you can also discuss accessories. You can include a bar on your deck to easily access snacks and drinks.
Your guests won't have to go back inside if they can collect them outside. Don't forget that you can also accessorize this area with art pieces or some plants to give it more colour.
Speaking of colour, you can always paint your furniture to fit your designs and make them more comfortable with cushions, or even add an outdoor rug to give your flooring a bit more colour.
Some of my recommended rugs for composite decking
. Plus the why's.
By adding these plants, flowers, rugs, and cushions, you'll be able to create a cozier atmosphere outside. 
If you'd like the area to be a bit more private, you could include some screens. These don't always have to be plain. You could get a decorative screen
and put some plants around it to make it feel more natural. 
Different Areas For Different Spaces
Speaking of dividers, you may want to consider allocating different areas to your deck. Even with a small space, this can help your deck feel less cluttered than if you put everything in one space.
If you do intend to use your deck for multiple situations, you can ensure that everything is in the correct place. 
So when you're focusing on where everything should go, ensure you have everything allocated in different sections. This way, you know where everything needs to be and will keep everything feeling organized.
Furniture For Grilling on a Deck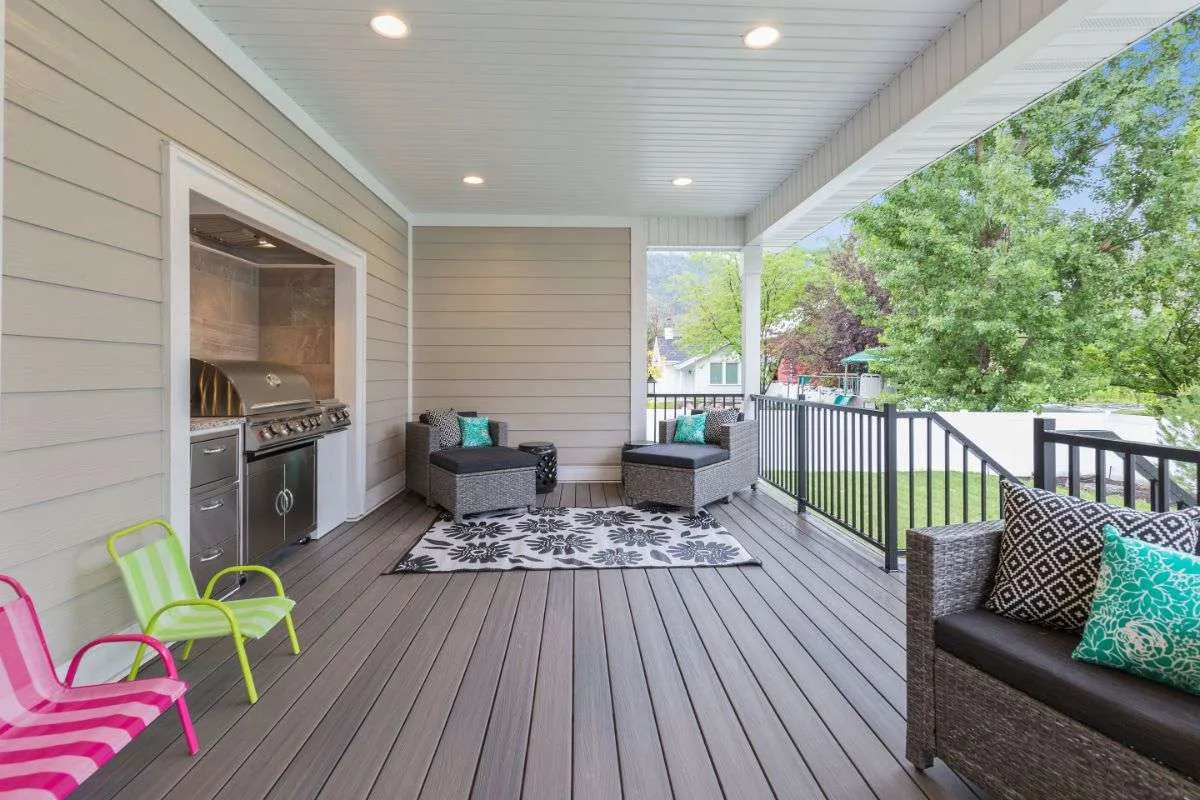 I previously mentioned decks make great places for barbequing and enjoying cooking outdoors.
This can be as simple as a barbeque on the edge of the deck or so much more.
The Kitchen Area
While this is a separate zone from your dining area, there are a few additions I would include.
Your kitchen area will already have your barbecue there, and while I mentioned a small bar with a small deck, your kitchen area can have a little more flare than your small deck.
For example, you could include a Rolling Wicker Bar Cart
, which you can transfer between each area. 
Of course, if you want to add another stand-alone bar and chairs nearby, you could have one facing away from your barbecue for those romantic evenings. 
Grilling on a Deck
Whenever dealing with heat and fire on a deck be careful to protect flammable material around the grill. Simple things like keeping space between the grill and railing or draping the railing with a wool blanket to prevent heat damage.
If you are in the planning stages still I recommend raising a portion of the deck for the grill. This will help to minimize accidental contact with the grill and smoke. It doesn't have to be high but a couple of steps up will make a world of difference.
Many people like to include a privacy wall
beside the grill to minimize wind gusts. Making grilling better even in less-than-ideal weather.
At the same time don't enclose the grill area. You are going to be spending a lot of time standing there waiting for the meat to cook, give yourself a view to enjoy.
For even more grilling on deck tips
, click the link.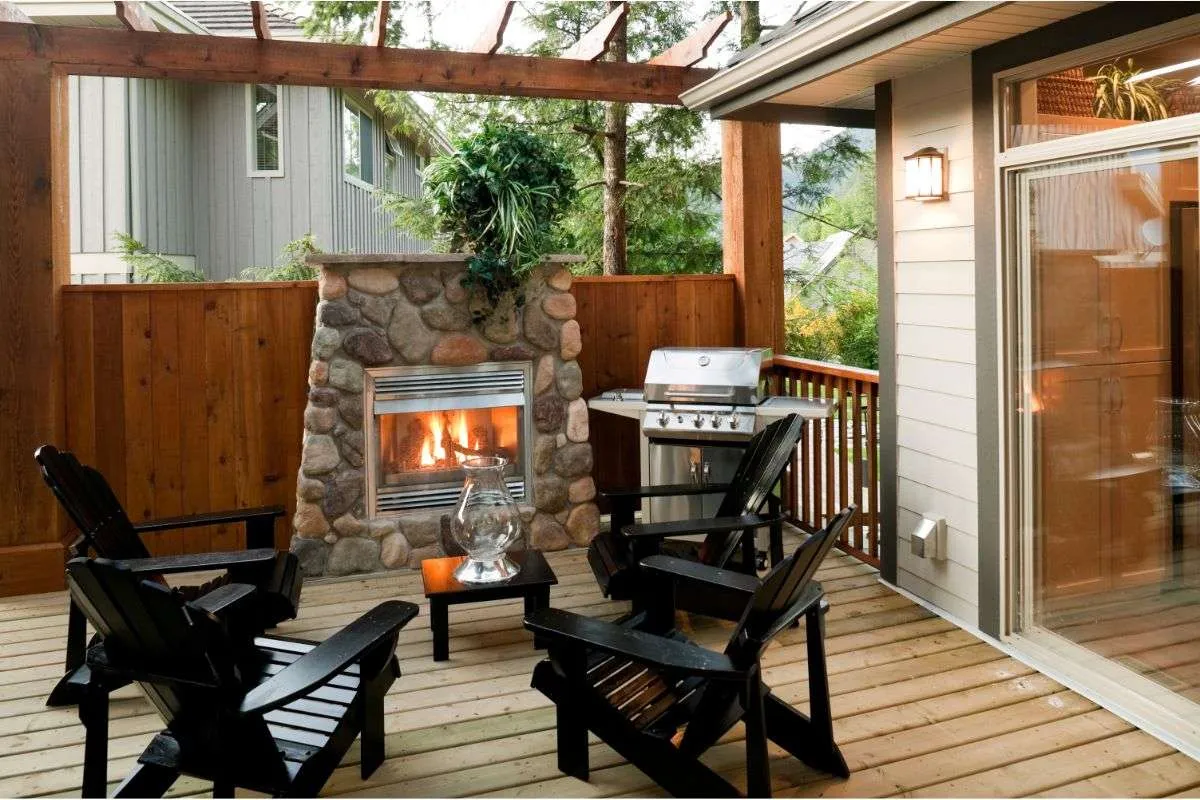 What Shouldn't You Do When Organizing Your Furniture?
Now that I've talked about what you can do to organize your furniture, it's time to discuss what you should avoid.
After all, I've told you what you need to be careful of when you consider, but there are other factors that you can't overlook to make your life easier. 
Don't Forget Accessories And Plants
If you want to go outside and relax, you'll want to feel like you're somewhere you can relax. Unfortunately, there are some cases where homeowners forget just what they include in their deck decor.
This doesn't mean you should grab something quickly from inside. Instead, you should look at some items you could bring. 
Consider some statues, pottery, ornaments, candles, or light fixtures. You could even put some art on your walls or hang wind chimes.
There are so many items that you could include, but they should be specialized for the outdoors. You should also remember plants for this reason, as you can add extra colour, which will brighten the place up.
Don't Mix And Match Your Furniture
I know I just said to bring out some accessories, but this ties into my talk about having a purpose for your deck.
Mixing and matching your furniture can screw up the colour scheme and make the place look overcrowded. If your deck has too much going on, you'll feel overwhelmed, and it won't feel relaxing anymore. 
Ensuring that all your furniture works well together can help you out. After all, designing a deck is essentially designing an extra room for your house. Thinking of it like this, you may be able to design this in a way that will work best for you.
Ensure You're Using Outdoor Furniture
You need to ensure that you're using outdoor furniture because indoor furniture is not weather-resistant. While you might think this is an obvious factor to consider, there have been cases where people have put indoor furniture on the deck.
Make Sure You Have A Colour Scheme
Now, using colour is a difficult one. Many furniture items are available in neutral colours, and some prefer this, but it can be too bland if done badly.
Instead, you can add bright colours to accessorize it. However, this can also be an issue when done incorrectly, as you don't want too much colour that will jump out at you.
Instead, you should decide on a colour scheme of two or three colours to make it easier to design and choose furniture.
Final Thoughts
Once you've read this, you should have a better idea of how to organize the furniture on your deck. This won't be a comprehensive list of what you need to do, but just some ideas of what you can do with your area.
So long as you follow these tips, you shouldn't have any issues with having the deck you've always dreamed of.
Just remember why you wanted your deck and what you wanted to do with it, and you should find that everything will come naturally to you as you organize everything.