Over the years, composite decking has become more and more popular. While a traditional wood deck remains a great option, composite is an eco-friendly alternative made with green nature which is a combination of wood and recycled materials. 
One notable brand is MoistureShield. While there are many composite decking manufacturers, MoistureShield is highly rated.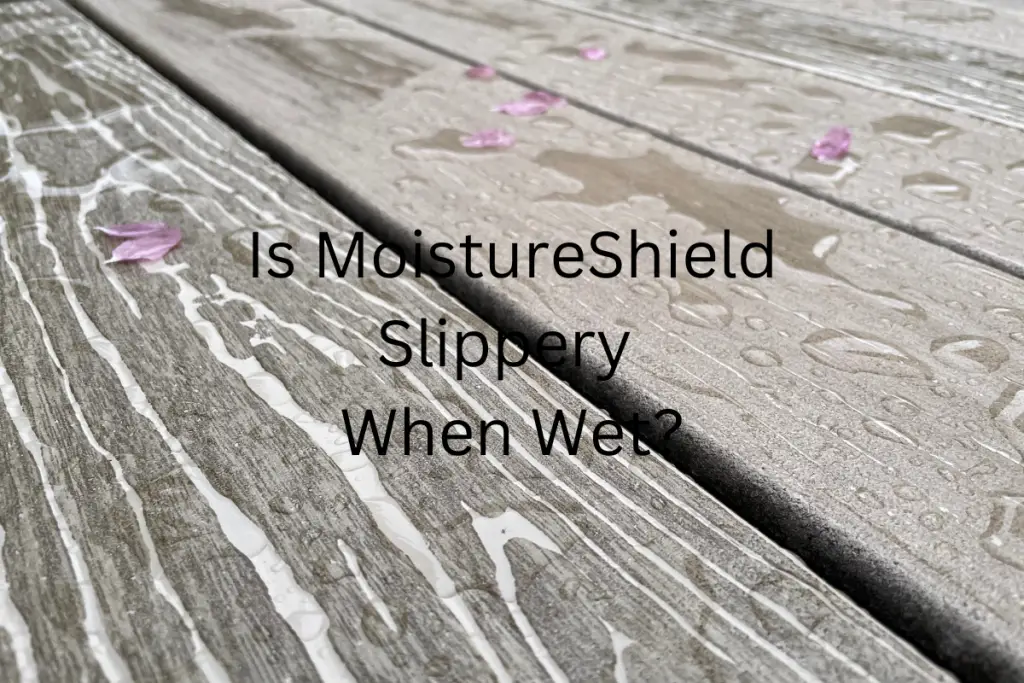 The brand's parent company, Advanced Environmental Recycling Technologies, has paved the way for environmentally conscious products composed using recycled materials. 
However, if you're looking to purchase decking, you may be wondering: is MoistureShield decking slippery when wet?
MoistureShield composite decking is one of the higher-rated deckings for traction when wet. Being less slippery than many other comparable brands, especially their uncapped Vantage line.
If you want to see how MoistureShield compares to other composite decking for slip resistance
when wet, click the link.
But if you are keenly focused on MositureShield's performance in the rain or on the dock. Then stay here as we consider its traction, in particular when it's wet. When decking is the most slippery and the chance for falls is highest.
But first, a little introduction to MoistureShields composite decking because it varies in wet performance.
Different Types Of MoistureShield Decking
MoistureShield provides 4 different styles of composite decking with 18 different colour boards. 
What makes this brand unique from others is its encapsulating technology protecting the word fibres from moisture.
But also CoolDeck® Technology is available for both their Vision® and Meridian™ lines. Promising to be 35% cooler than traditional composite decking.
Meaning that during the summer heat, you don't have to worry about burning your feet on the decking. But comfortable and cool while strolling on your deck.
Below are MoistureShield decking different styles and lines.
MoistureShield Vantage™
Bridle
Cape Cod Gray
Earthtone
Seasoned Mahogany
Walnut
An uncapped composite decking board that performs best of all of MoistureShields decking for slip resistance.
It is unusual for composite decking because most composite decking these days is capped which generally improves appearance and performance.
Vantage is the exception.
0.79 traction when dry and an impressive 0.81 wet.
Vantage has better traction than almost every wood-based composite on the market, ranking similarly to PVC. Which generally is better for traction.
MoistureShield Vision®
Smokey Gray
Spanish Leather
Sandstone
These 3 include CoolDeck Technology
Cathedral Stone
Mochaccino
Cold Brew
MoistureShield Vision, is their most capped wood composite board, protected with a unique DiamondDefenseTM Coating for exuding distinctiveness while resisting scratches, stains, and impact damage. MoistureShield Vision deck boards come in a variety of beautiful colour choices. With a unique texture, which provides an amazing level of traction.
Vision does not perform as well as Vantage for traction but is close.
0.83 dry rating but only 0.77 when wet.
The reverse of Vantage, performing a little better when dry but losing some of the traction when wet.
But either way is an impressive level of traction.
MoistureShield Elevate™
Canoe
Lake Fog
Riverbank
Alpine Gray
With Elevate composite decking, you get more advanced protection and beauty without breaking the bank. Their initial capped wood composite board is protected with a tough, protective barrier that helps to prevent damage from impact, corrosion, and weathering in most situations. Additional protection comes from our unique Solid Core system, which includes zero structural field failures on the ground.
In regards to slip resistance which is what we are discussing.
0.77 dry, 0.71 wet
Slightly lower than their other two lines but still has an impressive rating.
Elevate will grip your feet even when it starts to rain.
MoistureShield Meridian™
All 3 colours of Meridian include CoolTechnolgy.
With a natural wood appearance without the upkeep, you can have it all. The TruTextureTM Surface on the Meridian resilient, colour-rich capped composite deck boards gives it a realistic feel. Combining the beauty of wood without the maintenance to be enjoyed for years to come.
Is Wet MoistureShield Decking Slippery?
MoistureShield decking is designed to minimize the chances of slips happening when it rains. 
But of all their styles of decking, the best one in terms of traction is Vantage. An uncapped composite decking. 
Close behind we have Vision which is a capped boarding that scores better when dry. Which practically speaking is when you will be spending the most time on your deck.
Compared to other composite deckings, the MoistureShied cap remains unique in that it provides a less 'plasticky' finish, with a more natural look without a smooth gloss or sheen. 
"a playdough-looking board."

Shane from The Ultimate Deck Shop
Not a perfect description but it is truly unique in appearance from many of its competitors.
But resulting in better traction than many wood-based composite brands.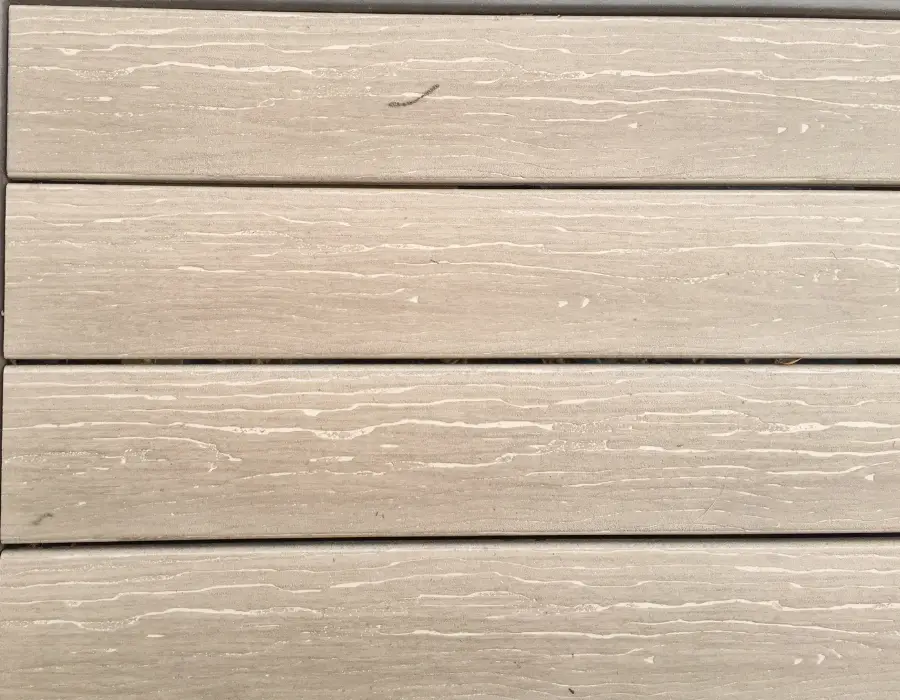 What Contributes To A More Slip-Resistant Flooring With Enhanced Traction?
While PVC and composite decking are all made with the same essential materials, traction between flooring varies considerably. When looking at Good and Bad traction, the determining factor is the cap. 
The more enhanced caps will usually contain a gripping finish with deep embossing. 
Which MositureShield has in spades.
On the other hand, bad ones will contain shallow embossing and are smooth – providing little effort to grip your feet in the instance of rainwater on the decking surface. 
But this doesn't mean that un-embossed boards can't have good traction.
Many of the best boards for traction have a rough finish which works like velcro griping your feet.
Often the higher-rated boards will be exactly this. having a rough decking finish to provide grip when wet.
Comparing Composite And Wood Decking For Slip
When looking at decking traction, it is only natural to look at wood decking, too. Similar to other types of decking, such as composite, wood also varies in traction. 
The only challenge in comparing is that different wood and stains change the level of traction.
Unsealed pressure-treated wood decking has much better traction when wet than when sealed. But if the decking is not stained or sealed it will not last as long or look as good as sealed wood.
If you're looking to preserve the wood, then you're going to need to seal it. However, in doing so, you're also reducing the traction. Essentially, the general rule of thumb is the glossier the texture, the slipper the decking becomes. 
That being said, sealing your decking does help to minimize the occurrence of water absorption – which also helps to preserve the decking.
On the other hand, absorbed water can help to raise wood fibres, which, again, increases friction – with similar effects as what texture achieves for composite decking. 
Therefore, the better protected, the less traction the flooring will contain. When looking at wood, it depends less on the wood itself and more on what it is on the surface. 
The number one suspect when it comes to slips on decking is mildew and mould. Hence, a clean deck with safe wood provides the most traction.
To maintain your wood, ensure you're cleaning it regularly. It only becomes slippery when you allow mold or mildew to occur – it's like a banana peel underfoot! 
Final Thoughts
Since most decking is used outdoors, you'll want to ensure that it is slip-resistant in order to reduce the chances of slips. One of the best composite deckings which reduce the risk of slips is MoistureShield.
MoistureShield deckings provide deep engrossings and texture to improve your grip on the surface.