More durable than wood, composite materials are perfect for crafting hardy decks that stand the test of time, but they're not invincible!
Like anything in this life, gradual deterioration is inevitable, especially if you don't spruce your decking up with a quality cleaner from time to time.
Granted, composite materials don't support the growth of mould and mildew, but all the detritus that builds up on the surface such as dirt, pollen, and other pollutants will provide a cozy little foundation for algal and lichen growth.
And without intervention, before you know it, your beautiful deck looks more like an ancient boardwalk than an enticing social Shangri-La.
This is why I have created a list of recommended composite deck cleaners. Cleaners to help you restore your decking to the original beauty you loved. The best cleaners for your composite decking.
Best Cleaner For Composite Deck: Reviews
In my top spot, we have this concentrated formula from DeckMAX. It contains zero VOCs and zero harmful chemicals — no bleach in sight!
Without toxic solvents, it's safe to use around nature and wildlife, so both your yard and composite deck will end up looking great.
With a 64 fluid ounce volume of concentrated liquid cleaner, when properly diluted, it provides 1500 square feet of coverage, which is well over a quarter of an acre, ensuring you get great bang for your buck.
You can also use it to clean wooden decking or furniture, killing two birds with one stone, and what's more, it arrives with a high-quality soft bristle brush so you can give your composite decking a thorough clean without scarring it.
Pros
No Solvents, bleach, or VOCs — Safe for your composite boards and your lawn
1500 Square Foot Coverage — Even if you have a large deck, it should last a while.
Removes Algae — Kills common composite growths
Comes With Brush — No aftermarket purchases necessary!
Cons
Price — It's not exactly a budget option.
Also available from Ibeautycity
If you're looking for a versatile cleaner you can use to clean any outdoor feature, from your composite deck to your wicker chair, then you need Simple Green's infamous Oxy Solve formula.
Utilizing peroxide to provide powerful stain removal without the dangers of bleach and other harsh chemicals, this is one of the best options if you're concerned about the health of pets or the plant life around your decking.
My worry was that it wouldn't be tough enough to handle the algal and moss growth on the shaded parts of my deck, but to my surprise, it stripped them away like they were nothing.
It's a concentrate that makes up 21 gallons of cleaning solution in total, which equates to a whopping 6300 square feet, making it a fantastic choice for those with sizable decks. 
The only issue is that it's designed to be used with a pressure washer. Jump down to the FAQ section for levels of pressure washing for some of the more popular brands. But before your start spraying always check what your composite decking recommended pressure level is.
And start in that back corner that no one looks. That way if you accidentally damage the decking, it won't be the most visible section that you see every day.
Pros
No harsh Chemicals -This cleaner is completely safe!
Makes 21 Gallons of cleaner – 6300 square feet of coverage is nothing to sniff at.
Versatile -Can be used to clean your entire outdoor area.
Price -Despite the expansive coverage, you can pick Oxy Solve up for a steal.
Cons
Pressure washer cleaner – Pressure washers aren't typically used for cleaning composite decks. And increase the necessary equipment to clean your deck.
Also available from Beautymeek
TimberTech is one of the leading brands of composite decking
, so you know you're getting quality when you invest in their proprietary composite cleaner.
A highly specialized solution designed with all the large composite companies in mind, you can rest assured that it won't void any warranties
.
It achieves this incredible feat without the help of any toxic chemicals or bleach, which is mighty impressive.
Having said that, it is the most expensive cleaner on my list… by a long shot! Despite containing 1 gallon of 4X liquid concentrate, it will only provide roughly 1000 square feet of coverage.
It'll be the cleanest dang 1000 square feet you've ever seen, but it's nevertheless underwhelming considering the price tag.
For some, though, the guarantee of a safe and powerful composite cleaner will be well worth the cost.
Pros
Developed by TimberTech — They know composite deck better than anyone!
Zero Toxins, Zero Bleach — This stuff is completely biodegradable.
Deep Cleaning — Even tough stains from clay soil don't stand a chance.
Specialist Cleaner — For composite and only composite.
Cons
Price — You'll pay more for the brand.
Also available from Hartvillehardware
If you're doing battle with particularly tough spoiling, it might be time to bring in the big guns, otherwise known as Wash Safe Industries Composite Deck Cleaner.
This stuff is MEAN! But before you lock and load, you should know that it does contain trace amounts of bleach, which is why I'm only suggesting that you use it as a spot cleaner and that you only leave it on for a few seconds.
The beauty of it is that this stuff is so powerful that you'll rarely even have to get on your hands and knees and scrub, which is a godsend, but you should be careful with it around plant and animal life.
"an ounce of prevention is worth a pound of cure"
There are many reviews of how it was safe for the people's plants around their deck but I would always recommend minimizing contact on plants. And before washing your deck, lightly spray your plants around the deck and then after cleaning do the same to minimize plant damage.
Pros
Raw Power — This will obliterate any stain or growth.
No Brushing — Easy cleaning is a saving grace for the back.
Deep Cleans — Penetrates pores for enduring cleanliness
Cons
Contains A Small Amount Of Bleach — Best not to use it heavily over extended periods of time.
Easy Composite Cleaning with Common Household Products
I have been working with composite decking long enough to remember before brands had their own "unique composite deck cleaners". When the number one product for cleaning your composite decking was DAWN DISH SOAP.
Which still works well for spot cleaning or even washing your entire composite deck.
Chances are you even have a bottle by your sink right now.
In a bind, where you just want to get the mud off the deck. A little squirt of DAWN dish soap and you are on your way. Just like your dishes make sure to rinse the decking thoroughly off. It can get slippery. Even the most slip-resistant composite decking
.
Not as good as the best composite cleaners but one of the most readily available.
Buyer's Guide
Despite being the more robust option for decking, composite materials aren't as popular overall, which means the market for specialist cleaners is a little thin on its feet, but as long as you know what to look for, you'll find something perfect for the job.
Avoid Wooden Deck Cleaners
Solutions designed to clean wooden decks are often loaded up on bleaches and brighteners in order to revitalize the colour profile of the natural materials, but being that composite contains plastic and often holds its colour and sheen, this isn't necessary.
In fact, using a wood cleaner may have a dulling effect on your composite deck's finish, so it's best to avoid these products where you can.
Search for something advertised as either a composite cleaner or a dual-purpose wood & composite cleaner.
Select Your Cleaner Based On What Needs To Clean Off
If you know what you've got growing on your deck, then it's important to search for cleaners that are equipped to neutralize it, otherwise, the organisms may survive, even after a good scrub, wasting your time, money and energy.
Algal and lichen growth are common composite deck creatures, so it pays to find a cleaner that mentions them specifically.
Should You Buy Pre-Mixed Or Concentrated?
Pre-mixed cleaners are more user-friendly, allowing you to get straight to work without worrying about dilution ratios, but liquid concentrates can be used with a garden hose, making cleaning a total breeze, and powder concentrates last a lot longer.
Which you should spring for really comes down to how you want to approach your deck maintenance.
Coverage
Have you got a big deck? Then you're going to need a cleaning solution that gets great coverage.
Generally speaking, you can expect a gallon of pre-mixed cleaner to treat between 250 and 500 square feet of decking.
As mentioned earlier, powder concentrates will last the longest, offering you great coverage and bang for your buck, but they're the least user-friendly.
Pro-tip — if you wet the deck before applying the cleaner to soften up and agitate some of the grime and debris, it will make the cleaning process a lot easier and save on repeat applications.
Application
Many concentrated powder cleaners are designed to simply be diluted in a bucket and then applied with a deck brush, so even though they last the longest, they don't make the job all that easy.
Pressure washers are the most popular method of cleaning a deck, as they're powerful enough to remove soiling in record time; however, using them incorrectly can damage composite materials.
Different cleaners may also have different activation times, meaning you'll have to wait a certain amount of time before rinsing them off.
Some may not need rinsing off — always read the manufacturer's instructions before starting your deep clean.
Environmental Concerns
As I'm sure you're aware, nature and chemicals often don't play nice, so it's crucial to consider the impact a cleaner will have on the immediate environment.
Nobody wants a pristine composite deck if the price they pay is a yard full of dead grass.
If this is a major concern for you, I'd recommend hunting for an eco-friendly cleaner, but if you need something with a little more oomph, be sure to use it conscientiously.
You'll have to rinse any contaminated natural areas to flush the chemicals away.
Some manufacturers even suggest rinsing natural areas that may get contaminated before you begin, as it provides a protective layer of moisture, making the final post-job rinse more effective.
Unsure Which Cleaner To Choose?
If you're hesitant to pick up one of my suggestions because you're scared it may do damage to your composite deck, why not head over to the decking manufacturer's site and look for recommendations.
At the very least, they should be able to tell you what not to use, which will help guide you to the right sort of cleaner for you and your decking.
Frequently Asked Questions
Got time for a quick composite deck cleaner FAQ section? Fantastic; let's dive right in!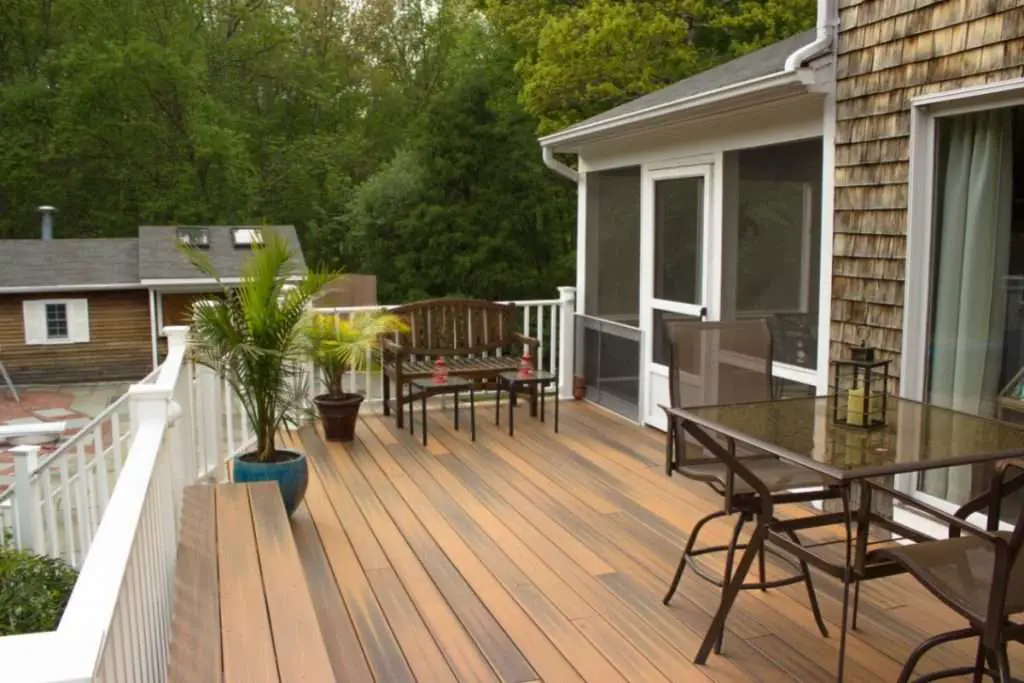 Can I Use A Pressure Washer To Clean A Composite Deck?
You can indeed use a pressure washer to clean your composite decking, but be warned, using too high a setting or holding the nozzle too close to the boards can be ruinous!
Although composite materials are more durable than wood, they're also easier to "etch", and once they're opened up, it can lead to a whole host of nasty issues.
opened up, it can lead to a whole host of nasty issues.
| | | |
| --- | --- | --- |
| Composite Decking Brand | Max Water Pressure | Minimum Distance From Decking |
| Deckorators | Lowest Setting | 8″ (200mm) |
| Fiberon | 2500 psi | 12″ (300mm) |
| TimberTech | 1500 psi | |
| Trex | 3100 psi | 8″ (200mm) |
Pressure Washing Composite Decking Levels
Trex may allow for pressure up to 3100 psi but I would not recommend it. Capped composite is incredibly durable but that much pressure could be risking damaging the decking.
TimberTech also has an excellent tip that you should pressure wash, scrub the decking with the "grains". Just like wood decking. Cleaning along the length of the decking will reduce the chance of damage. A great tip for power washing any composite decking.
What Can I Use Instead Of A Pressure Washer To Clean Composite Decking?
Not willing to risk it with a pressure washer? That's a wise move, friend!
But if you're wondering what you can switch it for, you need look no further than your garden hose.
It may not have pressure enough to take the hide off a rhino's backside, but here's the thing.
One of the best things about composite decking is that the plastic cap makes them much easier to clean than wooden boards.
In light of this, a good cleaner, a good brush, some elbow grease, and your garden hose are typically all you'll need to get that composite deck looking good as new.
Should I Use My Cleaning Solution To Clean The Underside Of My Deck?
How to clean the underside of a deck is a common concern, but the truth is that with composite materials, you really don't have to.
As long as you keep the gaps in your decking clean and clear, the airflow will prevent all the usual suspects from building up where the sun don't shine.
Should I Use A Firm Bristle Brush With My Composite Deck Cleaner?
Remember earlier when I mentioned that composite decks are more susceptible to etching than their wooden counterparts?
Well, this is precisely the reason you should only ever use a soft bristle brush during your deep cleaning.
If it doesn't seem to be getting the job done, the problem is rarely the brush.
Instead, you should be pointing your finger at the cleaner — it's either not strong enough or composed of the wrong sort of ingredients for the surface/soiling.
Is Bleach Out Of The Question For Composite Decks?
Using bleach is the cardinal sin of composite deck maintenance — avoid it like the plague!
If you see sodium hypochlorite on a cleaner's list of ingredients… that's bleach.
Shoot for something sodium percarbonate based instead, as these tend to be largely non-toxic and won't damage your deck or the surrounding nature.
Should I Moisture Treat My Composite Deck Once It's Clean?
With capped composite decking, which most composite decking is. There is no need to moisture treat or seal the decking. That is what the cap is doing.
What Weather Conditions Are Best For Cleaning Composite Decking?
The perfect weather conditions for cleaning a composite deck are sunshine with very little wind.
If, however, it's particularly hot, and you've got a lot of deck to cover, it's best to clean it in sections rather than applying your cleaner to the whole thing, as this allows you to work within the activation times set by the manufacturer.
Final Thoughts
There you have it — 5 of the very best composite deck cleaners in the biz! Any one of these might be just the cleaner you need to revitalize those composite boards and leave your outdoor social space looking lovely!