When comparing Fiberon (PVC) decking boards with TimberTech Azek, there are 5 key characteristics to consider.
Appearance
Slip Resistance
Price
Warranty
Durability
Are you trying to decide between Fiberon Paramount, Promenade and TimberTech Azek decking materials?
When comparing Fiberon Paramount, Promenade to TimberTech Azek.
Fiberon's PVC decking is more slip resistant and backed by a slightly better warranty than Azek's. But Azek has more colours and more lower costing decking options.
Top qualities of each brand (snippet)
To confidently choose the right composite decking
for you, it is essential to examine how they differ from each other thoroughly.
Sometimes the answer is not so straightforward. Knowing my reasons and how I determined one better in that area than the other may be key. Then you can decide if this has an impact on your decking choice.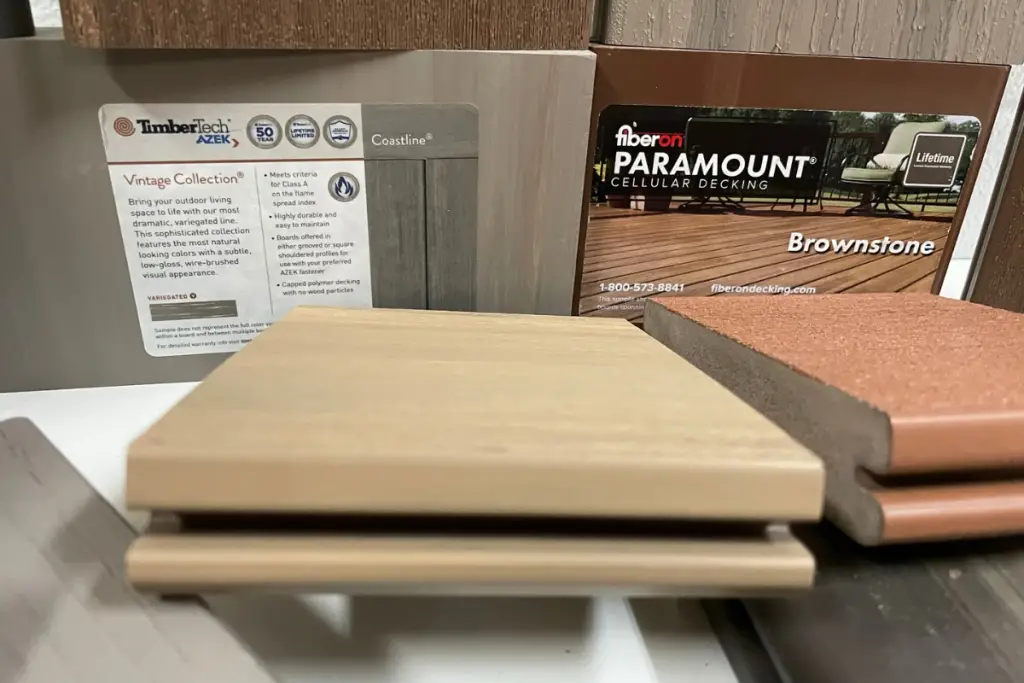 A prime example is the design aesthetic. Although I hold a personal preference for Fiberon's (Paramount and Promenade) deck boards, you may not agree with my opinion of what looks best. Once you know more about what attracted me to Fiberon, you might decide that's not what you love and would rather choose TimberTech Azek.
Now that we've discussed the key characteristics of Fiberon and TimberTech Azek PVC decking, let's compare them in more detail to determine which type is best for your outdoor living area.
How is TimberTech Azek Better than Fiberon (Paramount, Promenade)?
There are 2 features that TimberTech Azek is better than Fiberon.
Appearance is subjective, so please read my explanation. To see if you agree.
The price is a little clearer, but it's a matter of depth of TimberTEch Azek's decking options. With more lines costing less.
Fiberon (Paramount, Promenade) VS TimberTech Azek for Appearance
Composite decking appearance is a key factor for many homeowners because it can significantly affect the look of one's home and yard, along with property value.
Fiberon (Paramount, Promenade) and TimberTech Azek are both designed to provide a realistic wood-like look to your outdoor living space.
A slight variation between the two is colour options.
Fiberon has 2 Collections with 10 colours.
Promenade (6)
Paramount (4)
Azek has 3 Collections with 12 decking colours.
Vintage Collection (5)
Landmark Collection™ (4)
Harvest Collection® (3)
Again so close with only a slight advantage for Azek with 2 additional colours.
There is another slight benefit of Azek decking aesthetically.
Decking Size Options
Azek's Vintage and Harvest come in multiple dimensions.
Vintage Width Options
Harvest Width Options
If you are looking to add depth to your decking design with a variety of decking board width's. With Azek, you can.
This, combined with the extra 2 colours, gives Azek a win. Close, but a win nonetheless.
When it comes to the visual look of a deck, there are aspects that come down to personal preference.
Wire-Brushed vs Cathedral Wood Grains
Hair Texture vs Deep Grain Embossing
Variation vs Consistent Colouring
Streaking over Solid Colour
Not a hard number, but anyone of these or something else. One board may appeal to over another.
Which may make one board clearly a better-looking board for your deck. Finish reading this article and then get a sample in your hand. Maybe the only way to decide between the two.
Fiberon (PVC) VS TimberTech Azek Price
When buying composite decking, cost is an important factor to consider.
Fiberon and TimberTech Azek both offer great value for the money. Both are high-quality PVC decking which generally will cost more than other composite decking
.
But which will leave you enough cash to put furniture on your deck once it's built?
| | |
| --- | --- |
| | Lineal Cost per Foot |
| Harvest (Azek) | $5.00 |
| Landmark (Azek) | $6.00 |
| Vintage (Azek) | $7.00 |
| Fiberon Paramount | $7.00 |
| Fiberon Promenade | $8.00 |
For Vintage and Paramount, you can expect to pay the same. Which really are both brands' premier decking options. In my opinion.
But Fiberon has a more expensive option, Promenade. But Azek has two lower-price collections. We are going to give TimberTech Azek the win for price. Having more lower-cost decking options.
Again not much. but a simple 12′ x 12′ deck could save you $3 – 600 going with Landmark over either one of the Fiberon options.
How is Fiberon (PVC) Better than TimberTech Azek Decking?
When it comes to Fiberon vs TimberTech Azek PVC decking, two ways that Fiberon is better are slip resistance and warranty.
But these are close matches which I will explain how.
Fiberon (Paramount, Promenade) VS TimberTech Azek for Slip Resistance
Slip resistance is one of the most important factors to consider when choosing a composite decking material. Slip-resistant surfaces are essential in preventing slips, trips, and falls that can cause serious injury or even death.
| | | |
| --- | --- | --- |
| | Dry | Wet |
| Fiberon (PARAMOUNT PVC) | 0.80 | 0.75 |
| Azek Vintage | 0.74 | 0.61 |
| Fiberon (Promenade PVC) | 0.70  | 0.51 |
| Azek Harvest | 0.28 | 0.59 |
Both Fiberon (Paramount, Promenade) and TimberTech Azek offer excellent slip-resistance ratings, except maybe Azek Harvest Collection. The rest are excellent decking options for your family and deck.
Both wet and dry Fiberon Paramount have the highest slip-resistance rating of the two brands. Not the best slip-resistance composite decking
on the market, but close.
I don't have third-party testing results for Landmark. But my experience would put it near Vintage for slip resistance. 
The best news is all (except Harvest when dry) exceed the Canadian Construction Material Centre (CCMC) requirement of 0.5 rating. Meaning they are an excellent choice for traction on your deck.
Fiberon (PVC) VS TimberTech Azek for Warranty
A reliable and comprehensive warranty can give you peace of mind that your investment and outdoor living space will be protected for years to come.
Fiberon Paramount and Promenade PVC Decking, and TimberTech Azek offer excellent warranties.
Still, it's important to understand how they differ in order to make an informed decision about which one is right for you.
So let's compare Fiberon and TimberTech Azek regarding their warranty for length, coverage and payout. Then you can choose the best option for your needs.
Length
There is not much to differentiate between the two in length. Fiberon PVC decking and TimberTech Azek both have a 50-year limited warranty.
Both include the 3 essential parts of a composite deck warranty, structural, fading and staining.
Prorating
You are entitled to a full payout, 100% of the decking costs, if you submit a warranty claim within 10 years of your initial purchase.
After that timeframe has passed, the amount will decrease by 10% every 4 years until there is nothing left.
Again, not much difference.
The only slight difference is after year 50, were Azek's warranty is done. Fiberon still offers a 10% payout for as long as you shall own your deck.
Labour Warranty
The labour costs associated with replacing the decking are substantial, making a labour warranty very valuable.
Fiberon has a labour warranty but with more conditions.
Again both offer a labour warranty.
Fiberon's labour warranty
goes as follows
Must use a Fiberon-trained installer.
Time-limited to 5 years.
Azek's labour warranty is both longer and shorter.
It varies from 2 and 4 years, depending on the volume of deck contractors you hire.
If you hire a larger company that builds many Azek decks annually. The time also increases if you included TimberTech railing with your railing construction. this can bring the full labour warranty to 7 years.
Railing may not always be in the plan. For these reasons, straight decking to decking warranty, Fiberon wins.
But only by a year. By offering a 5-year labour warranty over Azek's 4. Combining this with the continuation of coverage after year 50 gives Fiberon the best composite decking warranty.
But it truly is close. Either brand's warranty will give you similar peace of mind for years to come. Some would say for a lifetime.
Fiberon (PVC) VS TimberTech Azek for Durability
In addition to the warranty, which usually indicates product durability, how can we determine whether Fiberon or TimberTech Azek is more resilient?
Often the material the decking is made of will indicate which one is more durable.
In this case, we are dealing with roughly the same product, with both being made of PolyVinyl Chloride (PVC).
To add to this, incredibly close race both have additives giving them a Class A (25) fire spread rating. You can't get much safer decking for Wildland Urban Interface area
.
That leaves the decking cap
as a potential difference-maker.
Fiberon PVC Decking Cap
Fiberon's advanced composite decking is designed to provide superior durability, strength, and protection against the elements. Their patented PermaTech cap provides long-lasting resistance to mildew, mould and fading.
Their Promenade line is capped on all 4-sides for maximum protection. The underside is also coloured to add to the appearance.
The Paramount line, on the other hand, is capped on only 3 sides. But with its PVC core, this does not impact durability.
TimberTech Azek PVC Decking Cap
Azek's cap of Alloy Armour Technology® (AAT) is designed to provide superior appearance, as well as long-lasting resistance to mildew, mould and fading.
They also claim to be "30° cooler than competitive boards," but this is much more a matter of the PVC core, which holds less heat than composite.
When comparing Fiberon and TimberTech Azek PVC Decking durability, both are practically made from the same material.
Ultimately, you can anticipate a lifetime of satisfaction from either brand as they are both uncompromisingly durable for outdoor living!