When comparing Wolf Serenity decking boards with Fiberon, there are 5 key characteristics to consider.
Appearance
Slip Resistance
Price
Warranty
Durability
How do Wolf Serenity and Fiberon decking compare?
Fiberon's PVC lines and Wolf Serenity are very similar in colour options and price. Fiberon's warranty is better prorated, but Wolf Serenity consistently has better slip resistance.
But we will need to go a little further into this before concluding which composite decking is right
for you.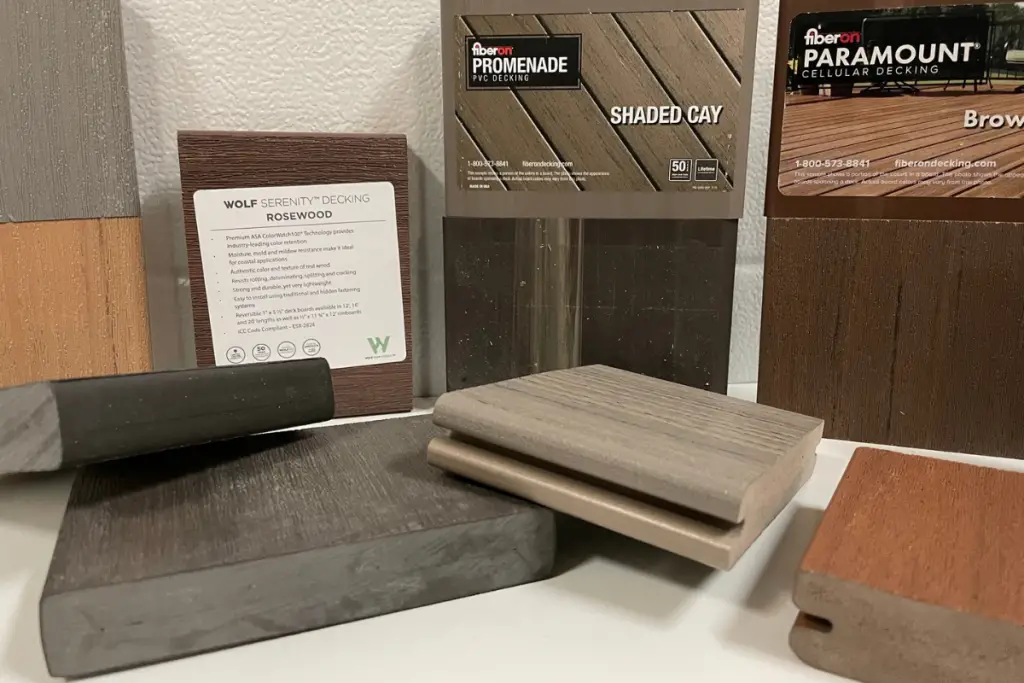 Comparing how much they differ from each other.
If it's not a clear-cut answer. What are my reasons for considering one better than the other? To see if you agree with my conclusion, could they be understood differently? Or does my reason not matter for your deck?
A good example is appearance.
I have my reasons why I think Fiberon is going to look better on your deck, but you may not share my values of what make a deck board look good.
It is often more than just the number of colours which makes one board better looking than the other one.
So let's get into it, starting with where Fiberon is better than Wolf Serenity.
How is Fiberon Better than Wolf Serenity Decking?
There is one important comparison where Fiberon is clearly better than Wolf Serenity.
At first glance, this is not as obvious, but after getting into details, it becomes clear that Fiberon has a better warranty.
Wolf Serenity VS Fiberon for Warranty
Fiberon has one of the best decking warranties on the market.
So I guess you can see how this is going to go.
But let me explain why and how.
Starting with the length of warranty.
Wolf Serenity 50 years structural, fade & stain
Promenade, Paramount 50-Years
Both Fiberon and Wolf include the same main things in their warranty. It will not fall apart, it will fade less than 5 Delta E, and it will not stain if spills are cleaned in a timely fashion.
So what makes Fiberon's warranty so much better?
Its prorating and labour warranty.
Prorating
Structurally both are very similar.
Wolf Serenity's structural warranty payout is 100% for the first 10 years and drops by 20% every 10 years after that. With a final 10% after 51 years for as long as you own your deck.
Fiberon's warranty starts similar 100% for the first 10 years. Then dropping by 10% every 4 years. With a remaining 10% paid out after 43 years for as long as you shall own your deck.
Because of the different reduction scales, every few years, Fiberon will pay more than for a few years Wolf will. It really depends on which year you make your claim.
But for the first 18 years, when you are most likely to make a claim. Fiberon will compensate you the same or more than Wolf.
Labour warranty.
Labour is a huge part of the cost of replacing the decking. Making this super valuable.
Fiberon, not to be outdone, also has a labour warranty but with more conditions.
Both Fiberon and Wolf have 5-year labour warranties limited to their certified installers.
Making them both equal.
But when combined with their slightly better prorating for the first 18 years. I give Fiberon the win for best warranty.
How is Wolf Serenity Better than Fiberon Decking?
With two very similar products, there were not many things that clearly were better on one than the other.
But for consistency Wolf Serenity won the best slip resistance between the two.
Wolf Serenity VS Fiberon for Slip Resistance
Keeping you on your feet as you enjoy your deck is slip resistance. This is why it's so important to buy decking with a good slip resistance rating.
The good news is both Wolf Serenity and Fiberon's PVC boards have excellent traction ratings
. Click the link to see how they rate compared to other composite and PVC deck boards.
But Serenity is better than Paramount. Fiberon's best board for traction when tested transverse (width of the board). They are much closer longitudinal (Skiding along the length of the decking.) When dry, it is slightly better. But overall, Serenity is more slip-resistant.
And hands down, or should I say feet, better than Promenade, especially when you are spraying down your deck or in the rain. Wolf Serenity has 50% more traction.
This one is tough to call if you are comparing Serenity vs Paramount. Either one is going to offer you excellent traction both in the sun and rain.
But if comparing Wolf and Fiberon's PVC decking. As a whole, Wolf has better traction and is more slip resistant.
Wolf Serenity VS Fiberon for Appearance
Now appearance is very subjective to personal taste. Decking is no different.
But we all want a good-looking deck, so deciding which decking is better-looking is important.
In fact appearance is often the deciding factor when buying decking.
Lets start with number of colour options
Wolf Serenity PVC has 2 lines with 11 colours.
TROPICAL HARDWOODS
Amberwood
Black Walnut
Rosewood
Silver Teak
Onyx
Golden Cypress
Driftwood Grey
Teakwood
Weathered Ipe.
Rich, variegated hues with a natural woodgrain finish.
SEASIDE
• Habour Grey
• Sandcastle
Solid coastal tones with a cool decking colour palette.
Fiberon has 2 lines with a total of 10 colours.
Promenade
Natural Reef
Russet Dune
Sandy Pier
Shaded Cay
Weathered Cliff
Moonlight Cove
Paramount
Brownstone
Sandstone
Clay
Mineral
Clay and Mineral are more solid colour boards. In contrast, Brownstone and Sandstone have more colour variation within the board's colour.
If it is just about number of colours.
Wolf wins with 1 more than Fiberon with a total of 11 colours.
A little more subjective, but key in decking appearance is things like.
Wire-Brushed vs Cathedral Wood Grains
Hair Texture vs Deep Grain Embossing
Variation vs Consistent Colouring
Streaking over Solid Colour
With these, you could argue either way. That Serenity looks better than Promenade or vice versa. Both are equally valid. So if you have a colour mind, pick whichever is better for your home.
Wolf Serenity VS Fiberon for Price
How much are you going to pay?
Looks attract us to a decking style, but it's often the cost that determines what we buy.
| | |
| --- | --- |
| | Lineal Foot Price |
| Serenity Seaside Collection | $6-6.50 |
| Fiberon Paramount | $6.50 – 7.00 |
| Fiberon Promenade | $7.50 – 8.00 |
| Serenity Tropical Hardwood Collection | $7-8.00 |
Cost Per foot of Decking
Serenity and Fiberon are competitively priced. Making where you live and shop the biggest difference in price.
You can expect to pay a little less buying Serenity Seaside boards but nothing significant. With the understanding that you are getting solid colour boards.
Colour is often the easiest tell of how much you are going to pay for a board. The more streaking and colour variation, the more money.
But overall cost is a toss-up. It really depends on which board you choose if you will be paying more with Fiberon or Wolf.
Wolf Serenity VS Fiberon for Durability
Wolf Serenity and Zuri are PolyVinyl Chloride (PVC) decking at their core
 with all the advantages that PVC provides. Longevity and durability are at the top of the list, along with being unimpacted by water.
The major difference affecting durability is their cap
.
Wolf Serenity Decking Cap
Wolf Serenity is completely capped, all 4 sides with styrene copolymer.
Including ColorWatch100® Technology to protect against fading. Keeping the decking colour vibrant for years to come
Unique thing about Serenity's cap is the finish. It is coloured and embossed on both sides. So not only are the boards fully protected, but you can flip them in the event one side gets damaged. Reducing waste during construction along with the ability to hide damage by flipping boards.
Fiberon Decking Cap
The collection of Fiberon determines how it is capped.
Promenade all 4 sides
Paramount only 3 sides
The Promenadedecking is capped on all 4-sides, while the Paramount decking is capped only on 3-sides.