When comparing Wolf Serenity decking boards with TimberTech Azek there are 5 key characteristics to consider.
Appearance
Slip Resistance
Price
Warranty
Durability
How do Wolf Serenity and TimberTech Azek decking compare?
TimberTech Azek has a longer warranty than Wolf Serenity. But Serenity has slightly better slip resistance when wet. For price and number of colours, they are almost equal.
But we will need to go a little further into this before concluding which composite decking is right for you
.
Comparing how much they differ from each other.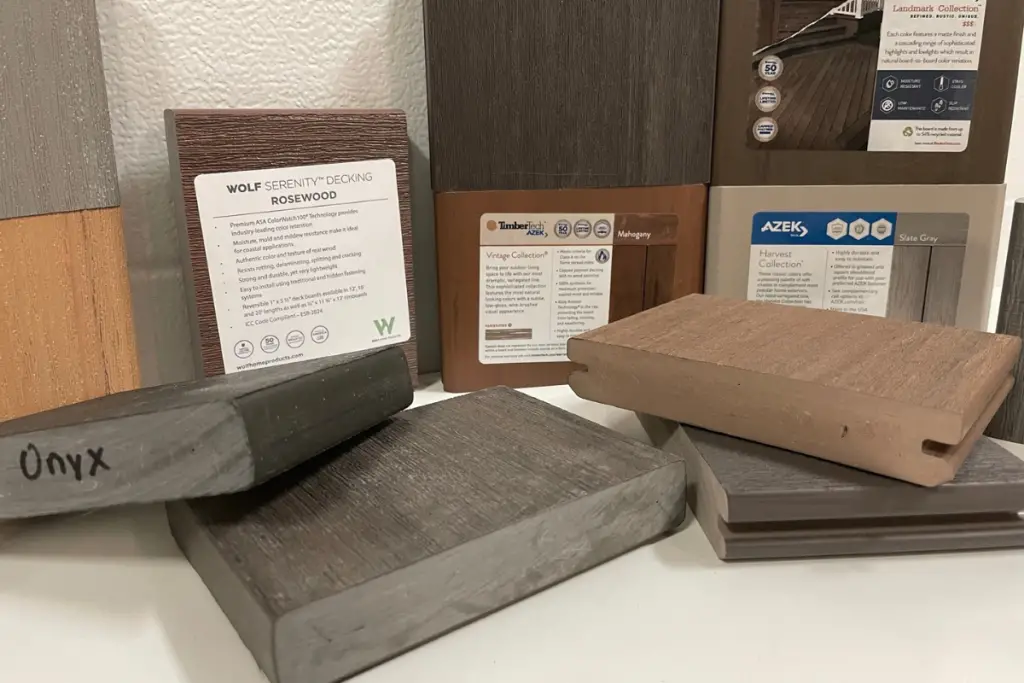 If it's not a clear-cut answer. What are my reasons for considering one better than the other? To see if you agree with my conclusion, could they be understood differently? Or does my reason not matter for your deck?
A good example is appearance.
I have my reasons why I think TimberTech Azek is going to look better on your deck, but you may not share my values of what makes a deck board look good.
So let's get into it, starting with where TimberTech Azek is better than Wolf Serenity.
How is TimberTech Azek Better than Wolf Serenity Decking?
Of these 5 key performance matrices for evaluating decking, TimberTech Azek is better than Wolf Serenity for Warranty.
Not as clearly a winner, but you could, and I will argue that Azek has better-looking decking. But this one is close.
Wolf Serenity VS TimberTech Azek for Warranty
We all want to know that the decking that we install on our deck will last for years.
The next best thing to a time machine is warranty.
A guarantee that if the decking does not last, someone else will be helping to pay for the cost to replace it.
Neither Azek nor Wolf have the best composite decking warranty. But they do both cover all the essentials for a decent period of time.
Wolf Serenity 50 years

structural

, fade & stain
Azek PVC 50 years, fade, stain & structural
Both companies guarantee that their decking will not fade more than 5 Delta E or become stained by food spills if cleaned within 1 of the spill.
The biggest difference between the two is how it is prorated.
How much money will you get back if their decking fails?
Prorating
Structurally both warranties are similar. 50 years free of defects like rot, delaminate, splinter, cracks, splits, excessive swelling, or structural damage from termites or fungal decay.
The difference is what they will do if it fails.
Wolf has a prorating warranty
.
Paying out 100% for the first 10 years, then dropping 20% every 10 years after that. With a bonus of 10% after 51 years for as long as you own your decking. Truly making it a lifetime warranty.
Azek's structural warranty is a little different.
Azek will not pay you anything if their decking fails in the course of the warranty. But rather will provide you with a replacement.
Which, in some ways, is a 100% replacement value. Except you are stuck with Azek. No switching brands because this one failed.
And Azek is clear that they do not guarantee an exact colour match. Which I am sure is to account for colour fading, which will also happen. More on that later.
My only concern is what happens if the colour gets discontinued.
Azek is regularly improving its colour selections by adding and removing colours. So what happens when you have 3 broken boards, and they no longer make that colour?
Azek does have a small clause that they can just refund you the price of the failed decking. But that's is entirely up to them if they refund your money or send you similar but different decking to replace the damaged decking.
Their fade and stain warranties are better with a clear payout schedule.
For the first 10 years, both TimberTech and Wolf will payout 100% of the cost of the decking.
Then Azek
drops its payout 10% every 3-4 years. With the last 8 years paying out 10%
Compared to Serenity
, which after 10 years, drops 20% every 3 years. With only 10% for years 23 to 50.
Leaving a much bigger payout with Azek for longer if your decking fades or is stained.
Both have a 50 fade and stain warranty.
The difference is the payout if it fails.
Wolf Serenity PVC decking warranty is 50 years prorated for structural defects, fading, and staining. The warranty is not as straightforward as Azek, but it does cover everything equally for the first 10 years. After that, the warranty decreases by 20% every 10 years.
Labour Warranty
Relatively new for composite decking but offered by both Azek and Wolf Serenity is paying for the cost of the labour initially if the decking fails.
Wolf Serenity has a 5-year labour warranty.
TimberTech Azek varies between 2 and 7 years. Depending on what TimberTech products are included on your deck and the status of the TimberTech-approved installer.
Wolf Serenity is also limited to Wolf Certified installers, but the amount of decking installed by the deck company doesn't impact length. It's a 5-year labour warranty if the installer just finished their course or installs millions of decking boards a year.
Overall the biggest difference between the two warranties is fading and staining. Azek has a better fade and stain warranty, paying out more for longer.
Wolf Serenity VS TimberTech Azek for Appearance
Beauty is always subjective.
Which we will get to later.
But if we simply compare the number of colours each company offers, they are tied at 11.
Wolf Serenity PVC has 2 lines with 11 colours.
TROPICAL HARDWOODS
Amberwood
Black Walnut
Rosewood
Silver Teak
Onyx
Golden Cypress
Driftwood Grey
Teakwood
Weathered Ipe.
Rich, variegated hues with a natural woodgrain finish.
SEASIDE
• Habour Grey
• Sandcastle
Solid coastal tones with a cool decking colour palette.
TimberTech Azek 3 lines, with 11 colours.
The Vintage Collection® (PVC)
Coastline®
Dark Hickory
English Walnut®
Mahogany
Weathered Teak®
Wire-brushed finishes with a high blending of colours.
The Landmark Collection™ (PVC)
Castle Gate™
American Walnut®
French White Oak
The look of reclaimed wood with cathedral wood grains. A wide spectrum of colours on each board.
The Harvest Collection® (PVC)
Slate Gray
Brownstone
Kona®
Cathedral wood grain patterns
The little more subjective features depend greatly on the look you appreciate. Like.
Wire-Brushed vs Cathedral Wood Grains
Hair Texture vs Deep Grain Embossing
Variation vs Consistent Colouring
Streaking over Solid Colour
I personally enjoy the look of Azek boards over Wolf. They imitate wood better in my eyes than Serenity.
But this is hard to prove one way or other.
If you are looking for more options in deck boards.
Decking Options
Azek is unique, with 2 of their collections offering multiple deck widths.
Vintage Width Options
Harvest Width Options
Allowing you to increase variety in decking design patterns and layouts. Breaking up the monotony of equal board widths.
Combined with the wood grains and texture of their decking. Helping to increase the case for TimberTech Azek having the better-looking decking.
How is Wolf Serenity Better than TimberTech Azek Decking?
Both companies' PVC decking is very similar in performance, but Wolf Serenity was clearly better in one area.
Wolf Serenity VS TimberTech Azek for Slip Resistance
Slip resistance is the traction that keeps you on your feet.
Preventing injuries and helping you relax knowing that you won't be sliding all over your deck.
| | | |
| --- | --- | --- |
| | Dry | Wet |
| Wolf Serenity | 0.74 – 0.85 | 0.75 – 0.87 |
| Azek Vintage (PVC) | 0.74 |  0.61 |
| Azek Harvest (PVC) | 0.28 | 0.59 |
Slip Resistance
Both are PVC boards which are generally rated best for slip resistance
.
And when dry, Serenity and Vintage are practically the same. The difference is when it starts to rain. Or when you spray off your deck.
Wolf Serenity keeps its traction. Vintage drops and becomes slippery. Not dangerously, still well above the Canadian Construction Material Centre (CCMC) recommended 0.5 but still less than Serenity.
Harvest is bad when dry. Improves when wet but still considerably less than Serenity.
So if not slipping on your deck is top of mind, Azek Vintage is good, but Serenity is best for you.
Now for the more debatable items.
Where neither Wolf Serenity nor TimberTech Azek had a clear advantage.
Wolf Serenity VS TimberTech Azek Price
We are all going to have to pay for it sooner or later.
But between Wolf Serenity and TimberTech Azek, the bill will be about the same.
| | |
| --- | --- |
| | Lineal Foot Price |
| Azek Harvest | $6-6.50 |
| Serenity Seaside Collection | $6-6.50 |
| Serenity Tropical Hardwood Collection | $7-8.00 |
| Azek Landmark | $7-8.00 |
| Azek Vintage | $8-9.00 |
Decking Cost per Foot
Azek's Vintage will cost you a little bit more than Serenity's premium line Tropical Hardwood, but overall the price is roughly the same.
Especially considering that both brands offer decking priced the same as the other one.
Therefore in regards to costs, it really doesn't matter which one you choose. It will roughly cost the same.
Wolf Serenity VS TimberTech Azek for Durability
Wolf Serenity and Azek are PolyVinyl Chloride (PVC) decking at their core
 with all the advantages that PVC provides. Longevity and durability are at the top of the list, along with being unimpacted by water.
The major difference affecting durability is their cap
. Being made from different materials.
Wolf Serenity Decking Cap
Wolf Serenity is completely capped, all 4 sides with styrene copolymer.
Including ColorWatch100® Technology to protect against fading. Keeping the decking colour vibrant for years to come
Unique thing about Serenity's cap is the finish. It is coloured and embossed on both sides. So not only are the boards fully protected, but you can flip them in the event one side gets damaged. Reducing waste during construction along with the ability to hide damage by flipping boards.
TimbereTech Azek Cap
Azek is similarly capped.
Their spin is "Alloy Armour Technology® (AAT),".
Like ColorWatch100®. It improves the decking performance with increased weather and UV protection, resistance to scratching, and improved colorfastness.
How much better one is over the other is hard to tell except by the warranty backing up its performance.
Azek has a better guarantee against fading and staining. Therefore we could conclude Alloy Armour is better, but only time will tell.