When comparing Wolf Serenity decking boards with Zuri there are 5 key characteristics to consider.
Appearance
Slip Resistance
Price
Warranty
Durability
How do Wolf Serenity and Zuri decking compare?
Zuri has amazing-looking authentic hardwood flooring appearance setting it above Wolf Serenity for appearance. Warranty is debatable between the two, Wolf Serenity is longer overall, but Zuri pays 100% if their decking fades within the first 25 years. Wolf Serenity has better slip resistance than Zuri, along with a better price point making your new low-maintenance decking.
But we will need to go a little further into this before concluding which composite decking is right for you.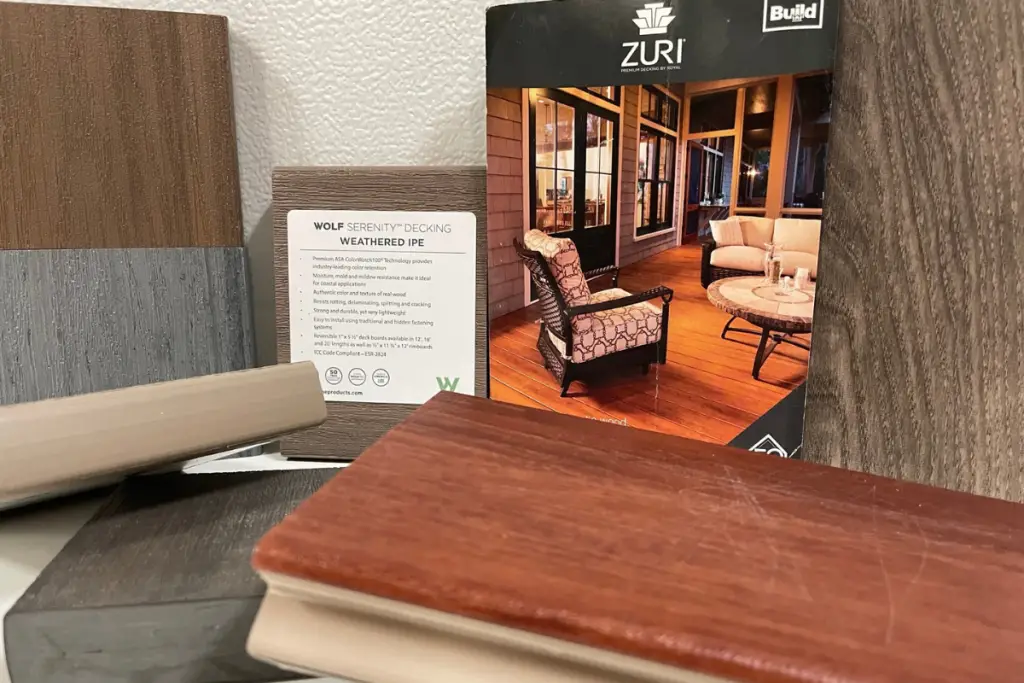 Comparing how much they differ from each other.
If it's not a clear-cut answer. What are my reasons for considering one better than the other? To see if you agree with my conclusion, could they be understood differently? Or does my reason not matter for your deck?
A good example is an appearance.
I have my reasons why I think Zuri is going to look better on your deck, but you may not share my values of what makes a deck board look good.
So let's get into it, starting with what Zuri decking is better than Wolf Serenity.
How is Zuri Better than Wolf Serenity Decking?
Of these 5 key performance matrices for evaluating decking, Zuri is better than Wolf Serenity.
Both appearance and warranty are debatable depending on what you value. We will try to explain our reasons and provide sufficient information about both to better help you decide which is better for you.
Wolf Serenity VS Zuri for Appearance
This does depend on the look of decking you are looking for.
Zuri is an eye-popping look of hardwood flooring to be enjoyed outdoors. Setting it apart from many others, including Serenity, in appearance.
There are few deck boards that look like Zuri.
But regarding number of colours, Wolf Serenity has twice as many to choose from.
Giving you significantly more options of colours to compliment your house.
Along with creating complementary trims or transitions to highlight your deck.
Wolf Serenity PVC has 2 lines with 11 colours.
TROPICAL HARDWOODS
Amberwood
Black Walnut
Rosewood
Silver Teak
Onyx
Golden Cypress
Driftwood Grey
Teakwood
Weathered Ipe.
Rich, variegated hues with a natural woodgrain finish.
SEASIDE
• Habour Grey
• Sandcastle
Solid coastal tones with a cool decking colour palette.
Zuri has 6 Hardwood Colours
Chestnut
Walnut
Pecan
Barzillai
Weathered Gray
Hickory
Zuri has a subtle wood grain pattern imitating hardwood flooring. With names reflecting the hardwood commonly used for flooring.
Beyond colours, there are more subjective appearance characteristics to consider.
Wire-Brushed vs Cathedral Wood Grains
Hair Texture vs Deep Grain Embossing
Variation vs Consistent Colouring
Streaking over Solid Colour
The hardwood look of Zuri is where I believe it excels but it is not for everyone.
Wolf Serenity VS Zuri for Warranty
Neither have the best decking warranty in the market, falling short with warranty length.
Wolf Serenity 50 years structural, fade & stain
Zuri – 25-year structural & fade
At first glance, Serenity warranty is better, twice as long and includes staining.
But if you read the details, it becomes a little more complicated.
Prorating
Structurally both offer 100% replacement for the first 10 years. After that, Serenity's warranty pulls ahead, being reduced over a 40-year period compared to Zuri's remaining 15 years.
Plus, after 51 years, Wolf will still payout 10% indefinitely. Guaranteeing the decking not to break for a lifetime.
Their fading warranty is distinctly different.
Wolf Serenity fade and stain warranty
is 100% replacement for the first 10 years then reduces by 20% every 3 years after that. Then paying out 10% between 23 and 50 years.
Zuri fade warranty
is 100% for the entire warranty length, 25 years. Making Zuris fading warranty significantly better with a larger payout. At least for the first 25 years, then it drops sharply off the cliff to 0.
The chances of your Zuri decking suddenly fading after 25 years are low. But so is the warranty, if it does.
Labour Warranty
If you use a Wolf Certified Installer, they also warranty the cost of installing defective decking for 5 years.
Just one more thing included by Wolf but not by Zuri.
For warranties between the two companies, it really depends on what worries you the most.
If it's fading, Zuri is better with complete coverage for the first 25 years.
The likely hood of either one staining if you clean up after spills is low, Especially considering Zuri's acrylic cap, which has amazing lab test results. But if you are concerned that you will get the one board that does stain. Serenity has a warranty for that.
If this is your forever deck. And your biggest concern is a board breaking in the later years. Wolf has a better warranty for later years.
Which makes it hard to determine which better warranty overall.
But from our deck-building experience.
I have never had to rebuild a deck built from a quality composite brand
because of structural failure.
Staining is also very low on the list. Most people experience fading long before staining.
For this reason, we pick Zuri. Because of 100% fading coverage plus a prorated 25-year structural.
But we fully understand if you are planing to enjoy your deck for years. Where Serenity is better.
How is Wolf Serenity Better than Zuri Decking?
Wolf Serenity is a well-made decking. Excelling over Zuri in 3 key areas.
Slip Resistance
Price
Warranty
Often it's not that Zuri performed poorly but that Wolof Serenity performed that much better.
Wolf Serenity VS Zuri for Slip Resistance
Slip resistance is often overlooked when selecting decking, but it is a critical aspect of deck safety and enjoyment.
If you are constantly afraid of slipping it's hard to relax and enjoy being out on your deck. This is why decking traction is so important with decking.
When dry, both perform extremely well. Comparable with many of the best composite decking for slip resistance.
But when it starts to rain, that's when Serenity pulls ahead.
Unlike Zuri, which loses traction when wet.
Serenity maintains its slip resistance. Actually, it grips your feet just a little bit more.
This is something we appreciate about Serenity, consistency.
Subconsciously we adjust to the decking traction while we walk on. But with Serenity, it remains the same, both wet and dry, so you are never caught unaware. Rather your feet will slide the same when you strolled out and napped on your lounger in the sun and suddenly awoken, running to the house as the rain hits the decking.
For this reason. We chose Wolf Serenity, having better traction compared to Zuri.
Wolf Serenity VS Zuri Price
The store and where you live can impact how much you pay for decking. So comparing prices may be different for you, but generally, you will pay more for Zuri decking than Serenity.
| | |
| --- | --- |
| | Lineal Foot Price |
| Serenity Seaside Collection | $6-6.50 |
| Serenity Tropical Hardwood Collection | $7-8.00 |
| Zuri Hardwood Collection | $8-12.00 |
Cost Per foot of Decking
Both are on the high end for composite decking costs
.
But considering they are both PVC boards, this makes sense. As PVC is a more expensive material than wood-based composites.
The biggest difference is the range of Zuri decking. It is possible to buy similarly priced as comparative Serenity Tropical hardwood.
But it is more likely that you will pay roughly 50% more for Zuri. It is a premium decking board priced accordingly.
For this reason, if the budget is tighter, but you still want a PVC deck board. Wolf's Serenity is a better option, being better priced.
Wolf Serenity VS Zuri for Durability
Wolf Serenity and Zuri are PolyVinyl Chloride (PVC) decking at their core
with all the advantages that PVC provides. Longevity and durability are at the top of the list, along with being unimpacted by water.
The major difference affecting durability is their cap
. Being made from different materials.
Wolf Serenity Decking Cap
Wolf Serenity is completely capped, all 4 sides with styrene copolymer.
Including ColorWatch100® Technology to protect against fading. Keeping the decking colour vibrant for years to come
Unique thing about Serenity's cap is the finish. It is coloured and embossed on both sides. So not only are the boards fully protected, but you can flip them in the event one side gets damaged. Reducing waste during construction along with the ability to hide damage by flipping boards.
Zuri Decking Cap
Zuri is capped with clear acrylic, 3X thicker than the standard for interior floors. Protecting the hardwood image core of the decking from wear and water.
The advantage of acrylic is that it's 30% more durable and 5X more resistant to wear than composite decking.
The cap has been tested by being exposed to 17,000 hours in the QUV chamber resulting in less than 1.5 Delta-E change of colour. This is 10X the standard amount of exposure used during testing. Keep in mind that fading of 5 Delta E is considered acceptable with most composite decking, including Wolf Serenity. A colour change barely visible to the naked eye.