Are you thinking about installing Dino composite decking in your garden? This might be a great option for you, particularly if you need something durable and low maintenance.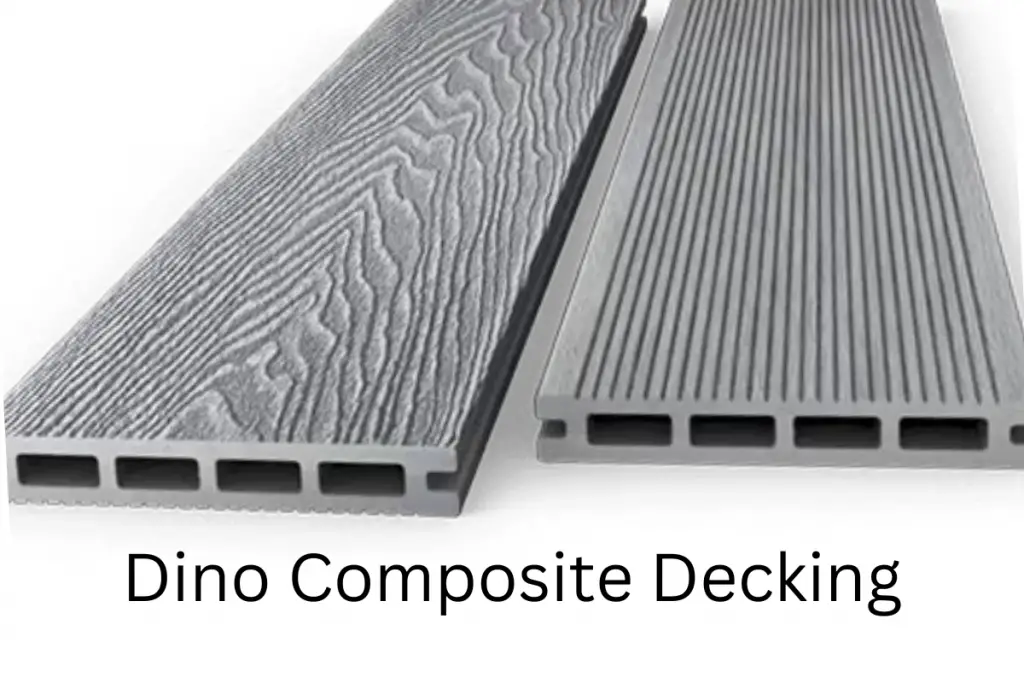 Brief Introduction To Dino As A Company
Based out of the United Kingdom., Dino is a family run business.
Dino is a company focused on making your garden the place to be. It offers low-cost, durable, attractive materials for homeowners made from recycled material.
Not only do they sell composite decking but also screens, railing and chairs to name a few.
What Is Dino Decking Made Of?
Dino Decking is made using plastic and recycled wood. It's 55 percent wood, 40 percent plastic, and 5 percent additives. This combination creates durable decking that looks like wood but will last far better, with significantly less maintenance overall. It also reduces the amount of waste in landfills by recycling wood and waste plastic.
The plastic blended int to the decking helps to resist moisture and is more resistant to wear.
How Many Colours Of Decking Does Dino Have?
Dino decking has 2 composite decking lines.
Both lines are different in profiles, which we will get to later.
But for colours, Classic is the larger line with 7 colours.
Amber
Ash
Cedar
Graphite
Mocha
Savanna
Stone
The Premium is their better quality decking but with fewer colours, only 3.
Across the 2 lines you have all the common hues, greys, browns, blondes and reds.
Allowing you to find a complimentary colour for most house's colours.
Is Dino Capped?
Dino Decking Premium composite decking boards are capped. Dino claims they are the thickest polymer sleeve boards available in the UK. Cap provides much of the longevity of composite decking, raising the quality of these boards.
The Classic boards are not capped and therefore are susceptible to staining. So do take care to wash spills off immediately. Even chemicals from hot tubs can damage the colour of the decking.
To learn more about capped vs uncapped composite decking
, click the link.
Dino is one of the few companies that still sell both varieties. Off the top of my head, MoistureShield and Ultradeck are two others, but most companies, once starting to manufacture capped composite, soon discontinue the uncapped variety because of its poorer performance.
What Are The Finishes Of Dino Decking?
Both lines of Dino decking are reversible.
On one side, the decking has a cathedral woodgrain pattern look and feel.
On the reverse side, a fluted face of increasing the traction
. These small grooves or channels aid water run off and give your feet more to grip when wet.
Profile Of Dino Decking
Dino decking has two profiles of hollow composite decking.
The Classic line has 4 hollow rectangles reducing the weight and cost of the decking.
For the Premium line, 7 hollow cylinders. with the same impact, reduce cost and weight.
In my experience, the rectangle design is less durable than the cylinders. The round shape is better able to withstand impact with no pinch point, corners. Also, the smaller cylinders have had more reinforcement points, material between the empty space supporting the face above.
Not all hollow composite decking
is the same. The design and style make a big difference in performance.
How Long Is Dino's Warranty?
Dino Decking offers a 10-year limited warranty on its decking lines.
None of us want to have to use the warranty but appreciate the peace of mind of knowing that if something goes wrong, someone else will pay to make it right.
First, with Dino, peace of mind is short, only 10 years compared to most with 25-year warranties, the best composite brands with lifetime warranties
, 50 years.
Also to be considered is the "limited" factor. Dino's warranty is limited to splitting, splintering, rot or structural damage from termites or fungal decay.
Their warranty does not cover fading and staining. In fact, Dino expects their Premium decking colour to fade by 30% in the first 6 months.
And already noted Classic can be stained.
Summary Of Reviewing Dino Decking
Not the largest colour offering but all the basics to work with many garden decks. Dino decking reversible boards offer some variety.
The square profile has its disadvantages but the hollow cylinders of the premium line should stand up to years of use.
It is disappointing how short and limited their warranty is compared to the best composite decking brands
.