There are a number of composite decking brands
worldwide, but none are arguably as popular as Trex.
They sell thousands, no probably millions of decking boards every year.
But they are not all the same.
Trex has wisely created 3 different collections of decking. Good, Better Best kind of thing.
These 3 grades of composite decking each have distinct differences from each along with similarities.
Before getting into the nitty-gritty of what is different between each grade of Trex decking let's do a quick rundown of what they all have in common.
What all 3 grades of decking have in common are.
25-year fade, stain and structural warranty
Made from 95% recycled content
Capped 3 sides
Grooved and Square edge boards
So regardless of which grade of Trex decking you choose. These three things will remain the same.
If you want to learn more about these common characteristics of Trex decking grades, check out my Trex review
where I go into much more detail.
But what do you need to know when choosing between Trex's decking boards?
Why install Enhance instead of Transcend?
Is the extra cost of Transcend worth it compared to Enhance?
Which is better for your deck, Select or Enhance?
I hope these and many more questions I can help you answer as we review the 3 grades of Trex decking.
Whether you're building a new deck from scratch or renovating an existing one, choosing the right decking not just the brand is important.
Let's get started and make your deck as stylish as possible.
Three Types Of Trex Decking
Trex is one of the most common low-maintenance deckings. Having a choice of three levels of decking to choose between.
The three grades (levels) of Trex decking are:
Trex Transcend
Trex Select
Trex Enhance [Basic and Naturals]
Trex Transcend 
Out of the three grades, Trex Transcend is the highest-quality, and unsurprisingly, the most expensive. If you want premium decking, Trex Transcend is one of the best options.
Trex Transcend offers the best performance of all of their composite decking.
Out of the three, Transcend has the most durable cap and is available with a greater selection of colours and designs.
Altogether, you can choose from eight colours, separated into Three categories:
Lineage – Biscayne and Rainier
Premium Tropicals – Island Mist, Tiki Torch, Havana Gold, Lava Rock, Spiced Rum,
Earth Tones – Gravel Path, Vintage Lantern and Rope Swing
Transcend has the most realistic grain patterns and depth of colour and variation of all their decking lines. Ensure you can achieve the look you want for your dream outdoor living space
Once the boards are down, you can worry less about damage, either. They are scratch-resistant (to a higher degree), as well as stain and fade-resistant. I have yet to design a scientific test to prove how much more durable Transcend cap is compared to their other lines of decking. Or any composite decking for that matter. But I do know that when I am building a Transcend deck, I have fewer scratches showing up on the decking as I move the decking around. It's a more durable cap.
Because of this, Transcend decking boards will look stylish for many years with less "wear marks" on your deck.
Although the most expensive of the three Trex grades, Transcend decking is by far their best composite decking. Yes, do expect to pay 2 to 3 times more for Transcend compared to their other grades of decking.
But if you consider its durability, performance and appearance, the extra money often is worth it. 
Trex Select
The next best Trex composite decking after Transcend is Trex Select. Many choose Trex Select over Trex Transcend as it offers similar benefits and features but for a lower price.
The significant key difference between Select boards and Trex's other boards is size. Select is slightly thinner 7/8″ instead of 1″ that Transcend and Enhance are.
This was Trex's earlier attempt to reduce composite decking costs with reduced material.
One disadvantage Select with its thinner boards you cannot mix the different lines. Being slightly thinner you cannot use the cheaper select boards for the field decking but dress up the edges by picture framing
with a nicer-looking Transcend board. The slight change in thickness will make an eye sore and possibly tripping hazard.
Select also scratch easier than Transcend. Not a hard comparison but as Trex puts it. transcend is 5 stars for scratch resistance, Enhance is 1. Select is slightly better at 2 stars. Just a little better than Enhance but nowhere close to Transcend's durability.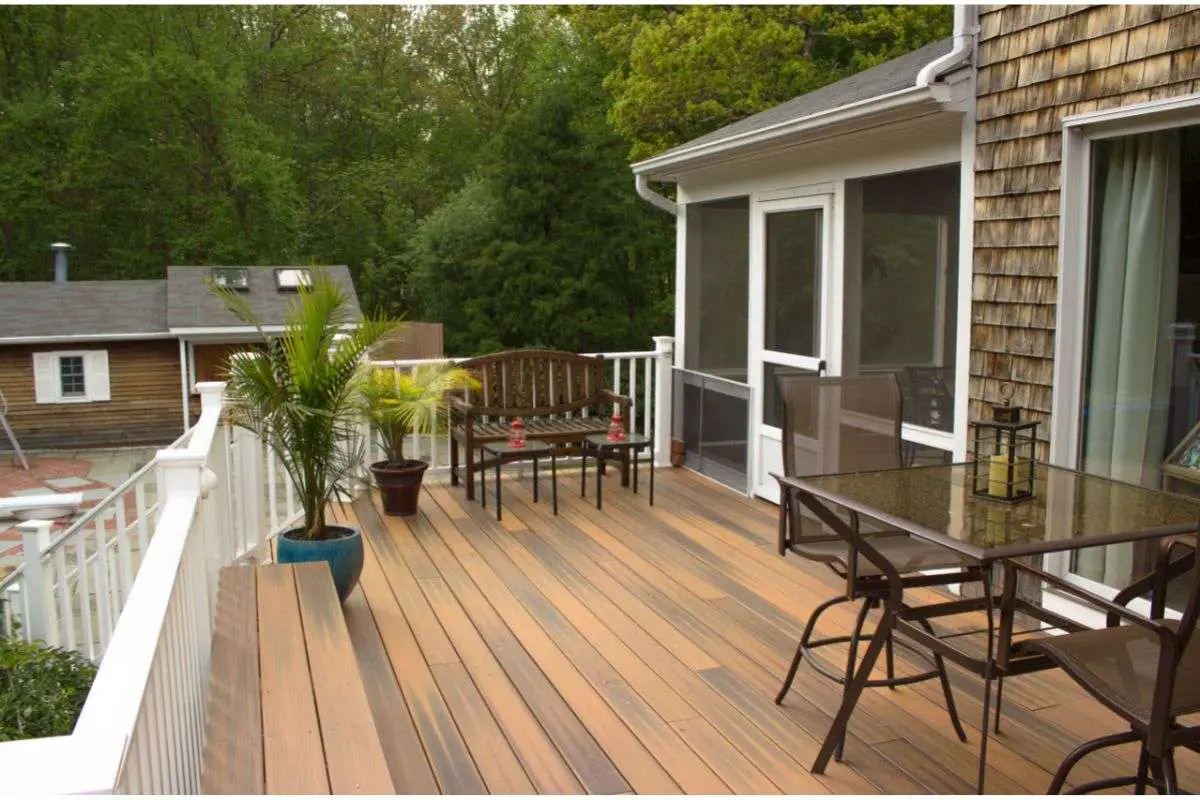 If you want more variation in colour and a better-looking deck board but the budget is tight, Select is a good option. Cheaper than Transcend but better looking than Enhance.
You can also choose from five unique colours:
Madeira
Pebble Grey
Select Saddle
Winchester Grey
Woodland Brown
Not as many colours as Transcend boards, but still a diverse collection to choose from.
Trex Enhance
If you're looking for the most affordable Trex decking option, the Enhance grade is the one for you.
Not only is it Trex's most affordable low-maintenance decking but is one of the lowest-cost decking
on the market that comes with a 25-years warranty.
If you don't like regular sanding and staining but thought composite was out of the budget consider Enhance.
Enhance's lower cost is achieved in three ways,
Scallop boards
Softer cap
Simpler colouring
The scallop bottoms reduce material and shipping costs, lowering the price but still maintaining their low maintenance appeal.
The softer cap lends itself to being scratched easier which is a disadvantage of Enhance. As it will rapidly develop a "worn" look. As the boards will easily scratch even the simple process of dragging the boards into place to install can leave a slight mark.
But as the salesperson that I buy most of my decking pointed out, complaints about scratches increase with price. When you pay less, you are more willing to accept slight markings on your deck.
If you are okay with a similar colour pattern you can save a lot of money.
Please don't misunderstand me. Simpler does not mean ugly. Personally, I like the look of Foggy Warf with its grey base but hints of blue streaking which is one of their Natual colours options.
But that is only one of 6 colour options available with Enhance.
Enhance Colours
Trex Enhance Naturals – Rocky Harbor, Foggy Wharf, Toasted Sand, and Coastal Bluff.
Trex Enhance Basics –  Enhance Saddle, Clam Shell, and Beach Dune.
There may not be as many colours to choose from with the Enhance level, but there are still enough to get the right look for your taste.
Trex Enhance also comes with a natural wood grain appearance, so your decking will look like real wooden boards underfoot.
But, the good news is that you won't have to maintain them like you would with real wood. 
You can create a stunning outside decking area using Trex Enhance. And, it will last for many, many years, even though it is reasonably affordable compared to other composite decking on the market.
Out of the three Trex grades, Enhance boards are the lightest. Therefore, they are the easiest to handle and transport.
And, as mentioned above, they have a scalloped design, so less material is used in the overall design. This also helps keep the costs down.
The only true downside to Trex Enhance decking is that it is not as scratch-resistant as Trex Transcend and Trex Select.
So, if your decking gets heavy foot traffic on a regular basis, Trex Enhance may not be the best option for you.
If you're looking for affordable low-maintenance decking that is also attractive, Trex Enhance is a good product to consider. It offers excellent value for money and is ideal for those on a tighter budget. 
In Summary
The three grades of Trex decking are Trex Transcend, Trex Select, and Trex Enhance.
The most expensive and highest-quality decking is Trex Transcend. The next best is Trex Select with nearly all the features of Trex Transcend but at a cheaper price.
The most affordable is Trex Enhance, and although it is not as scratch resistant as its counterparts, it remains an excellent, charming choice for those on a budget. 
Whatever you choose, your decking area will always benefit from using the ever-reliable Trex boards.