There are a lot of different factors to consider when choosing a new decking for your home or projects – what color you want it to be, how large, what kind of materials you want to use, etc.
However, there's one thing a lot of first time deck buyers forget until it's too late – how slippery the decking will be.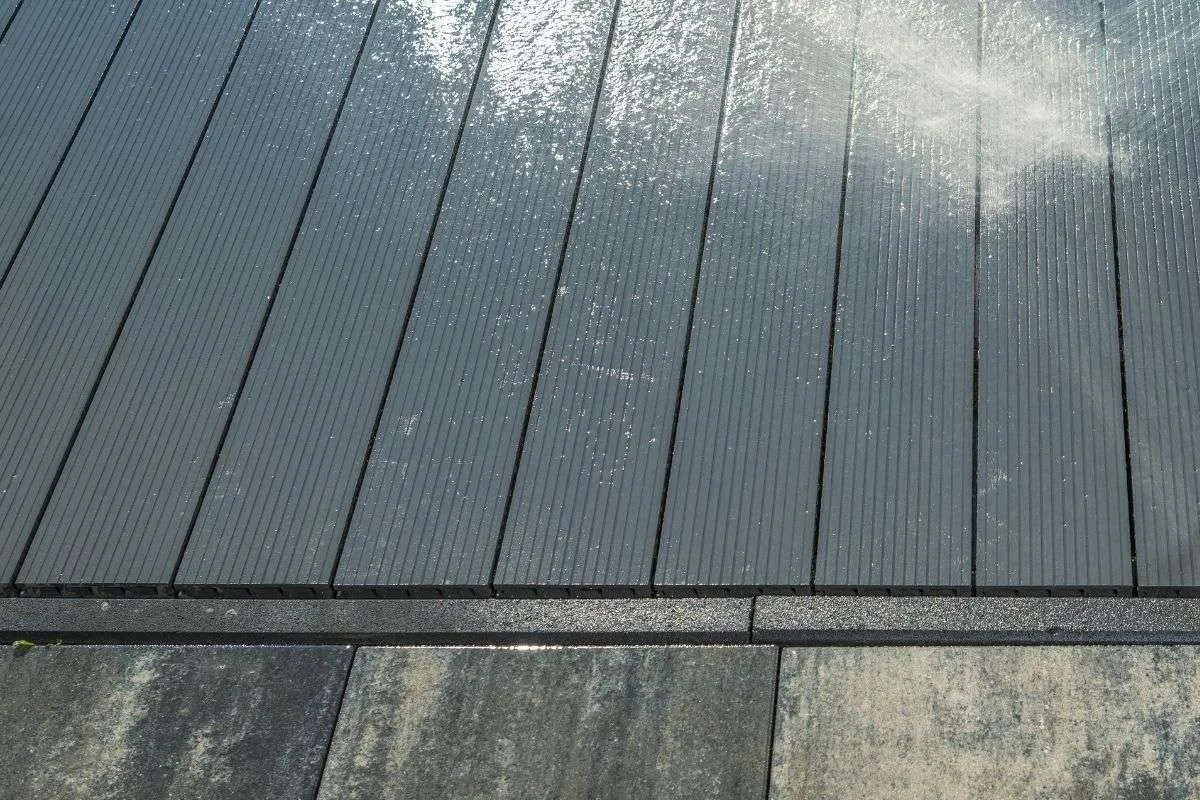 Slipping is a big hazard with outdoor decking that can cause some serious injuries if you're not careful. As a result, a lot of people want to try and get the least slippery decking
possible. 
If you were thinking of getting a WearDeck decking, but you're unsure how safe it will be to use, then don't worry – this is the guide for you.
We are going to be taking a look at what decking WearDeck has to offer and how slippery it is under different conditions. This way, you can make an informed decision when it comes to choosing the right decking for you. 
Who Are WearDeck?
First, let's take a look at WearDeck
to see what kind of decking they offer. 
WearDeck is manufactured by JR Plastics Corporation, based out of Ocala, Florida. It is a family-owned and operated company striving to treat those who work with them and buy their products like family.
In 2022, WearDeck was acquired by Owens Corning, one of the world's largest producers of fibreglass composites. 
WearDeck also only sells one line of decking – no accessories, no other products. It's a company that is completely dedicated to selling high-quality composite decking. 
The decking itself is actually something very special. Most composite decking is either wood-based composite or PVC (polyvinyl chloride), but WearDeck takes it a different direction.
Instead of wood fibres in their composite decking, the company uses fibreglass to reinforce the decking. Resulting in a bunch of benefits with WearDeck, but we'll get into that a bit later. 
WearDeck is a smaller single-product business which means that you don't have as many options but a strong focus on setting themselves apart from others.
The Uniquness About WearDeck's Composition
Before we can explain how WearDeck is a special type of decking, we first need to explain the three main types of decking available. These are wooden, PVC, and composite decking.
Wood decking is generally considered to be the 'better looking' type of decking if you go with exotic wood. However, wooden decking comes with all sorts of problems, including moisture retention, splitting, warping, splintering, and needs frequent maintenance in order to keep it safe to use. 
PVC decking is made from plastic and requires the least amount of maintenance as it's mould resistant and does not retain any moisture. Often provides incredible traction but is more expensive than most and often needs additional reinforcement as it's soft underfoot.
Composite decking is a blend of the two. It's made of plastics and wood fibres to increase strength and reduce cost but without the maintenance of wood decking. 
Most people choose between these three deckings for their homes and projects, but WearDeck puts a spin on things. For its decking, it uses composite decking but reinforces it with fibreglass materials
. 
What this does is make WearDeck stronger and more durable than both PVC and regular composite decking. It also makes it heat reflective rather than heat absorptive, so you can walk across WearDeck barefoot in the sun without burning your feet. 
We think that the end product with WearDeck is very impressive, but how does this fibreglass reinforcement affect the traction of WearDeck? 
Is WearDeck Decking Slippery?
Composite decking is, on average, one of the more slippery types of decking. It lacks the traction that comes with real wood grains and not all manufacturers go that step further to add slip-resistant caps. 
Things get worse when you add water to the surface. Water will always make a surface more slippery, no matter the type of surface. It naturally reduces the traction between surfaces and feet, and this increases the chances of slipping and sliding. So, no surface is entirely slip-proof. 
Although most composite decking is considered to be slippery when wet, WearDeck is actually one of the most slip-resistant types of composite decking out there.
The WearDeck has great traction even when soaked with both fresh and saltwater, as the WearDeck is even used in projects for sea decking. 
Measuring in at 0.67 when dry and 0.69 when wet for friction tests.
However, it's worth noting that the WearDeck is not completely slip-proof. Although it has amazing traction, which makes it great for poolside use or alongside any other water applications, we can't promise that you will never slip ever on WearDeck decking. 
This means that you still need to be careful when walking across wet WearDeck, as a freak slip is not impossible. 
Other Slipping Hazards
Water is not the only thing that can make a decking slippery. Although it is one of the biggest culprits for slippery decking, there are other causes of which you need to be aware of.
This includes ice, snow, and frost, which can all cause water to pool on your WearDeck and cause the surface to be far more slippery than usual. This is especially true for snow as a layer of ice will form between the surface of WearDeck and the soles of your feet – reducing traction completely. 
WearDeck is actually very resistant to mould as it is completely waterproof. This means that it does not absorb any water, which is why so many people use WearDeck for underwater construction and marinas.
Because of this, the lack of moisture makes it difficult for mould and mildew to grow on the surface of WearDeck, so you don't have to worry about slipping on mould instead of water. 
Final Thoughts
So, if you are looking for a slip-resistant decking that's great to use next to or near water (or even underwater), then WearDeck is a great choice. It's very slip resistant, although not 100% slip-proof, it's very safe to walk across with confidence with wet feet. 
Not only that, but you don't have to worry about mould growing across your WearDeck and causing potential slip-zones. WearDeck is completely waterproof, so it's also mould-resistant and slip-resistant the perfect combination for a safe-to-use decking in all kinds of weather and purposes. 
So, if you want a slip-resistant decking, WearDeck is definitely a good choice! 
The span capability of WearDeck makes it a good composite for docks
also, along with its good traction.