When choosing between Trex and Azek composite decking, there are several things to consider. Things like appearance, durability, traction, price, and warranty of the decking.
Azek only has 8 colours vs Trex's 24. Trex is more affordable with consistent traction compared to Azek. Durability is subject to what you value; both have their strengths and weaknesses. Except Azek is warrantied for twice the time as Trex.
To better understand, we should go a little more into the details of each. To better understand which one is truly better for you.
Trex vs Azek as Companies
Starting with an introduction to the companies, getting to know Azek and Trex a little better.  Who are they, what are they striving for, and where did they come from?
A Brief History of Trex
Trex, is headquartered in Winchester, Virginia, was one of the first innovators of composite decking
, inventing and manufacturing their first board in 1996. This single colour board was patent in 1998, and they have since developed four lines and 20 colours of decking. One of their original big pushes was to take material that was otherwise headed to the landfill and innovate a useful product. They are still a huge player in the recycling industry.
"To enhance the lives of people by engineering what's next in outdoor living."

Trex
In 2010 Trex introduce their Transcend line. A premium capped composite with a more durable cap with unparalleled beauty. 
The primary benefit
of their decking is its long life and low maintenance compared to traditional wood decking.
A Brief History of Azek
Azek is an umbrella company of many low maintenance, sustainable building products, but is also a decking line within the larger TimberTech brand owned by Azek. Azek is headquartered in Chicago's thriving Fulton Market District, with manufacturing and recycling facilities in Ohio, Pennsylvania and Minnesota. 
"We make homes and structures more beautiful and more useful with leading-edge sustainable products."

Azek Purpose
Azek was started in 1983 manufacturing exterior home products. In 2007 they launched a line of PVC decking. Further expanding into the decking market in 2012, acquiring TimberTech, which had been manufacturing composite decking since 1997. In the same year of buying TimberTech, they also launched a capped polymer decking. In the next few years combining their decking lines into one company, TimberTech Azek.
"Our brand exists to challenge convention. To rage against mediocrity. We believe "Good Enough" is never enough. We are TimberTech."

Azek/TimberTech
Despite merging the two decking companies together, Azek's PVC decking line remains separate as Harvest® and Vintage Collection®. This will be our focus, not on the entire decking company with its many synthetic decking lines but its PVC offering.
Trex vs Azek – Decking Differences
When comparing Azek and Trex decking, we are not really comparing apple to apple. As the very core of the decking is completely different.
Azek core is foamed polyvinyl chloride (PVC)
Trex core is reclaimed hardwood sawdust and recycled low-density polyethylene
This difference is significant.
From the density, weight of the decking, heat retention, and potential for rot are impacted by the material used for the core.
Decking Core
Here is the single biggest difference between Trex and Azek.
Trex is made from a 95% blend of recycled plastic and wood fibres
. Similar to other composite decking, a roughly fifty percent blend of wood fibres and low-density polyethylene, extruded into deck boards with a polymer cap.
The plastic helps to protect the wood fibres minimizing maintenance requirements. At the same time, the wood fibres reduce cost while increasing strength. Creating a beautiful, long-lasting decking requiring minimal upkeep. 
Make a note of this. It will come back when discussing strength and pricing.
Azek, on the other hand, is made from polyvinyl chloride (PVC). No wood filler. Nothing to absorb water. Nothing to rot. Just pure plastic to enjoy the outdoors on.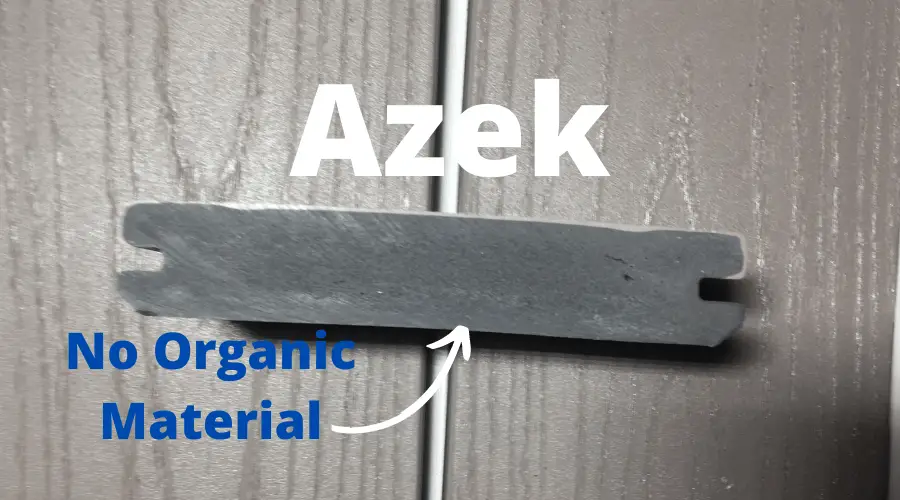 From rigid pipes, to the floor, you just walk over to the siding protecting your house. It's all made from PVC. It's all made from PVC for one reason. It's durable and weather resistant. Or is that two?
The very thing you want from your low maintenance decking.
Durable for you don't have to replace it every few years.
Weather-resistant for whatever Mother Nature throws at her, your deck can take it and be ready for the next barbeque party
.
As an added bonus during construction, PVC is lighter than composite. In fact, a 12' Azek deck board is 9 lbs lighter than Trex
.
PVC being lighter than composite, also makes it cooler than composite decking
. The lower density holds less heat, cooling down quicker underfoot. On top of that, thousands of tiny air bubbles are trapped in the PVC, both insulating and reducing heat transfer. 
But the difference between Trex and Azek core is only the start. 
Decking Cap
Trex is consistent wrapping on their boards on three sides. Regardless of the decking line or price. If you buy Trex decking, it will be capped on the top and sides with an uncapped bottom.
Like almost all composite decking companies, Trex uses the decking cap to protect the decking core and improve its appearance. Doing wonders in enhancing the performance of composite decking while reducing mould and mildew. In fact, the aesthetic improvement alone is worth the extra cost.
Trex's Transcend line is their most durable and attractive cap. Transcend is more scratch-resistant of all their decking lines. On top of that, Transcend has more vibrant colours and variations than their budget boards.
If you are looking for the best-looking Trex decking, buy Transcend.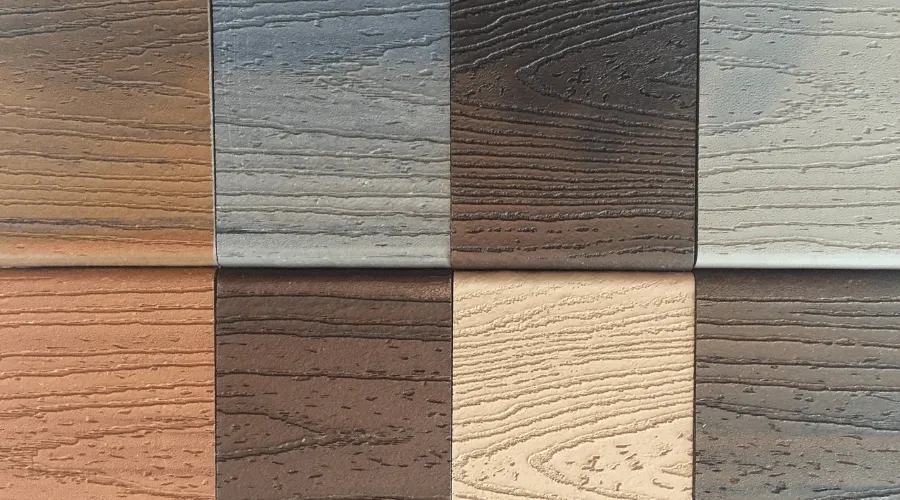 Azek does capping a little different than Trex.
First, Azek wraps their boards completely, Top, sides, bottom and in the groove. Including the groove sets Azek apart from many composite decking
. Where the groove is often cut in after the capping, leaving the groove unprotected.
Azek also designs their cap material differently, with Alloy Armour.
"Alloy Armour Technology® (AAT), is a proprietary alloy blend that provides improved performance characteristics, such as outstanding weather protection, UV protection, resistance to scratching, and improved colorfastness."

Azek
Holding out much promise that the cap will do its job and more.
Put that cap does more than protect. It's what makes the decking beautiful.
Trex vs Azek – Decking Options
The capping finishes also changes the feel of the decking. Plus, the number and blending of colours impacting the look of the decking. From solid colours mimicking painted decking to imitating exotic wood decking. 
Trex has 20 deck board options.
Trex composite decking is simply arranged with Best [Transcend], Better [Select, Enhance Natural] and Good [Enhance Basic]. With the same core and capping, the main difference is the aesthetic appearance of the cap.
Transcend has a more natural-looking wood pattern with more distinct grains and colour blending. Also, the most durable and scratch-resistant Trex cap.
Compared to Azek, Trex Transcend has a greater level of colour contrast. With more pronounced dark streaks running along the boards.
"Transcend decking's deep woodgrain pattern and luxury colors create a premium, ageless look that leave other composites in the dust."

Trex
Basic is precisely that. It has a more basic wood pattern, not ugly, but you know it's a budget offering sitting beside Transcend. Basic is about getting a deck without all the maintenance, not about looks.
| | | | |
| --- | --- | --- | --- |
| Azek Decking Line | Number of Colours | Decking Profile | Capped Sides |
| Vintage Collection® | 5 | Solid | 4 |
| Harvest Collection®  | 3 | Solid | 4 |
Azek Vintage line includes light colour decking like Coastline® to Dark Hickory and many shades of brown in between.
Vintage is embossed with a subtle wire-brush finish. Contrasting with Trex's deep embossing.
Vintage has consistent colouring, a sophisticated blend of shades with the occasional dark streaks.
Harvest embossing is closer to Trex but still shallower and not as rough to the touch.  
Harvest and Trex also share a cathedral arch grain pattern running across the boards.
"There are so many subtle nuances to …thanks to a wide range of multi-tonal options and wood grain patterns."

Azek/TimberTech
The finish of Azek, a lower-gloss than Trex decking, emits a more natural look. Less plasticky.
"Beauty is in the eyes of the beholder."
This rings true with decking as much as art. Trex and Azek boards have a distinctly different look and feel. Especially Azek's Vintage.
Ultimately this might be what wins you to one company over the other.
Trex vs Azek – Durability
Decks are built to be enjoyed, not just to be seen.
Durable decking is valuable decking.
Decking that wears well under constant foot traffic, the occasional pulling of chairs and spilling of ketchup, grease and beer on the deck. Not that you intend to, but accidents happen. The decking must hold up against all life throws at or drops on it.
Matt Risinger actually videoed himself testing Azek for scratches, spills and staining.
12 minutes long but a good watch.
Decking Staining Comparison
For the accidental spills, the polymer cap on both holds up equally. Wipe it up immediately or give it a quick scrub, and you won't have a problem. Valid both for Azek and Trex.
The caps are very similar to cleaning vinyl flooring in your kitchen.
The one possible difference between the two is depth of embossing. If you don't get to it immediately. If that ketchup spills cakes on the decking, drying out. It will take more work with a brush to get the dried-out ketchup out of the deep Trex grains.
Scratch Resistant Decking?
My quick key scratch test has similar results both with Trex and Azek. The sharper the object, the deeper the cut.
Most items dragged over the decking will leave a mark but will not cut through the cap. As Matt shows, Azek can be largely repaired with a heat gun. Just be careful not to burn the decking.
An advantage of the Vintage collection is its wire-brushed finish. The small "wire brush" marks act like camouflage, hiding minor scratches. They are still there to the observant eye. But like camo in the bush, it takes a keener eye to spot. With many slight scuffs disappearing in the background.
Decking Breakability
On the rare occasion, you will actually test the decking's ability not to break. With both, it will take a lot of force to break the boards, especially when supported with joist at 16″ o.c., which is required.
But how much can you pack unto the deck before the boards break under the weight? How heavy of furniture is too much?
Remember those wood fibres in Trex's decking?
| | | |
| --- | --- | --- |
|   | Kn rating @                 50°C (122°F) | Kn rating @ 20°C (68°F) |
| Trex [Transcend] | 3.88 | 4.20 |
| Azek | 2.59 | 6.90 |
The wood fibres in Trex pay off for consistent strength. Giving their boards roughly the same strength regardless of the temperature outside. Even when it is freezing outside, Trex has roughly the same strength as in the summer.
Azek, on the other hand, behaves much differently. It is strongest at 20°C (68°F. Much stronger.
In fact, Azek can bear up under more concentrated load than Trex except when it gets hot. When it gets hot, then Trex is stronger.
The interesting thing is how the boards bend under pressure.
| | | |
| --- | --- | --- |
| | Deflection Under 0.89 Kn Load (mm) @                 50°C (122°F) | Deflection Under 0.89 Kn Load (mm) @ 20°C (68°F) |
| Trex [Transcend] | 2.71 | 2.7 |
| Azek | 10.29 | 3.71 |
Again, Trex is consistent. With minimal deflection regardless of the temperature.
Azek being entirely plastic, has much more deflection to start with. Then as expected, the warmer it gets, the more the boards bend. On a hot day, you will have considerable "bounce" in your step.
It should also mention these are not equal in testing. Trex was tested with joist spaced 19 5/8" (500mm). Azek the more standard 16" (400mm), which makes the difference even more pronounced. Even with more support, Azek bends more.
This is why, often it is recommended that PVC decking
be installed with joists at 12" (300mm). Not that they will break but to minimize the amount of movement. Making the deck feel "firmer".  
Trex vs Azek – Traction
If your constantly getting rain showers followed by sun, the decking you choose is critical for how safe your deck will be. Water on any surface increases the risk of slips and falls. Decking is no exception. The polymer cap of the decking repelling the water, creating potential slipping hazards.
The CCMC looks for 0.5 ratings, enough grip to keep you on your feet. Also, almost all decking becomes slipperier when wet with less grip. Trex's and Azek are no exception.
I love the fact that when Azek gets wet, it's safer to walk on with increase traction. When you need it, the most Azek is there, allowing you to walk on your deck safely.
I am not sure about you, but when it starts to rain and I race for the door, it increases the chance of slipping.
But it is really disappointing how little traction Azek has when dry. Not quite a slip and slide, but that is low.
Especially since Azek is marketed as having "Best Slip Resistance".
Trex is more consistent, behaving as expected. Slippery when wet. The change is not as drastic as Azek.
Which can be a good thing. We all subconsciously learn to adjust to walking on familiar surfaces. Trex, both wet and dry, will roughly grip the same. You will adapt without evening thinking about it.
If traction is a concern, you should check out Composite Decking, Slippery When Wet but Two Notable Exceptions.
As the title says, there is decking that provides better traction.
Trex vs Azek – Pricing
Pricing is always a tricky one, constantly changing from region to region, fluctuating with the season. In fact, just crossing the street at times can save you a few hundred on a deck. But this should give you a sense of the cost of Azek and Trex decking. At least in comparison to each other.
| | |
| --- | --- |
| Azek Decking Lines | Lineal Price |
| Vintage Collection® | $6.50 – 7.00 |
| Harvest Collection®  | $4.75 – 5.25 |
The cost of the cap finish is reflected between Azek's two lines. Vintage being their premium line with more colour on the boards. Resulting in multi-tone boards. With not one, not two but a rainbow of shades from dark to light.
But this extra colour is not free. Vintage costing roughly 30% more than the harvest collection.
| | |
| --- | --- |
| Trex Decking Lines | Lineal Price |
| Transcend | $4.15 – 4.50 |
| Select | $2.65 – 3.10 |
| Enhance Natural | $2.05 – 2.50 |
| Enhance Basics | $1.85 – $2.20 |
Trex's premier line, Transcend, is under $5 a lineal foot, but the cost quickly drops from there. Till reaching Enhance Basics, one of the lowest price composites decking
with a 25-year warranty.
Trex is marketed as "budget" composite decking.
"Not cheap. Not low quality. Just more affordable."
This holds true here as much as anywhere. Even Trex's premium line cost less than any Azek board.
Going down to the more budget-minded, plainer boards, the difference becomes even greater.
Azek's one redeeming factor is longevity. Azek is warrantied for twice as long. If you are paying per year of use. Then Azek becomes a better value than Trex.
The same argument for composite over pressure treated decking.
But this only holds true for Transcend. The entry priced boards still cost less per year. Even if they have to be replaced in 25 years.
I have said this before but, we don't all drive Fords. Sometimes a better performing or looking product is worth the extra money.
The same can be true with decking.
Trex is priced for almost any homeowner that is serious about having a low maintenance deck can afford one.
Azek is not priced to be affordable. It is priced to reflect its perceived value. More than Trex.
But as I said, Azek is warrantied differently.
Trex vs Azek – Warranty
The biggest difference between Azek and Trex's warranty is TIME.
Azek 50-years
Trex 25-years
Both pro-rated but with a different levels of depreciation.
The first 10 years, 100% replacement. The same with both.
After the first ten, Trex drops replacement value by 20% every three years.
Azek drops 10% every four years, till the last 10 years, where it drops even slower. The last 10% replacement lasting a full seven years.
Fading and Staining
Are almost word for word the same. Providing virtually the same level of protection, except Azek for 50-years and Trex 25.
Labour Warranty
This is a new development in composite decking warranties
. The labour to install decking is often as much or more than the cost for the material. Covering labour makes sure you are not on the hook for labour if the decking fails. Increasing the value of the warranty substantially.
Both are limited to certified installers. This makes sense. I would not want to warranty work done by an untrained person. That's just foolish.
Trex steps their warranty based on the contractor doing the work.
TrexPro 1 Year
TrexPro Gold 3 Years
TrexPro Platinum 5 Years
Trex goes into much more detail about what differs the companies. Simply put, the better the company, the more training and experienced the installer, the more extended the warranty.
Azek is similar to Trex. The higher the contractor's rating, the longer the labour warranty.
Member & Silver 2-4 years
Gold & Platinum 5-7 years
The maximum protection is provided if railing is included. The lower years for only the decking and fasteners.
The Labour warranty is similar to the overall warranty. Longer with Azek, shorter with Trex.
Beyond the length of time, both warranties are almost identical.
Covering and excluding the same things. Both tell you not to use metal shovels on your deck, along with similar exclusions.
Trex vs Azek – Which is Better for You?
Now for the hard part, choosing which decking will be right for you for the next 25 or more years. Wow, that's a long time!
Comparing Trex vs Azek for
Appearance
Durability
Price
Traction
Warranty.
This one is tough.
Appearance-wise. They are both good-looking boards. Personally, you may prefer one over the other. But that is no dis to the other one. It's just personal taste.
Azek Vintage has a brushed finish, something you cannot have with Trex.
Trex has more colour options. Two and half times more. Except few of us install more than 2 colours of decking.
Both have the classic Blonde, Brown, Red and Grey decking options. Between both, you are talking more about grain pattern and texture differences than colours. Yes, grey is not just grey. There are a million shades of grey. Or I hear at least 50.
Durability, in my opinion, does not have a clear winner. Trex has some consistency advantages with wood fibres. Azek's PVC core comes with its benefits.
Ultimately the deciding factor for durability may be longevity, which leads us to warranty.
Azek's warranty is twice as long as Trex is the clear winner. If their decking lasts equally as long. Clearly, it is more durable than Trex.
For the price, if you are looking to save some money, Trex is the best choice. If it's not really about saving money. Why are we even discussing money? Buy which everyone you like more.
I like Trex's consistent traction. But, it's nice that Azek's traction increases when it is raining. If forced to choose, I would choose consistent over exceptions.
But there is other testing outside of the Canadian Construction Materials Centre (CCMC) that claim that Azek's brushed finish provides more traction than woodgrain. If I could see some clear lab testing showing this, I would give Azek the win for traction. Till then…
All that being said.
If choosing between Trex and Azek, I think it comes down to this question.
"How long do you intend to enjoy your deck for?"
If this is your forever deck, Azek will serve you better.
If you just want low maintenance for the next few years. If Trex has a look you're looking for, Trex is a good choice.
Whatever you choose, I hope you have many great moments on your deck enjoying being outside. If that is for 25 years or 50.
There are many composite decking brands. Click the link to see some of the best composite decking brands
on the market.