There are a lot of different factors to consider when choosing the perfect decking for your home and projects. While factors like colour, style, and materials are all things you should carefully consider, there is another factor I find many overlook – traction.
Traction refers to how well your feet grip onto a decking's surface as you walk across it. This means that some deckings are more slippery than others
(especially when you add rainfall, water, and ice).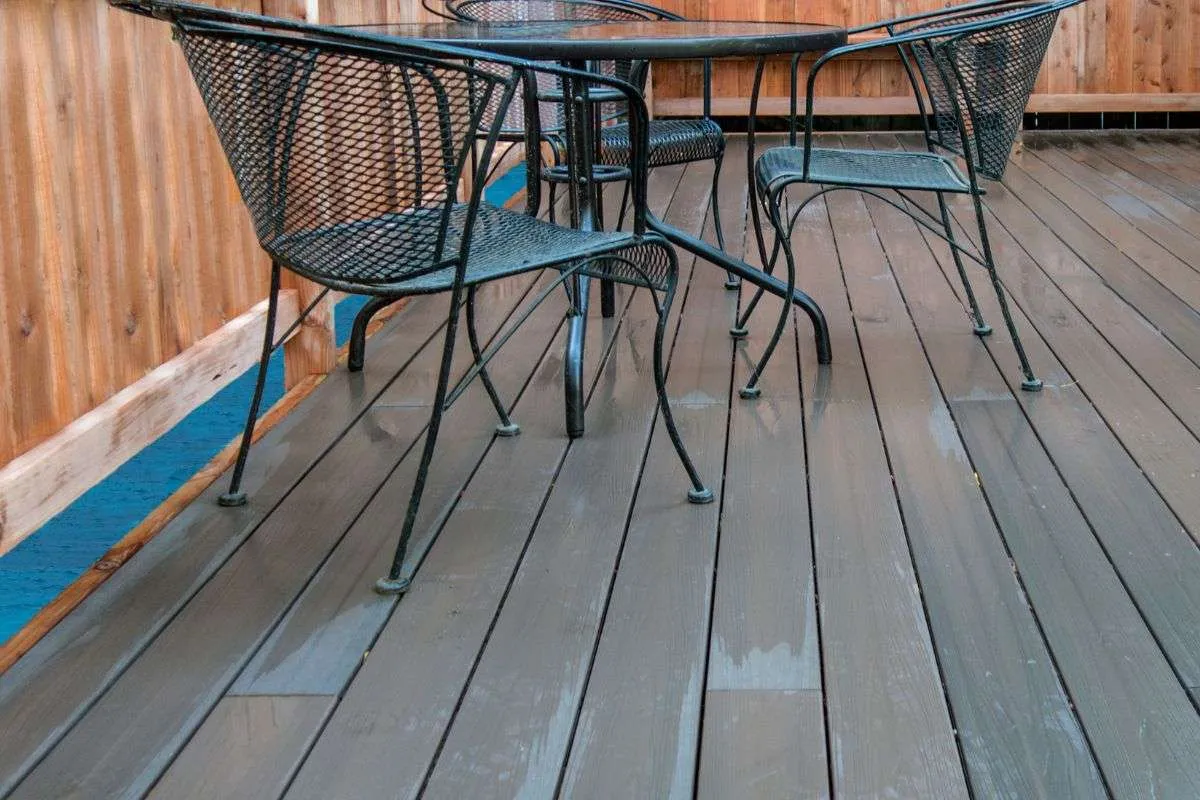 Having decking with low traction can be a health and safety concern for many people. Making checking out the slip resistance of your desired decking before you make your final decision a good call.
If you have been thinking about getting TimberTech decking, then here's all the information you need to know about TimberTech and its deckings' slip resistance. 
What TimberTech Has To Offer
Before I start looking at slip resistances and traction ratings, I want to just go over what kind of decking TimberTech has to offer.
TimberTech has three decking lines currently available on its website. These lines include TimberTech Azek, TimberTech Pro, and TimberTech Edge.
The Edge and Pro decking lines are both composite decking lines, with the main difference being that Edge offers 3-sided capped composite decking and Pro offers 4-sided capped composite decking.
The final decking line, Azek, offers premium capped polymer decking. 
A full spectrum of low-maintenance decking boards is not common.
Another brand that includes both PVC and composite decking is Fiberon.
But most brands offer only PVC or composite decking.
So, let's move on to see which of TimberTech's decking lines is the least (and the most) slippery. 
Is TimberTech Decking Slippery? 
First, I want to see what the traction ratings are for these three decking lines when dry. 
Decking manufacturers are required to test and release the traction rating of each of their lines in order to help its customers find a safe type of decking for their needs.
For example, seniors and people who use mobility devices like wheelchairs generally want decking with high slip resistance as they are safer to walk across and can reduce the chances of injuries and accidents. 
The standard for decking traction is currently set at 0.50 by the Canadian Construction Material Centre (CCMC). Meaning that if you want good slip-resistant decking, you need to look for a decking that scores above 0.50 in its traction rating. 
Let's see how TimerTech's decking lines rate! 
Unfortunately, TimberTech isn't very forth-coming with the traction ratings for most of their decking lines. I've read through their technical documents to try and find a clear traction rating for their decking lines but only found a few ratings for some of their Azek collections.
Even these traction ratings varied widely, with the Vintage collection having a traction rating of 0.74 when dry but the Harvest collection rating of 0.28 when dry – that's a huge difference! 
So, while I couldn't get a clear traction rating for each of TimberTech's decking lines, I can still get a clear idea of how slip resistant they are by looking at their materials. 
Both the TimberTech Edge and Pro decking lines are made of composite decking. Composite decking is a blend of thermoplastic and wood fibres
.
It uses both plastic and wooden fibres in its makeup to help give it a more authentic look and feel while doing away with all the high maintenance that comes with traditional wooden decking.
However, composite decking is also considered to be one of the more slippery types of decking. Most composite deckings I have come across have low traction ratings, and others only just reach that 0.50 traction rating when dry due to its grain-like embossed finish or slip-resistant coating. 
With the TimberTech Edge and Pro lines, there is no advertisement or mention of 'slip resistance' on their web pages. What this means is that it's very likely that even when dry, both the TimberTech Edge and Pro rate are below the 0.50 standard for traction.
As for the TimberTech Azek line, this line is made from premium polymer materials, so this line is classed as PVC decking. In my experiences, I have found that PVC deckings are far more slip resistant than composite decking
– even when wet. 
This means that when dry, the TimberTech Edge and Pro lines are likely to be slippery, although the Azek line is likely to be much more slip-resistant.
Is TimberTech Decking Slippery When Wet? 
So, the TimberTech Edge and Pro lines have low traction when dry, and some of the Azek collections fail to meet the standard traction rating too. This means that most TimberTech deckings are considered to be slippery – and things only get worse when you add water to the mix. 
Water is known for reducing the traction of surfaces. This means that slippery surfaces are much more difficult for our feet to grip, and this makes slips and slides far more likely to happen when a surface is wet.
This means that we can assume that the TimberTech deckings which fail to meet the 0.50 traction standard when dry, are most likely even more slippery when wet. 
As for the TimberTech Azek Vintage collection (the only TimberTech decking I have found to surpass this 0.50 traction standard), it currently rates at 0.61 when wet.
This makes it pretty slip resistant even when wet – so if you have your heart set on a TimberTech decking, then a decking from the Vintage collection is the best slip-resistant option available to you. 
It's also important to note that this decking is slip resistant, not slip-proof. Meaning that although the chances of slipping are reduced when walking across this decking, it's not impossible.
Please still take care when walking across this decking! 
What About Mould? 
Mould can grow across the surface of deckings and cause slippery patches that can become serious hazards. As a result, it's a good idea to opt for mould-resistant decking to avoid this issue. 
Mould typically grows on moist surfaces with sources of food (like plant matter) nearby, so composite deckings are much more prone to mould than PVC deckings.
As a result, the TimberTech Azek line is the best mould-resistant decking line available through TimberTech, containing no organic material for mould to grow on. Their composite decking lines (Edge and Pro) may contain wood fibres, but their polymer cap reduces the potential of mould.
In most cases, mould can't grow don't he actually decking but on dirt or grunge on the decking. Making cleaning of your composite deck
all that more important.
Final Thoughts
So, should you buy decking from TimberTech? 
If traction and slip resistance are your main concerns, I would recommend that you look elsewhere. There are better, more slip-resistant deckings available elsewhere, like Clubhouse or Wolf Serenity are good PVC options.
If you prefer a true wood composite with good slip resistance, consider MoistureShield
. Their Vision line is amazing when wet. Slightly less when wet but having more consistent traction in all weather is their Elevate line.
WearDeck
is a totally different composite made with fibreglass and High-Density Polyethylene (HDPE). Which provides consistently good traction wet or dry.