Most of the time, a slip is just a minor accident and a lot of people just laugh them off – but slipping can be dangerous and lead to serious injuries.
Because of this, a lot of people like to be cautious and try to find the most slip-resistant flooring options open for them. This is also true for outdoor decking – people want a decking that is safe to walk across all year round. 
To help you out in your search for the most slip-resistant decking, we have researched a bunch of different composite
decking brands to find the most slip-resistant.
Here we will focus on Zuri decking! Answering is Zuri decking slippery.
First, if you haven't met yet.
Who is Zuri Decking
Zuri is a PVC decking manufactured and sold by the Royal Building Solutions company. They were founded in Canada back in 1989 and, throughout the years, having made plenty of building materials tailored to its customers' needs. Chances are if your house has vinyl siding, its Royal. With years of research to back up their amazing products. 
One of those products is the Zuri decking
. Zuri is a premium PVC decking that embodies a lot of the best features of timber decking while reducing the negatives. It's available in six different colour options and comes with a bunch of amazing features and benefits – but is slip resistance one of them? 
Is Zuri Decking Slippery?
As a general rule of thumb, PVC decking is the most slip-resistant decking.
Of course, this varies by manufacturer and the quality of the materials they use. The design of the PVC decking also makes a big impact, as some PVC deckings feature traction finishes, coatings, or embossed grain designs to help provide a better grip for feet and shoes. 
What this all means is that going into this, we expected the Zuri decking to do well because it's a PVC decking, Royal Building Solutions is known for its great quality products, and the company puts a lot of effort into their research to come up with some amazing designs and technology to improve their materials. 
Our hopes were further raised when the samples arrived. Running a hand over the boards, we could feel the quality. The surface was pretty hard (even for a PVC decking), and it had a grainy texture that wasn't too rough but really helped give the boards an authentic wooden look and feel. 
So, we were expecting the Zuri decking to do well – and we were right. 
According to the CCMC, the Zuri decking has a 0.82 to 0.86 slip resistance rating when dry. We've seen a lot of PVC decks clock in the 0.70s, so an average of 0.84 for Zuri is a great result.
Considering that the CCMC class has an acceptable rating for slip resistance at 0.50, it's clear that the Zuri decking is pretty slip-resistant when dry. This also means that the Zuri decking meets the ADA requirements, too, even for ramps, due to its great traction. 
But – this is all for when the Zuri decking is dry. How slippery is it when it's wet? 
Is The Zuri Decking Slippery When Wet?
Liquids are known for reducing the traction on flooring, which means that wet surfaces get wet. They usually get slippery too. This isn't always the case, but it's something we teach ourselves early on to prevent injuries from slipping.
For example, everyone knows not to run by the pool because the water has probably made all the floors nearby super slippery and dangerous.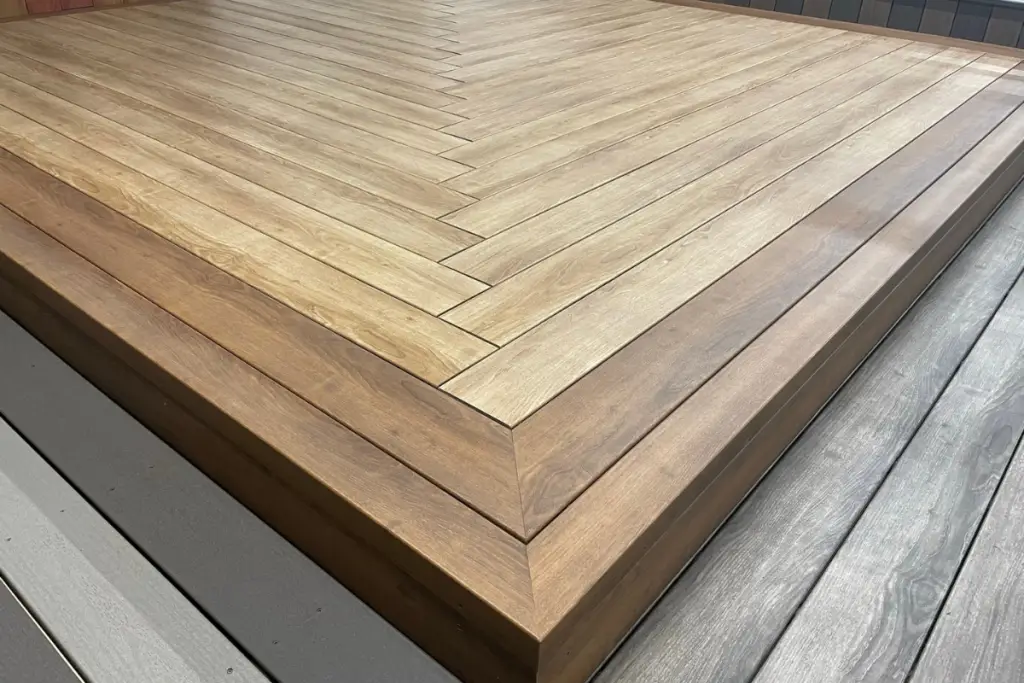 The same is true with decking, and whenever there's been a lot of rain or if your decking is near a water feature like a pool, that water can make your decking super slippery. So, it's important to know what the slip resistance of decking is when it's wet as well as when it's dry. 
For the Zuri decking, we are really happy to say that its slip resistance is still all intact even when soaked in water. The CCMC claims that it actually improved in traction with scores between 0.89 and 0.97.
It's very rare to see a decking increase in traction after getting wet as they usually decrease – but the Zuri breaks the norms by becoming more slip-resistant when wet.
This is a great safety feature that many are sure to be impressed with. This also means that the Zuri decking is safe to use for ramps by ADA standards, so those who need mobility aids like wheelchairs can confidently get up the decking even when it's wet. 
What this means is that Zuri is probably one of the best (if not the best) decking for slip resistance. It has great slip resistance when dry, and the fact that this improves when the boards are wet definitely makes it a top recommendation from us. 
Other Slipping Hazards With Zuri Decking
The thing is that liquids like water are not the only thing that can make a decking slippery. There are other factors that contribute to slipping, so even though your Zuri decking is slip-resistant, there are certain things that can still pose a risk.
The first is debris. Leaves, twigs, and other plant matter can easily fall onto your decking and become slipping hazards. This is true for all kinds of decking, including the Zuri. So, regularly sweep down your decking to keep it as free from debris as you can. 
Regularly sweeping your Zuri decking also means that you are reducing the chances of any mould growing on the decking. As a PVC decking, the Zuri decking is already very mould-resistant as it cannot absorb any moisture.
Mould loves damp places with lots of food nearby, so deckings made of wood fibres tend to have mould patches grow on their surface. This mould can be slippery and becomes a safety hazard. An advantage of capped composite decking
is the protective polymer cap that mould can't grow on.
This, thankfully, is not an issue with the Zuri decking. It's mould resistant, waterproof, and only needs regular sweeping, and the odd wash down to prevent any mildew or algae from making itself at home. 
So, make sure you maintain your Zuri decking to keep it in good condition and to limit any further slipping hazards from occurring. 
Final Thoughts
So, in our opinion, the Zuri decking is one of the safest deckings out there because of how slip-resistant it is. It has a great slip resistance scoring when both wet and dry, plus it meets ADA and CCMC standards for acceptable slip resistance. 
This means that the Zuri decking is great for multiple different purposes. You can use it for waterside projects like pool decking
or marinas, but also to build decking for those with mobility issues and use aids like wheelchairs.
Even if you are just worried about slipping and having a serious accident – the Zuri decking is a great choice to go with!