When comparing Wolf Serenity decking boards with Clubhouse, there are 5 key characteristics to consider.
Appearance
Slip Resistance
Price
Warranty
Durability
How do Wolf Serenity and Clubhouse decking compare?
Clubhouse has phenomenal level of slip resistance compared to Wolf Serenity. This is amazing because Wolf Serenity has excellent traction. But Wolf Serenity is priced better, provides better value and has twice the length of warranty. For appearance, the difference between the two brands is minimal. Even the number of colours is almost the same.
But we will need to go a little further into this before concluding which composite decking is right for you
.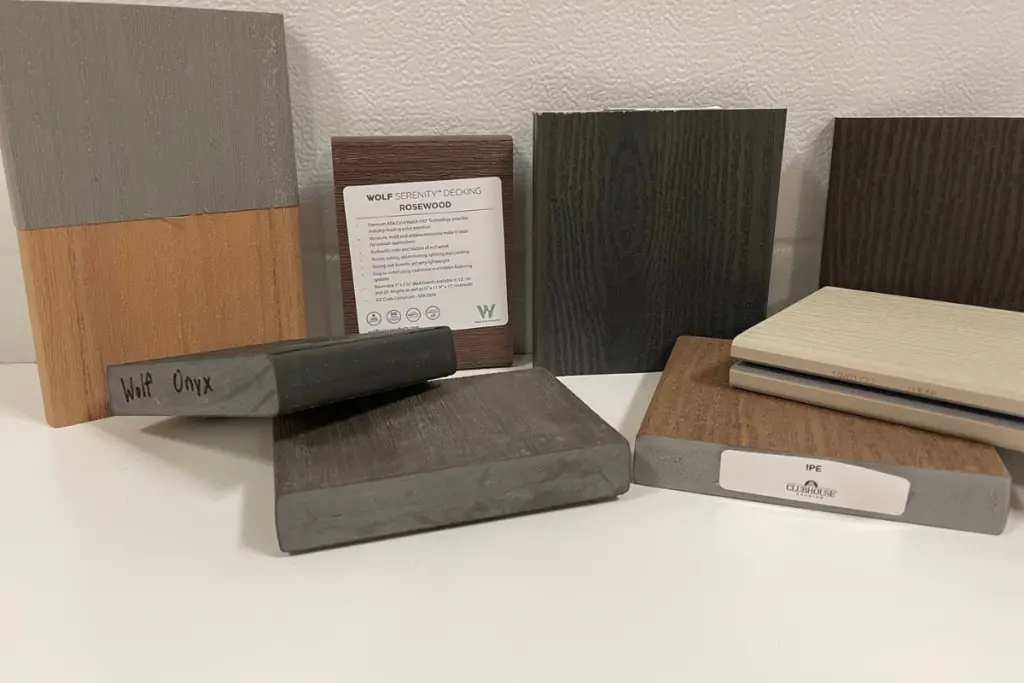 Comparing how much they differ from each other.
If it's not a clear-cut answer. What are my reasons for considering one better than the other? To see if you agree with my conclusion, could they be understood differently? Or does my reason not matter for your deck?
A good example is appearance.
I have my reasons why I think Wolf Serenity is going to look better on your deck, but you may not share my values of what makes a deck board look good.
So let's get into it, starting with where Clubhouse is better than Wolf Serenity.
How is Clubhouse Better than Wolf Serenity Decking?
Of these 5 key performance matrices for evaluating decking, Clubhouse is better than Wolf Serenity for.
In many of our comparisons, Wolf serenity and Clubhouse are close, but only one is Clubhouse clearly better.
Wolf Serenity VS Clubhouse for Slip Resistance
Slip residence is what keeps us on our feet, enjoying walking around our deck.
And gives us peace of mind that gramma won't fall as she navigates to her favourite rocking chair at the corner of the deck.
Here, Clubhouse excels.
Wolf Serenity is listed among the most slip-resistant composite decking
, but Clubhouse has even more.
Which is incredible. If traction is key for your deck, Clubhouse should be considered.
How is Wolf Serenity Better than Clubhouse Decking?
There are 3 areas where Wolf Serenity is better than Clubhouse.
Some are very close and debatable.
Such as decking appearance, which is very much a personal taste thing.
Wolf Serenity VS Clubhouse for Appearance
But let's start with the number of decking colours.
Wolf Serenity PVC has 2 lines with 11 colours.
TROPICAL HARDWOODS
Amberwood
Black Walnut
Rosewood
Silver Teak
Onyx
Golden Cypress
Driftwood Grey
Teakwood
Weathered Ipe.
Rich, variegated hues with a natural woodgrain finish.
SEASIDE
• Habour Grey
• Sandcastle
Solid coastal tones with a cool decking colour palette.
Clubhouse has 2 lines, with 10 Colours
Hardwood Collection (6 colours)
Driftwood
Hickory
Ipe
Ironwood
Mahogany
Walnut
Emphasis is on variations in colour along with embossed grain.
Earthtone Collection (4 colours)
Brookstone
Clay
Cobblestone
Sandstone
The look of painted decking.
Close but Serenity has 1 more. And if you like the "hardwood" look, they have a much larger collection.
There are things that are more subjective and depend on what you are looking for in a deck board.
Wire-Brushed vs Cathedral Wood Grains
Hair Texture vs Deep Grain Embossing
Variation vs Consistent Colouring
Streaking over Solid Colour
Now I am open to debating these. But from our perspective, the look and feel of Serenity and Clubhouse are very similar. One possible difference is Clubhouse's Acrylic cap which we will discuss more later.
Wolf Serenity VS Clubhouse Price
One of Wolf's goals is to provide quality products at an affordable price.
Serenity is not cheap, but it is well-priced.
| | |
| --- | --- |
| | Average Price per Lineal Foot |
| Wolf Serenity Seaside Collection | $6-6.50 |
| Wolf Serenity Hardwood Collection | $7-8.00 |
| Clubhouse Earthtone Collection | $7-8.00 |
| Clubhouse Hardwood Collection | $9-11.00 |
Average Cost of Decking
Both Serenity and Clubhouse have numerous boards that are similarly priced.
But what separates Wolf from Clubhouse is their premium boards are equally priced with Clubhouse's more basic-looking decking.
Meaning if you choose Serenity, you can upgrade the look of your deck without raising the price.
Comparing their two hardwood collections, being similar looking. A 12′ X 12′ deck will cost almost $1000 more with Clubhouse.
A little caveat, Clubhouse is a Canadian-based company. Often in Canada, the price of Clubhouse will be lower. Making the price spread significantly smaller. Worth checking with your local decking store before writing off Clubhouse as too expensive.
Wolf Serenity VS Clubhouse for Warranty
None have the best decking warranty in the market. In fact, compared to many PVC boards they are quite low. Bu they do have what has become the industry standard warranty length.
Clubhouse PVC Decking 25-year
Wolf Serenity 50 structural, fade & stain
Both with similar levels of acceptable fading, 5 Delta E. Barely visible with the naked eye.
They also share the same required time to clean up spills to avoid stains, 1 week.
Prorating
For the first 10 years, both offer 100% compensation for damaged decking.
But the amount after that quickly changes.
As Wolf depreciation is spread over an additional 40 years, but Clubhouse is finished in 15.
A small note in regards to Wolf Serenity. It may have a 50-year fade and stain warranty but only payouts 10% after 23 years. Better than Clubhouses' coverage, but don't expect to be buying new decking with the warranty claim in the latter years of Wolf.
Wolf Serenity PVC decking warranty is 50 years prorated for structural defects, fading, and staining. The warranty is not as straightforward as Azek, but it does cover everything equally for the first 10 years. After that, the warranty decreases by 20% every 10 years.
Labour Warranty
Relatively new to composite decking but rapidly increasing in popularity is paying for the labour cost to install warranty claim decking.
Which can be a significant amount.
If you dig for it, Wolf Serenity does include a 5-year Pro Certified Labour Warranty.
The details also are not readily available, but I am sure a Pro Certified installer would know more.
But whatever amount they payout. It is more than Clubhouse's no labour warranty.
But with or without labour warranty. The simple fact that Serenity's warranty is twice as long gives it the better warranty.
Wolf Serenity VS Clubhouse for Durability
Both Serenity and Clubhouse decking are made from PolyVinyl Chloride (PVC)
. Thus sharing the many advantages of PVC over composite decking
.
Such as not being affected by moisture and weighing less.
Both decking boards contain 95% recycled material. Allowing you to enjoy low-maintenance decking while reducing the impact on the environment.
There are some slight differences, such as flame spread rating.
They both are class B. But Clubhouse has a better rating of 70 compared to Wolf Serenity 200.
Also Clubhouse core includes Korelite technology, which increases the cell structure density. Improving the decking strength.
Wolf Serenity Vs Clubhouse Decking Cap?
The difference in decking cap
may be the most significant difference.
Wolf Serenity is completely wrapped with styrene copolymer.
Which includes ColorWatch100® Technology to protect against fading. Helping to keep the decking colour vibrant for its full 50 years. Or at least the first 23 when the warranty is greatest.
Another unique thing about Serenity's cap is the finish. It is coloured and embossed on both sides. So not only are the boards fully protected, but you can flip them in the event one side gets damaged.
Allowing you to use slightly damaged boards still during construction. And if the colour is faded after 23 years, flip them and enjoy for another 23 years.
Clubhouse decking is protected with an acrylic cap. The same material that is used in your car dash and Zuri decking
. Another premium PVC deck board.
"more durable and scratch resistant cap"

Clubhouse
The strength of the cap combined with the denser core reduces impact damage.