When choosing between Trex and TimberTech composite decking, there are several things to consider. Things like appearance, durability, traction, price, and warranty of the decking.
TimberTech has 17 colours, Trex's 24 but with distinction beyond available colours impacting appearance.  Each with tiered priced to match anyone's budget. TimberTech Pro has a slightly longer warranty, but overall durability is the same. Trex's deeper embossing has better traction.
That a lot to say in under 50 words. It would be good to develop and work out the details between the two a little better.
Saying Trex has more colours than TimberTech isn't very helpful in choosing between the two. But how the boards are finish is.
That is just one of many ways that a fuller discussion would be more helpful when picking between the two.
Before diving into the minute details, let's back up with an introduction to Trex and TimberTech as companies.
Trex vs TimberTech as Companies
Of all the composite decking
companies, I find Trex and TimberTech as the most intertwined.
"The Tale of Two Composites"
Two distinctly different companies often playing off each other. If one caps, the other soon follows but with their own twist. New decking lines are mimicked by the other, and so forth.
Let me introduce the two companies.
A Brief History of Trex
Trex, is headquartered in Winchester, Virginia, was one of the first innovators of composite decking, inventing and manufacturing their first board in 1996. This single colour board was patent in 1998, and they have since developed four lines and 20 colours of decking. One of their original big pushes was to take material that was otherwise headed to the landfill and innovate a useful product. They are still a huge player in the recycling industry.
"To enhance the lives of people by engineering what's next in outdoor living."

Trex
In 2010 Trex introduce their Transcend line. A premium capped composite with a more durable cap with unparalleled beauty. 
The primary benefit of their decking
is its long life and low maintenance compared to traditional wood decking.
A Brief History of TimberTech
TimberTech was started in 1997 manufacturing composite decking. Like all composite decking manufacturer, started with an un-capped board. But now, only sell capped composite decking with its enhanced beauty and protection.
TimberTech grew to become a leader in the composite decking industry. Currently, TimberTech has two manufacturing facilities, one in Wilmington, OH, and the other in Scranton, PA.
In 2012 they were acquired by Azek. The world's third-largest manufacturer of PVC products based out of Chicago with a focus on low maintenance exterior building products.  Azek, already having its own line of PVC decking
at the time of the acquisition, merged the two decking companies together.
"Our brand exists to challenge convention. To rage against mediocrity. We believe "Good Enough" is never enough. We are TimberTech."

Azek/TimberTech
Despite merging the two decking companies, they have kept their decking separate by offering different series. All the PVC boards are sold as TimberTech Azek. Simultaneously, the composite decking made with wood fibres
is sold separately as TimberTech Pro and Edge series. Within these two series including 5 different collections, each with its own distinct advantages. It is these lines and collections we will be focus on.
If you want to compare their PVC lines, read Trex vs Azek, Which Composite Decking is For You?
Trex vs TimberTech – Decking Differences
Decking Core
Trex is made from a 95% blend of recycled plastic and wood fibres
. Like other composite decking, a roughly fifty percent blend of wood fibres and low-density polyethylene, extruded into deck boards with a polymer cap.
The plastic helps to protect the wood fibres minimizing maintenance requirements. At the same time, the wood fibres reduce cost while increasing strength. Creating a beautiful, long-lasting decking requiring minimal upkeep. 
TimberTech composite is also made from up to 80% recycled material. With some lines containing even less recycled content.
Decking Cap
Trex is consistent in capping their boards on three sides. Regardless of the decking line or price. If you buy Trex decking, it will be capped on the top and sides with an uncapped bottom.
Like almost all composite decking companies, Trex uses the decking cap to protect the decking core and improve its appearance. Doing wonders in enhancing the performance of composite decking while reducing mould and mildew. In fact, the aesthetic improvement alone is worth the extra cost.
Trex's Transcend line is their most durable and attractive cap. Transcend is more scratch-resistant of all their decking lines. On top of that, Transcend has more vibrant colours and variations than their budget boards.
If you are looking for the best-looking Trex decking, buy Transcend.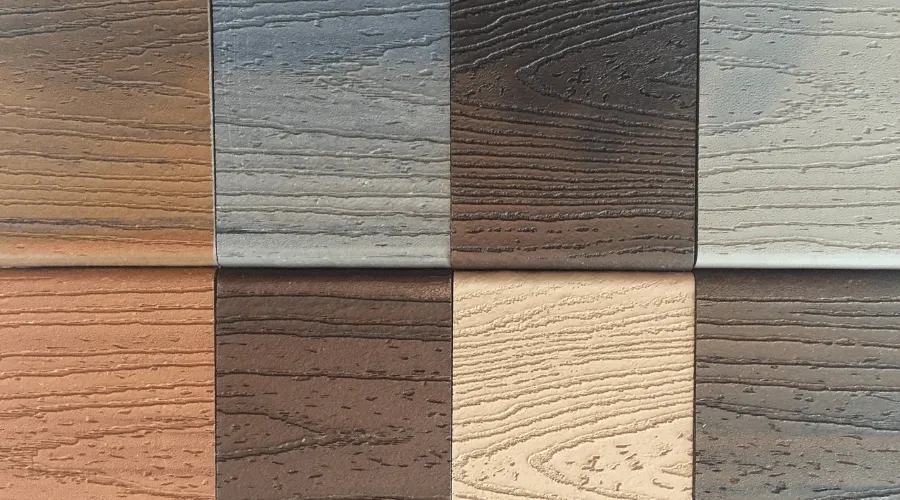 Before introducing the Edge Series in 2019, the easiest way to distinguish between the two companies was capping. TimberTech was capped all four sides. Now, in an attempt to stay competitive with Trex, TimberTech's economical boards are only capped top and sides. The 3 TimberTech Pro collections continues to be fully capped.
In 2020 TimberTech continues this trend with the introduction of the Prime+ series, with scalloped boards only capped on three sides.
It will be interesting to see how these lines perform. Historically TimberTech raged that their decking was better being entirely capped despite Fiberon and Trex manufacturing decking only capped on 3 sides.
Difference in Embossing between TimberTech and Trex
One thing to note about their caps is how they are embossed. The texture on the top of the decking.
Embossing does two things.
Distinctly different between the two is the embossing depth.
Trex has deep grooves compare to TimberTech, which are much shallower.
TimberTech embossing varies with each collection, but none are as deep as Trex. Which are consistent from Transcend to Enhance.
The cap does more than protect. It's what makes the decking beautiful.
Trex vs TimberTech – Decking Options
The capping finishes also changes the feel of the decking. Along with the blending of colours impacting the look of the decking. From solid colours mimicking painted decking to imitating exotic wood decking. 
Trex has 20 deck board options.
Trex composite decking is simply arranged with Best [Transcend], Better [Select, Enhance Natural] and Good [Enhance Basic]. With the same core and capping, the main difference is the aesthetic appearance of the cap.
Trex Deck Short
Transcend has a more natural-looking wood pattern with more distinct grains and colour blending. Also, the most durable and scratch-resistant Trex cap.
Compared to Azek, Trex Transcend has a greater level of colour contrast. With more pronounced dark streaks running along the boards.
"Transcend decking's deep woodgrain pattern and luxury colors create a premium, ageless look that leave other composites in the dust."

Trex
Basic is precisely that. It has a more basic wood pattern, not ugly, but you know it's a budget offering sitting beside Transcend. Basic is about getting a deck without all the maintenance, not about looks.
| | | | |
| --- | --- | --- | --- |
| TimberTech Decking Line | Number of Colours | Decking Profile | Capped Sides |
| Legacy Collection | 6 | Solid | 4 |
| Reserve Collection | 3 | Solid | 4 |
| Terrain Collection® | 4 | Scalloped | 4 |
| Premier Collection | 2 | Solid | 3 |
| Prime+ Collection® | 2 | Scalloped | 3 |
So many collections, so many variations.
"complex blend of hues, natural board-to-board color variation, and a hand-scraped texture"

Legacy Collection
Includes Whitewashed Cedar, one of the cooler decking colours. It also includes shades of brown and grey to compliment your house.
"Inspired by reclaimed wood, the heavy wire-brushed, low-gloss finish showcases the classic cathedral wood grain pattern"

Reserve Collection
Reserve is the deepest embossed of TimberTech decking. Not as deep as Trex, but the closes in feel. All three colours are enhanced with dark streaking along the boards.
"traditional hues … range from solid to moderately varied and create a timeless look with a complex, rugged wood grain pattern designed to camouflage everyday wear and tear."

Terrain Collection
Terrain has the shallowest embossing and least streaking with different shades of brown and grey. This probably is their most wear-friendly decking. Less to chip, collect dirt or notice, making use much less noticeable.
Scalloped to reduce cost, making Terrain an affordable, low-maintenance decking option.
 "subtle, straight grain pattern and offer a painted wood look"

Premier Collection
Similar to Enhance Basics colours but missing the blonde option. Also, a solid profile, instead of scalloped increasing its price over Basic's.
"moderately varied hues. Featuring a subtle, straight grain pattern, … an authentic wood visual"

Prime+
This may be the true answer to Enhance Basic, being scalloped and similar price. Only two colours, this time missing the brown of Enhance Basic. A feature over Basic and Premier is dark streaking, which enhances the look of the boards.
"Beauty is in the eyes of the beholder."
This rings true with decking as much as art. Trex and TimberTech boards have a distinctly different look and feel.
Ultimately this might be what wins you to one company over the other.
Trex vs TimberTech – Durability
Decks are built to be enjoyed, not just to be seen.
Durable decking is valuable decking.
Decking that wears well under constant foot traffic, the occasional pulling of chairs and spilling of ketchup, grease and beer on the deck. Not that you intend to, but accidents happen. The decking must hold up against all life throws at or drops on it.
Decking Staining Comparison
For the accidental spills, the polymer cap on both holds up equally. Wipe it up immediately or give it a quick scrub, and you won't have a problem. Valid both for TimberTech and Trex.
The caps are very similar to cleaning vinyl flooring in your kitchen.
The one possible difference between the two is depth of embossing. If you don't get to it immediately. If that ketchup spills cakes on the decking, drying out. It will take more work with a brush to get the dried-out ketchup out of the deep Trex grains.
Scratch Resistant Decking?
My quick key scratch test has similar results both with Trex and TimberTech. The sharper the object, the deeper the cut.
As can be expected, scratches across the grains cut more profound and noticeable. With the grain, less cutting and harder to see. Similar results as wood decking.
Most items dragged over the decking will leave a mark but will not cut through the cap.
An advantage of the Terrain collection is its wire-brushed finish. The small "wire brush" marks act like camouflage, hiding minor scratches. They are still there to the observant eye. But like camo in the bush, it takes a keener eye to spot. With many slight scuffs disappearing in the background.
TimberTech recommends protective plastic, rubber, or felt leg pads under furniture. Which would be a good idea with both brands.
Trex vs TimberTech – Traction
If your constantly getting rain showers followed by sun, the decking you choose is critical for how safe your deck will be. Water on any surface increases the risk of slips and falls. Decking is no exception. The polymer cap of the decking repelling the water, creating potential slipping hazards.
| | | |
| --- | --- | --- |
| Traction | Slip Resistance (Dry) | Slip Resistance (Wet) |
| Trex Transcend | 0.43-0.52 | 0.32-0.39 |
I wish I had current third-party testing for TimberTech boards. For we could go head-to-head for traction, with clear numbers. The higher, the better.
Unscientific Rub Test
For comparing without lab numbers, the texture is often the best tell for traction.
Embossing making all the difference.
Trex with its deeper embossing grips more than TimberTech boards. You instantly can feel the grooves grab.
Legacy provides the least grip of all the boards with its shallow embossing. The finish itself is also smoother than the other boards. No hard numbers, just rubbing my hand over them.
That being said, I have built and walked on both Trex and TimberTech decking without slipping. Both are safe to walk on but are slippery than pressure treated decking.
Trex vs TimberTech – Pricing
Pricing is always a tricky one, constantly changing from region to region, fluctuating with the season. In fact, just crossing the street at times can save you a few hundred on a deck. But this should give you a sense of the cost of TimberTech and Trex decking. At least in comparison to each other.
| | |
| --- | --- |
| TimberTech Decking Lines | Lineal Price |
| Legacy Collection | $5.80 – 6.35 |
| Reserve Collection | $4.30 – 4.75 |
| Terrain Collection® | $3.35 – 4.05 |
| Premier Collection | $3.10 – 3.25 |
| Prime+ Collection® | $2.40 – 2.65 |
TimberTech, with so many collections, offers a wide range of decking to meet any budget.
From the most expensive Legacy Collection which are almost $4 a lineal foot more than their entry level Prime+. You may need to compromise with appearance, but you can find a board to meet your budget.
| | |
| --- | --- |
| Trex Decking Lines | Lineal Price |
| Transcend | $4.15 – 4.50 |
| Select | $2.65 – 3.10 |
| Enhance Natural | $2.05 – 2.50 |
| Enhance Basics | $1.85 – $2.20 |
Trex's premier line, Transcend, is under $5 a lineal foot, but the cost quickly drops from there. Till reaching Enhance Basics, one of the lowest price composites decking
with a 25-year warranty.
Trex is marketed as "budget" composite decking.
"Not cheap. Not low quality. Just more affordable."
This is very clear between the two. In every category, Trex costs less. Their premium board, Transcend, is priced almost $2 less than TimberTech Legacy.
TimberTech's budget lines, Premier and Prime+, cost more than Trex's Enhance boards. All are competitively priced against pressure treated decking, but Trex is closer.
An argument can be made that TimberTech's Terrain Collection® is similar in appearance as Trex's Transcend. Here pricing is reversed. Terrain is cheaper than Transcend.
Reserve is also close to Transcend pricing.
The added value of both Terrain and Reserve over Transcend is entirely capped boards. If fully protected decking is crucial to you, it nice that you can have this with TimberTech without paying more.
It is wise when choosing between the two to compare comparable board's price. As seen, sometimes Trex is better priced, but other times TimberTech will cost less with comparable boards.
Trex vs TimberTech – Warranty
Trex's warranty
is very straightforward, 25-years fade and stain regardless of the line.
TimberTech is a little more complicated. TimberTech Edge series warranty
matches Trex is length and scope, 25-year stain and fading.
Moving up to TimberTech Pro
you get an additional 5 years for a total of 30-years of protection.
All are pro-rated but with different steps of depreciation.
Universally replacement for the first 10 years, then decreasing from there. With Trex and TimberTech Edge dropping 20% every 3 years.
TimberTech Pro series with the longer warranty period drops 10% every 2 years until the final four with 10% replacement value. Making the last few years less valuable but still warrantied nonetheless.
Fading and Staining
Are almost word for word are the same. Providing virtually the same level of protection. With the same exceptions and limits. Such as 5 Delta E fading limits.  
Labour Warranty
This is a new development in composite decking warranties
. The labour to install decking is often as much or more than the cost for the material. Covering labour makes sure you are not on the hook for labour if the decking fails. Increasing the value of the warranty substantially.
Both are limited to certified installers. This makes sense. I would not want to warranty work done by an untrained person. That's just foolish.
Trex steps their warranty based on the contractor doing the work.
TrexPro 1 Year
TrexPro Gold 3 Years
TrexPro Platinum 5 Years
Trex goes into much more detail about what differs the companies. Simply put, the better the company, the more training and experienced the installer, the more extended the warranty.
TimberTech labour warranty
is similar to Trex. The higher the contractor's rating, the longer the labour warranty.
Member & Silver 2-4 years
Gold & Platinum 5-7 years
The maximum protection is provided if railing is included. The lower years for only the decking and fasteners.
The Labour warranty is Longer with TimberTech, shorter with Trex.
Beyond the length of time with Pro, the warranties are almost identical.
Trex vs TimberTech – Which is Better for You?
Now for the hard part, choosing which decking will be suitable for you for the next 25 or more years. Wow, that's a long time!
Comparing Trex vs TimberTech for
Appearance
Durability
Price
Traction
Warranty
This one is tough.
Warranty islargely the same. TimberTech Pro is a little longer, which is good. Not as significant as Azek or even Fiberon higher-end boards. Still enough to say that TimberTech's warranty is slightly better than Trex. Only slightly, not enough, in my opinion to be a deal-breaker.
Traction goes to Trex. Only because they have third party testing results available along with their deeper embossing giving more grip.
Price depends on which boards you are looking at. For the entry-level boards, priced to be affordable Trex are cheaper.
The better-looking boards are not as clear, with some of TimberTech better priced than the equivalent Trex board.
Trex's Select is priced better than almost all of TimberTech's decking except for Edge. A slightly thinner board, technically it is neither a full-thickness board nor scalloped but neither. One of the earlier attempts to reduce composite cost. Interestingly it was not mimicked by others which I think shows that it's not a popular choice.
Overall Durability, Trex and TimberTech both have grown and learned with the industry. There are reasons they are both still the leaders of composite decking. They both make decking that will last but not required the same upkeep as wood. You can feel comfortable installing either on your deck.
With two very similar products. Appearance is often what selection will come down to.
Appearance is very subjective. Between the two, there is enough distinction to help one favour one over the other.
If you like finer embossing, streaking and shading. TimberTech will suit you better.
Deeper embossing, stronger streaking and greater colour contrast are often found more with Trex.
Either way, Trex or TimberTech will give you many years with minimal work to enjoy time outside on your deck. Which is truly the goal with both, more fresh air with the sun kissing your skin. What could be better, while spending time at home.
There are many composite decking brands. Click the link to see some of the best composite decking brands
on the market.